I Tried Thrive Causemetics' Holiday Sets And Found The Perfect One For Gifting
With the holiday season just around the corner, I want to be sure to get ahead of the game. Last year's shopping was a nightmare. I waited until too late, so many items were out of stock. I ended up settling for gifts that were not up to my standards (and I'm sure a disappointment for my family and friends).
This year, I'm starting with my book club. Whenever we meet, I often get compliments on my makeup. It's that time in our lives when drugstore products don't cut it anymore. We need something more luxe. So, I got an absolutely brilliant idea — Thrive Causemetics, vegan, 100% cruelty-free makeup. Their proven formulas are dermatologist-tested and approved. They don't contain parabens or sulfates and really deliver results so my girls will love it!
Shopping is super easy because Thrive Causemetics' spectacular holiday sets are now available online. On top of that, there's free shipping on all orders!
When I saw that the Beloved Classics Set — only $77.42 ($98 Value) — includes my faves: Liquid Lash™ Extensions Mascara (Limited Edition Packaging), Infinity Waterproof™ Eyeliner, Brilliant Eye Brightener™, and Sheer Strength™ Hydrating Lip Tint, I was convinced this year's presents will be a huge hit.
Check out Thrive Causemetics' Beloved Classics Set: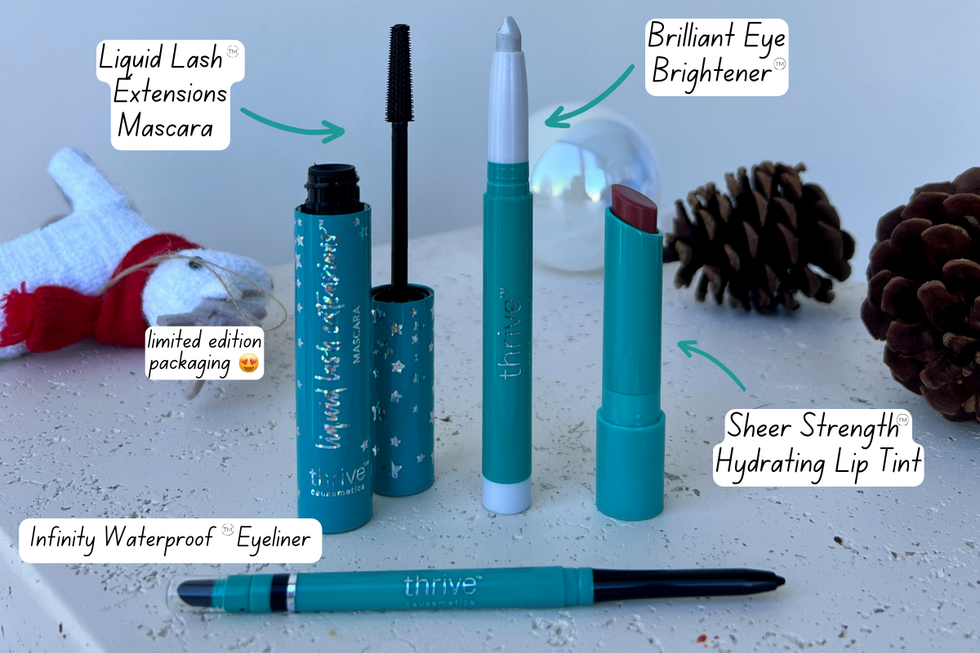 Thrive Causemetics' award-winning, tubing Liquid Lash™ Extensions Mascara is a must-have if you want to volumize your lashes. It's powered by Flake-Free Tubing Technology™ which dramatically lengthens lashes from root to tip. The star ingredient — Orchid Stem Cell Complex™ — supports luscious, healthier-looking lashes.
This water-resistant formula is available in 3 shades, and won't flake, smudge or clump. Thrive Causemetics will get you through that upcoming social whirl of seasonal parties.
Thrive Causemetics uses Semi-Permanent Micropigments™️ in many of their products, including this liner, so it's smudge-proof and budge-proof for all-day wear. Application is a breeze as it glides onto the lid at the lash line. Plus, it sets in just 30 seconds — enough time to repair mistakes but brief enough so that I don't have to wait forever for it to dry! Infinity Waterproof™ Eyeliner gives lashes unbelievable curl and definition.
With 8 luscious shades — 5 matte and 3 shimmer — there's something for everyone on my book club wishlist!
Waterproof and sweatproof, this multi-tasking, cream-to-powder shimmer stick is simply dreamy. It illuminates and awakens the eyes, providing instant lift and a soft wash of shimmering color. Ring Light Technology™ brightens the eyes while highlighting your best features. Natural emollients like macadamia and meadowfoam seed oil deliver ultra-hydration to smooth those fine lines (which are a bit of a challenge these days).
Available in 16 colors — from Anise (Warm Bronze Shimmer) to Stella (Champagne) to Tara (Rose Mauve Shimmer) — I had no trouble finding the perfect shade for each of my fellow book lovers.
During the holiday season, my lips get so dry. But Thrive Cosmetics' Sheer Strength™ Hydrating Lip Tint is fueled by 24-Hour Moisture Lock Complex™ so it hydrates instantly and over time for visibly softer, smoother lips.
It comes in 6 versatile shades that are designed to enhance your natural lip color with a hint of tint and a balmy shine that's comfy enough to wear all day.
Final Thoughts
The Beloved Classics Set is a fantastic way to introduce my book club to Thrive Causemetics' awesome essentials that will provide a quick and flawless natural look or full-on holiday glam!
But what makes the brand truly stand out from competitors is their Bigger Than Beauty™ initiative. With every purchase made, Thrive Causemetics donates to help communities thrive. What a fantastic way to give back and achieve that holiday glow inside and out!
So, take advantage of Thrive Causemetics Limited Time Holiday Sets that help you save up to 25% on their bestsellers. Spread the love with these unbelievable Holiday deals!