If you're new to following a gluten free diet, you're probably avoiding processed foods like bread, pasta, and baked goods. Or searching for them in a gluten free variety instead. Gluten free diets are full of fresh fruits, vegetable, and proteins. But when it comes to eating grains on a gluten-free diet, there's usually some confusion.
Gluten is a protein found mainly in wheat products. Going gluten free means giving up wheat entirely. Wheat is a grain, but what about other whole grains? Are they all safe to eat when you're avoiding gluten? Unfortunately the answer is no. But that doesn't mean you have to avoid all grains. There are plenty of delicious, protein packed whole grains to enjoy, even on a gluten free diet.
Which whole grains are actually gluten free?
Millet, quinoa, buckwheat, teff, rice, and sorghum are all safe to enjoy. If you aren't familiar with sorghum, you should really give it a try. It has a shape similar to couscous and a whopping 22 grams of protein in just 1 cup!
You'll want to avoid farro, bulgur, and barley. While these grains are delicious and healthy for you if you're capable of digesting them, they're also part of the wheat family. You won't be missing these ancient grains though when you try the recipes below.
Here are 8 delicious, sweet and savory, gluten free grain recipes.
Buckwheat Banana Bread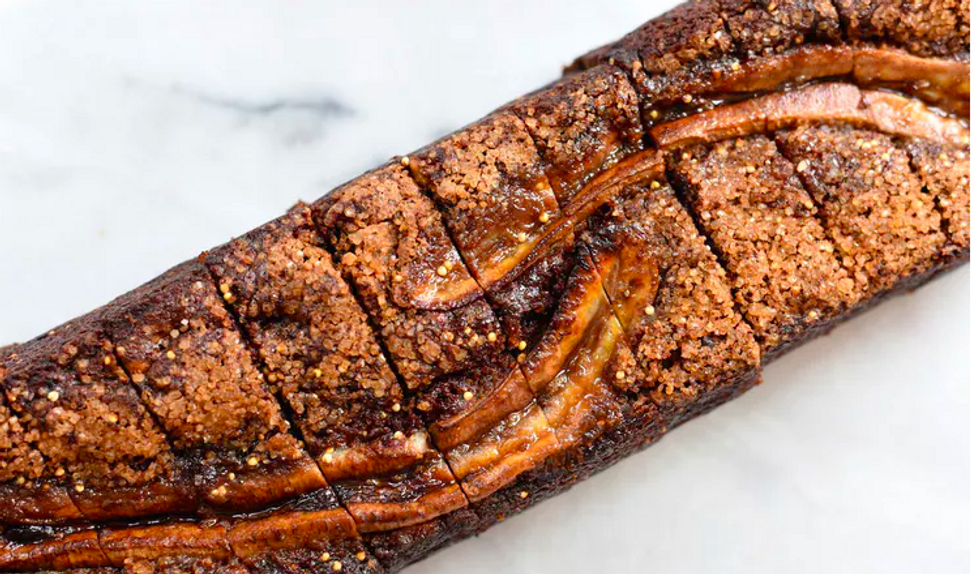 Gluten free buckwheat banana breadThe Tasting Table
This beautiful buckwheat banana bread recipe is adapted from The Smile, a cafe in downtown Manhattan. If you don't feel like making it yourself at home, head to bond street to indulge in a gluten free slice. The Tasting Table, calls it one of their top 5 favorite foods of ALL time. You'll want to go back again and again after tasting your first bite.
The secret to this delicious banana bread? Don't over mash the bananas. You want to keep the bananas slightly chunky so that you get delicious bites of baked sweetness. The recipe calls for flaxseeds, almond flour, buckwheat flour, tapioca flour, millet, turbinado sugar, and of course ripe bananas. All gluten free approved ingredients.
Quinoa Salad with Sweet Potatoes and Apples
By Food & Wine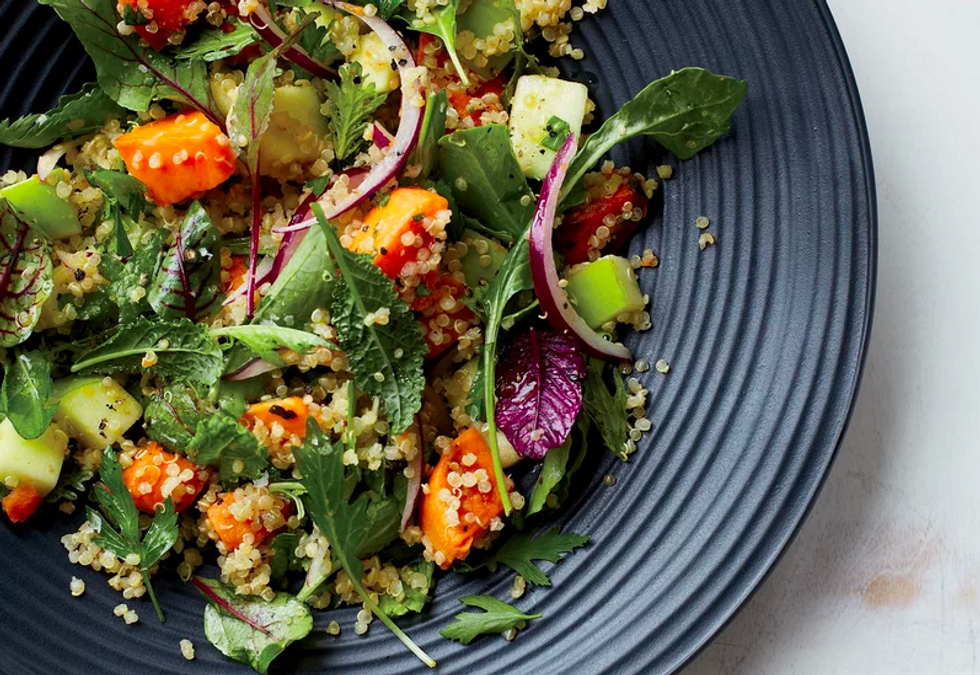 Gluten free quinoa salad with sweet potatoes and applesFood & Wine
Quinoa is a popular gluten free grain because it's packed with protein. It's also pretty low in calories. 1 cup has about 8 grams of protein and 222 calories. Adding quinoa to salads makes them hearty enough to serve on their own. Although this salad from Food & Wine would also make a great side to a holiday dinner.
Sweet potatoes, apples, quinoa, herbs, red onion and arugula are tossed with a simple dressing. Just combine olive oil and apple cider vinegar. Sprinkle with sea salt and black pepper and it's ready to serve.
Breakfast Amaranth with Walnuts & Honey
By Epicurious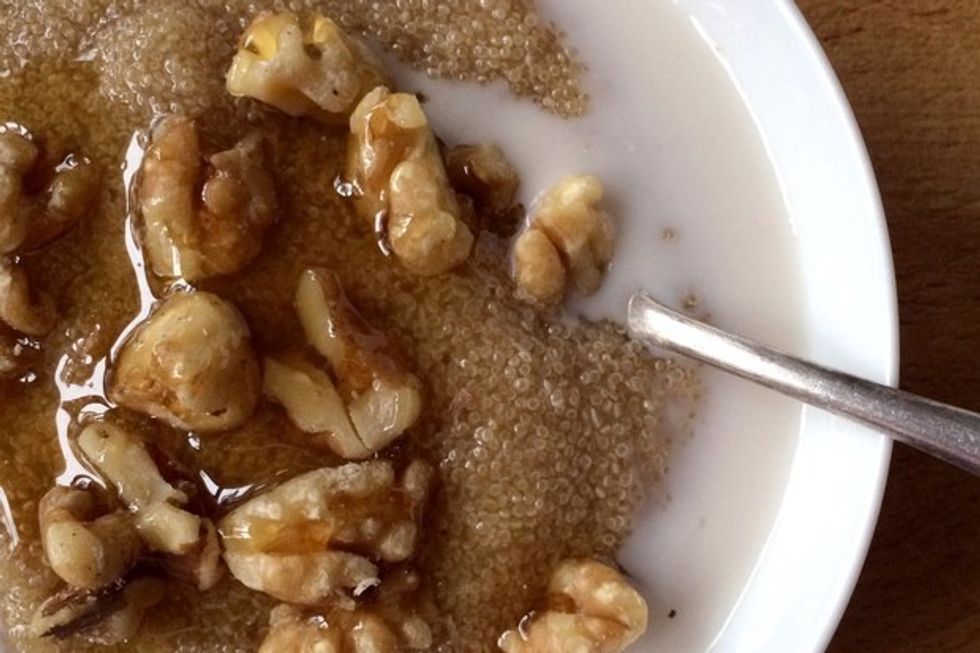 Gluten free breakfast amaranth with walnuts and honeyEpicurious
Amaranth is an ancient grain that's been used in Peru for over 6,000 years. It's also one of the few grains to contain vitamin C and is high in calcium, iron, magnesium, potassium, phosphorus, and protein. Bottom line: it's very good for you.
This simple breakfast recipe from Epicurious only uses four ingredients and takes about 25 minutes to make. It's a healthy, comforting morning meals that even kids will approve of.
Millet Scallion Pancakes
By Bon Appetit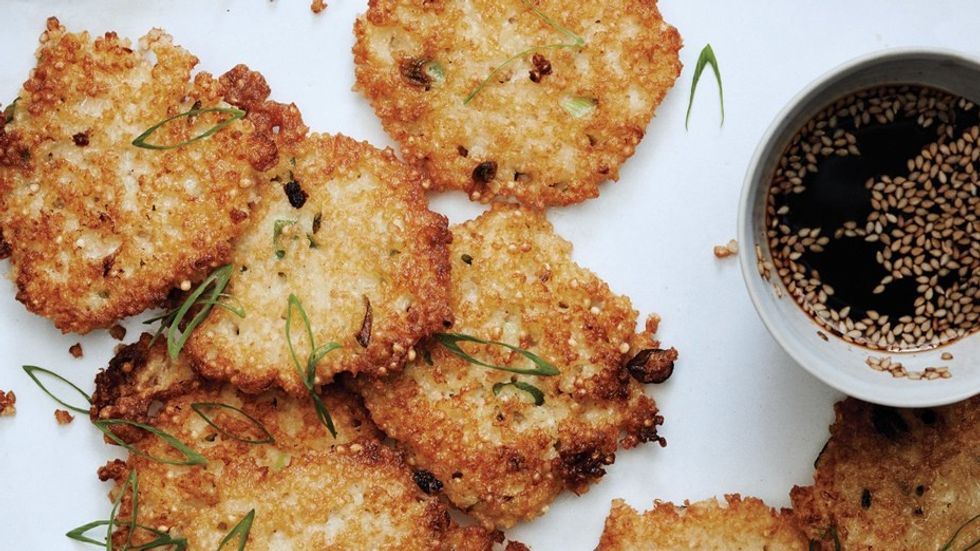 Gluten free millet scallion pancakesBon Appetit
Millet is high in fiber, calcium, iron, protein, and magnesium. It improves digestion which helps detoxify the body and boost immunity. These millet scallion pancakes from Bon Appetit are crispy and delicious. Serve them as a snack or a side to a larger meal.
Spinach & Quinoa Patties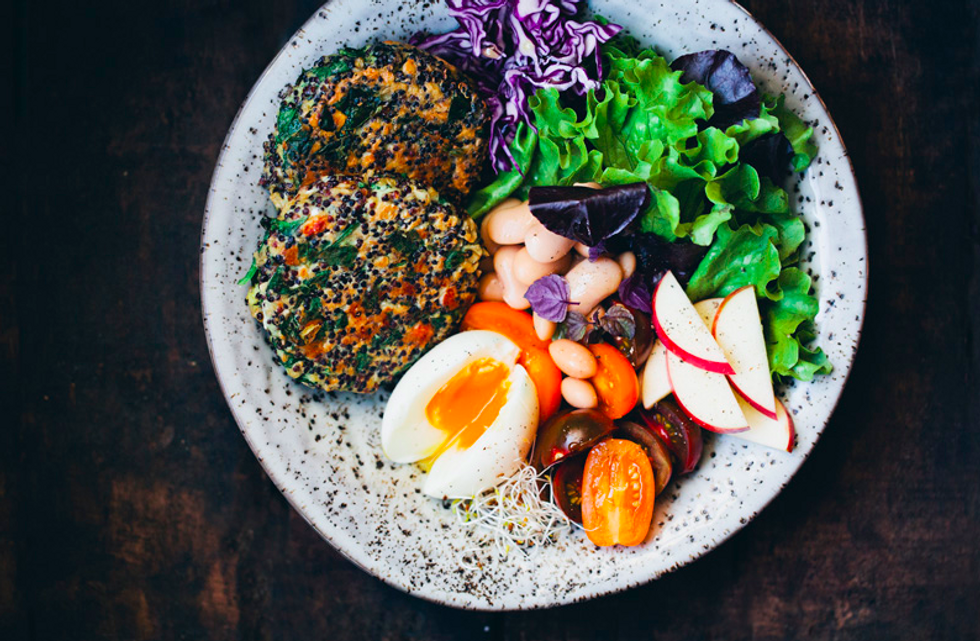 Gluten free quinoa and spinach pattiesGreen Kitchen Stories
I've made these quinoa spinach fritters more times than I can count. They're pretty quick to whip up, but the process can be a little messy. If you're going to make them, I recommend making a big batch and keeping leftovers in the fridge.
Having healthy, protein rich patties on hand during the week is really convenient. You can throw them into a salad. Serve them on a bun, veggie burger style. Or even just eat them alone with a dip like hummus or pesto.
Irresistible Teff Brownies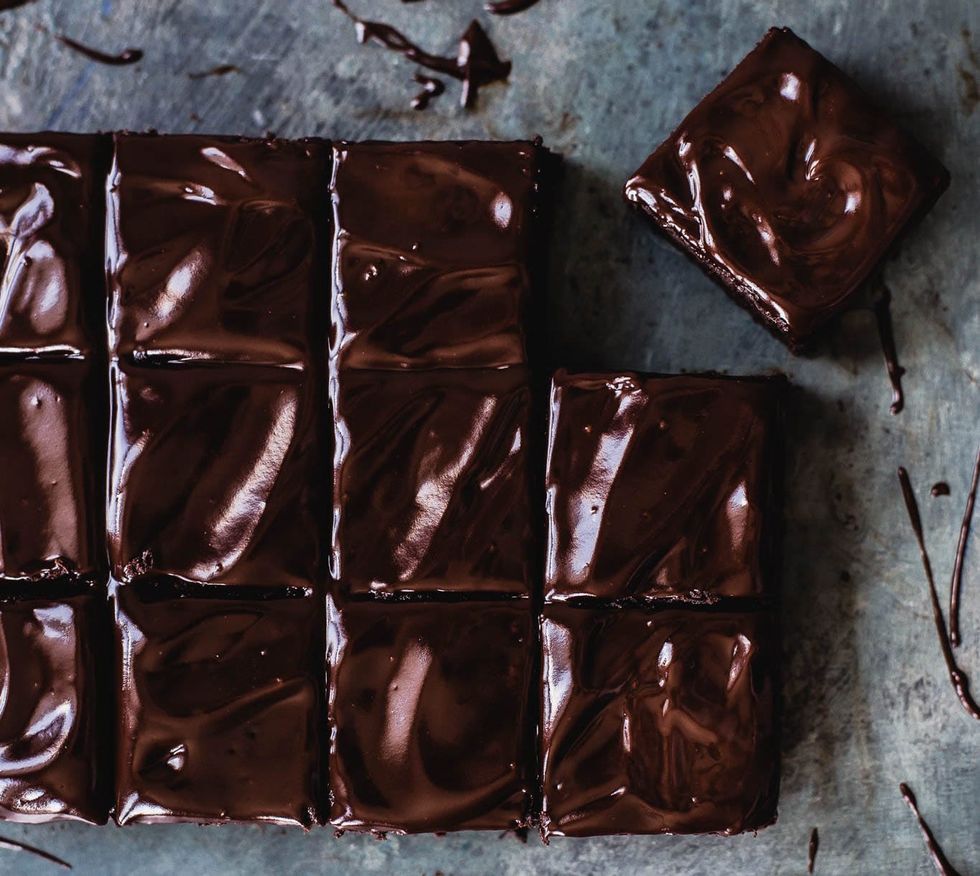 Gluten free teff chocolate ganache browniesThe Heartbeat Kitchen
Anyone who thinks gluten free desserts aren't as good, has never tried these brownies. Or the banana bread recipe above! These teff brownies really are irresistible. The teff flour gives them a malty flavor that you wouldn't get with white or wheat flour. The chocolate ganache only has two ingredients and is easy to make.
Teff is a very tiny grain that some people argue is actually more of a seed. Either way, whether you're gluten free or not, you should add it to your diet. It has a tasty flavor, and is full or protein and fiber.
Fried Brown Rice with Kale & Turmeric
By Epicurious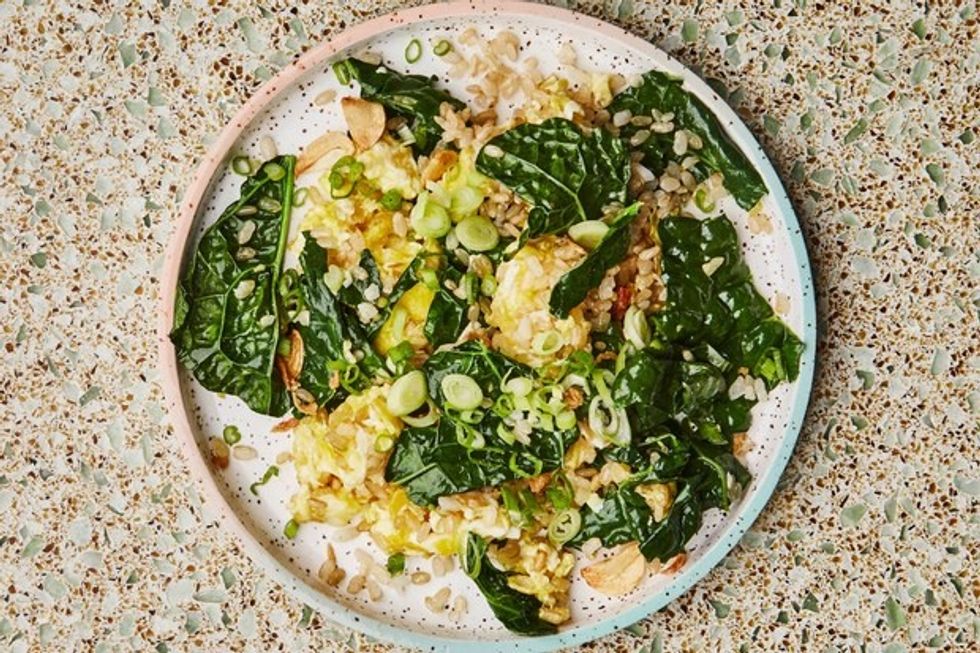 Gluten free fried brown rice with kale and turmericEpicurious
While all rice is gluten free, brown rice is superior to white rice when it comes to nutrition. Eating too much brown rice with animal proteins can feel heavy. Combining it with vegetables instead is ideal. Brown rice actually has enough protein on it's own. Just one serving has 22 grams. It's also full of fiber, selenium, folate, and iron.
This fried rice recipe from Epicurious is a great weeknight meal. Make a lot, you'll be glad to have leftovers for lunch the next day. The key to getting fried rice to crisp is to make the rice the night before and then chill it uncovered overnight. Leftover rice, that's dried out a little gets crispy much faster.
Spiced Butternut Squash & Sorghum Salad
By The Kitchn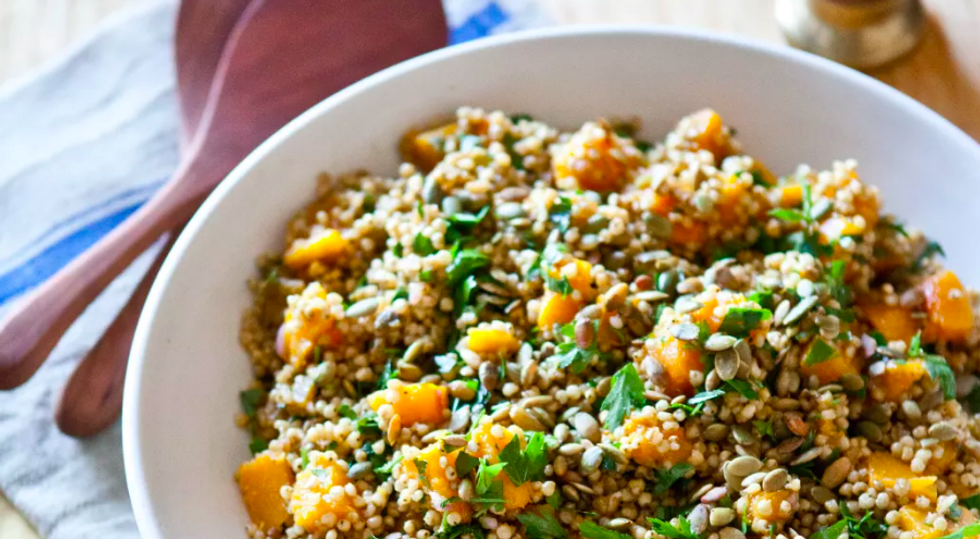 Gluten free spiced butternut squash and sorghum saladThe Kitchn
According to Vogue, sorghum is giving quinoa a run for it's money when it comes to being the trendiest grain. This South African staple has 22 grams of protein in 1 cup and is also full of fiber, potassium, phosphorus, calcium, and iron. It's has a similar texture to couscous and absorbs whatever flavors you combine it with.

Enjoy the health benefits of sorghum in this delicious and seasonal salad. Spiced butternut squash, sorghum, raisins, pepitas and herbs are tossed with a delicious orange, sherry vinaigrette. You might want to cook the sorghum a day in advance. The only downside to this grain is that is take about an hour to cook.