The Best Thing To Happen To Steak - And My Health
At some point in my twenties, I started noticing what I ate affected how I felt the next day. Late night pizza left me bloated and tired, and what was worse was my daily muffin packed on 15 pounds after I started working. As I got older, forget about it! It would take me 3 days to recover after giving into my Five Guys cheeseburger cravings and my doctor even told me I had a nutrient deficiency, despite being 20 pounds overweight! That was when I knew I had to start taking care of not only myself, but also my husband who experienced the same things I did.
We adopted a diet higher in protein because who hasn't heard that is the answer to losing weight and having more energy? But what I didn't know was that even though this higher protein diet was a step in the right direction, you have to make sure the quality of your meat is premium or else you could be causing even more harm! This was when I found Wild Pastures, a subscription delivery service devoted to providing 100% grass fed and pasture raised meats for less. Wild Pastures sources meats that are ethically and sustainably raised for wholesale prices.
I quickly and gladly made the switch to having my meat delivered right to my door because it doesn't get any easier than that, but my friend had a good point when she didn't understand why she should order her meat when she already shopped at Whole Foods. I pointed out to her that all of Wild Pasture's meats are strictly grass fed and pasture raised. The terms used today, especially for chicken, "cage free" or "free range", are misleading because these only mean the animal was not kept in a cage and had the ability to go outside - even if it was just a cement porch attached to the cramped hen house. Basically, these terms sound nice, but in reality the chickens do not grow up or live how they naturally would - free range on a field eating grass and insects.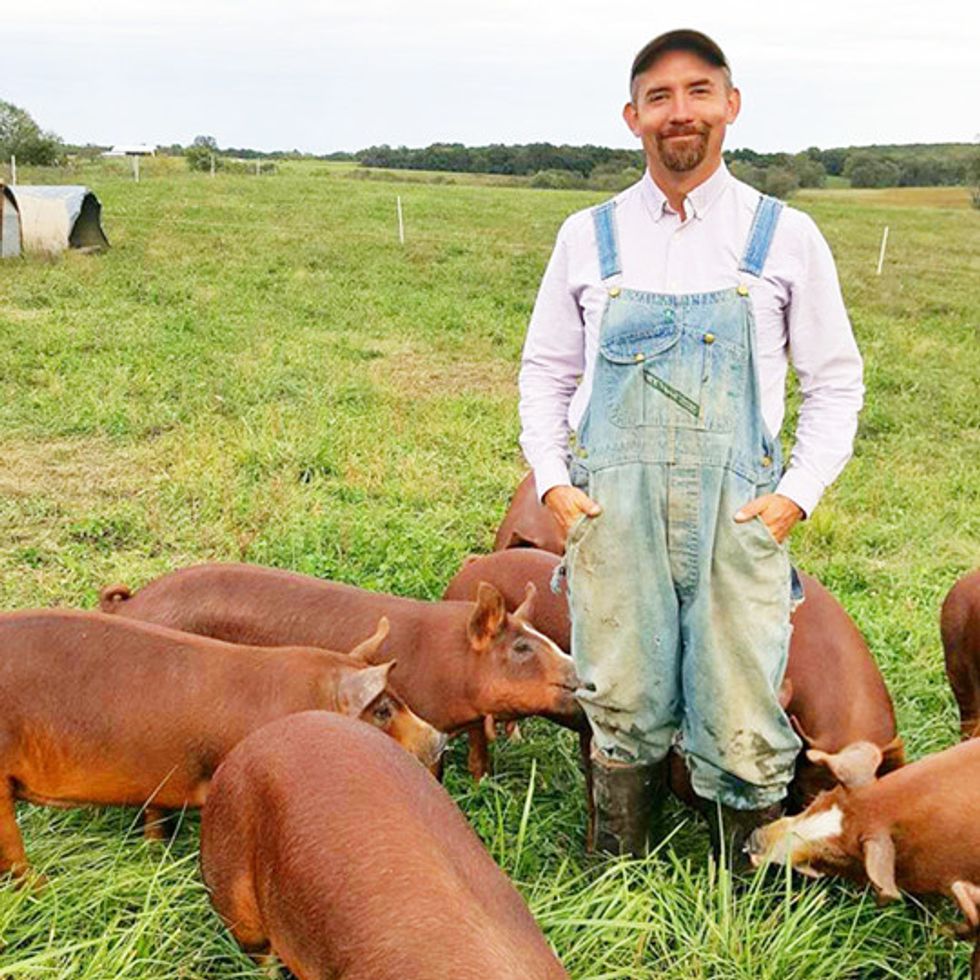 John, part of the Wild Pastures team, tending to some of their grass fed pigs
To get access to the savings, there's a yearly membership fee, like Costco, at $59 or $79 with free shipping. Then, you get to choose the frequency of how often you receive your meat. I started with a $267 order of meat because that came out to under $9 a pound of the highest quality meats in my area, but there are also smaller options. My first checkout receipt was high, but I knew that I could easily get this refunded if I wasn't happy since Wild Pastures offers a 365 day money back guarantee.
I have been a member of Wild Pastures now for over 4 months and I love it. Overall I have noticed that my body as a whole feels better. I recently read eating grass fed meat reduces the inflammation within my body because I am not ingesting low quality meat raised on grain diets. This is something I didn't realize I'd appreciate, but have come to because I like doing anything I can to prevent chronic illnesses. Even my husband comments how much he has enjoyed this change. He also absolutely loves the rich, deep flavor profile of the meat and appreciates how it impacts the environment as little as possible. Wild Pastures' animals rotate pastures how it would naturally occur, so they do not need to use fertilizers, pesticides, hormones or antibiotics on their land and animals.
If you are someone looking for the best meat at an actually affordable price, then I recommend Wild Pastures 100%! With a membership starting at $59, you get access to the highest quality, USA sourced beef, pork and chicken. Wild Pastures' grass fed meat has made me feel better not only physically, but also ethically when shopping for animal products.
Check out Wild Pastures' grass fed and finished meat today. Sign up today and save up to 40% on all your purchases!