Green Chef Vs. Blue Apron. Who Wins?
Our Editor's In-Depth Review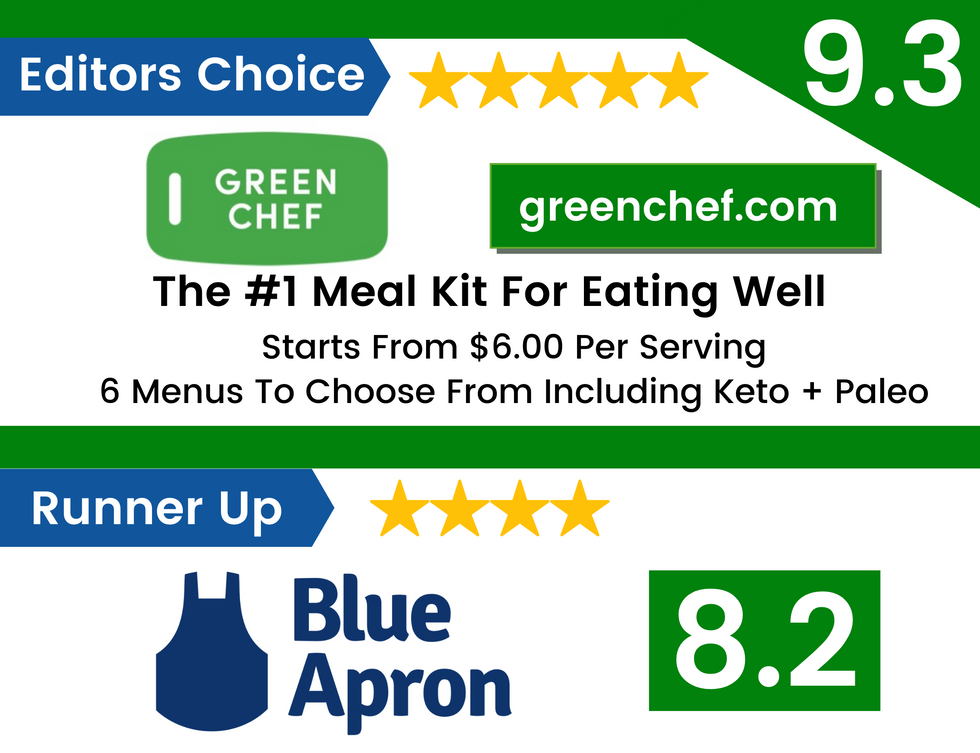 These days, convenience is king. That's why people can't stop raving about meal kit delivery services.
Spending countless hours in the kitchen slumped over cooking books and cutting boards like our moms once did is so old school. Forget the grocery-shopping, recipe-searching, or using a tablespoon of salt instead of a teaspoon and messing the whole thing up.
With a meal kit delivery service, all the prep work is done for you. The only hard part is choosing what meal kit service to go with.
With so many on the market, things can get confusing. To make it easy, our editors combed through reviews to see which came out on top.
Two clear standouts were Green Chef and Blue Apron.
Blue Apron is a meal-kit service that sends fresh ingredients, recipes and cooking instructions right to your door.
Green Chef is another popular meal kit, with certified organic fare and a focus on specialty diets for keto, paleo, vegan, pescatarian, gluten-free lifestyles, or many others.
We expected it to be a close race, but after sifting through countless reviews, there was one clear winner.
In fact, to our surprise Green Chef narrowly beat out Blue Apron in every single category. We looked at third party review sites like Trustpilot to make sure the reviews were impartial, and include some sample reviews below. Here's how the two meal kits compared.
Convenience
Winner: Green Chef

While both services offer unique recipes you might have never made on your own, Blue Apron is more time-consuming and skill-heavy than Green Chef. Most Green Chef dinners are made in just about 30 min, while Blue Apron meals might require upwards of 45 minutes.
Since they're so time-consuming and involved, customers often complain that Blue Apron meals aren't ideal for novices and busy moms with kids, though it's perfect for someone who has more time on their hands and wants to polish their skills.
Green Chef customers, on the other hand, rave that the recipes are gourmet but require less prep time, since the ingredients come pre-portioned.
Ingredients
Winner: Green Chef
One place Blue Apron fails completely is in the quality of its packages. Countless customers complain of missing, damaged, wrong, or spoiled ingredients.
Martha on Trustpilot wrote, "Most of the recipes are tasty and easy to prepare. However, at least 30% of the packages arrive with something missing or damaged. This is very frustrating." GreenChef on the other hand was praised countless times in reviews for fresh, high-quality produce.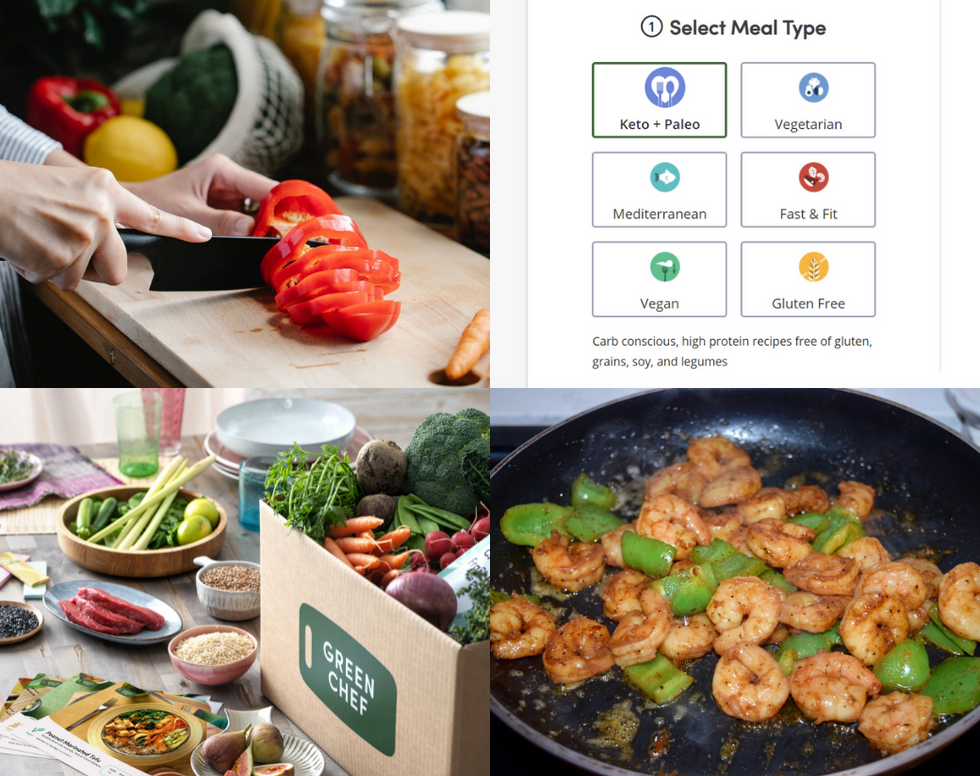 Meal Variety
Winner: Green Chef
Both Blue Apron and Green Chef customers enjoy receiving recipes for dishes they've never tried before like the Sesame Shrimp Noodle Bowl from Green Chef and the Roasted Chickpea and Farro Bowl from Blue Apron.
Customers love that Green Chef offers plans for all types of lifestyles including Keto, Paleo, Vegan, Pescatarian, and Gluten-Free, among others, a lot more than Blue Apron, which offers only 4 plans.
Possibly due to the lack of variety in their plans, Blue Apron customers have complained about often receiving the same dishes too many times and that there aren't enough seafood or fish dishes, but way too many that include kale.
Packaging
Winner : Green Chef
Customers really like how both Green Chef and Blue Apron pack the materials; everything is individual, clear, and easy to open. However, Green Chef gets the win here because of their early partnership with Terrapass.
Since 2014, Green Chef has been offsetting all of its carbon emissions, achieving an environmental balance!
While Blue Apron and Green Chef both help customers cook tasty meals, our editors found that Green Chef was a crowd favorite for its convenience, easy instructions, and overall presentation.
Customers constantly praised their fresh ingredients, amazing customer service, and the variety of their gourmet meals.
While Blue Apron is definitely a contender in the war of meal kits, Green Chef's got it beat.
Update: The folks at Green Chef are extending a special offer to our readers: Follow this link and use code "POP135" to get $135 OFF across your first 5 boxes!