We've Got Your Hair Routine Right Here
How To Grow Long, Healthy Locks
We all have hair goals, but they're easier said than done.
Whether you want your hair to stay frizz-free, feel healthier, or simply grow it feels like there's no clear-cut solution.
Our editors feel the same way, so we set out to find the products that help achieve all your #hairgoals. What we found was Vegamour, our new must-have clean vegan beauty products to support the growth and overall look of your hair, brows, and lashes. Their GRO line of hair products has serums, gummies, and everything in between to stimulate growth.
Vegamour sees you through all phases of your hair journey with their GRO line. Their powerful growth actives and Karmatin™ ingredient will set your hair apart from the rest. The length and volume you desire, coupled with a healthy and easily-styled look, is totally possible thanks to Vegamour.
We've got you covered with the 3 need-to-know products for growth, styling, and maintenance, so your hair can get the love it needs:
GRO Revitalizing Shampoo $48 ($42 with subscription)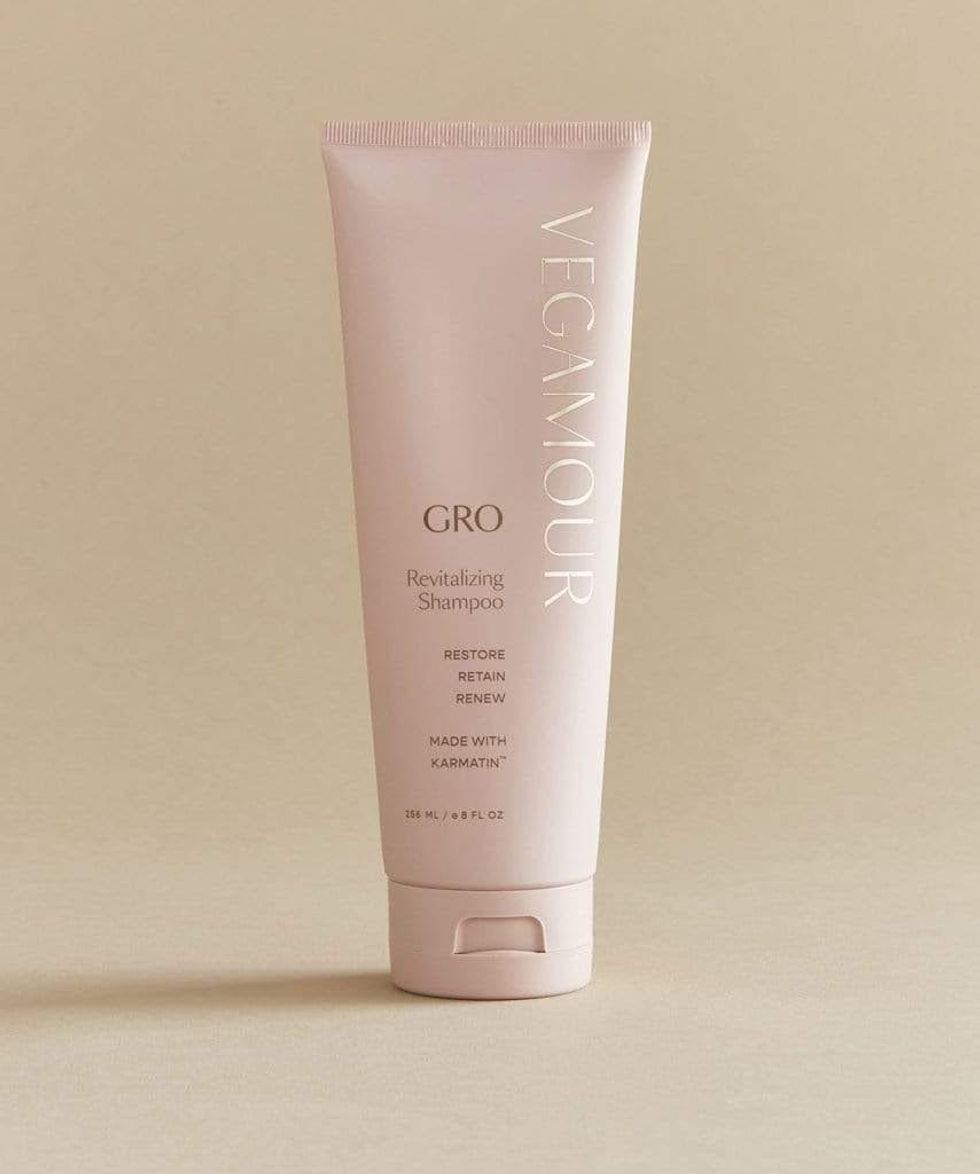 The basis of all hair care is a good wash, but Vegamour's GRO shampoo does more than just cleanse. Their formula uses microencapsulation technology to penetrate the scalps surface and deliver clinically tested phyto-actives to stimulate hair growth.
While the science behind it is amazing, the long story short is that as a result, you get visibly fuller, thicker, and strong hair in as soon as 90 days.

Vegamour's use of Karmatin™ sets this shampoo apart as the world's first chemical-free, vegan keratin hair treatment. Your hair gets shine, body, and repair without harming any animals or you. Keratin treatments contain formaldehyde and are produced from the hooves and feathers of animals - Vegamour's cruelty-free mission takes that element out Karmatin™ completely.
Plus, this product is free of silicones, sulfates, parabens, gluten, and artificial fragrance (everything we want to be left out of our beauty brands).
No matter if your hair type or texture, Vegamour's color-safe, cruelty-free shampoo will work for you. Just take a quarter-sized amount, massage into your scalp for 30 seconds, and then rinse out - simple as that!
GRO Revitalizing Conditioner $48 ($42 with subscription)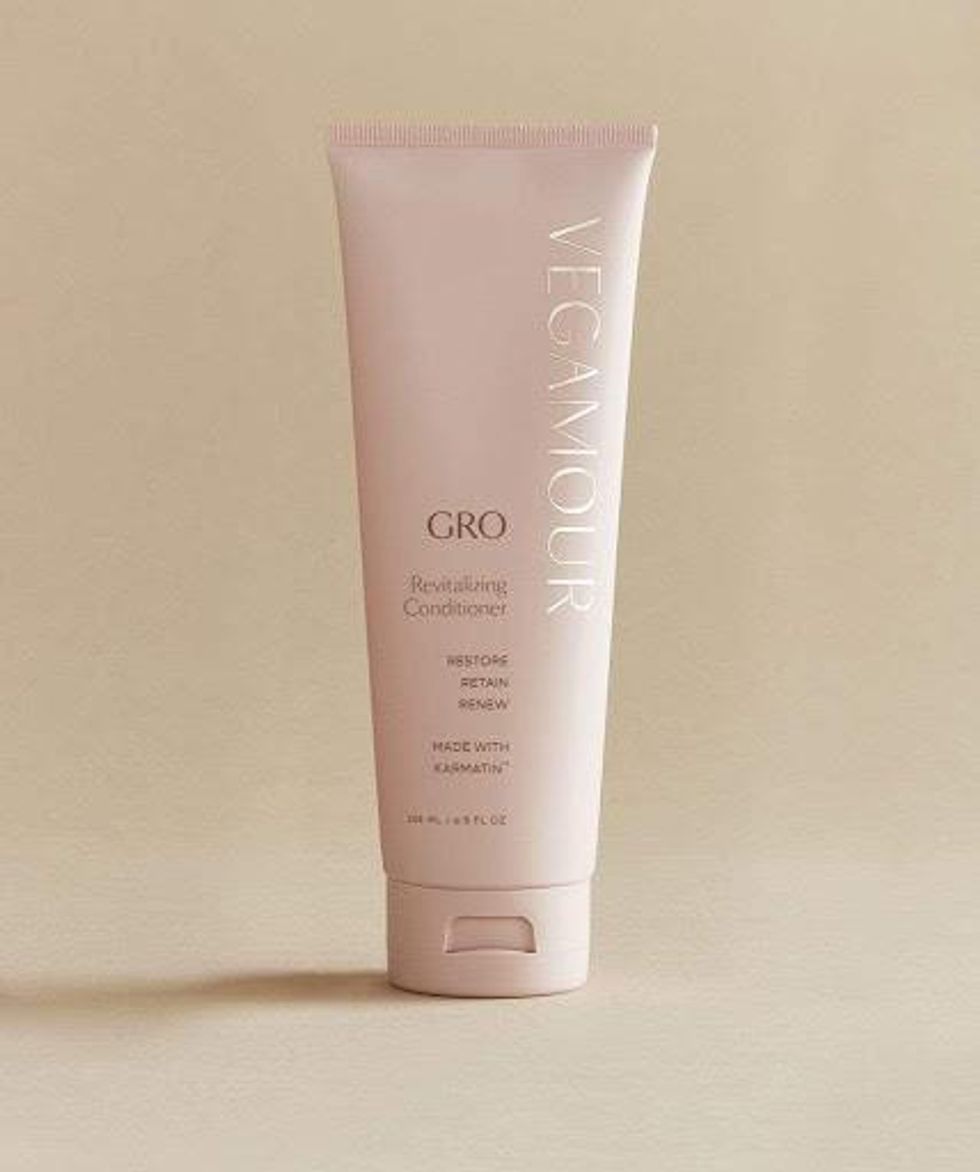 Every great shampoo needs an encore -- enter conditioner! Vegamour's GRO conditioner utilizes the same technology to reinforce the growth, strength, and thickness of your mane while still being free from harsh elements like sulfates and silicones.

Karmatin™ is at work again to repair damaged follicles and achieve that glossy shine you love. However, you can also thank the marula oil, organic murumuru butter, and ximenia oil for getting the great conditioning and hydration your hair's craving. On top of that, the formula's use of mung beans fills your hair with protein, B vitamins (folate), zinc, iron, magnesium, and calcium.
Again, you only need to use a quarter-sized amount, massage it into your scalp for 30 seconds, and leave-in for a few minutes. After you rinse it out your hair is good to go.
GRO Dry Shampoo $32 ($28 with subscription)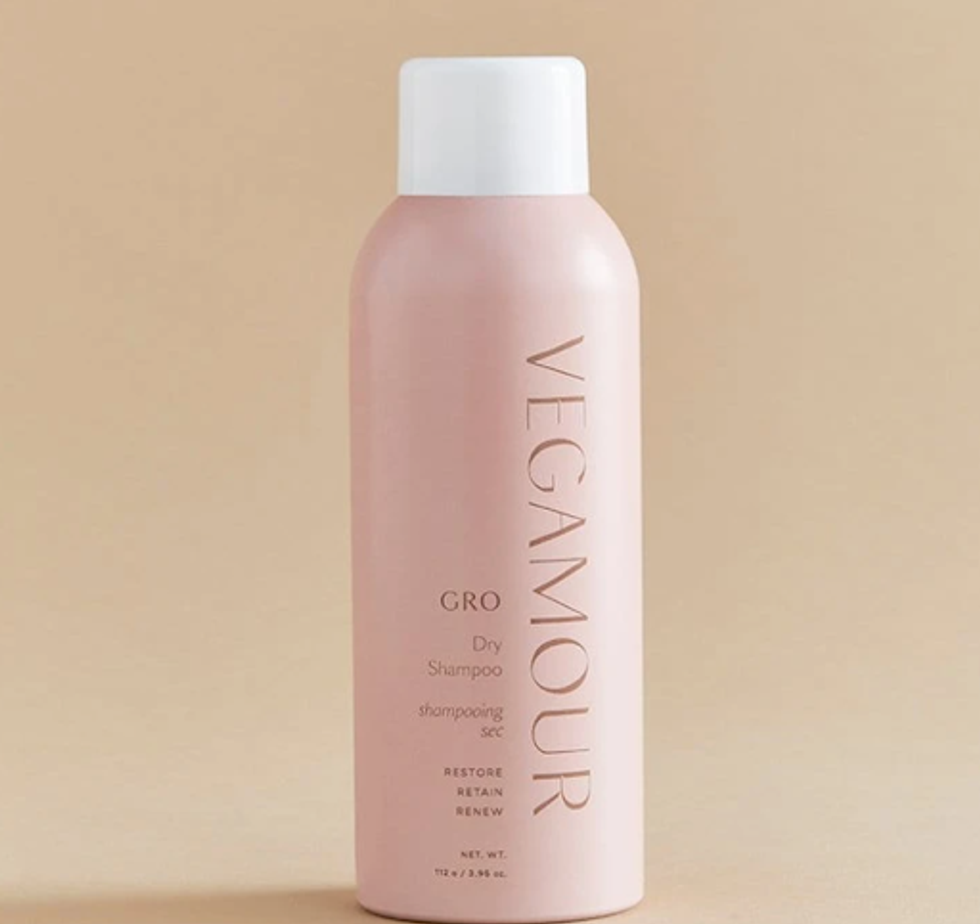 Sometimes you just don't have the time to do a full hair wash, and that's okay. The key to keeping up with your hair health is giving it the care it needs, even on the go, and with Vegamour's GRO Dry Shampoo you can.

This is the only clean, plant-based dry shampoo out there that will treat your hair right, with growth actives combined into a lightweight, talc-free formula. Hold the bottle 4-6 inches away from your hair and spray directly at the roots, then massage in, leave for a minute (pro tip😉), and brush/style. You can be ready and out the door in a matter of minutes!
There are no toxins or hormones in this product (we're talkin' zero), making it great for non-wash days. Organic rice starch will absorb the extra oil in your hair while Vegamour's powerful phyto-actives penetrate and help with follicle stimulation — reinforcing the work of the Revitalizing Shampoo and Conditioner.
Good days are here to stay! Subscribe to these hair-growth essentials and save 13%! You'll get a new supply of product every 60 days and can skip or cancel anytime.
Your hair is a work in progress and we know it's not a quick fix situation; that's why we love Vegamour. They're taking hair growth and maintenance seriously with these GRO products allowing for easy styling and long-term healthy locks.
JUST FOR YOU: Our friends at Vegamour are offering our readers an EXCLUSIVE offer! Follow this link and enter BEAUTY20 at checkout to receive 20% OFF!