We Tried 3 Shampoo Alternatives. Which One Came Out On Top?
Our editors have been looking for products to help with the latest focus in our wellness routine: hair health. We were tired of the same old drug store shampoos; the ingredient lists were so long, and in such fine print, it was impossible to find any hair products that we could trust. We just wanted clean hair that looked and felt great- no strings attached.
In our quest to find a new go-to hair cleanser, we kept coming across three hair products: Hairstory's New Wash , Briogeo's Be Gentle, Be Kind Co-wash, and DevaCurl's No-Poo Original. We gave each one a shot to see which one truly worked. Here's our review!
Key Similarities
All three are cleansing solutions NOT shampoos.
All three aim to restore your hair and clean it without inflicting the damage that typical shampoo products cause by the use of detergents (any ingredient that creates foam).
All three hair products can be purchased online and delivered to your home.
Key Differences
Hairstory and DevaCurl products are both sulfate-free while Briogeo is only free of "harsh sulfates."
Hairstory has a major subscription option that you can customize and has tons of bonuses while Briogeo's comes with a small discount. DevaCurl doesn't have an option to subscribe
Briogeo is meant for thick, textured, dry, and/or color-treated hair. DevaCurl hair products are made for curly hair. Hairstory offers different washes intended for all hair types.
Hairstory has innovative packaging that helps you cut down on your plastic waste and biodegradable formulas that drain easily.
Hairstory: New Wash Original Review
Hairstory is all about debunking the shampoo and conditioner routine we grew up with. If you're not sure what your hair needs, you can take their 23-step quiz to find the perfect match. Or if you wanna skip the quiz, Hairstory has a go-to for all hair types-the New Wash Original.
It's a cleanser that does the job of both shampoo and conditioner, but the right way. Hairstory has eliminated the common shampoo detergents that strip your scalp of its protective oil barrier, leading to an overproduction of oil, sending you back into the shower sooner.
New Wash Original lists all ingredients including peppermint, jojoba, and sunflower seed oil. No matter how small in concentration, you'll find out if it's there. It took our hair a couple of washes to get used to it, but once our hair fully adapted, the results speak for themselves!
Hairstory uses less plastic for their packaging, making it the perfect, guilt-free subscription. Save even more money and plastic when you sign up for their refill club. Refill Club members get an aluminum refillable container equipped with a convenient pump dispenser. Every 6-10 weeks, they send you a pouch to refill your bottle. Refill Club members also unlock free shipping on all orders!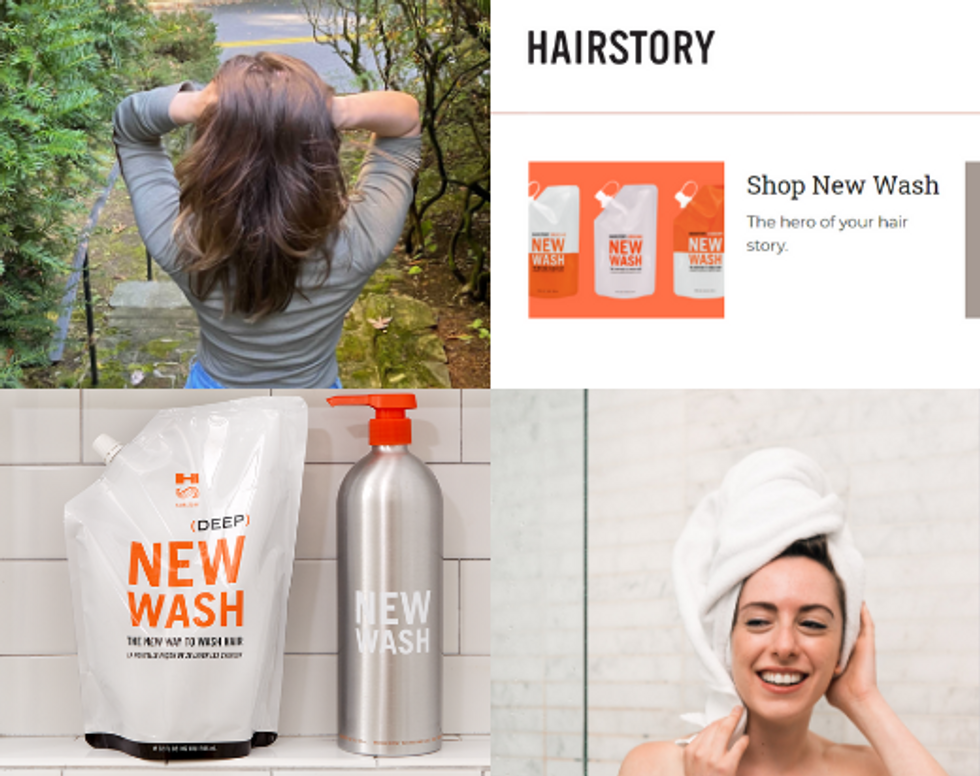 Briogeo Review: Be Gentle, Be Kind Avocado + Quinoa Co-wash
Briogeo was a bit overwhelming to try upon our initial review. They have so many hair products but we narrowed it down to the Avocado + Quinoa Co-wash to address our hair care problems. This co-wash is meant to break the shampoo-condition cycle with a 4-in-1 formula.
Briogeo hair wash uses avocado oil, quinoa extract, and shea butter to cleanse, condition, detangle, and nourish hair. While we loved the idea behind this powerful cleanser it just didn't deliver on all that it promised upon our review. Our hair felt conditioned and soft but it didn't feel clean after a few washes and we ended up supplementing with shampoo — putting us right back where we started.
Though this Briogeo hair product is free of "harsh" sulfates, it does contain some and we were looking to eliminate them entirely from our hair care routine. The results we were getting during our Briogeo review just didn't justify compromising on the sulfate-free aspect.
While we wanted to fall in love with the Briogeo hair wash, for their seemingly great ingredients as a shampoo alternative, we just couldn't. We pinned our hopes on our DevaCurl review next.
DevaCurl Review: no-poo original

DevaCurl was the go-to brand for curly hair. The Devacurl no-poo original is sulfate-free, and its key ingredients are Grapeseed oil and Mint oil to gently cleanse. The Devacurl product is non-lather which is gentler on curls and preferred by some.
However, DevaCurl has been reformulating its hair products recently including the no-poo original. As a result, recent customers have left DevaCurl reviews reporting that it's just not working for them like it used to and are in search of DevaCurl alternatives. Our editors have noted that this curly hair classic just isn't worth it anymore when there are so many other new, innovative brands similar to Devacurl that are working for curls today.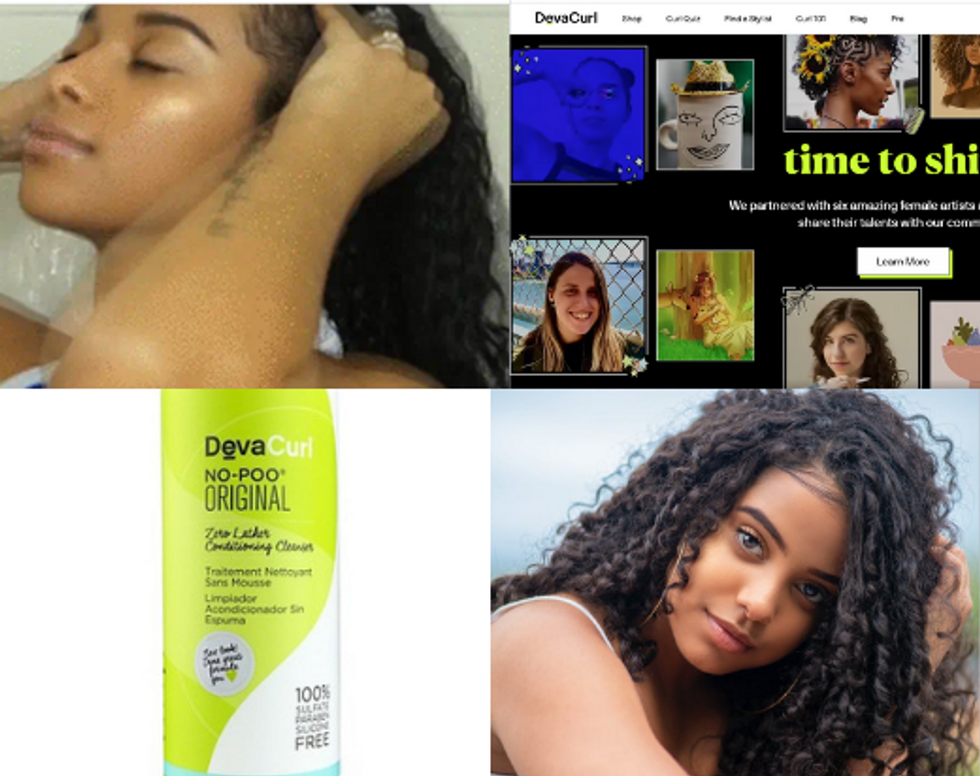 Overall Winner: Hairstory's New Wash Original

While we had high hopes for our Briogeo and Devacurl reviews, Hairstory's New Wash Original was the only one to actually give us what we want in a shampoo alternative: clean hair that feels healthy with no hidden ingredients. The added environmentally friendly packaging and subscription option are the perfect bonus to get us to commit to Hairstory. 8oz's of their New Wash costs $40, and lasts around 50 days, on average. Plus, you're eliminating conditioner from your routine, so you're saving money on that front.
Hairstory's New Wash is perfect for curly hair, straight, wavy — it works for every type of hair unlike Briogeo and DevaCurl hair products.
It's time to stop shampooing and start to truly cleanse. Our editors know how hard it can be to find a hair product that works for you, and thankfully we found Hairstory, the best overall alternative to DevaCurl and Briogeo hair products.
Hairstory is Offering a Special Offer for Our Readers: Enjoy Free Shipping for All New Customers by Following this Link!