My First Week Trying HelloFresh-- Does It Live Up To The Hype?
Last month, I decided it was time to finally try a meal kit delivery service. With so many out there, it was hard to choose, but I went with the most popular: HelloFresh.
HelloFresh is known for their tasty recipes, convenience, and cooking time accuracy, so I was excited to start! I signed up for the 2-person plan to get 3 recipes a week.
I kept track of my first week to see if it really made an impact on my life, so here's what happened:
MONDAY
My box arrived on Monday at my doorstep. I had leftovers from the weekend, so I knew I was only going to take everything out of the box and move it to the fridge today--no cooking yet.
Opening the box, there were 3 paper bags, each labelled with the recipes I picked. Underneath those, there was a piece of cardboard to separate the bags and ice packs (so the bags don't get wet from the condensation), and under the ice packs was the protein for my meals, kept nice and chilly! I was most excited for the 30-minute Juicy Apple-Pork Burgers with Rosemary Potatoes and Green Salad. HelloFresh's rotating weekly menu had over 23 recipes to pick from, me specifically choosing recipes that had cook times of 30 minutes or less.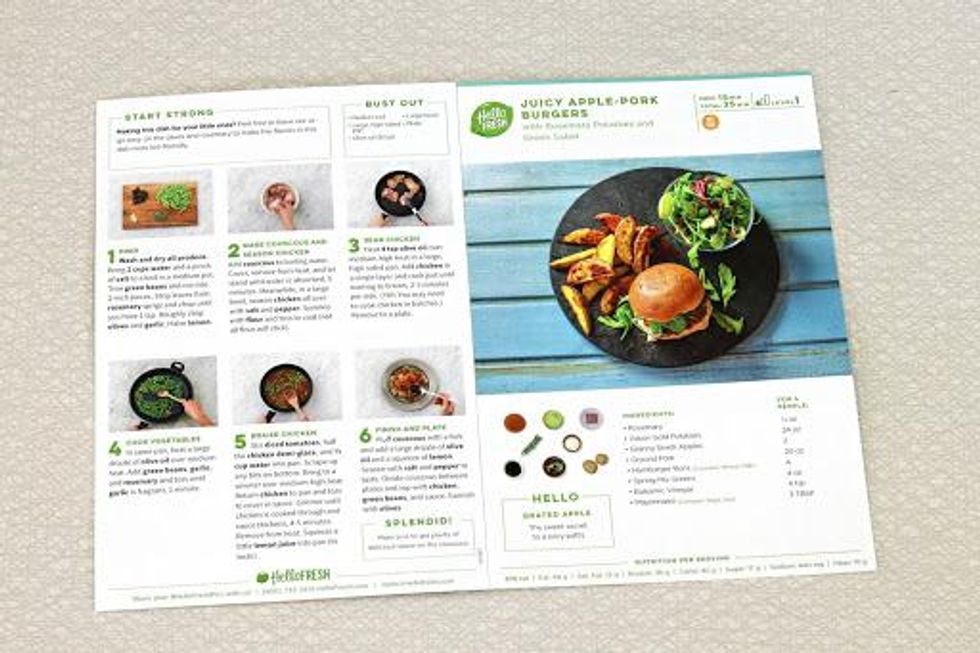 I loved looking at the recipe cards and was getting excited by the glossy images. I appreciated that there was no unnecessary packaging. Everything was individually wrapped for ease, but it was all as recyclable as possible. On the side of their box it also stated their carbon footprint is 25% lower than the footprint of meals made from traditional food supply chains, and that HelloFresh offsets 100% of its direct carbon emissions--pretty impressive!

TUESDAY
I typically hate the prep portion of cooking. Somehow I always forget I have to chop things or that I need to preheat the oven, but HelloFresh's recipe cards were so clear that it wasn't an issue! For my first meal, Rajas Quesadilla, I followed the instructions and was staring at a full plate of delicious food 25 minutes after I'd taken the bag out of the fridge.
There was an obvious focus on seasonal produce, and their meals always include vegetables, so I'd be getting loads of nutrients with plenty of new flavors and cuisines. I was stoked that thai food cooked at home felt doable now!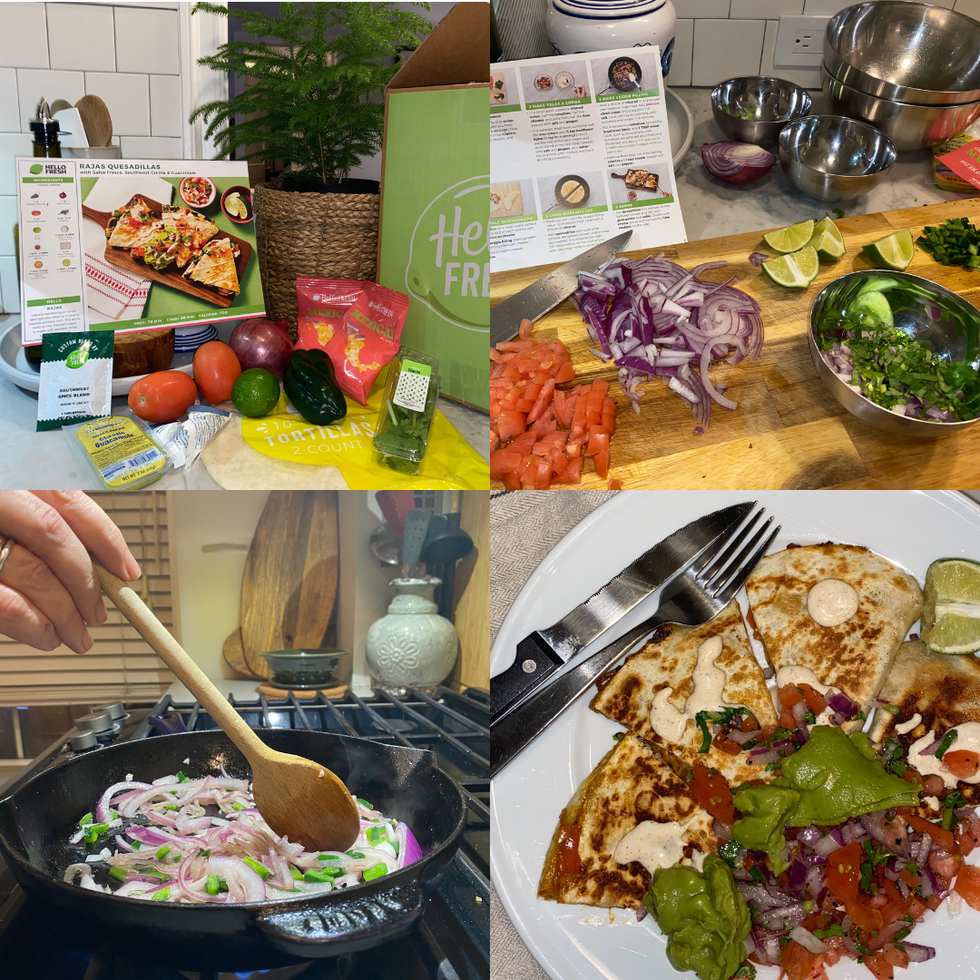 WEDNESDAY
Normally I do mac'n'cheese on Wednesdays since I get home a little later, but with HelloFresh's Quick and Easy options, it would take about the same amount of time and effort. This was a One-Pot recipe: Tortelloni Gratin with Kale, Pesto, and Parmesan Breadcrumbs. Everything went in, I stirred, added spices, and boom, I had a fast pasta meal. Also, minimal clean-up!
I also loved that it would be even better tomorrow for my lunch portion.
THURSDAY
I ended up getting tacos with a friend. It was great to catch up, but I was missing HelloFresh. With guac, I ended up spending $20, where my first week of HelloFresh meals came for $5.49 per meal with free shipping.
FRIDAY
Yes! My burger! Tacos and burgers in the same week seemed pretty indulgent, but all the vegetables really helped balance it out. Plus, it's made with quality beef from American farmers.
The wait was worth it; biting into that juicy pork burger was the perfect thing to do after a long week.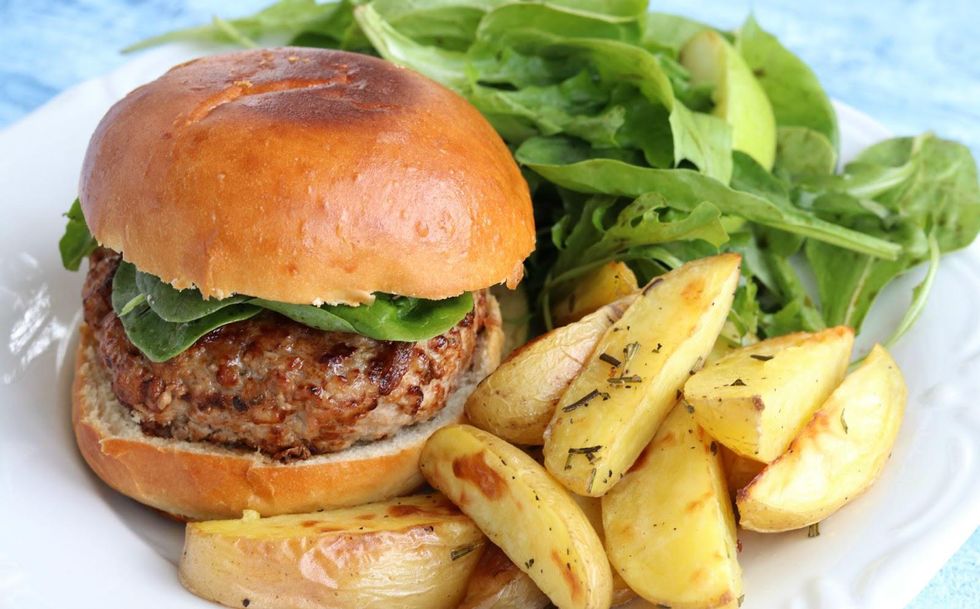 SATURDAY & SUNDAY
Three times a day I have to figure out a meal?! I'm upping my HelloFresh meals! But honestly, I had such an easy time cooking all week. Getting into the groove of cooking with HelloFresh, I wasn't overwhelmed to whip up a fancy quesadilla on Saturday afternoon for myself. Instead of just grabbing a frozen meal or a sandwich at the deli, I knew I could use some of the same cooking techniques I'd practiced that week.
FUTURE PLANS
I'm going to increase to 4 nights a week instead of 3! I know that if I ever need a break, I can skip a week, pause for multiple weeks, change my delivery date, or cancel my plan entirely at any time. HelloFresh is flexible, so it's not a big deal if my plans change.
After my week, I'm so happy I tried this. HelloFresh is super affordable, easy, and so delicious. I get the satisfaction of a job well done without hours in the kitchen or using up every single pot and pan. Plus I'm becoming a better cook, learning skills I'll take with me the rest of my life.