Here's How HelloFresh Made Sticking To Our New Year's Resolution As Easy As Possible
When my boyfriend, Matt, and I moved in together, it was perfect.
We both have little things we do around the house for each other. He's really great about folding laundry and making coffee in the morning for both of us, and I've been good about keeping things tidy and staying on top of bills. But there is one thing we were both terrible at – cooking.
I wish I had taken up my mom's offers to teach me how to cook when I was younger (her Spaghetti Bolognese is to die for). We had a few go-to recipes, but after a while, we got into the terrible habit of ordering take out all the time.
We both sat down at the end of the year and realized how much we had spent on pizza and chinese food--we were shocked. Not to mention how unhealthy it was! We both decided that our New Year's Resolution would be to cook more.
But where would we even start?
Looking up dinner recipes online in the past ended up being a disaster. There's a whole lot of planning before going to the grocery, a lot of unused ingredients that go bad, and we struggled to get into a routine with it due to our busy schedules. We just didn't have time to come up with new dinner ideas and go to the grocery store every few days.
Then, one day, my friend Alison and I were discussing our new year's resolutions, and I told her that Matt and I were determined to start cooking dinner every night, but I had no idea how we were going to tackle it. That's when she told me about HelloFresh.
HelloFresh is a meal kit delivery service that sends pre-portioned ingredients so you can make home-cooked meals without trekking to the grocery store or measuring out ingredients. I had heard about meal kits before, but I was worried the recipes would be complicated and would take forever to make.
But Alison assured me the recipes are super easy and only take about 30 minutes to cook. She said she was a beginner when it came to cooking before signing up for HelloFresh and that their recipe cards are super easy to follow.
I looked into it and saw that HelloFresh had so many great reviews online. That's when I realized this could be the solution to all our problems. I ran it by Matt, and he agreed that it sounded great.
I went onto the HelloFresh site and signed up for their Meat & Veggie plan and chose 4 recipes per week. When I saw that it was only $8.99 per meal, I knew it would save us so much money - we were paying almost twice that amount for take out most nights. They also have gourmet recipe options, as well as calorie smart options. Plus add ons like garlic bread! - which I would definitely be adding for myself and Matt.
When our first box arrived, I was super excited to try it. We decided we would take turns to cook for each other. The first recipe we tried was Crispy Chickpea Tabbouleh Bowls. And I was surprised at how easy it was and how delicious it was! Matt couldn't believe that I cooked it! And it really did only take 30 minutes.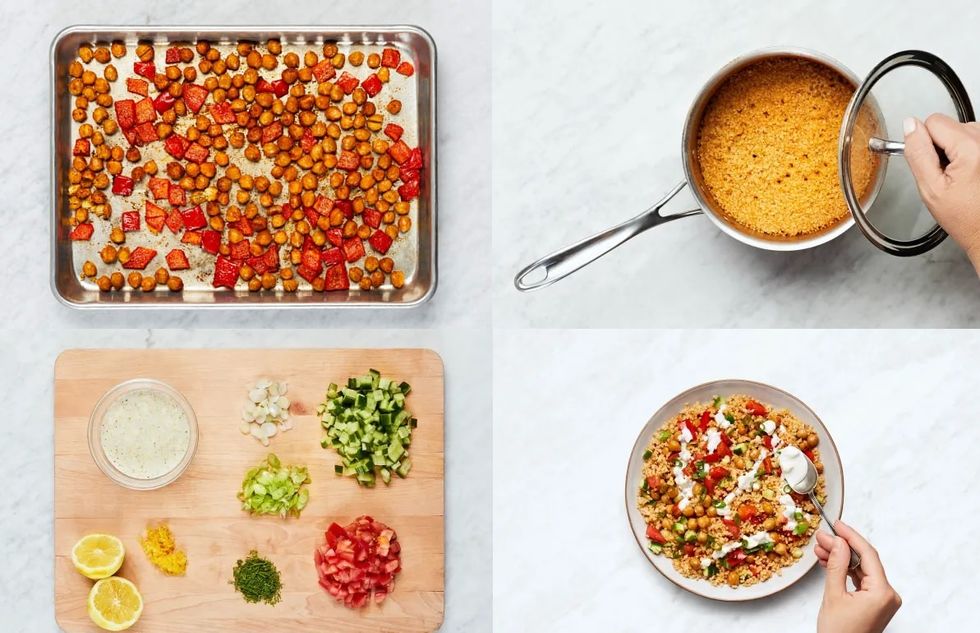 We've been using HelloFresh for a while now, and the best thing about it is the convenience. Plus, you get to explore over 22 different recipes a week. My favorite so far is the Black Bean and Poblano Flautas.

Matt and I have kept with the routine of taking it in turns making the meals, and I have to say. We're really getting the hang of this cooking thing. Plus, we've already noticed that we're saving money.
The meals are so wholesome too, each recipe has three to four different fruits and vegetables, and HelloFresh uses between 40 and 60 different types of produce each month!
I'd recommend HelloFresh to anyone who is busy and wants to cook more. It's convenient, super easy to follow, the food is wholesome, and it's saving us money. Overall, signing up for HelloFresh has been such a good decision for us; it may have made cooking more be the first New Years Resolution I actually stick to!
Update: Our friends at HelloFresh are extending a special New Year's offer to our readers. Get $30 Off Including Free Shipping On The First Box!