I Went All Out - Here's My $224 Vegamour Haul & My Honest Review
Vegamour is a vegan hair wellness brand that promotes healthy, beautiful hair using clinically tested plant-based ingredients
Known for their powerful formulas, Vegamour has products that target hair, lashes, and brows in applications ranging from serums to supplements
I decided to try out some of their bestsellers from the GRO+ line and see if the brand really does deliver on the hype
Read below to see everything I got with $224 and how it worked out
Vegamour has become a household name in the hair wellness space.
Their mission and commitment to healthy hair have led to a powerhouse line-up of GRO products. However, Vegamour has taken a holistic approach to hair wellness a step further with the creation of its GRO+ Advanced range that harnesses the power of hemp. The addition of this extremely beneficial plant-active is changing the game and has definitely piqued my interest.
I wanted to get a better sense of Vegamour and see for myself if the rave reviews really hold up. Here's what I thought about a few of their GRO+ Advanced products:
First up was the GRO+ Advanced Hair Serum, a fan favorite.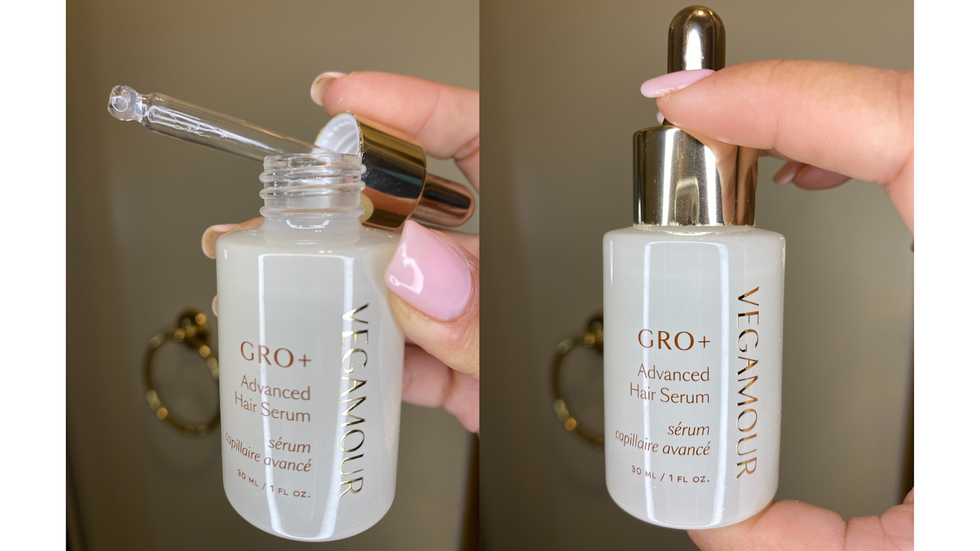 This $68 serum is the key to promoting healthy hair. Like all Vegamour products, it's free of any known toxic chemicals that are often found in hair care brands. Big names like Rogaine still use minoxidil, which can cause severe scalp irritation and even headaches and dizziness. Vegamour only leverages natural ingredients to visibly increase hair density.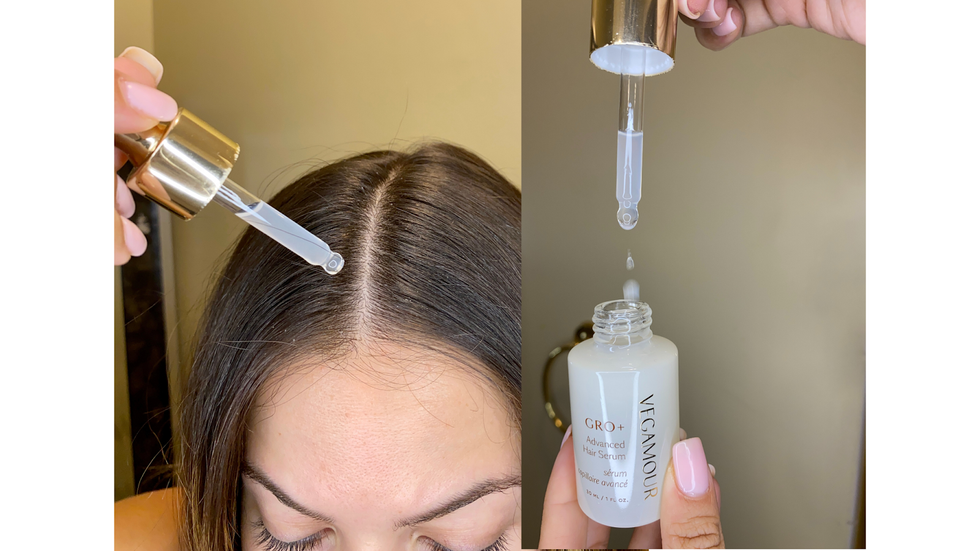 I was pleasantly surprised by the application of the GRO+ Hair Serum. All I had to do was administer a fuller dropper to my scalp and massage it in with my fingertips - that's it! Since there's no rinsing involved, you can simply incorporate it into your morning or night routine.
Hair loss has been a constant worry of mine but since using Vegamour I'm confident that these incredible, clinically proven formulas will support my healthy hair journey. The serum utilizes mung bean, red clover, curcumin, and hemp in combination with follicle-stimulating technology that delivers results in as soon as 3 months (with peak results in 4). It's only been a couple of weeks but I swear this serum has me on the path to thicker, fuller hair!
My brows needed some love too, so I got to work with the GRO+ Advanced Brow Serum.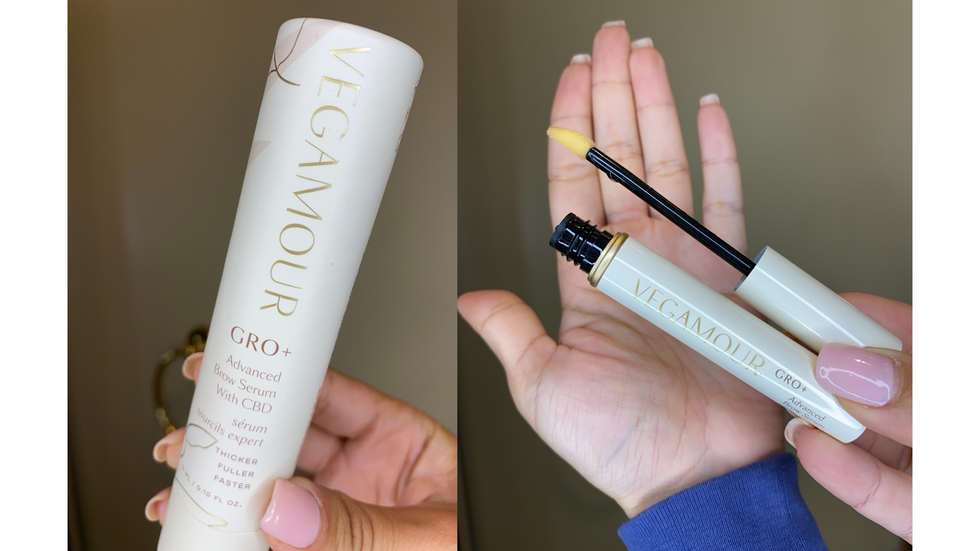 I've always been skeptical of eyebrow serum, but I've given a few a shot. None have compared to the amazing, fast results I've seen with Vegamour. Unlike other brands, Vegamour's GRO+ Brow Serum doesn't irritate the skin thanks to the soothing and calming effects of hemp. I've been applying it twice a day with their easy-to-use wand that lets me coat the brow line precisely.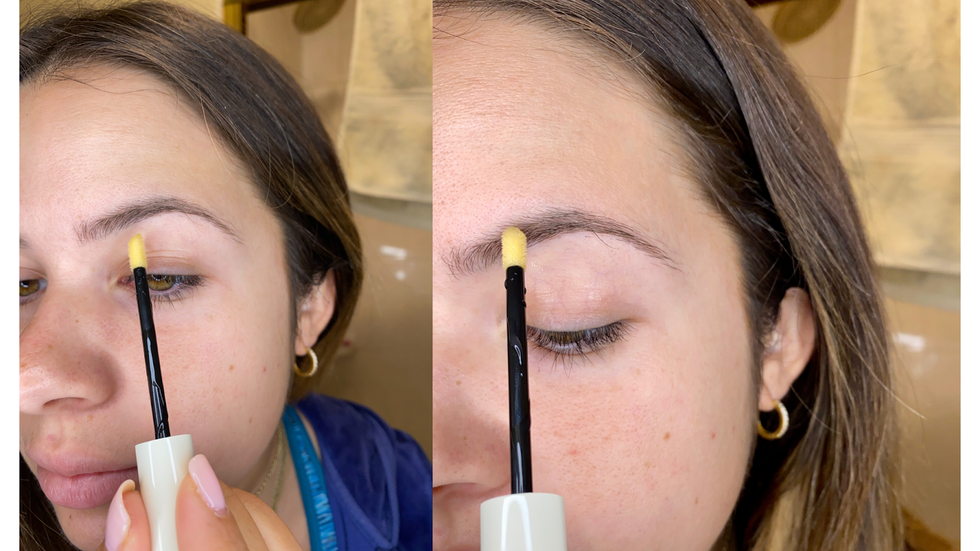 Vegamour says that you can see visible results in as soon as 30 days, and they're right! After my first month of daily application, I noticed longer, fuller-looking brows forming. I've even subscribed so I can save 11% on each restock. That's only $78 with free shipping.
I'm so excited to put down that old eyebrow pencil once and for all, to embrace my thicker-looking brows with Vegamour.
Clearly, my next stop was Vegamour's GRO+ Advanced Lash Serum.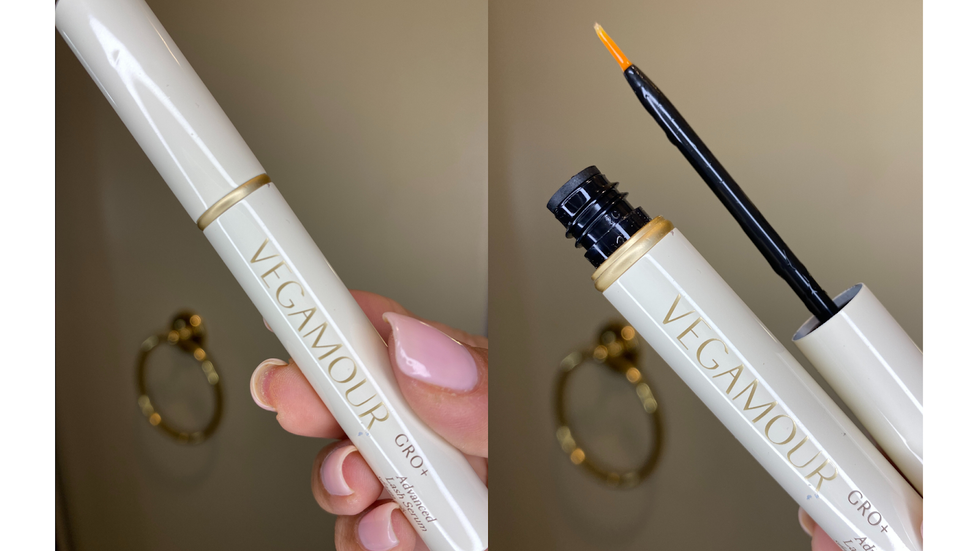 I'd been wanting to wean myself off the 5 coats of mascara I'd been applying every single day - yes, weekends, too - but figured long lashes were just something you chalked up to lucky genes. However, Vegamour proved me wrong with another plant-based serum. All it takes is a twice-daily application to the root of the upper and lower lash lines, and I'm good to go!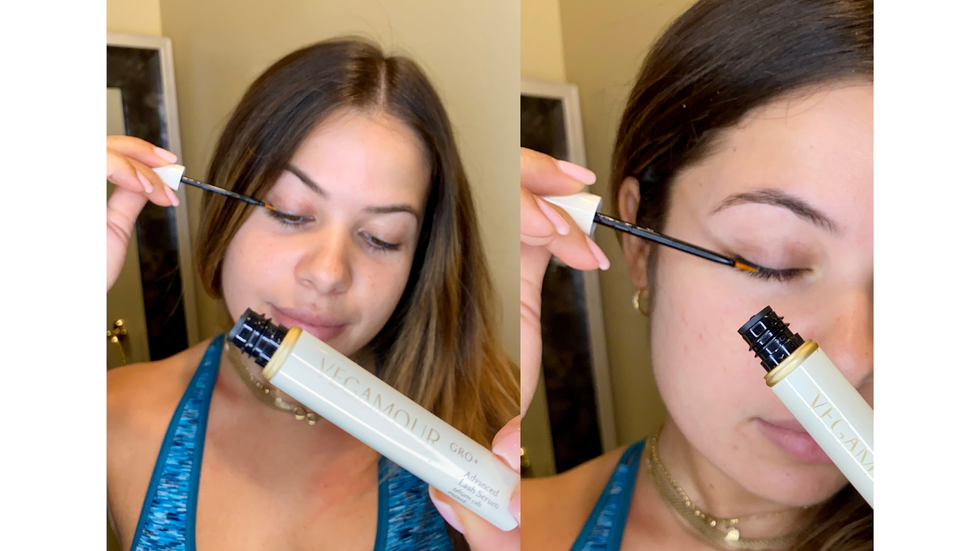 This lash serum is a miracle worker and worth the $78 (if you subscribe & save). After 4 months of use, customers have reported a 94% greater increase in density + volume and 34% longer-looking lashes. I'm on my way to joining them and I can't believe how much progress I've made in just 30 days.
Overall, Vegamour is the way to go.
Whether it's your hair, brows, or lashes you can't go wrong with Vegamour's GRO+ Advanced line. Their follicle-stimulating technology is totally worth the investment. I've never tried any brand that not only cares about the ingredients but also delivers amazing results.
I'll definitely be restocking my Vegamour regimen and saving with their subscription in the process. The confidence I feel with my healthier, longer, thicker hair is truly priceless.
If you're ready to dive in and discover an entire GRO routine, there are tons of bundles to choose from. Whatever you do, don't forget to subscribe and save, so your hair wellness journey stays on track and you score the best deal in the process.
JUST FOR YOU: Get 20% OFF Vegamour with the promo code BEAUTY20 at checkout. Follow this link to shop!