Your mantra for skincare - "repair and protect"
Well, actually, your mantra should be: reapply sunscreen religiously. However, once you've got that down, time to focus on healing blemishes and improving your complexion while preventing future breakouts.
---
When you reach around 25 your body's collagen production starts to decline. Collagen is your skin's essential, moisture-giving, reparative building block. It keeps your skin plump and youthful-looking while helping it reduce blemishes and keeping your skin blemish-free.
To preserve your remaining collagen, and to stimulate cell turnover, you need a skincare routine that's both restorative and preventative. That's where Hero. cosmetics come in. Hero works with the skin, not against it like other brands that strip, purge, resurface, and then there's the two-week waiting period before any agitation recedes. Hero's products are actually effective and confidence-boosting.
According to Hero, "Blemishes happen, dark spots happen, rosacea happens. Issue-prone skin is human, and it can often feel entirely out of our control. We're here to help put the power back in your hands. Whether you're looking to prevent, treat, or repair – we create gentle, effective solutions that help your skin fight back; so you can open up, not cover-up. The Hero of this story is you. We're here to help you reveal it – one solution at a time."
This viral-approved line employs an innovative toolkit that keeps your skin clear and protected. Now you can even get free shipping over $35:
Mighty Patch Original - The nighttime acne patch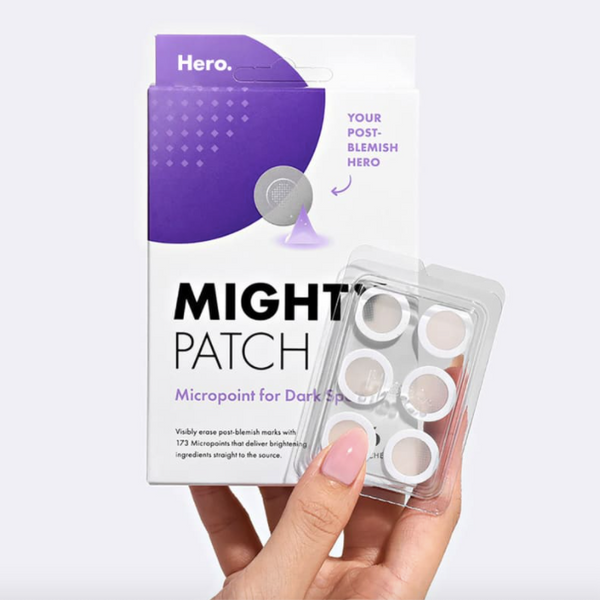 It's hard to separate the good pimple patches from the bad. But making that distinction is the difference between avoiding acne scars, and making them worse. Some lower-quality pimple patches remove the top layer of skin when you peel them off — ouch! Some work by digging into your pores, which only aggravates your skin more in the long run. But not the mighty patch! This nighttime acne patch is a safe, gentle, and non-irritating solution for all ages and skin types. Made of plant-based hydrocolloid – a natural fluid-absorbing gel – it's chemical-free, medical-grade, allergy tested, and terrific for sensitive skin. Protect your skin from your absent-minded picking while in fusing it with ingredients that will draw out impurities and help your skin heal faster. Mighty Patch effortlessly gets the gunk out in only 6-8 hours, while shielding skin against scabs and scarring caused by popping zits.
Rescue Balm - The post-blemish recovery cream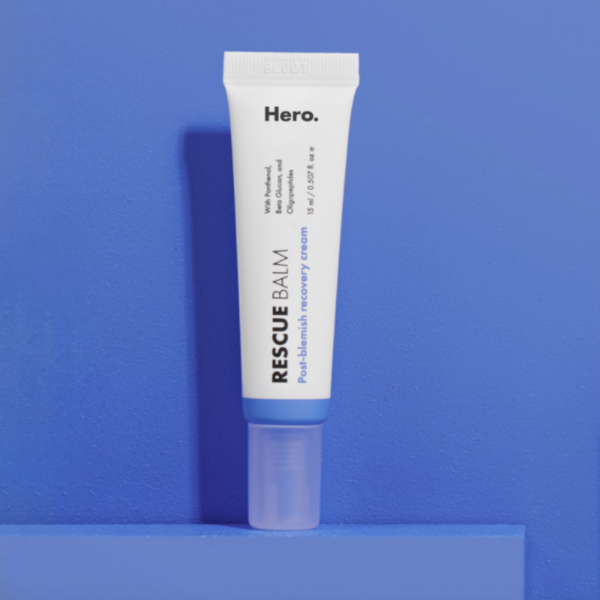 This viral balm helps your blemishes on the path to healing. This multi-use moisture bomb handles 4 different post-breakout signs. It's dermatologist approved, and has zero fragrance or irritating ingredients. So it's totally safe to use on recently patched (or popped) pimples. Gone are the days applying toothpaste on active acne or laying on harsh astringents. Instead, heal your breakouts by nourishing them and uplifting your overall complexion. This balm delivers intense moisture that evens and smoothes texture. This remedy visibly soothes upset skin. Vitamin E replenishes and fortifies dry and depleted skin, while also providing the built-in benefits of peptides and antioxidants. Gently apply on those areas that need some extra love and you're good to go!
Rescue Balm +Dark Spot Retouch - The apricot recovery cream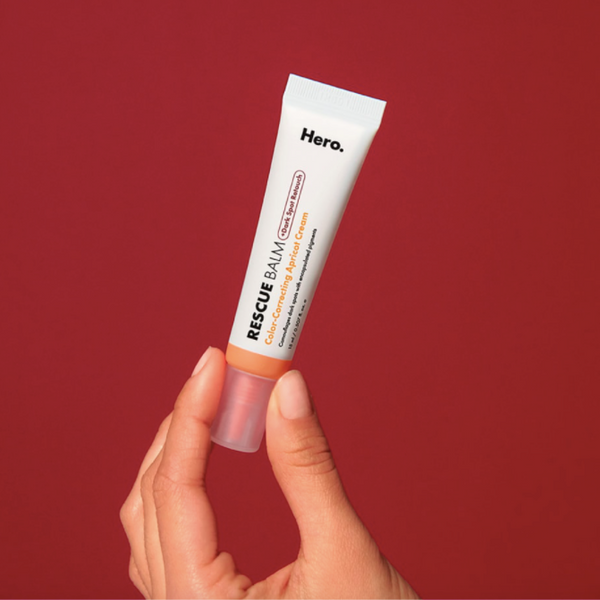 For some needed attention, try the Dark Spot Retouch cream. If you're prone to post-acne scarring, add this to your routine to target hyperpigmentation. Diminish existing dark spots and prevent new ones with this powerful fading and recovery cream. This lightly tinted balm works on all skin tones to color-correct without clogging your pores. It helps recovery while covering up present scars. Rather than piling on layers of skincare products and makeup, here is one cream that is sure to be a stress-free addition to your routine.
Lightning Wand - The brightening serum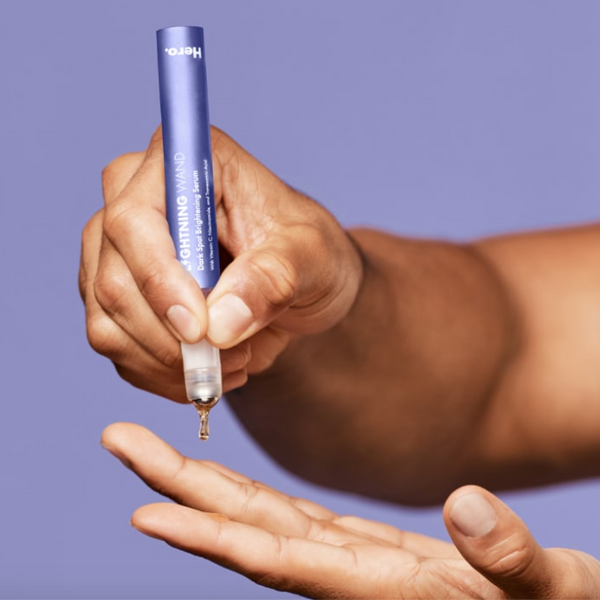 For even more brightening action, this innovative tool helps zap away dark spots. Use this lightning wand twice a day to visibly fade acne marks effectively. Illuminate your entire complexion, while evening out skin tone. Tranexamic acid gently buffs away dead skin and lightens dark marks. Combined with Vitamin C, niacinamide, and licorice root, you'll be hard pressed to find a more potent brightening serum. Simply smooth the rollerball over your problem areas for an effective application that will help you bounce back in a flash.
Clear Collective Trio - The AM/PM routine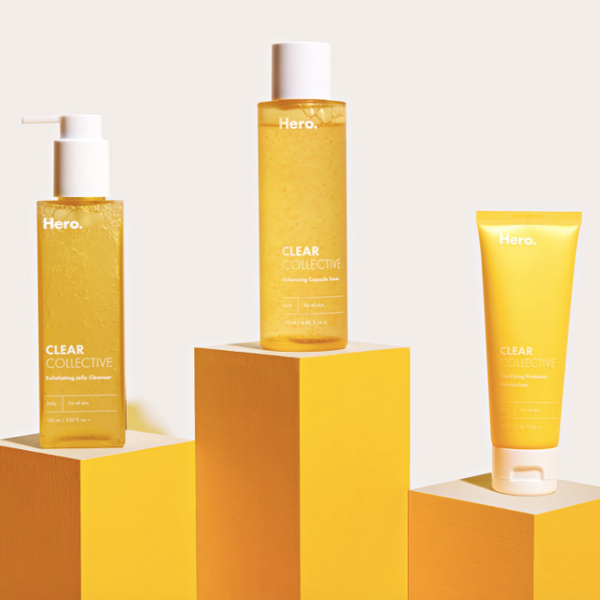 If you're tired of wasting your time with an over complicated and ineffective skincare routine, this fantastic trio provides a from-the-ground-up new and improved your new, improved skincare system. The Clear Collective super-trio works together to exfoliate, balance bacteria, and hydrate - giving you that all-over glow. Start with the Exfoliating Jelly Cleanser, a gentle but effective way to deeply clean your pores without stripping your skin. Then swipe your skin with the Balancing Capsule Toner to shrink pores and prime your skin. Finally, finish off with the Clarifying Probiotic Moisturizer to nourish and fight acne at the same time. After all, there's more than one cause for a breakout — address them all with this dynamic trio.