Bringing good cheer doesn't come cheap. This holiday season, Americans are expected to spend an average of over $1,000 on everything from gifts to decorations and greeting cards, according to the National Retail Federation. That's one grand in a matter of weeks, and we're not even factoring in additional travel expenses, celebratory dinners out, and all those pricey hot toddies. It's great news for retailers, but not such great news for your bank account. While it may be too Grinch-y to institute a no-gift policy for family and friends, there are ways to cut back on some of your holiday spending. Consider some of the most unnecessary expenses, and how to avoid them.
1. Last-minute shopping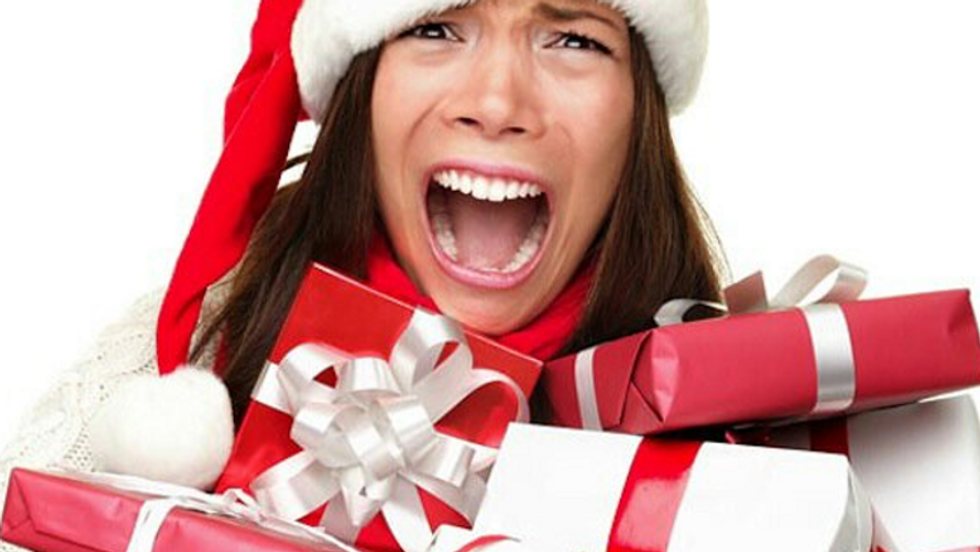 National Star News
You are in panic mode. It's a day or two before the gift deadline and you haven't found that perfect present for [insert high-maintenance family member here]. You are on the fast-track to throwing money at a problem and splurging unnecessarily. And that's not counting the exorbitant shipping fees you may have to pay if you've passed the post office's December 14th deadline for ground shipping.

The fix: Gift cards. Gift cards. Gift cards. Forty-one percent of people preferred gift cards to other gifts last Christmas, and this year, the offerings are no less impressive. From restaurants to electronics and beauty, you can find a plethora of gift cards on Amazon and search for even more discounted ones at Cardpool.
2. Insane (and insanely expensive) decorations

The Christmas tree, the holiday decorations, the centerpiece. By the NRF's estimation, we'll spend about $215 on flower arrangements, ornaments and other random store-bought decor that may or may not survive long enough to see 2019.
The fix: Three letters—DIY. You can make a centerpiece out of water glasses and holly or pomegranates and pine sprigs. Ornament-making can be a crafty part of the celebration—all you need are some cheap items like glue and scissors, twine, burlap, pine-cones, pipe cleaners, and maybe some googly eyes. You can even make your own minimalist tree out of branches and twine. For more inspiration, check out HGTV's endless ideas or head over to one of a million Pinterest DIY Holiday boards.
3. Crappy gifts for extended family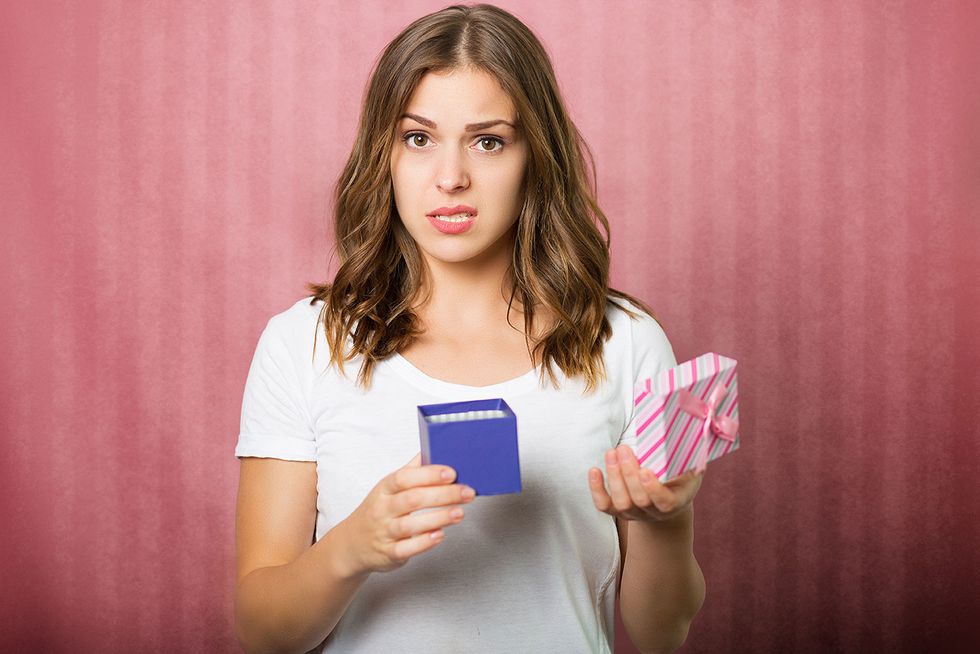 Cedar Rapids Marketplace
You've done all the shopping for your loved ones, and then you find out about the distant relatives (and their very young kids) joining the holiday celebration. Before you drop even more cash on expensive candles, baby toys they already have and the itinerant sock warmers, take a beat.

The fix: Etsy.com has an entire section dedicated to gifts for distant relatives, from keychains and charms to framed quotes, with many under $10. Consider printing out a designed quotation for under $5-$7 on Etsy. Pick up a simple frame for under $10 at any craft store and voila. You've got one thoughtful gift for the whole household instead of each individual.
4. Partying too hard

According to one recent survey by NRF, the biggest spenders this season are under 35—and it's not because an entire generation has struck gold. Quite the opposite. Apparently, dining and drinking are partly to blame for the spree. Hometown reunions, unofficial work celebrations, and the general celebratory mood makes budgeting for party-time a bust.
The fix: Save those holiday dinner leftovers for a small gathering of friends. Hit up a discount liquor store and make some festive drinks with good-old egg-nog or apple cider. If hosting isn't an option, skip the restaurant and meet for a drink—preferably during happy hour.
5. Paying Full Price For Gifts
If you think all the deals of the season expired after Cyber Monday, you'd be wrong, my friend.
The fix: 'Tis the season of coupon codes. From free shipping to massive discounts on everything from home goods to electronics, all you need are some trusty apps like RetailMeNot or Honey, which will automatically search for discounts at checkout from any online retailer. Not sure where to shop? Coupons.com has a roundup of over 900 retailers offering killer promo codes for the Christmas season.
6. Sneaky Travel expenses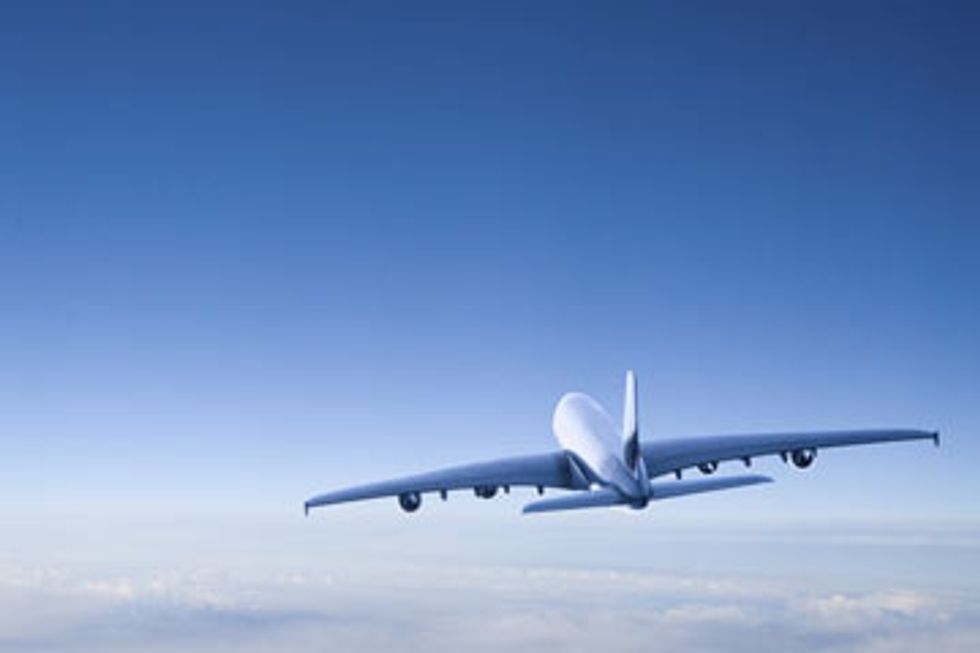 You bought your plane ticket home and you even timed it for the best rate. But you haven't even begun to factor in additional travel fees—from checked bags to airport purchases, wi-fi, snacks and taxis to your destination. Those expenses really add up.

The fix: First off, ship your heavy, bulky gifts ahead of time so you can travel light and avoid checked baggage fees. Pack your snacks and reads before you hit the airport where prices are double and triple the usual cost. Download any streaming content you want to enjoy on the plane for free at home, and research cheap transportation options like airport bus services, or split the taxi fare with a friend traveling the same day as you—even if it means waiting an extra hour in the airport. You'll thank yourself later.
7. Self-gifting

If you can't help buying yourself a gift each time you buy one for someone else, you're not alone. It's called "shopping momentum" and it's a real psychological phenomenon according to a study published in the Journal of Marketing Research. Apparently, spending can trigger a lack of impulse control. You're already buying something, why not buy some more? Oh dear.
The fix: Set a holiday shopping budget ahead of time—you can even build in that glittery New Year's Eve dress you've been eyeing. Just make sure you calculate how much you've spent and how much you have left to spend (excel spreadsheets are helpful) before you dump all your spare change on your own impulse buys.

8. Shiny, pricey rippable paper

We live in a society that rationalizes spending mad money on rolls of paper and ribbons designed to be torn to pieces—all in the name of gift-giving. It's a custom that is both strange and expensive. What is with that?
The fix: Customize your gift-wrapping with some creative DIY tricks. You can literally print your own festive wrapping paper with this handy guide or grab a roll of plain-old Kraft paper and a Sharpie for some handmade designs. Use twine and pine sprigs to finish off the "rustic chic" look.
9. Snail mail cards
Holiday cards aren't just pricey to print and mail, they take forever to address. As if this season wasn't already eating up all your free time.
The fix: We live in the digital age, let's take advantage of it. It's no longer tacky to send your cards over email or post your holiday cheer on social media. You can still design your own cards using a free design app like Canva, which allows you to create personalized, photo-driven cards sized for various social posts and email blasts. Check out their range of holiday-themed templates here.
10. Forgetting what the holiday is really about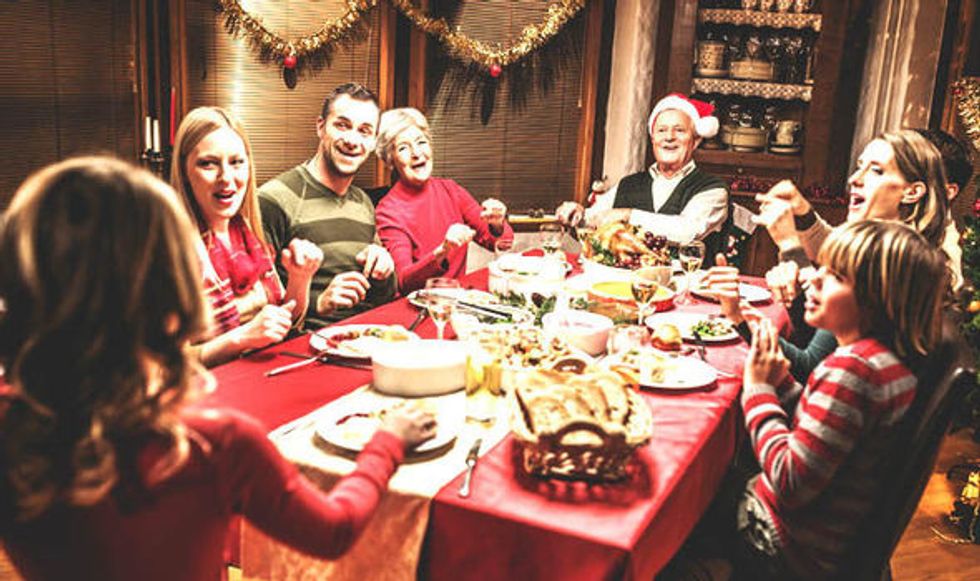 Daily Express
It's so easy to get caught up in having the perfect holiday with the perfect gifts, the perfect table and everything that comes with it. "Part of the reason people spend so much money during the holidays is because they're chasing the idealized picture of the holiday that they have in their heads," psychologist Amanda Mulfinger tells US News and World Report. "We believe that the more money we spend, the better the chances that we'll be able to purchase the perfect holiday."

The fix: When it comes down to it, the holidays are just about being together. It's okay if you forget a gift for your great aunt, if the tree is a little junky, if your dog ate the centerpiece. The holidays are really about being together and sharing the love. If you remember that, you'll save yourself a lot of hardship—and maybe even some of your hard-earned cash.