Surprise, b*tches! Fall is back, which means it's sweater season and time for socially distanced cuddles by a virtual fire place.
Whether you're struggling to get through these last weeks of 2020 or you're content in the warmth of your rescue cat's fur or Lizzo's everlasting beams of love, you could use a hot toddy. Some believe it cures common colds; others believe it cures loneliness and despair during dark and lonely winters. Who cares! Everyone could use a hot toddy.
The only question is whether you're a proud, basic b*tch who pours the bourbon straight into your Starbucks cup or whether you actually own a set of measuring spoons in your kitchen junk drawer. For every level of cocktail craftsman, we have the best recipes for you.
Plain "Hot Toddy" (from Epicurious)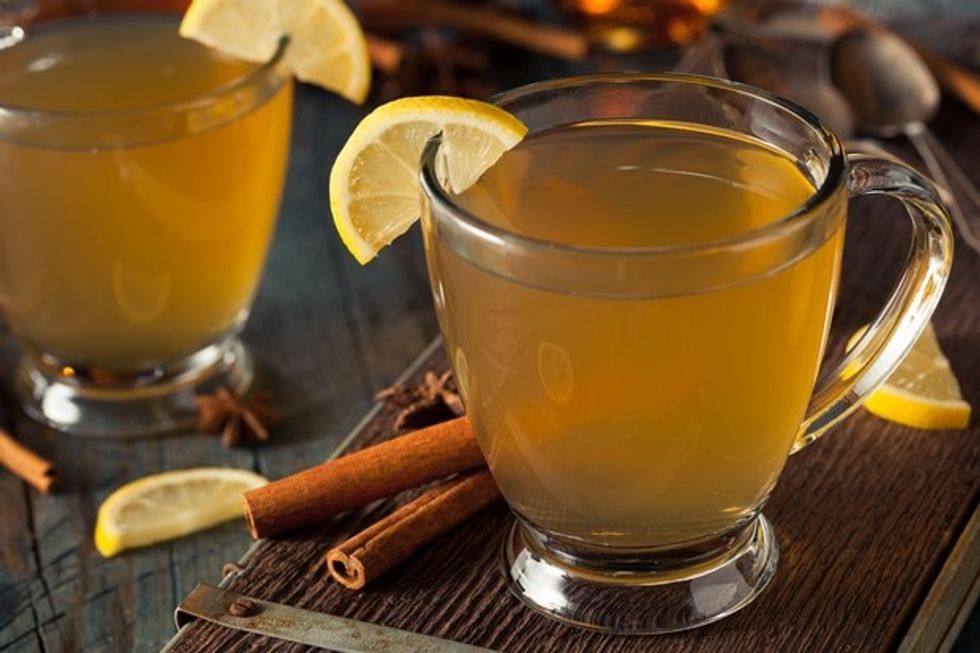 Hot toddy with cinnamon and lemon
Epicurious
Honestly? If you manage to screw this one up, you must've mistaken a bee for a spoon, or something. It doesn't even have tea; it's literally water, bourbon, honey, and lemon. How to you prepare this drink? Wait for the full moon, and then sacrifice a small chicken on an alter to Beelzebub. What do you think you do? Mix it in a mug and chug until all your demons go away.
INGREDIENTS
1 oz (2 tablespoons) bourbon

1 tablespoon mild honey

2 teaspoons fresh lemon juice
1/4 cup boiling-hot water
PREPARATION

Put bourbon, honey, and lemon juice in a 6-ounce mug. Top off with hot water and stir until honey is dissolved.
Hot Toddy with Tea (from ​​The Spruce Eats)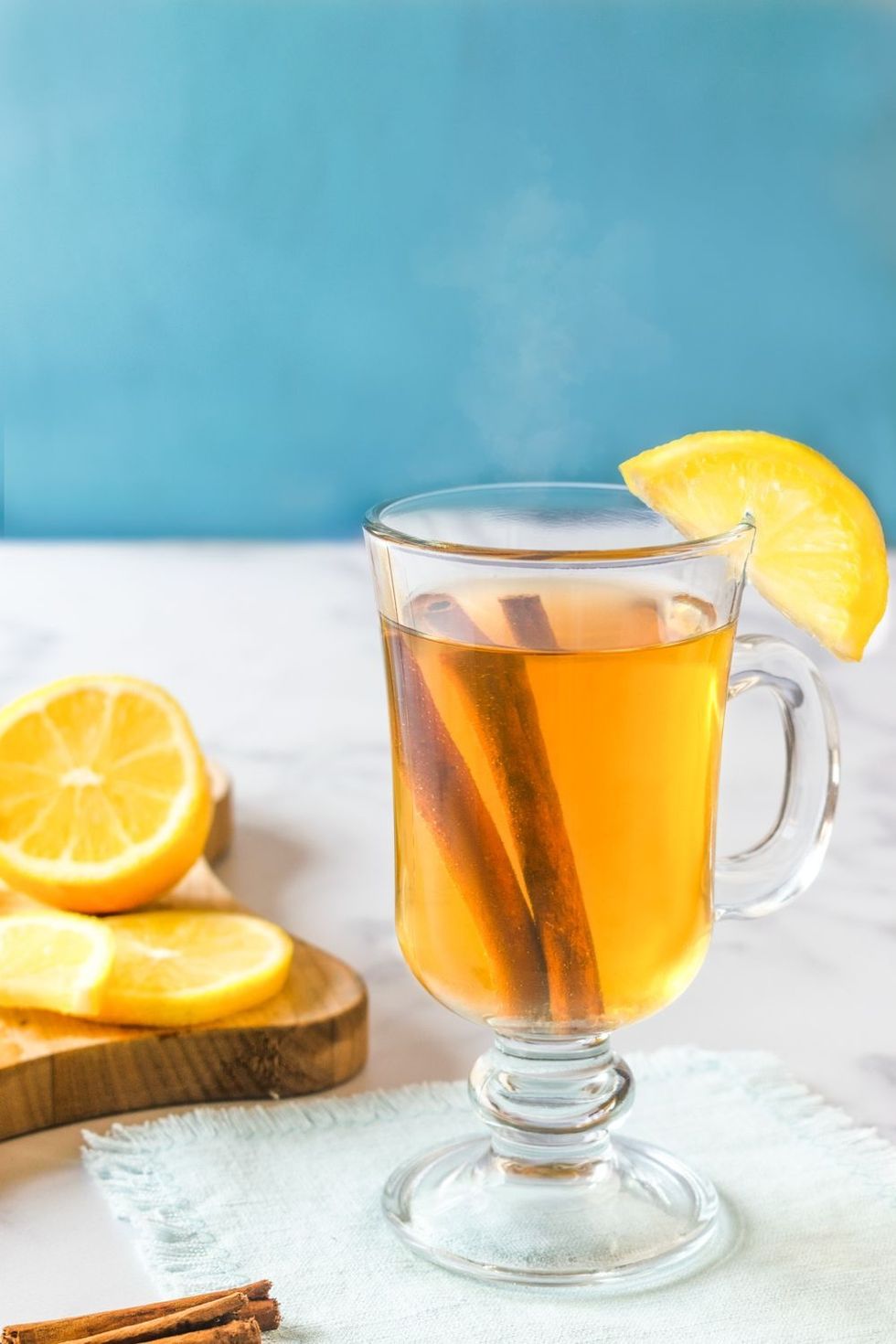 hot toddy with lemon and cinnamon stick
The Spruce Eats
Alternatively, you can mix your alcohol with caffeine like a grown up. Sure, caffeine can dampen your buzz, but keep to your limits and know how toasty you're aiming to get, and you'll be alert but blissfully sleepy.
INGREDIENTS
PREPARATION
Boil water
Brew the tea in a separate mug
Fill the bottom of your mug or glass (preferably a fancy Irish coffee glass) with honey
Add liquor
Add lemon
Add tea
Stir well
Hot Toddy with Apple Cider Vinegar (from ​​​Inspired Taste)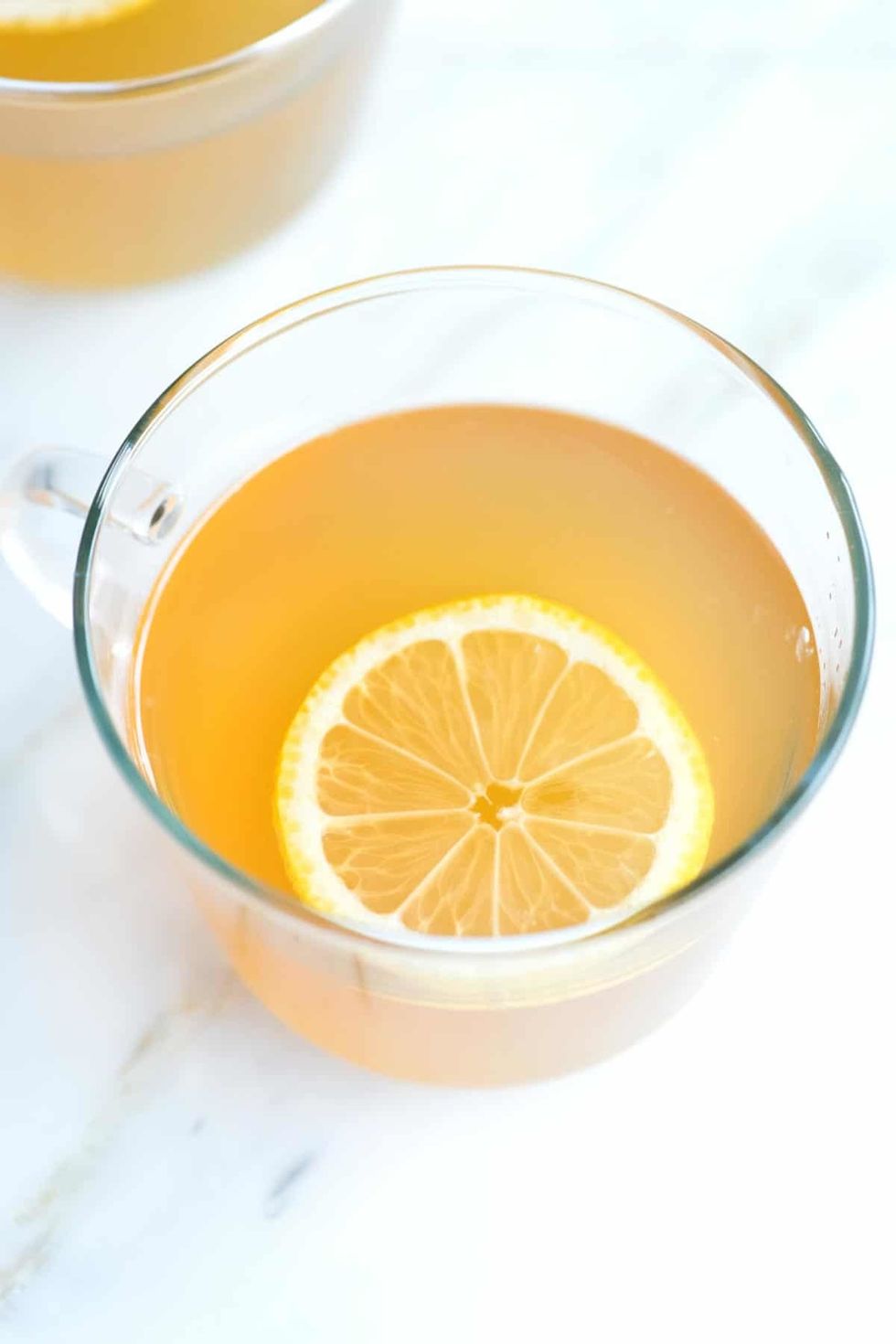 hot toddy with lemon and cinnamon stick
Inspired Taste
For a stronger tart taste, try incorporating apple cider vinegar into your favorite warm beverage. Like family members, it's sour but satisfying and somewhat fills the void where the meaning of your life should be.
INGREDIENTS
1 ounce dark rum or bourbon
2 teaspoons fresh lemon juice
1 tablespoon pure honey
1/4 teaspoon apple cider vinegar, optional
1/4 cup hot water or brewed tea
Lemon slice
PREPARATION
Put honey, lemon juice and the apple cider vinegar in a warmed mug. Add hot water or hot tea and stir until the honey has dissolved. Add the rum or bourbon, stir then finish with a lemon slice.
Cinnamon Whiskey Hot Toddy (from ​Tablespoon​)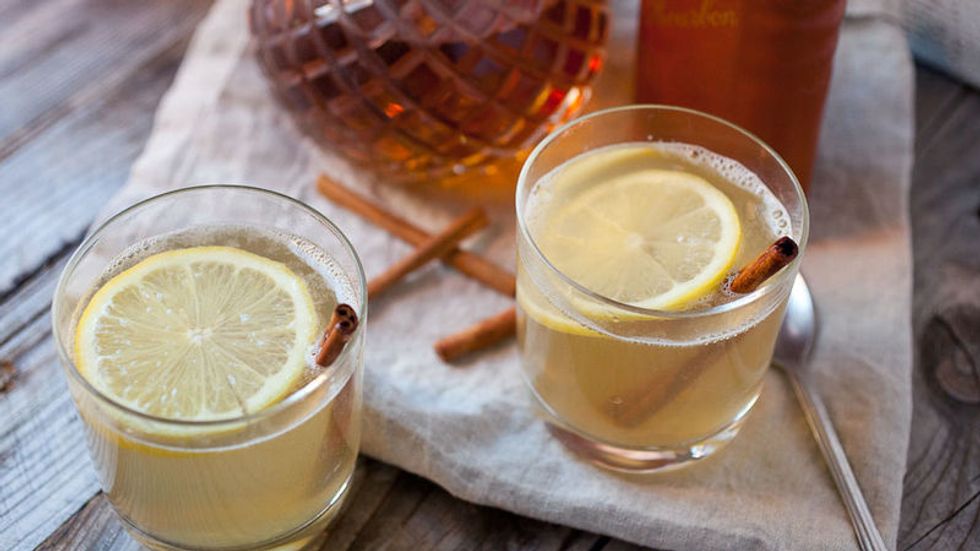 hot toddy with lemon and cinnamon stick
For the easiest added flavoring and flair possible, add a cinnamon stick. Truthfully, you could use cinnamon or honey flavored bourbon in addition to a cinnamon stick, and you'll feel like a master mixer without having done any hard work whatsoever.
INGREDIENTS
1/4 lemon, juice only
1 cinnamon stick
1 teaspoon honey
1/2 oz. bourbon (or cinnamon or honey flavored bourbon)
6 oz. hot water
Lemon slice, garnish
PREPARATION
Add lemon juice to a glass with honey.
Pour in bourbon and stir together with cinnamon stick.
Pour hot water over cinnamon stick into the glass. Let steep for 5-6 minutes.
Chili Cinnamon Hot Toddy (from ​Minimalist Baker)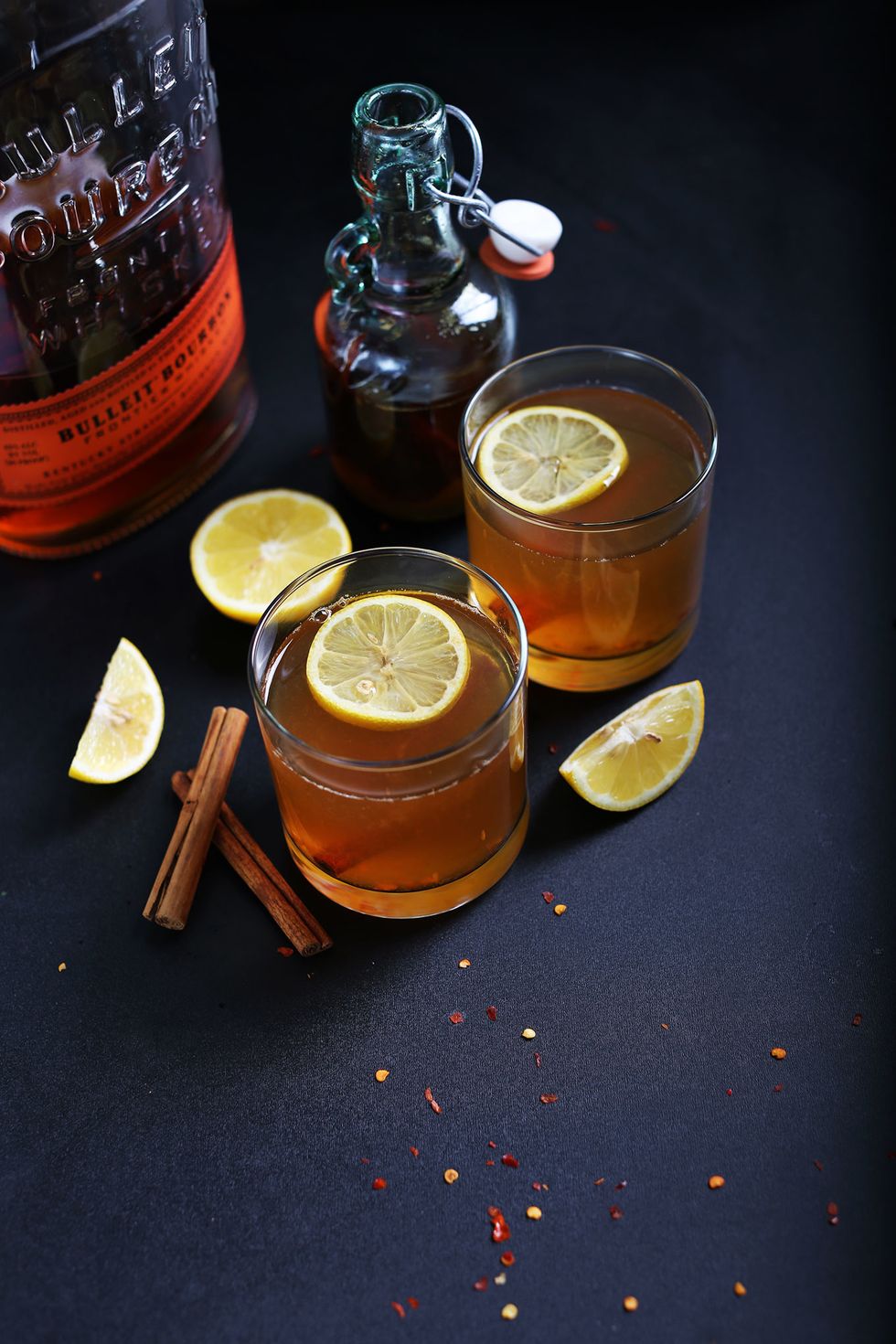 hot toddy with lemon and cinnamon stick
Minimalist Baker
You're spicy. You're edgy. Sometimes, you don't recycle or say "excuse me" after you belch at the table. This drink is for you, with not just cinnamon spice but the kick of chili pepper. The only drawback is that this has an extra step of heating your own fancy "spiced cinnamon maple simple syrup," which means that it's probably the best recipe to try once you've imbibed one or two servings of a simpler recipe and you're feeling reckless enough to play with fire.
INGREDIENTS
SPICED CINNAMON MAPLE SIMPLE SYRUP
1

cup

maple syrup

(or other sweetener of choice, such as cane sugar or honey if not vegan)

1 cup water
1 dried red chili pepper
1/2 tsp red pepper flake
2 whole cinnamon sticks
HOT TODDY
1/2 medium lemon (juiced)
3-4 Tbsp spiced maple simple syrup
2 ounces bourbon (rye or traditional // 2 ounces equals ~4 Tbsp)
Hot water (to fill)
Lemon wedge + cinnamon stick (for garnish)
Instructions
Add maple syrup, water, cinnamon sticks, chili, and red pepper flakes to a small saucepan and bring to a boil over high heat. Reduce heat to low and simmer for 5 minutes. Then remove from heat and let steep for 30 minutes - 1 hour (or longer). Strain and pour into a glass jar for serving.
To make a single toddy, add the juice of half a lemon, 3-4 Tbsp Chili Cinnamon Maple Simple Syrup, 2 ounces bourbon, and hot water to top (use less water for a stronger drink, more water for a weaker drink).
Garnish with another cinnamon stick and lemon slice or wedge and serve. The longer it steeps the stronger the cinnamon, lemon flavor becomes.
Repeat for more drinks or make a large batch to serve a crowd by simply multiplying ingredients by number of drinks you need.