Summer's in full swing, and fresh, seasonal fruit is showing up in your garden, the farmers market, and your local grocery store. Fruit picked in season has more flavor than versions imported during the winter months. It's also usually much cheaper to load up on fresh fruit during the spring and summer months.
There's nothing better than biting into ripe, juicy seasonal produce! I love stocking up on fresh fruit when it's tastiest and on sale. But what to do with all the excess of perfectly ripe fruit? It won't stay fresh in your fridge forever.
When summer bears tons of delicious, ripe fruit- pick it, buy it, freeze it, and store it so you can enjoy it at its peak year round.
You'll have frozen fruit on hand to make cobblers, pies, cakes, and smoothies. You can even freeze fruit juice and citrus zest during peak seasons for the best taste year round. Craving a cold delicious snack? Frozen grapes and bananas are tasty straight out of the freezer.
Follow the fruit freezing guide by Susan Chen for Skillet below. It's easy, economical, and extends the life of your fruit without risking freezer burn.
A Step by Step Guide to Freezing Fruit by Skillet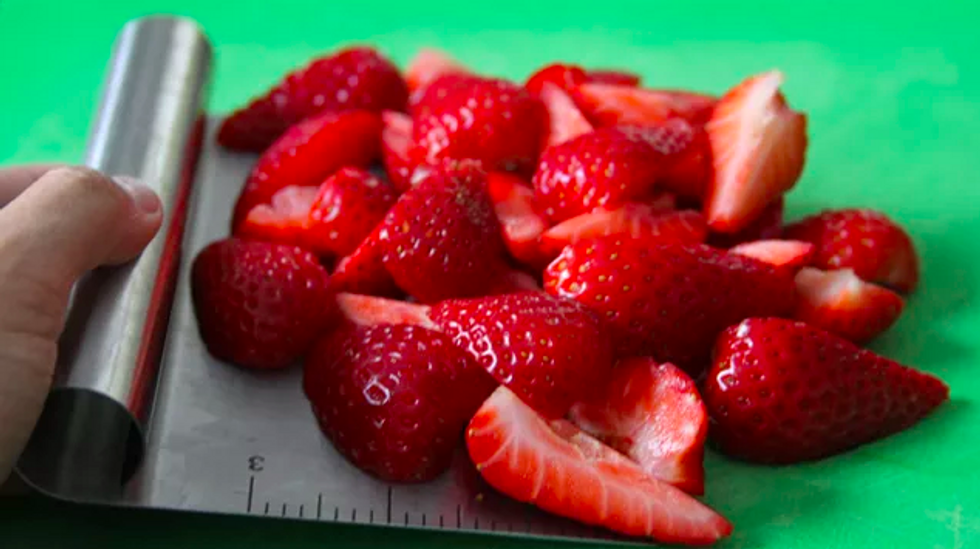 Sliced strawberries ready for freezingSkillet/Susan Chen
Wash and dry your fruit thoroughly.
If the fruit has a skin, peel it. Carve away any bruises, gashes, or other undesirable spots.
If your fruit is larger than bite-sized, cut or slice it into uniformly-sized pieces of your chosen size.
Pat your fruit dry again with a towel or paper towel. Aim to remove as much moisture as possible.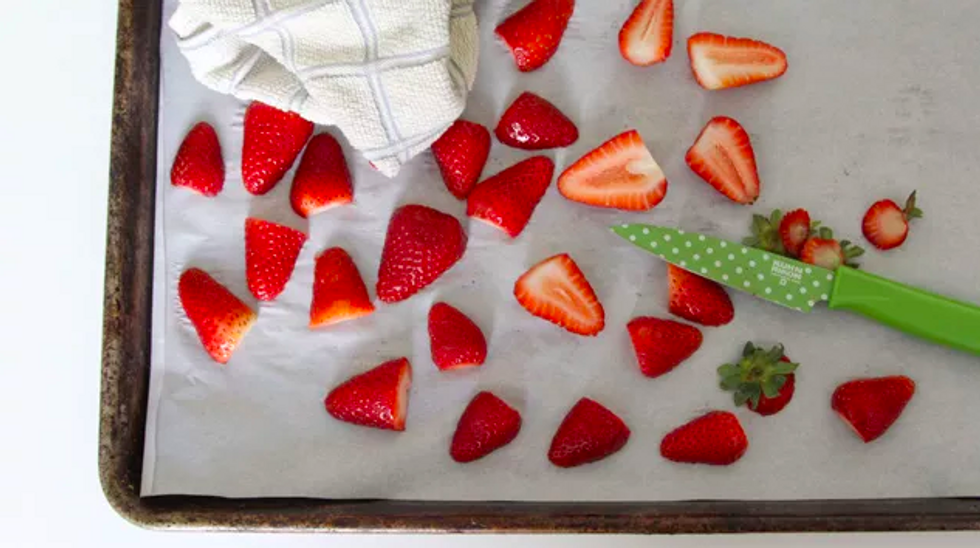 Sliced strawberries drying before freezingSkillet/Susan Chen
Transfer fruit to a tray covered with parchment paper. Spread fruit into a single layer. Cover with plastic cling wrap; transfer tray to the freezer, and freeze for several hours.
Remove your tray from freezer. Gently peel fruit off the parchment paper, and transfer to labeled freezer bags. Squeeze as much air as you can out of freezer bags before sealing them. Your fruit's ready to go, and will last for 6 to 9 months.
Freezing Citrus Zest: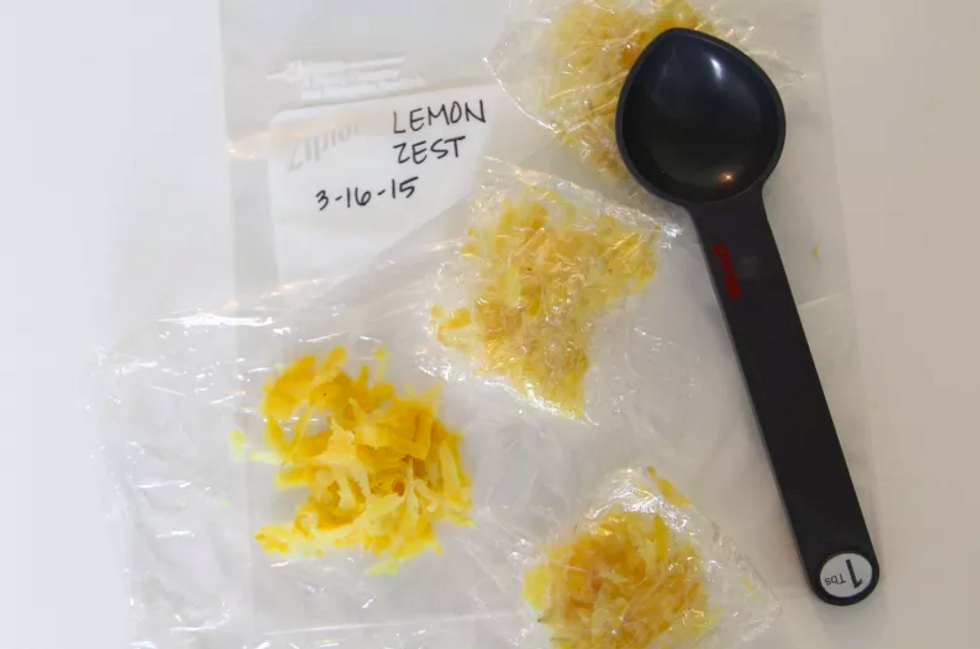 frozen citrus zest Skillet/Susan Chen
The best freezer method for preserving lemons, limes, grapefruit, or oranges is to save the zest and the juice separately. Juice the citrus and transfer juice to an ice cube tray to freeze.
You could simply zest citrus directly into a freezer bag, but here's a tip we love, courtesy of Baking Bites: Divide citrus zest into single serving portions (such as teaspoons or tablespoons) for convenience and freeze.
Tips for freezing certain fruits: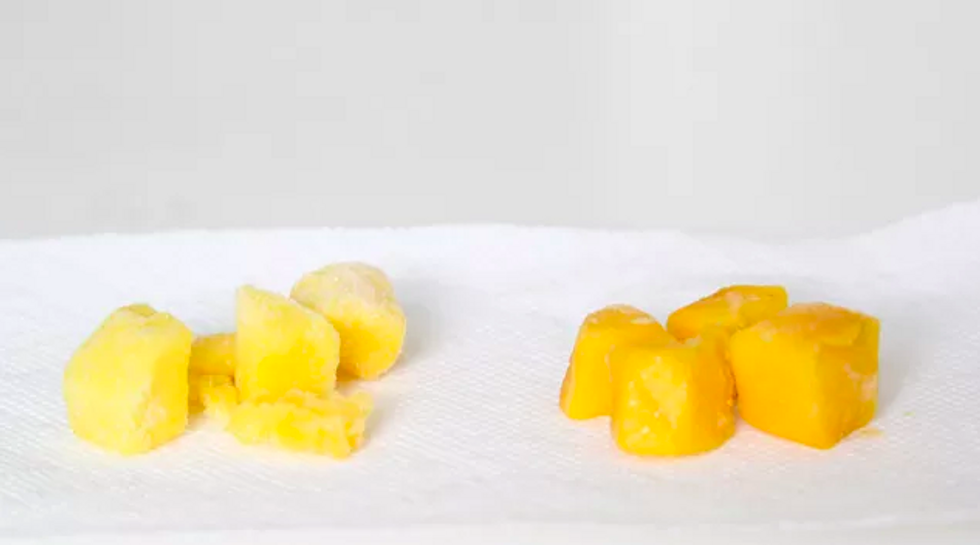 Frozen pineapple and mango chuncksSkillet/Susan Chen
Apples: Sweet apples tend to hold their flavor better in the freezer than tart varieties. Peel their skins and slice them before freezing; if you're freezing a large batch and want to prevent browning, then soak the apples in a saltwater solution as you're prepping them.
Bananas: Peel first, then slice, before freezing.
Berries: Wash blackberries, blueberries, raspberries, or strawberries, stem if necessary, and dry thoroughly before freezing whole. (Strawberries take well to being sliced, too.)
Kiwi: Peel first, then slice, before freezing.
Mangoes: Peel and cut a mango before freezing it.
Melons: Cantaloupe, honeydew, and Crenshaw varieties freeze well; watermelon does not, due to its very high water content.
Pineapple: Peel and core pineapple before slicing and cutting, then freeze. If your pineapple is particularly ripe, save the leftover juice and freeze that, too.
Stone fruit: Peel peaches, plums, and pluots before slicing and freezing. Apricots do not require peeling. Cherries should be pitted before freezing.
Frozen fruit is best when you let it thaw at room temperature. Frozen berries tend to get a little mushy when you let them thaw completely. To best enjoy eat them before they're totally thawed by using berries in smoothies or yogurt.
Here's a guide to the best blenders to use for all those smoothies you'll be making with your frozen fruit this winter!