When the full moon in Leo fell on 8/8 this year, the energy was unmatched for manifestation.
The combination of having the sun and the moon align in Leo, the star Sirius also making its annual appearance, as well as the cosmically significant date of 8/8 compounded the astrological significance of the night, making it an important night for aligning your energies.
Sound intimidating? It shouldn't be. It's exciting and indicative of change to come.
But what does all of it mean?
The Lions Gate portal is activated when the star, Sirius, reaches its zenith and aligns with the sun. Though it happens around the same day every year, when it actually lands on 8/8, it's a moment of auspicious significance.
According to ascension guide and intuitive healer Laura Brown, "Sirius' alignment with Earth [also] coincides with the Orion constellation aligning perfectly with the Pyramids of Giza, creating a trinity of alignments which open the lion's gate portal." (via Bustle )
Typically on new moons, it's a good day to recharge and recalibrate, preparing for the next cycle. In Leo, this means preparing for big changes and big shifts — which Leo season brings in spades on its own.

All together, the vibes were perfect for setting intentions, manifesting, and reflecting.
But it's not too late to harness the power of the Lion's Gate portal. The energy of the new moon lasts for a few days and the Lion's Gate portal is considered "open" for weeks, so you can still take the time to harness the astral energy and prepare for the next moon cycle.
If you're looking for the best ideas to take advantage of this time — couldn't we all use some auspicious energy and good vibes right now? — there are lots of ways to set yourself up for a great manifestation session.
Overall, this is a good time to take stock of every aspect of your life and the people in it. Which is to say: cut out toxic (read: unvaccinated) people! Evaluate your habits! Take stock of everything you're grateful for!
One way to do this is to make lists. Like, a lot of lists. Start with a gratitude list, then try a love list (the people you love and love you, how you're currently showing your appreciation for them and vice versa, how you can show them more … or less … you get the picture), then try writing affirmations.
Another way to set your intentions is to use crystals. The new moon is a great time to cleanse your crystals — we recommend saying your intentions as you cleanse them, usually with incense.
If you want to step up your ritual, try burning Palo Santo wood and a candle as you say your intentions, cleanse your crystals, and meditate.
Our brand of choice? La Botica .
The New York-based company doesn't just sell the viral, aesthetically pleasing candles you've probably seen on Instagram.

The company makes everything you can think of when it comes to fragrances — and more.
According to their website, "La Boticá Studios is a conceptual brand and niche fragrance house providing curated, luxury and sustainable products for the intentional self-care ritual. We source indigenous ingredients from South America that give reverence to the earth.
Inspired by the gallery space, contemporary minimalist design, and Afro-Dominican culture, La Boticá creates and develops a range of sustainable, intentional objects of home fragrance, perfume and incense. Bringing together modern ritual and La Cultura."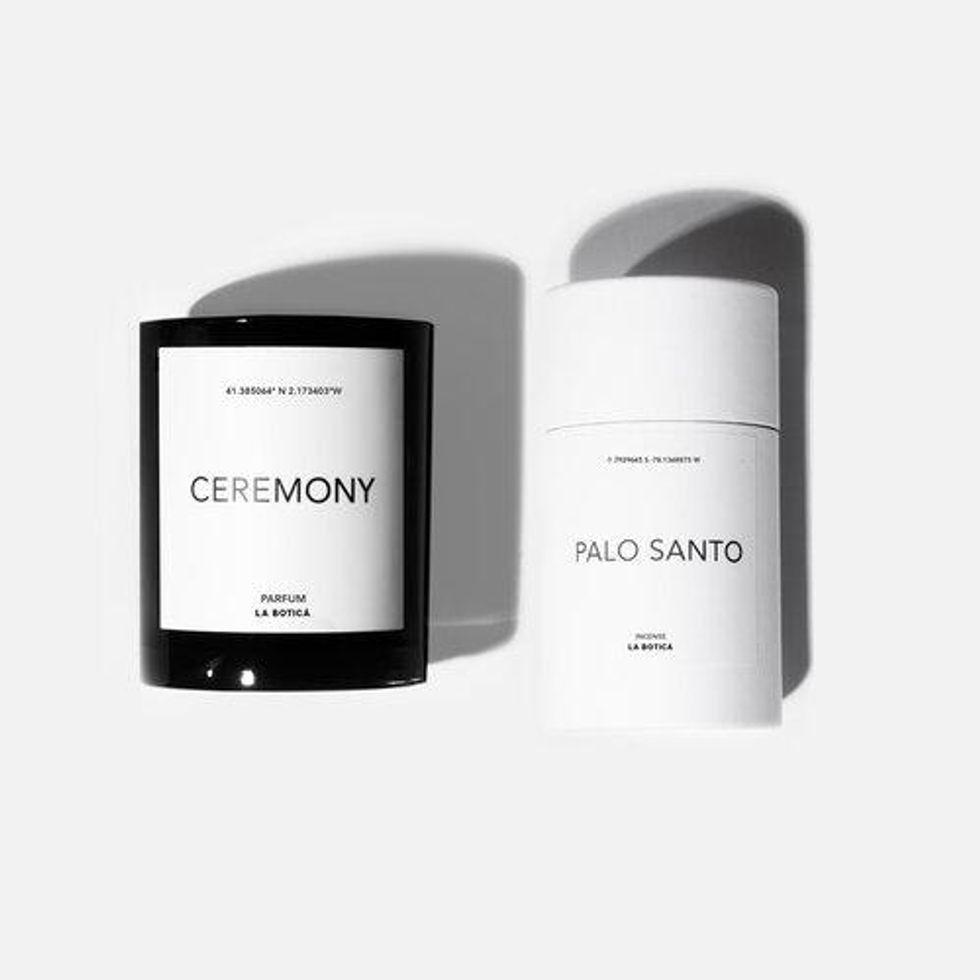 via La Botica
The limited edition Ritual Set is the perfect combination for setting your intentions in the best headspace possible.

The set contains a bundle of Palo Santo wood and their bestselling Ceremony candle, which contains notes of Palo Santo.
Because Palo Santo sticks are so sacred and used in many different cultures, it's important where you source them. La Botica takes care to ethically source their limited quantity because they respect the wood, the environment, and the significance of the rituals performed with it.
They say: "In Spanish, the name translated means "Holy Wood". Palo Santo is used for centuries by the Incas and indigenous people of the Andes as a spiritual remedy for purifying and cleansing, as well as to get rid of evil spirits and misfortune."
The combination compounds the smell and energy of the healing wood — which feels right for the combined energies working together this Lion's Gate.