I Bought The Entire K18 Lineup At Sephora
Sephora is my go-to when it comes to shopping for the hottest beauty products. They're such an authority in the beauty world so when they sell a brand, I know it's going to work.
So when I found out Sephora was selling K18, I ran to my nearest store.
I've been following K18 for a while, but I've been burned by ordering haircare online before and wanted to snag these in person. However, K18 is trusted by celebrities and stylists alike with science-powered products that are apparently unlike anything else.
Their viral hair mask first drew me in, then I saw they released shampoos that help the mask work even better. I knew I had to stock up on the full lineup at Sephora.
Here's my $149 K18 haul from Sephora:
First up, of course, the leave-in molecular repair hair mask.
The reason I went to Sephora in the first place—this viral damage repair treatment works in just four minutes. After trying it, I can tell you the results are undeniable.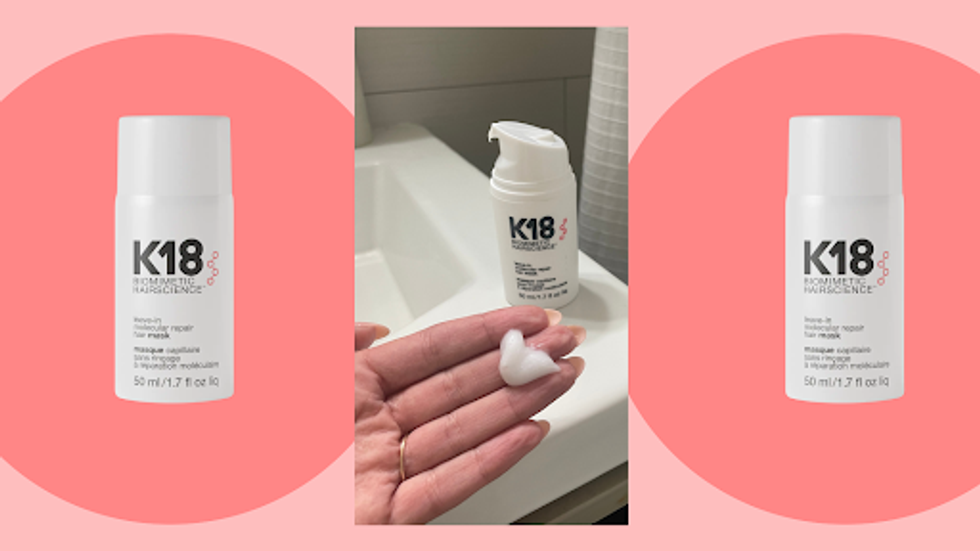 Powered by their biomimetic K18PEPTIDE™, this patented technology works on a molecular level (where all hair types are the same) to repair damage from bleach + color, chemical services. So even after all your damaging heat tools and salon appointments, all hair types are stronger, softer, smoother, and bouncier. Woah.
I can't get enough of how easy it is to use. K18's leave-in formula means no jumping back in the shower or 20-30 minute wait time. I just shampooed, skipped the conditioner, and applied 1-3 pumps of the 50ml mask onto my towel-dried hair. That's. It.
Once the 4-minute wait time was up, my hair immediately felt healthier, making styling a breeze! Best part, your results get better the more you use it. It really is the gift that keeps on giving.
The full-size leave-in molecular repair hair mask is $75 at Sephora. The mini size is $29 at Sephora.
Next, I tried K18's PEPTIDE PREP™ pH maintenance shampoo.
I did not know hair could feel this silky. This shampoo delivers next-level smoothing that I haven't felt since my pre-bleaching days (so…it's been a while).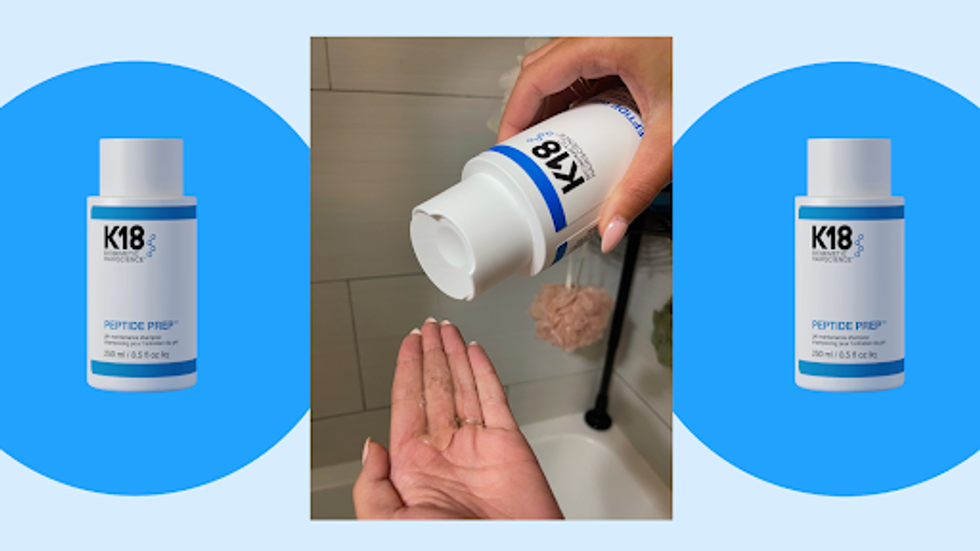 pH maintenance shampoo features a certified microbiome-friendly formula powered by plant-derived surfactants, so it cleanses your hair without stripping it of essential moisture. Plus, it's gentle enough to use every time you wash your hair without worry.
Usually, with a new shampoo, I have to dive deep into the ingredient list and see if it's safe for colored hair. Good thing the optimized pH of 4.5-5.5 (hair's sweet spot) helps preserve color, reduce frizz, and maintain health and shine—especially important for damaged hair like mine. I feel good knowing I don't have to second-guess my daily cleanse.
The PEPTIDE PREP™ pH maintenance shampoo is $36 at Sephora.
Last up was their PEPTIDE PREP™ detox shampoo.
Like most people trying to delay their wash day, I load my hair with dry shampoo that leaves behind this sticky, brittle feeling. So a heavy-duty clean is a must to reset all that buildup.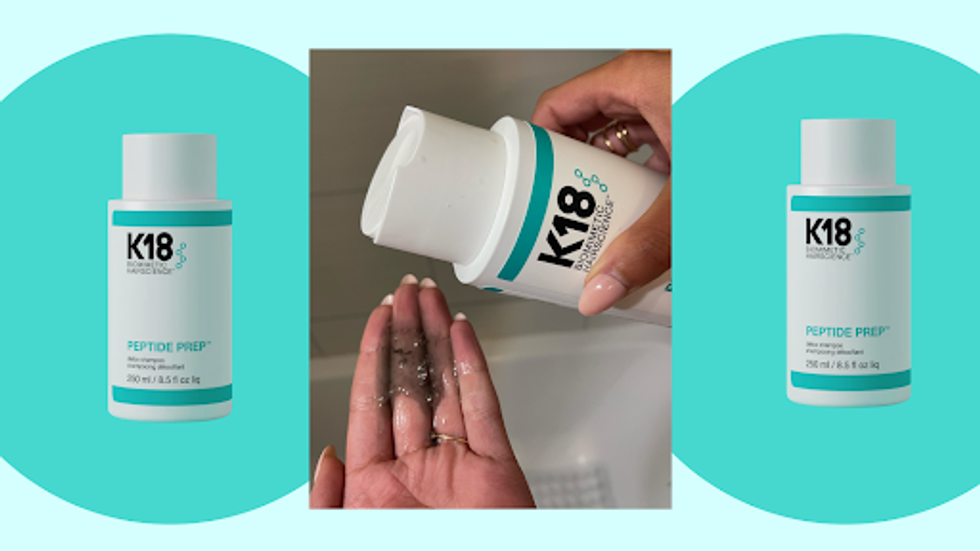 I can trust this color-safe detox shampoo to do just that—it's clinically proven to remove 99% product buildup, 95% sebum + 76% copper after just one wash. And while it may sound like it would strip your hair, it does just the opposite. Similar to the K18's pH maintenance shampoo, it also features a pH-optimized formula that won't leave your hair over-stripped or easily tangled. It even includes ingredients I use in my skincare routine like activated charcoal and salicylic acid for a superior clean without irritating my scalp.
I switch out the pH maintenance shampoo for this detox about once a week and the difference was unbelievable. I've never felt my hair so lightweight and bouncy after just one wash! Plus, it's engineered to clear the path for maximum K18 mask results. We love a win-win.
The PEPTIDE PREP™ detox shampoo is $38 at Sephora.
I'm never using another haircare brand.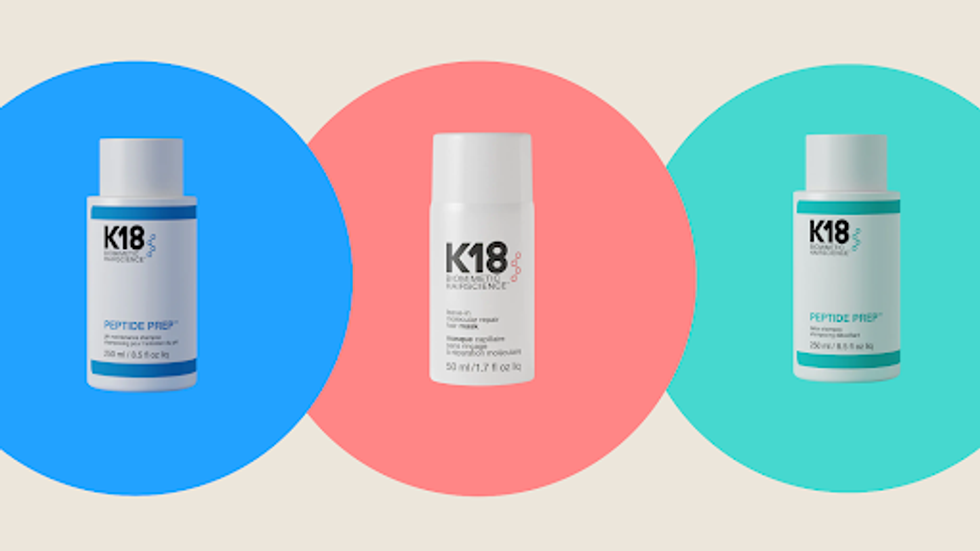 Sephora never misses, no surprise here! All three of these science-powered products simplified and upgraded my entire routine. My hair is softer, silkier, and healthier thanks to these radically simple solutions. And since they all work for every hair type, I can recommend these to a friend with no problem.
For $149 (which is far less than the damage I've done at Sephora), my hair looks and feels healthier from the inside out. I'm obsessed.