Honor Jones's recentNew York Times article, "Why Yoga Pants Are Bad for Women" inspired a heated debate among women on the Internet, dividing us into camps for yoga pants (don't judge women on clothing!) and against (women shouldn't be forced to wear form-fitting clothing!).
Rather than take a hardline stance, I'd maintain that the issue of women's exercise wear need not be so divisive. Don't get me wrong, I love my yoga pants—they keep me cool, allow for a wider range of movements, and can take some sweat—but I also get that yoga pants are not for everyone. Nor do they have to be! But Jones's claim that, "no one looks good in sweatpants"? Some of our favorite fashion-forward activewear brands beg to differ.
Here are our top 5 brands with alternatives to yoga pants that you can look and feel great in.
Lou and Grey FORM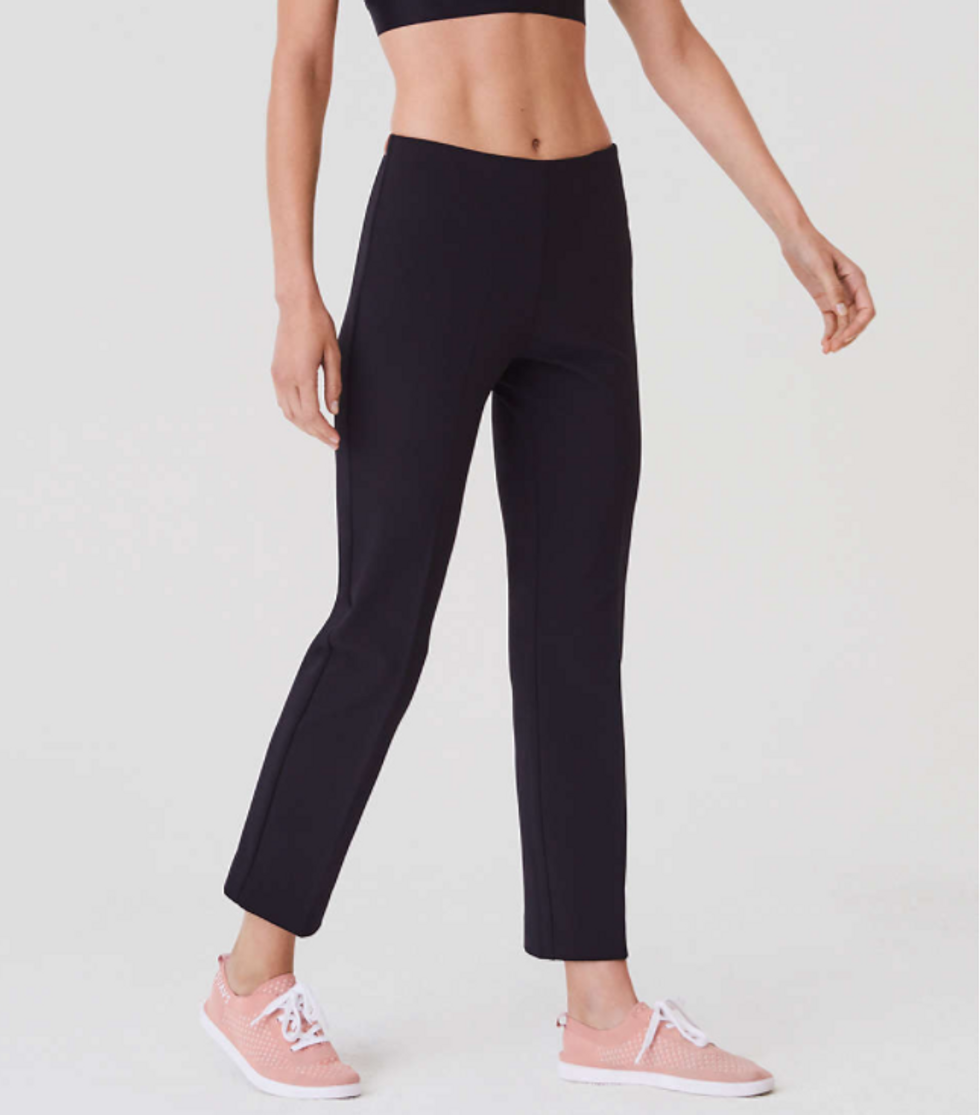 The Lou & Grey FORM Anyplace Anytime Pants Lou & Grey
Lou and Grey's active wear line FORM has some nice loose-fitting options at a great price point, including their versatile Anyplace Anytime pant ($79.50). Featuring a stretchy elastic waistband, you can just as comfortably lounge in these pants as you can work a sweat up at the gym. A mid-length rise and side zipper also make for a more sophisticated look than most active wear.

Great for dance, Pilates, yoga
Live the Process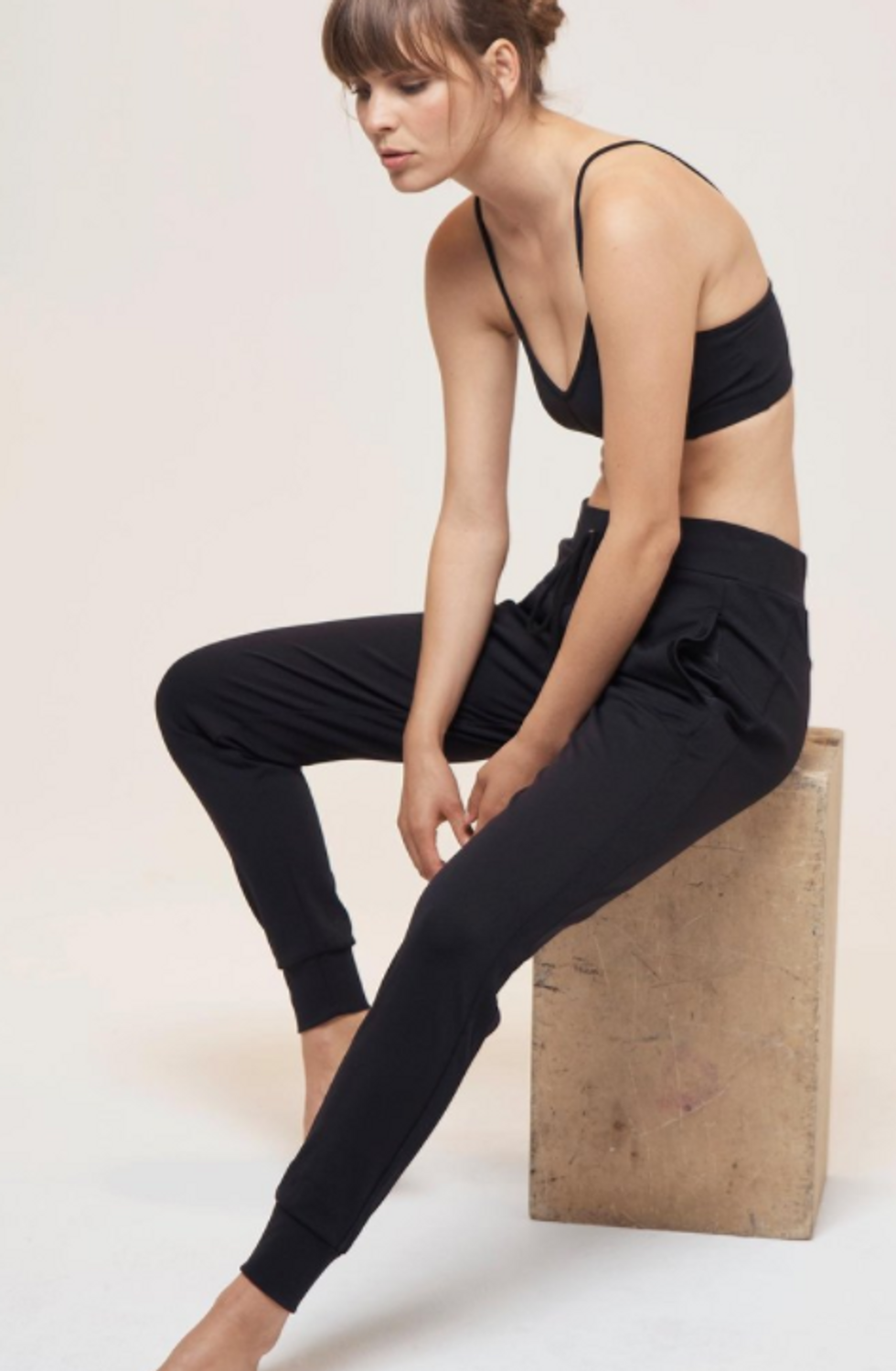 These stretchy track pants are great for running, yoga, or lounging. Live The Process Track Pant
For an active wear brand you can also feel good about supporting, try Live the Process, which manufactures all of their products in US factories according to high ethical and environmentally sustainable standards. Their moisture-wicking track pant ($198) is lightweight but still retains heat on cold days, and is attractively tapered for a flattering fit.

Great for running, cycling/spinning
LNDR Mischief Track Pant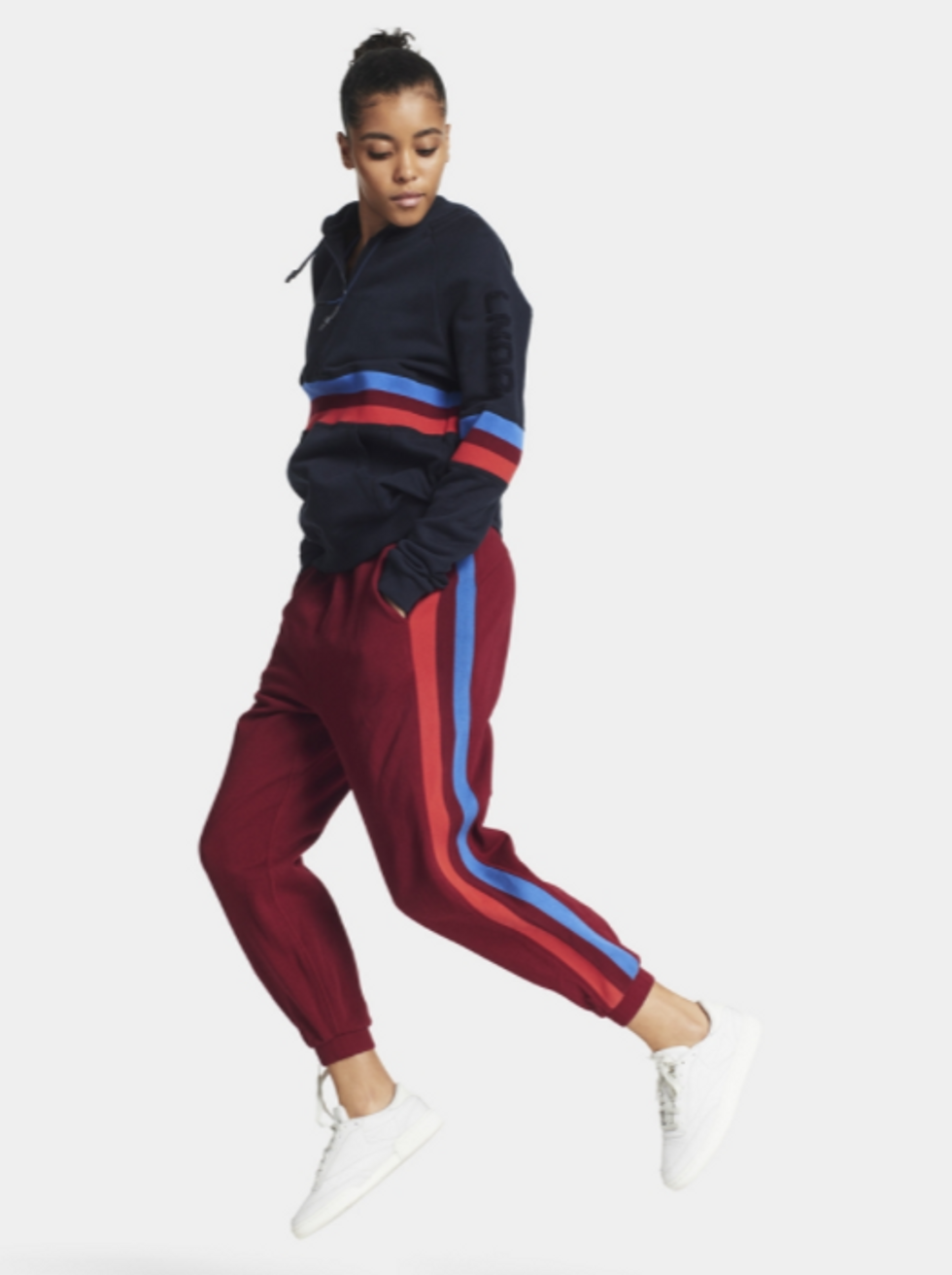 These sweats are classic meets modern with their bold colors and pop-out stripes.Mischief
London-based brand LNDR creates aesthetically pleasing technical wear from high quality materials. The Mischief track pant ($190) is a great option for lighter activity, while the flattering mid-rise Circuit track pant ($198), made of a breathable material meant to cool you down even as you sweat, can handle more intense exercise. UV protection is a bonus for outdoor bikers and runners.
Great for circuit training

Outdoor Voices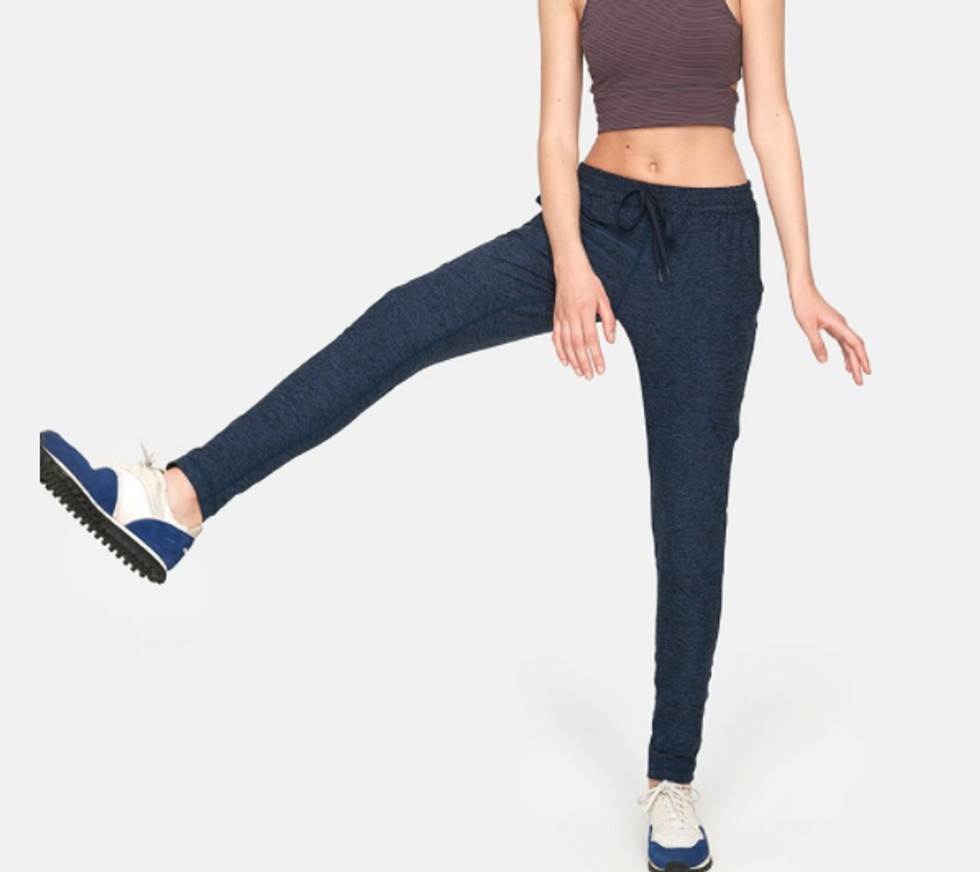 If you're looking for comfort and fit, Outdoor Voice is the best choice. Outdoor Voices
Outdoor Voices has a seriously loyal following, and it's easy to see why. Everything at Outdoor Voices is engineered for a range of activities, from light walking to yoga to marathon training, and all in pleasing color schemes that change seasonally. Their soft and stretchy Running sweats ($95) are insanely comfortable, as is the Stretch Crepe track pant($85), a wind and water-resistant cropped pant that works well for indoor and outdoor activity.

Great for walking/jogging
Lolë Jogger Pants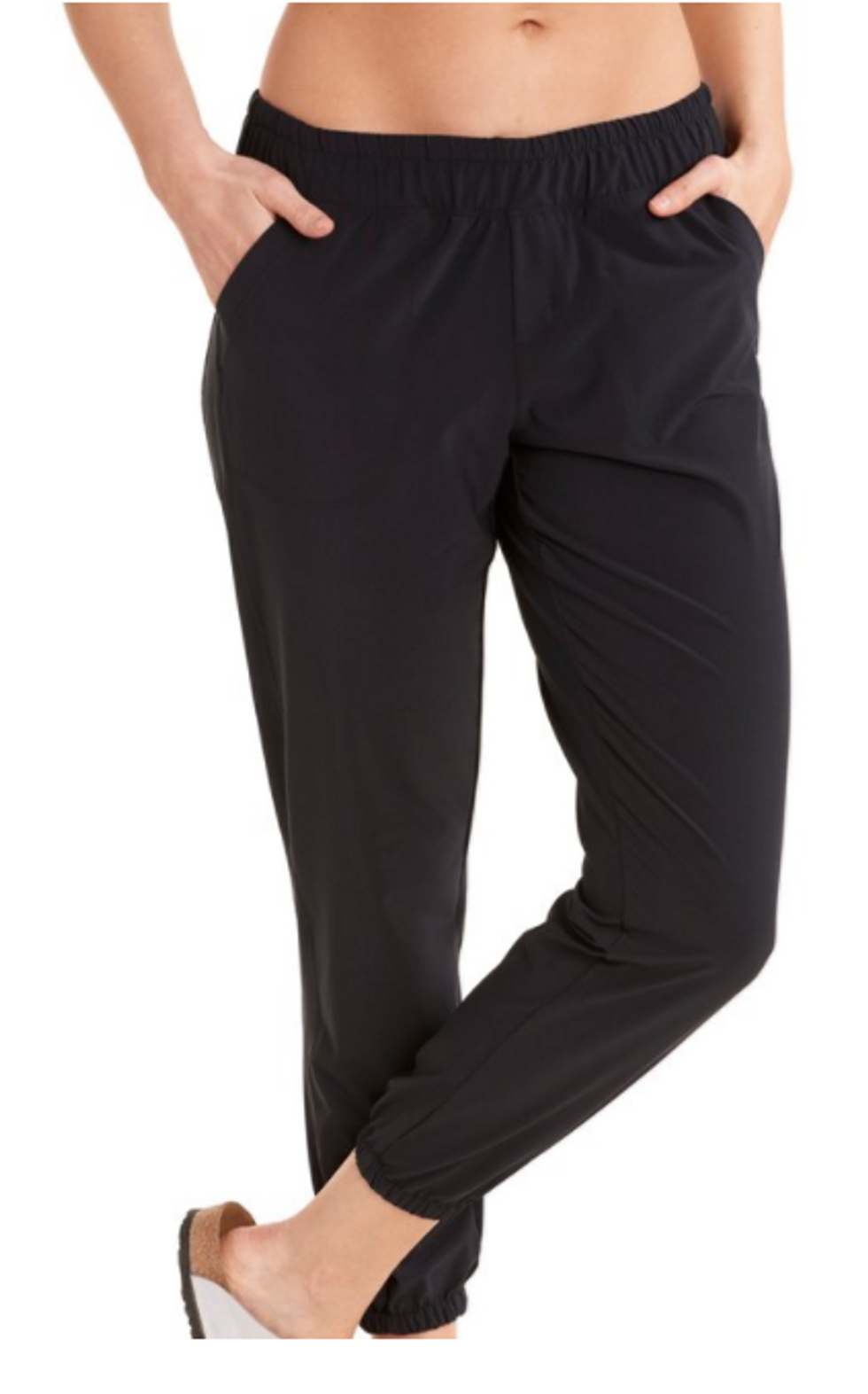 These loose-fitting pants are cuffed at the ankle and provide a slimming fit. Lolë
The Canadian do-gooder brand Lolë makes versatile, feminine active wear that is perfect for everyday use, exercise, and traveling, and a portion of every purchase you make goes towards funding food banks throughout North America. Their quick-drying ankle-length Sojourn pant ($80) is an active wear staple, as is the stretchy Olivie jogger pant ($90), which is also moisture absorbent.Great for HIIT exercise (like cross fit or boxing).

The debate over what women should wear may not be pressing, but clothing is anything but trivial. The Journal of Experimental Social Psychologyhas found that the symbolic weight of clothing has real psychological impact that can shape our attitudes and self-image. So while looking good might not be all it takes to get you to the gym, it is an important piece, and one with palpable effects on performance. Whatever you choose to wear for your workout, remember there is no one style that is right for all women. What counts is what helps to motivate you. When we like the way we look, we feel good, too, and that can be the first step in leading a more active life.