Is Vuori's Activewear Worth It? Here's My Take
About a month ago I was rushing to my morning HIIT class and when I pulled on my running tights the seams split. Desperate to find something I could wear to the gym that wouldn't totally embarrass me, I dumped out my drawer of workout gear on the bed.
And what a sad bundle of affairs it was — Faded colors, baggy butts, bras that were shot, you get the picture. I was so frustrated I threw it all in the trash and hopped online to do a complete overhaul.
My mission? Find an inspiring activewear brand that isn't just one more over-priced company pushing outdated fits and cheap materials. I want activewear that does it all in terms of design, quality, and price. Pieces that are colorful, innovative, and, frankly, inspirational.
Was I asking too much?
Well, on my impromptu search, I discovered Vuori — a premium performance apparel brand inspired by the active Coastal California lifestyle. An integration of fitness, surf, sport, and art, precisely the combo I'd been looking for but could never find. Plus, there are glowing 5-star reviews raving about Vuori's wide range of streamlined designs and versatile styles. From leggings to tees, tanks, shirts, and shorts, you can literally find anything! I was highly doubtful. I never find everything I need on one site.
Here's my problem. Most popular online activewear brands tend to sell out. So, I'm forced to jump from brand to brand. Nothing's more frustrating than the time-suck of endlessly scrolling page after page of sports bras, joggers, and hoodies. Then popping them in my cart only to reach checkout and it's no longer available in my size or preferred color!
Thankfully, shopping at Vuori is a breeze. The site is gorgeous, inspiring, and far less cluttered than so many others I've had to navigate. And the capper? Vuori's top-selling pieces are surprisingly affordable. Although I was intrigued, I doubted the quality would meet my standards.
But then I read Vuori's fabulous happiness guarantee. They offer an Investment In Happiness product-guarantee. Love your Vuori...or send it back. (Bonus: free shipping on orders over $75!)
Vuori's colors say breathe. After the same-old navy/black/grey leggings I've ordered online, I'm thrilled with Vuori's unique hues. Constant new color drops mean I'll never be bored. Check out these colorways: Grass, Azure, Beach Sand, Fern, Celery Heather, Pistachio – really extraordinary.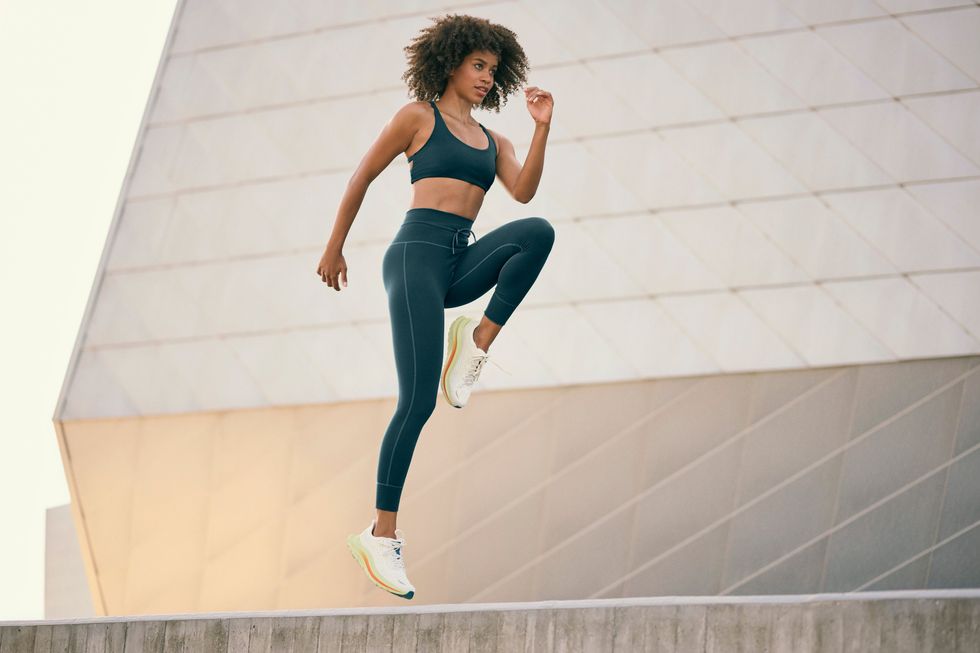 How could I resist? Especially with their happiness guarantee? So I rolled up my shopping-sleeves and got to work. I started with all my must-have essentials:
Performance Jogger - In Long. I'm tall, so score! And when they arrived they actually fit — double score!! In a peaceful shade called Baltic Heather — triple score!!! They have a slim but relaxed fit and a slightly-cropped leg which is truly stylish. And Vuori's soft and stretchy DreamKnit™ fabric provides ultimate comfort on my rest days and when I'm on-the-go.
Daily Legging - Again, in Long. And Baltic — all the way with my colorway! The versatility of these leggings can't be beat. Peachy to the touch, Vuori's signature buttery fabric is extra cool and moisture-wicking. Works for both my cardio warm-ups and my pilates. Vuori's discreet square logo is such a cute touch.
Once I pulled on the Studio Pocket Leggings, my life transformed. These are the softest leggings I've ever owned, hands down. Vuori's next-level BreatheInterlock™ fabric allows me to bend, twist, and stretch through any set, rep, or pose thrown my way. And they pass the see-through test, a must — especially while I'm in downward dog.
Let's talk pockets — I love that the Studio Pocket Leggings have pockets! A. Game. Changer. They hold my phone during my most intense workouts. And the hidden interior stash pocket at the waist keeps my gym locker key secure for the entire session.
Daily Bra - In Bergamot — Simply could not resist this luscious pale green. Vuori's brilliant BreatheInterlock™ fabric makes this the sports bra everyone should own. It's moisture-wicking, quick-drying, and lined with removable cups. I'm not gonna lie, this bra is so comfy I wear it in between workouts too. No matter what I'm doing, the Daily Bra's tech takes me through my entire day.
Halo Essential Hoodie - In Azure Heather — Still available! I love throwing on my Halo Essential Hoodie all day, everyday. It's a staple. I'm obsessed with my Vuori.
Vuori's wide range of sizes and colorways suit all sizes and all bodies — women's XXS to XXL and men's XS to XXL. And their Cali-inspired designs perform better than other status-brands because performance tech is built in.
Looking for classic workout-to-weekend staples that'll keep you fitness-focused and looking fresh, check out Vuori.
Vuori goes wherever the day takes you.
JUST FOR YOU: Vuori has a special offer for our readers. Get FREE SHIPPING on all orders $75+ (plus FREE RETURNS)! Follow this link to shop!