If you pass by the neighborhood spa on your grisly morning commute, you probably have the urge to give it a shot.
You push open the glass doors and instantly feel like you've just stepped into an enchanted world. With the hushed tones and the irresistible calmness that penetrates your very being, you close your eyes and wonder where this relaxation paradise has been all your life.
As you take in the flower petals scattered across the marbled floor and the tinkling of the wind chimes in the background, you immediately decide that this is it—the place where you need to bring all the guys to bro out.
Yes. The guys.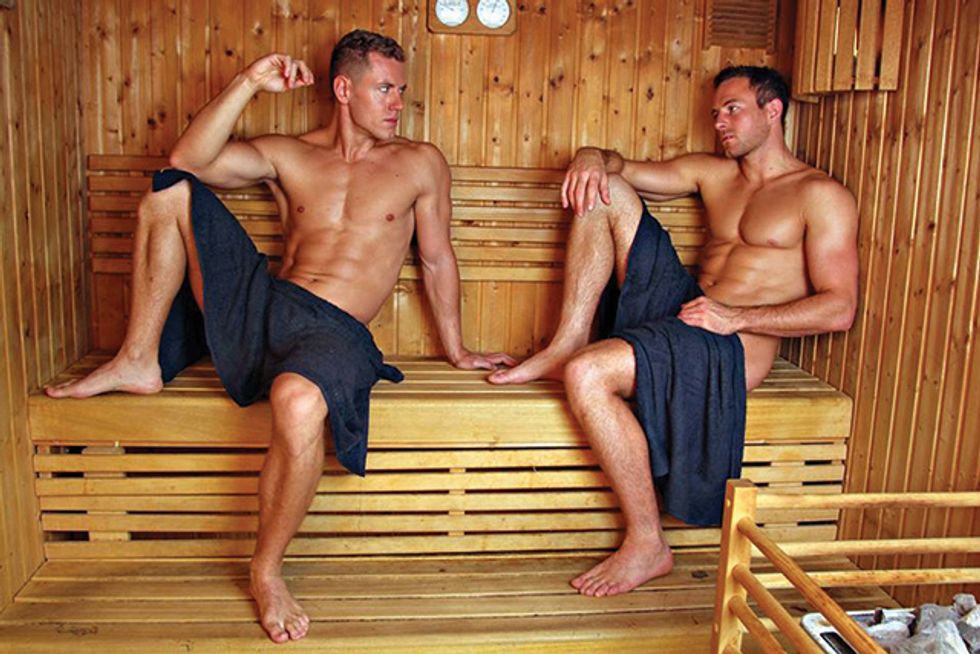 Gay sauna guide : Covent Garden Health Spa
If you're thinking that heading out to the spa is an activity reserved for the fairer sex, think again—we're not in the 1920s anymore. Today, more and more men are opting for the gentleman's package in spas across the country, because who says pampering yourself shouldn't be gender-neutral?

"We started to see the number of male spa-goers climb post-recession, and we've now hit something of a peak where it's nearly at that 50-50 ratio," says International Spa Association board chairman Garrett Mersberger in Travel Weekly. "And part of that trend comes from the growth of this wellness-oriented culture that has been so buzzed about. Wellness is like this universal language that speaks to all demographics, genders and generations, and I think it's really opened the door for men to get more involved in spa practices. Even spas that were designed many years ago have had to start figuring out ways they can meet the demand of the male consumer."
In 2019, the ISPA surveyed a thousand American spa-goers and found that male customers now make up approximately 49% of total U.S. spa patrons. It just goes to show that self-care should never be exclusive to a particular gender, and that spa treatments can fit into any person's healthy living routine.
"I find that as more guys continue to discover just how enjoyable a spa day can be, more guys of all ages and sexual preferences are visiting spas around the world," Travel & Lifestyle Media Consultant Damon M. Banks tells Ask Men. "Seeing companies like HOMMAGE continue to offer more products and spa atelier locations means that more guys are able to get the luxury spa experience in their area."
This whole concept might be daunting and intimidating for the average spa noob, but in reality, there's nothing to be anxious about. After all, what could be more rejuvenating than a Spa Day after the daily grind? That said, what exactly can men expect if they want to "treat yo self" properly?
All The Massages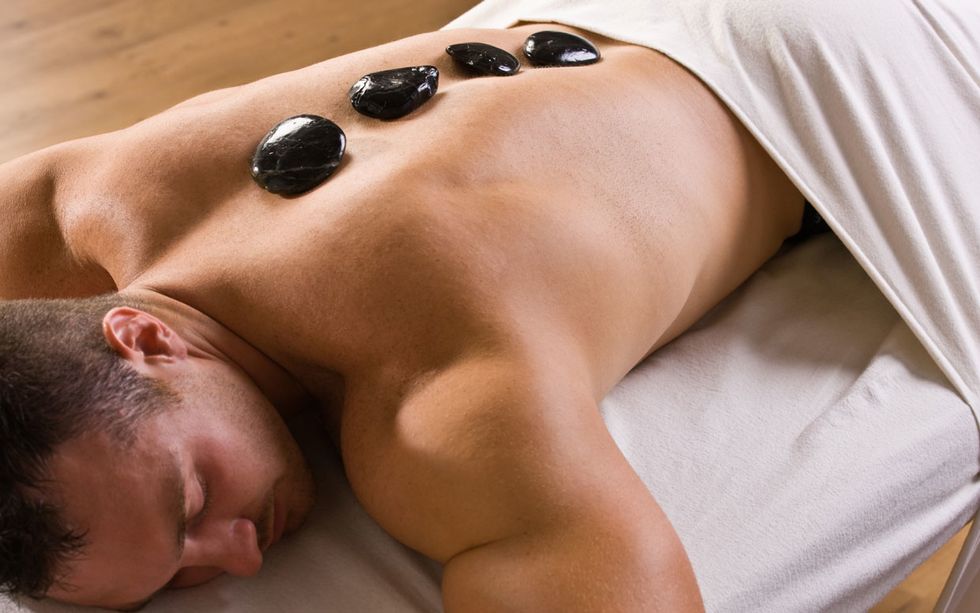 iStock
After a satisfying workout sesh, sweating it out at the gym amidst all the grunting and growling, a good rubdown can be part of a healthy and comprehensive treatment plan to relieve sports injuries, joint pain, and muscle strains. A massage can both relieve you physically, and help you steer clear of pesky headaches and unwanted anxiety, too.

You also might want to try a hot stone massage, as it can help balance the flow of energy in your body to promote healing when you're injured. A deep tissue massage, on the other hand, can target connective tissue and help you recover from muscle damage.
Facial Treatments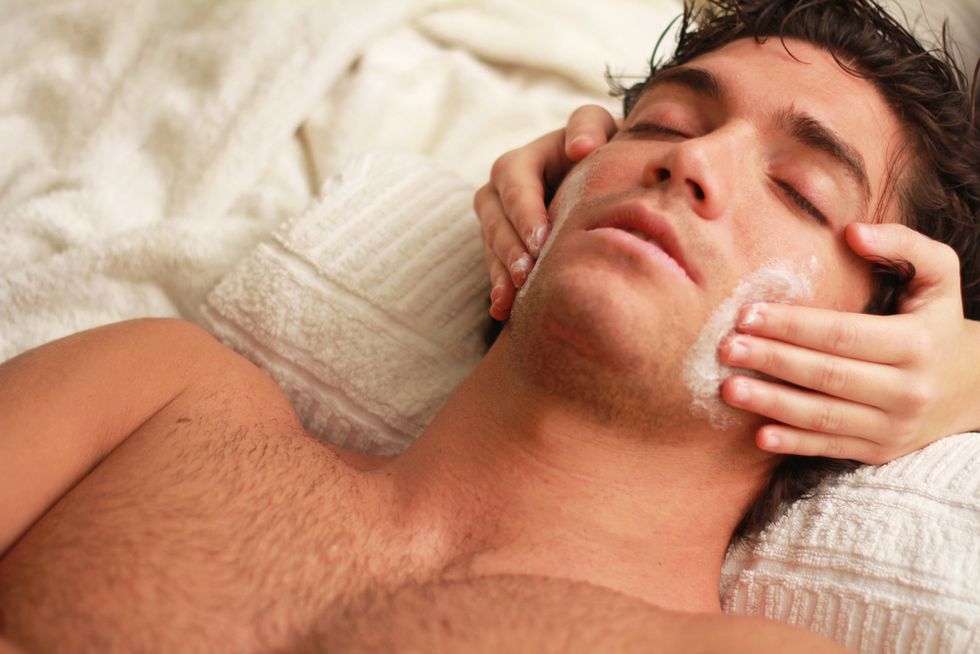 Relaxed young man at the spa
From body scrub exfoliations to pampering pedicures, there's nothing men can't indulge in when at the spa. Facial treatments can even address a variety of skin conditions.

"Men benefit from facials as much as women do," David Stoll, creator of body spray Creatop, tells Men's Journal. These treatments can help get rid of dead skin and unclog your pores, as well as give beards and facial hair some moisturizing and a little bit of TLC.
Bring On The Beer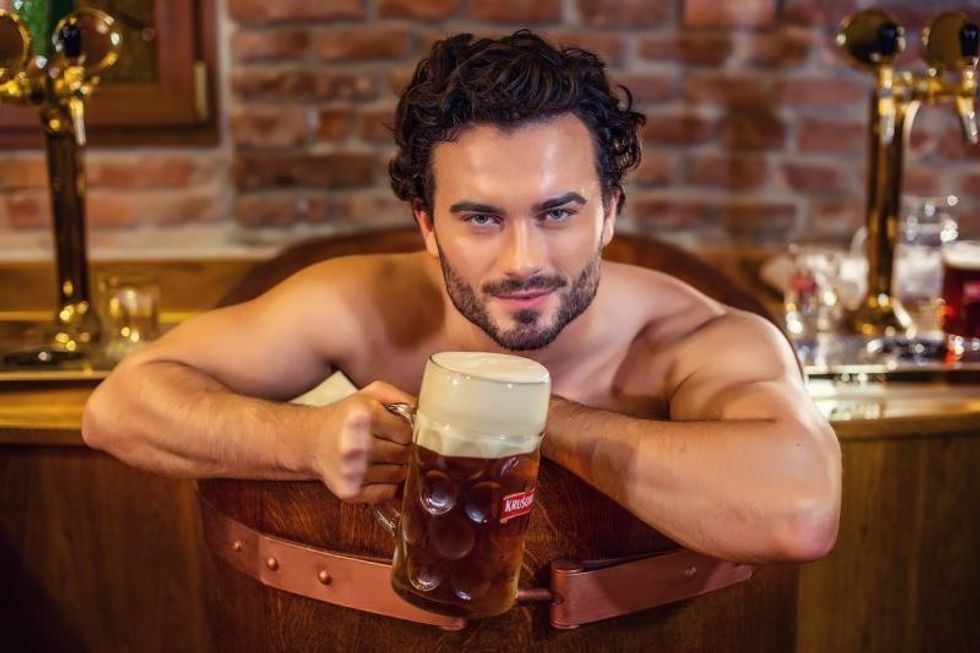 https://www.beerspa.com/?lang=en
Nothing spells "made for the gents" than a good ol' home brew, and yes, you read that right. These days, stress relief for the well-groomed modern man is more than just the scent of lavender and rose.

Beer-inspired menus for men at the Edgewater Spa in Madison, Wisconsin include local craft brews paired with a hot cinnamon oil pedicure. The Beer Spa in Denver by Damien Zouaoui and Jessica French will combine hydrotherapy and baths infused with malted barley and hops. "The idea is that we're using the beer elements to create wellness therapies. Hops and malted barley have a lot of antioxidants, nutrients, and vitamins that can make your skin softer and hair shinier. However, we don't include any yeast, there is no fermentation, and there isn't that sticky sensation on your body or 'dive bar' smell," Zouaoui tells Travel Weekly.
The Spa Day is no longer characterized by "Girls' Day Out." Stress is not a badge of honor. You can, and you should, pamper yourself to relieve all of that unwanted stress. Besides, since when is relaxation gender-neutral?
So kick back and soak all of your worries away. Indulge in a massage here and a facial there, because discovering self-care is not just about personal appearance. It's also about your emotional and mental well-being, and spas can help you do just that. After all,
even Johnny Bravo indulged in a Spa Day
.