You gotta have balls: meatballs three ways
Meatballs have a lot going for them. They are versatile, delicious, semi-healthy, and above all, fun. Who doesn't get a smile on their face at the very mention of the word? To follow are three great recipes for meatballs using beef and pork, chicken, and lamb. You can use these in soups, with pasta, with grains, or with a simple sauce.

The great Italian meatball
I got this recipe from my Sicilian godmother, so it's authentic, and beyond delicious. The currents and pignoli nuts are optional. I love them, but you can just as easily leave them out if you don't. I use the large meatballs for pasta and sauce. I use the smaller balls for chicken soup.
½ lb. ground beef
½ lb. ground pork
¼ lb. ground veal (optional – you can just add a bit more pork and beef if you don't want to use veal)
¼ cup ground parmesan reggiano
½ cup white breadcrumbs (or panko)
1 egg, slightly beaten
scant ½ cup heavy cream or half and half
1 ½ teaspoons dried and crushed oregano
2 cloves garlic, mashed into a paste or crushed
¼ cup pignoli nuts (optional)
¼ cup currants (optional)
several glugs of extra virgin olive oil
salt and pepper to taste
In a large bowl, big enough to hold all the ingredients, mix together the egg, breadcrumbs and cream and let stand until liquid is absorbed. Add in the meat, oregano, garlic, cheese, salt, pepper, (and nuts and currants if using), and combine well. Do not overmix. Form the mixture into balls of whatever size you like. Large meatballs are about ¼ cup each. Pour the olive oil in a large pan over a medium high heat and place the meatballs in with at least an inch between each ball. Lower the heat to medium and cook the balls on all sides until they are lightly browned. Turn the heat to lowest point and cover for at least 10 minutes, or until meat is cooked through. Transfer to dish with a slotted spoon and cover with foil until ready to use. If freezing, cool off and then place in freezer container. They keep for 2-3 months.
Serve with pasta of your choice and tomato sauce, or with chicken soup and escarole. Makes 10 large meatballs or 20 mini meatballs.
Lamb meatballs
andrewzimmern.com
1 lb. ground lamb
1/3 cup white breadcrumbs or panko
1 egg, lightly beaten
¼ cup half and half or milk
1 teaspoon dried oregano
1 teaspoon ground cumin
¼ teaspoon dried and ground rosemary
¼ cup crumbled feta cheese
salt and pepper to taste
2-3 tablespoons extra virgin olive oil
Preheat oven to 400 degrees. Place the breadcrumbs, egg and milk into a bowl big enough to hold all ingredients. Mix well until the milk has been absorbed by the breadcrumbs. Add in the rest of the ingredients and mix until blended. Take care not to add too much salt as the feta cheese is pretty salty, and do not over mix. Form meatballs about ¼ cup each and place on sheet pan with olive oil. Bake for 10 minutes. Turn meatballs over, lower heat to 375 degrees and bake for another 8-10 minutes. Let stand, covered with foil, for at least 10 minutes before using. Serve over tabouli, rice pilaf, or on their own with a side of tzatziki or a cucumber salad.
Chicken meatballs with ginger and scallions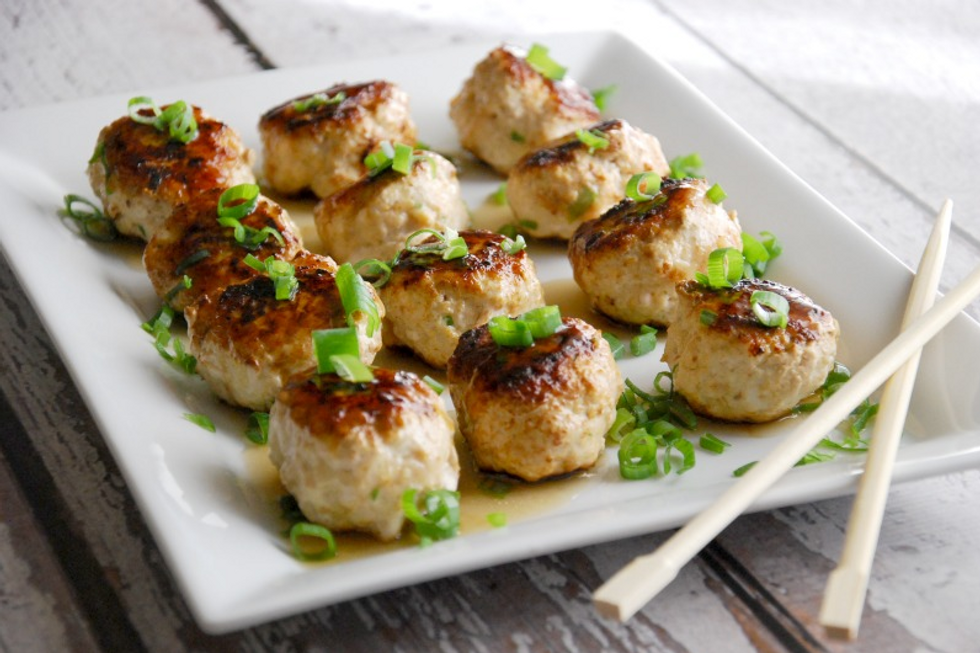 Empowered Sustenance
These flavorful meatballs are fantastic in a simple chicken broth, but they are also great in a stir fry or over rice.
1 lb. ground chicken (white meat or white and dark meat mix)
1/3 cup panko
1 egg, lightly beaten
¼ cup milk
1 tablespoon freshly grated ginger
2 scallions, finely chopped
1 large clove garlic, smashed into a paste
1 tablespoon tamari or soy sauce
1 tablespoon toasted sesame oil
¼ teaspoon cayenne pepper
vegetable oil or refined sesame oil for high heat
additional salt to taste
Preheat oven to 400 degrees. In a large bowl combine the panko, egg and milk and mix. Let stand until the milk is absorbed, then place all the other ingredients into the bowl and mix until blended. Take care not to overmix. Form into balls with about a tablespoon of mixture for each ball. Place oil on sheet pan and put meatballs on pan with at least 1 inch between each ball. Bake for 10 minutes, turning one, lower heat to 375 degrees and bake for 12-15 minutes more. Take out and cover with foil for 10 minutes before serving.