When Mejuri unveiled their latest collection - a collaboration with vintage-inspired, interior designers Claude Home - I knew a shift was coming.
Mejuri is a destination for minimal jewelry that's high-quality without costing your entire salary and an it-girl mainstay. Mejuri's fine jewelry is inspired by its community — a brand that celebrates and uplifts women. Its mission is all about self-empowerment and self-love. Don't waste your life waiting around for someone to buy you jewelry, buy the damn necklace yourself.
---
The truest expression ofMejuriis mutual uplift — all of us supporting each other, supporting yourself, supporting our community. And feeling empowered to invest in yourself and — in turn — the community around you.
So their recent partnership withClaude Home seems like a perfect fit. Claude Home is a Black-woman-owned interior brand that launched on Instagram during the pandemic. From vintage collectibles, then furniture, Claude Home's founder Maggie Holladay is now designing her own collection. Based on the principle that where you live reflects who you are, her neutral pieces are minimalist works of art.
Mejuri teamed up with Holladay for a Mejuri x Claude collection of decorative pieces that double as jewelry storage. I freaked out. My necklaces usually stay tangled, leaving me fumbling to tear them apart while getting ready. I've looked for storage solutions, but most are ugly, cheugy, or both.
Finally — finally — Mejuri and Claudehave created a solution to my decor and storage issue all at once.
The press release announcing the collaboration was music to my ears. It read: "For our latest collaboration, Mejuri has partnered with online vintage furniture and art collector Maggie Holladay of Claude Home on three jewelry vessels that double as your home's latest sculptural accent piece. Handcrafted in natural marble by expert artisans where no two pieces look alike, our pieces were designed to work overtime: keeping your favorite jewelry on display, while elevating your home at the same time."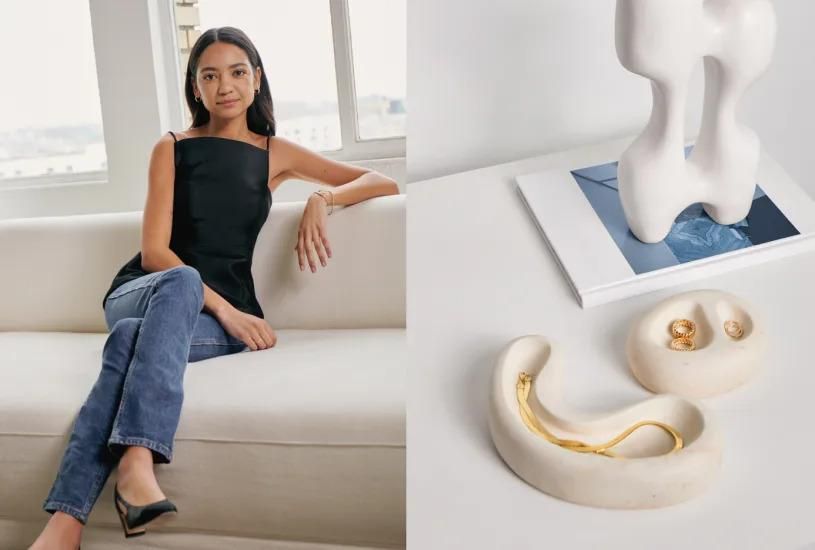 via Mejuri
This is not the only exciting interior design collaboration I've seen recently. In fact, fashion brands are incorporating interior design elements into their offerings and even their in-store experiences.
Reformation has teamed up with vintage seller The Millennial Decorator for her selection of vintage decorative objects in their LA store. Plus, superstar millennial brands like Aime Leon Dore and Cherry Los Angeles have created brick-and-mortar experiences that prioritize how the store looks as much as what's inside it. And these aren't the gimmicky Instagram destinations of yore, featuring neon signs and millennial pink walls. These shopping destinations are full of vintage leather couches, collectible decor items, and even famous art pieces.
But it's not just big brands embracing a more artful interior aesthetic. Quarantine sparked a wave of interior design fervor. We were all stuck indoors and suddenly it was impossible to view our homes as mere places to rest our heads. Investing time in DIY projects, vibrant colors and rental-friendly renovations was everyone's sudden passion. Many people spent the money they were no longer using on nights out on expensive, high-quality pieces.
This call for interior design content brought out a slew of fresh creators. People's cool spaces went viral over TikTok and now they're full-time decor influencers. Architectural Digest's long-running Open Door series went super-viral — Vanessa Hudgens's bathroom? Ashley Tisdale's bookshelf? Dakota Johnson's kitchen and her abundance of limes? All now iconic.
Inside Dakota Johnson's Serene Hollywood Home | Open Door | Architectural Digestwww.youtube.com
For people looking to upgrade their space, vintage and interior accounts popped up, proliferating mood boards and aspirational spaces until a contemporary-cool aesthetic was firmly established by the Internet Cool Girls.
Influencers formerly dedicated to fashion pivoted to wearing full sweatsuits and sharing apartment updates rather than thor gala outfits. Alyssa Coscarelli moved to Los Angeles and chronicled her process of decorating her apartment. Emma Leger went from traveling to sharing her cloud couch and penthouse views — before downsizing to a new apartment and sharing her redesign, too.
WWD wrote about this emerging trend in a 2020 piece exploring "Home Design as Fashion: How Interiors Eclipsed Clothing as an Element of Style."
"With clothing and accessories sales sliding, home spending has shot up." the piece reads. "With few places to wear status fashion items. And even fewer special events to shop for, people are siloing their budgets toward the home, where stalled DIY projects, outdated furniture and mucked-up plates have begun striking a nerve."
Fashion brands are increasingly entering collaborations with interior designers, confirmed WWD.
"Interplay between fashion and home design had already been stirring — waiting for an accelerant to cement its place within the larger fashion industry's mind-set. At Design Miami last December, luxury brands including Balenciaga and Miu Miu introduced furniture designs for the first time. Rising American brand Bode collaborated with Green River Project, a trendy furniture design firm popular for its Donald Judd revival-style, on the overall aesthetic direction of its collections and retail spaces."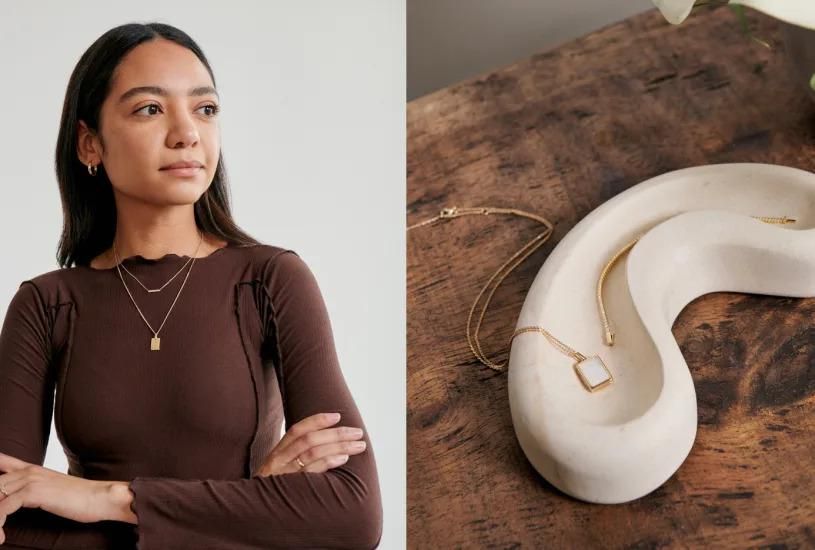 via Mejuri
From the influencer side to the brand side, interiors are a fresh focus in a major way. And the Claude Home x Mejuri collab proves this is only the beginning.
Get in on the trend early by copping these stylish, decorative pieces from Mejuri. They combine minimalist and postmodernist aesthetics that are fantastically functional and fashionable.