My Sézane Capsule Wardrobe Haul — An Honest Review
We're obsessed with Parisian clothing brand Sézane! Here's a quick overview:
Inspired by Paris and the people who call it home, Sézane's got it all — from smart jackets to soft, chic cardigans that effortlessly take you from day to night.
Sézane places quality and creativity at the heart of everything they do.
I tried a number of pieces from Sézane's essential collection to see if the brand could create a stylish, elevated capsule wardrobe for my new job.
Keep reading to see what I ordered and my thoughts on each piece.
About a month ago, I landed my dream job and moved to my dream city — hello, San Francisco!
My new role demanded a capsule wardrobe made up of a few foundational, yet unique, items that could serve as chic workwear while seamlessly transitioning to after-hour schmoozing. Tall order.
Even more challenging, I was tired of my former go-to brands: Anthropologie (too quirky), Aritzia (too bland), and Reformation (too overdone). But after scrolling on social media for a bit, I stumbled across Sézane.
Born in Paris and crafted in the finest ateliers, Sézane creates beautiful, elegantly cut pieces that can be worn forever — precisely what I was looking for. Upon visiting their site, I was instantly drawn to Sézane's essential collection, aka "The Top 30" tab.
Here's what I added to my cart:

My order arrived on time, I couldn't
wait to try everything on. Here's what I adore about each product: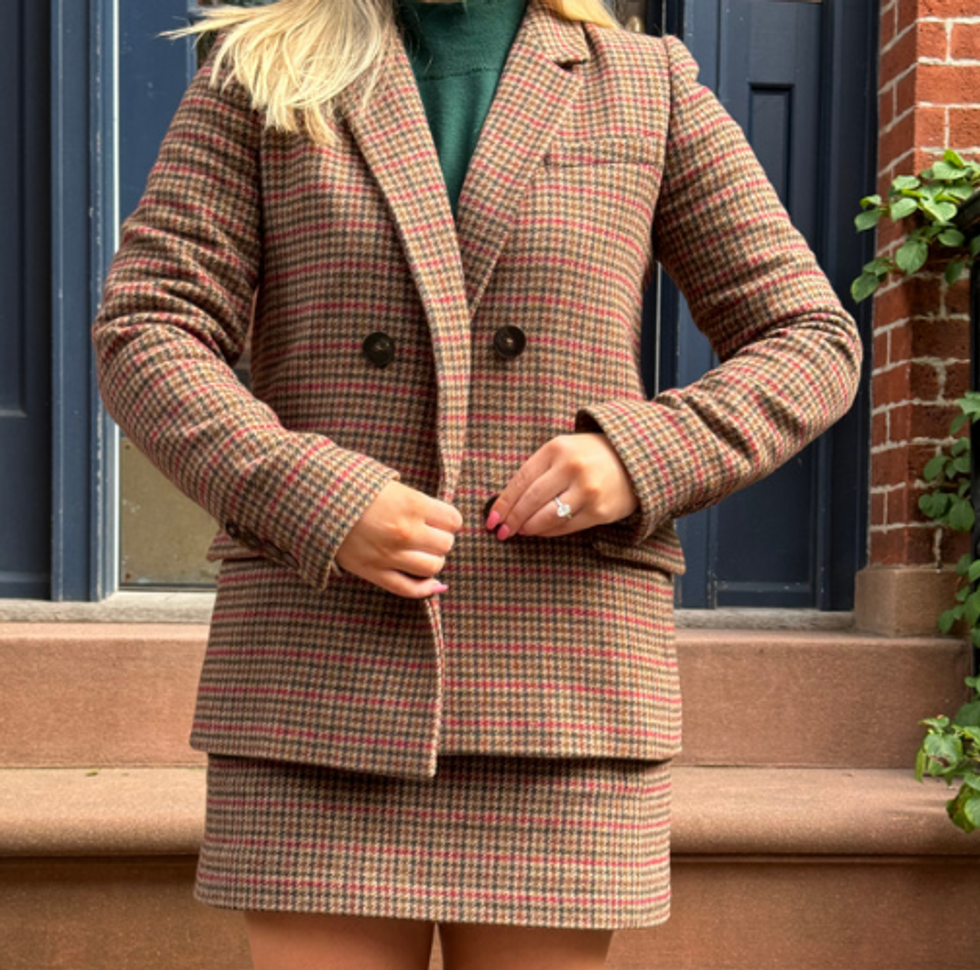 The double-breasted Christie Jacket in Multicoloured Houndstooth says, I'm serious, yet classy. The quality was immediately apparent in the details — it has a breast pocket, two front flap pockets, a slit at the bottom of the back, and is fully lined.

The matching Malia Skirt's A-line shape is incredibly flattering. When paired with the Christie Jacket, the look radiates unique, elevated chic while staying work-appropriate.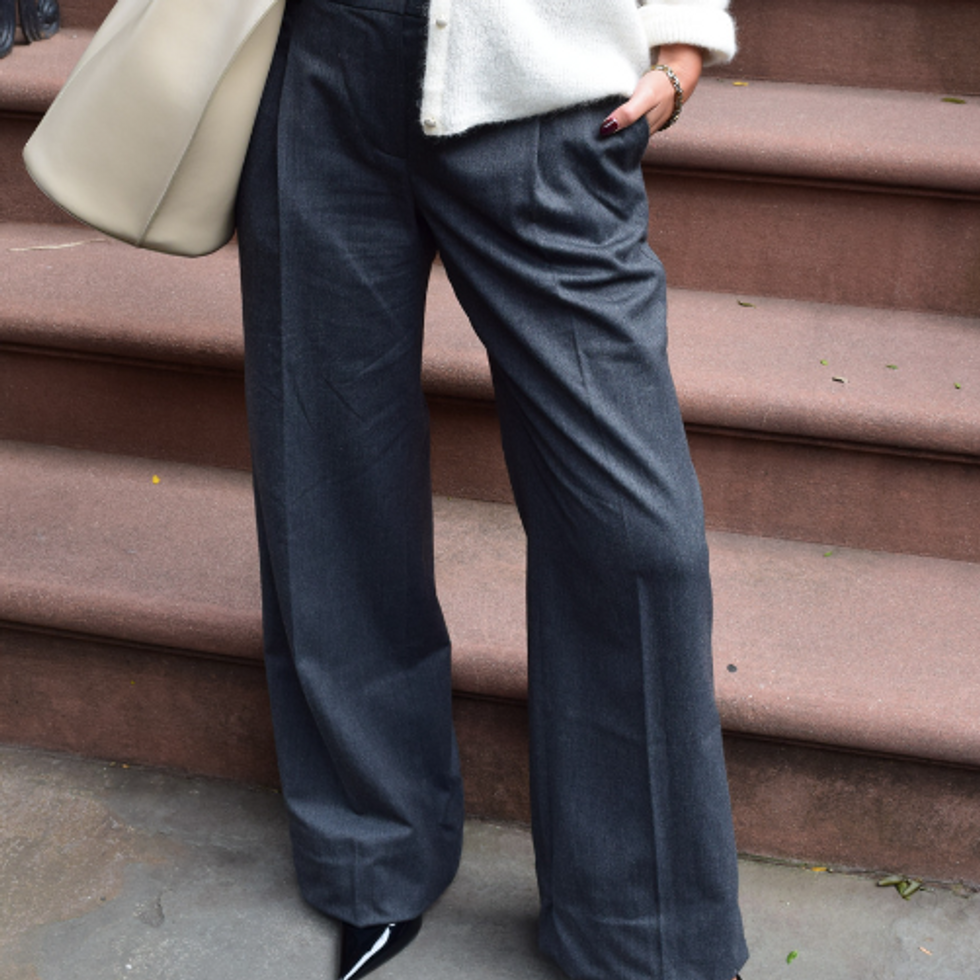 I tried on the Mottled GreyGiacomo Trousers and immediately fell in love with how comfortable the slightly dropped waist is compared to the stiffness of your typical work pants. And the wide legs are super on-trend, with a fabulous shape that feels sophisticated without being fussy. These are definitely my new go-to!
Bonus: In addition to Mottled Grey, these trousers come in Black, Ecru, Terracotta, and even Fuschia for the truly bold.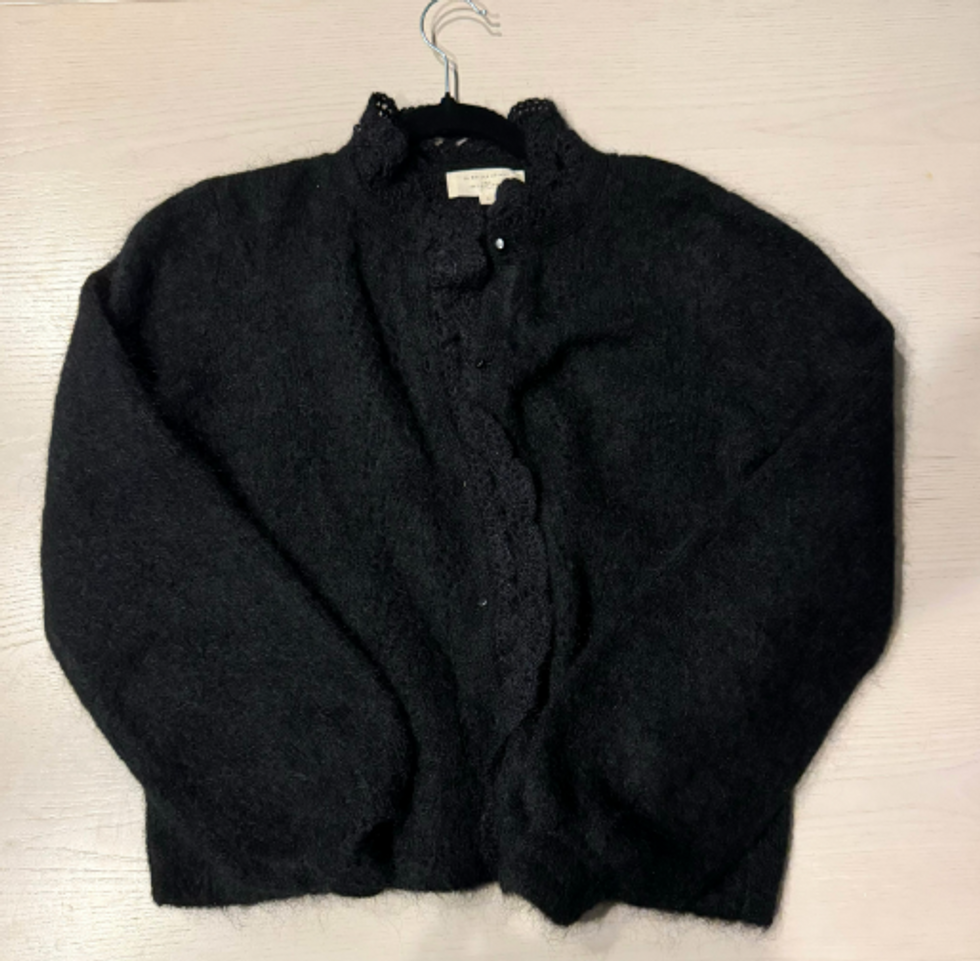 The detailed crochet neckline is even more stunning in person along with slightly puffed sleeves that give it a modern edge. Made from merino wool and mohair, it provides a level of softness that feels truly heavenly against my skin.
The epitome of femininity and contemporary elegance, this cardigan is versatile enough to go with just about everything, from my new Giacomo Trousers to jeans, skirts, you name it. While I opted for
Black
, it also comes in
Ecru, Blush
and
Lilac.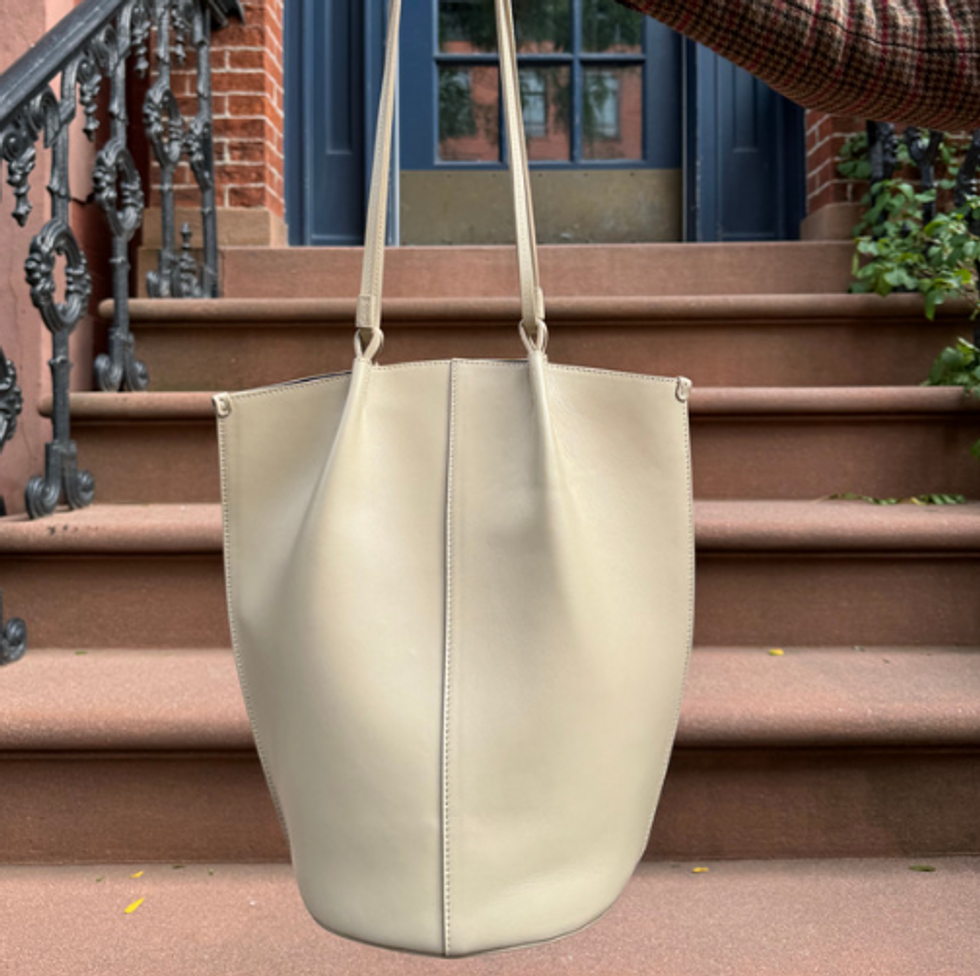 With so many alluring hues, it was tough to finally settle on the Romie Bag in Smooth Sand. The first time I used this bag, I was amazed at how much it can hold. It's spacious enough to carry my entire life, from the latest bestseller — call me old fashioned, I read actual books — to my laptop and makeup bag.
Even better? The adjustable straps allow you to switch up how you carry the Romie Bag, while its smooth leather finish is designed to grow more beautiful with time.
Parting Thoughts
I've found that many European brands often stop at size 8, so I'm thrilled that Sézane carries a broad range of American sizes, all the way up to 16!
And no waiting for weeks once you hit "purchase"… They offer free & fast standard delivery to the U.S. for orders over $200 and free returns from the U.S. Major win/win.
My Sézane package arrived super quickly. The packaging was superb and the feel of the fabrics was sumptuous. To my delight, a lovely gift was tucked in with the clothes I'd ordered! I'd completely forgotten that Sézane promises "a surprise in your order."
No, I'm not sharing what it is— you'll have to find that out for yourself… :)
From the attention to detail to the individuality of each item, Sézane's timeless pieces are valuable far beyond their price tag. I'm just getting started on my capsule wardrobe with them!
At a recent cocktail party, my new work pal — see, I'm making friends already — asked where I got my new suit.
"Sézane," I said, beaming while putting on my best French accent. "You simply must check them out."
FOR OUR READERS: Get a FREE GIFT with your first purchase! LIMITED TIME ONLY FREE Shipping + FREE Returns! Follow this link to shop before they sell out!