Switching To MyGreenFills Was The Best Decision For My Family
It feels like half my laundry room is reserved for detergent.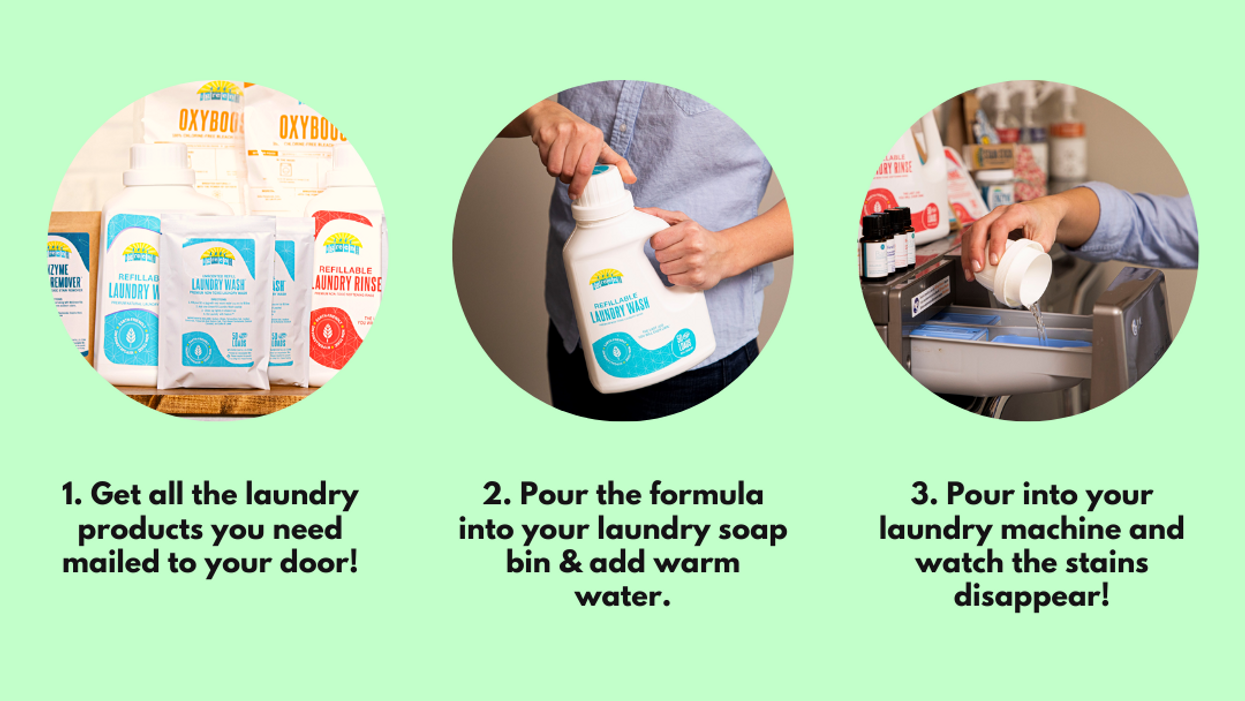 The big orange and blue bottles take up so much shelf space - I wish I didn't have to buy in bulk, but it's so much cheaper and we run out so fast.

So when I went to my son's friend's house for a BBQ, his mom gave us a tour and I couldn't help but notice that there weren't any cleaning products laying around. I figured she stashed everything in a closet somewhere, but it wasn't until we got to the laundry room that I noticed the bottles.
On a shelf above the washer and dryer, there was a rainbow of white bottle with colored labels and one white jug of detergent at the end. All the bottles matched and were glass with a white sleeve in a pretty flower pattern.
It was the prettiest laundry room I'd ever seen. I asked where she got the bottles and she told me they were from MyGreenFills - instead of buying a new bottle of cleaner every time she ran out, she'd bought the bottles once and now only received the refills.
She showed me the box of color-coded refill packages at the end of the shelf - it was about the size of a shoebox, but it would last half a year.
She mentioned that not only is MyGreenFills super concentrated and efficient - the cleaning products are all-natural. The formulas are eco-friendly and with the refillable bottles and reduction of plastic, the entire company is super sustainable.
I was super curious because they all just looked like water! She let me smell the cleaners, and there was no odor whatsoever. No chemicals! She said that you can also add their blends of essential oils to customize the smell of the cleaners in a natural way.
Since they looked and smelled like water, I needed to try the formulas for myself though to be sure they really worked. I really was sick of that bright blue goo and the huge jugs.
I ordered their laundry products, the stain stick, the clothing brightener, and thebathroom cleaner with the containers - and if the bathroom cleaner could clean the dirtiest room in my home, I'd be hooked on the rest of their products, too..
The prices were comparable to other non-toxic products I'd seen before AND I was assured I'd save money in the long run - they were more potent and I'd only have to purchase the refills next time. The laundry detergent would only cost me 14 cents per load (a gift when you have 2 boys).
My orders arrived in fully recyclable packing and once I put everything together, I was ready to clean. All I had to do was mix the concentrated formula with water in the bottles and shake 'em up.
Everything smelled great, and I will say the beautiful bottles make doing laundry more exciting. When I took out my clothes, they felt great - not too soft or starchy, with just a hint of that fabulous smell.
Now I can't wait to get rid of all the chemical-laced cleaning products in my garage and go MyGreenFills all the way! I'm thrilled with the high quality formulas, the cheaper overall price, the reducing of my carbon footprint, AND how they look great in my home!
I cannot tell you how many people I've recommended these products to already. They're absolutely fantastic, and there's something for every mess in your home.
Update: MyGreenFills Is Offering 2 Exclusive Offers For Our Readers!
For a Limited Time Save Up To 71% Off + FREE SHIPPING!
Save Up To 60% Off All Truly Free Cleaning Products!
Offer Expires In