It's fall – finally — which means it's time to put your best cozy gear to work.
---
Everything about fall makes you want to curl up with mulled cider and sit thoughtfully, wrapped in a cocoon of warmth. Or at least that's what the "romanticize your life" movement wants me to believe. And I'm believing it. Bring on the Halloween-themed cookies, the falling leaves, the smell before rain. Bring on the hot chocolate, fuzzy socks, and oversized sweaters.
For the latter, I'm wrapping myself in NAP loungewear.
Honestly, I'm the ideal audience for a brand named NAP. Being sleepy is my primary personality trait, so I'm easily seduced by anything bed-adjacent. Those Instagram-famous pajamas with the feathered sleeves that were all over at the beginning of the pandemic? Check. The ubiquitous Nap Dress? Check. The wearing sleepwear outside movement? I was ahead of the curve.
But I'm not the only one. For the past few years, athleisure has become one of the most dominant trends in fashion. Taking a cue from the Los Angeles Hot Girls, gone was the social stigma attached to wearing workout clothes outside. Leggings and sweatpants went from shame-garments that you'd only run errands in, to staples in any fashion-minded person's closet.
The pandemic only intensified this trend. In an attempt to keep their customers buying, most brands pivoted to sweatpants and loungewear. Our return-to-the-world has proven that this love of comfort is not going anywhere. However, it is evolving.
During our most boring 2020 moments, our lockdown-addled brains sought out exquisite sleepwear to defy our newfound homebody status. Satin pajamas, silk robes, vintage sleep sets, and lingerie reigned supreme on Instagram.
Who did we think we were? Sleeping Beauty? The Princess and the Pea? In any case, sleep couture has surprisingly stuck around. After all, it was the summer of love. There's something romantic about going into the world in sleepwear — a slip dress, a coverup, a dainty little robe.
But beyond the dramatic choices and on-the-nose sleepwear interpretations, pajamas as loungewear is here to stay, even in the most subtle ways. Pajama jackets pass as collared shirts for Zoom meetings, for one. Who's really ready to relinquish the comfort we've grown used to, especially in the fall?
NAP loungewear is at the helm of the sleepwear movement, providing all the versatile essentials that will keep you cozy at home, while appropriate to wear for outside excursions.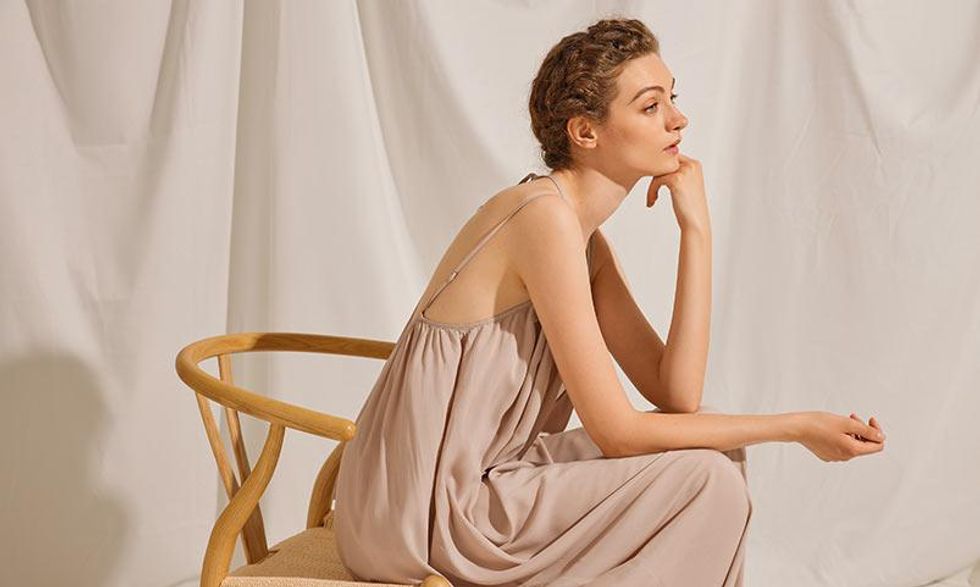 NAP Loungewear
Born of the pandemic, NAP loungewear saw the writing on the wall and are convinced that they wanted to retain parts of the "new normal" like comfy clothes and a more relaxed mindset.
According to their founder, the brand wanted "to break free from the hustle and bustle of everyday life. Take a breather. Relax and immerse in our comfort and aesthetics. It's a designer brand that represents modernity, simplicity, and fashion."
In the post-pandemic Wild West that was known as Hot Vax Summer, it looked as if NAP might have miscalculated. People had spent all year overindulging in comfort, who wanted to keep wearing at-home clothes?
And sure enough, the sartorial themes of the summer were bold prints and dating colors. After all, now that we're out in the world again, why not dress like it.
But, it bears repeating, it's fall! Cozy Season is back-in-action and, like the prodigal son, NAP is here to welcome us home.
NAP pieces blend classic feminine tailoring with contemporary needs and styles. While they focus on sleepwear, the brand has lines of activewear, knitwear, and lush cashmere. So, no matter what you do, you're in the spirit of a nap.
For example, their signature Cozy Fleece Pajama Set is an essential versatile set and perfect for travel. Now that international borders are opening up for vaccinated travelers, it's time to get out there again — which means carefully crafting a fantastic plane outfit. For comfort that won't embarrass you in the airport, this set is presentable but not restricting.
When it comes to travel, NAP loungewear is a packing staple. Versatile styles and neutral tones go with many outfits and are easy to dress up or dress down. Come up with countless outfit combinations without having to pack countless outfits, and be confident that you'll be comfy wherever your travels take you.
NAP loungewear
is changing what clothing means. Now that the activewear revival is giving way to sleepwear, we'll gladly embracing it with
NAP
.