My office (like most) is addicted to coffee. So when cold brew started gaining popularity, I began to notice my colleagues walking in with ice-cold bottles and cans where hot travel mugs previously took reign. It seemed like everyday someone was sporting a new brew and we'd all ooh and aah and debate which was the best.

Now I'm no coffee expert, but I know what I like and don't like when it comes to this chilled caffeinated beverage. After trying countless brands, I decided to see how they held up against each other. So we conducted a taste test- we started with 20+ cold brews and whittled away until we had our Top Ten. We rated them on factors like bitterness, caffeine content and overall flavor profile and even gave each one a Trueself Award.
Rise Brewing Co. Nitro Cold Brew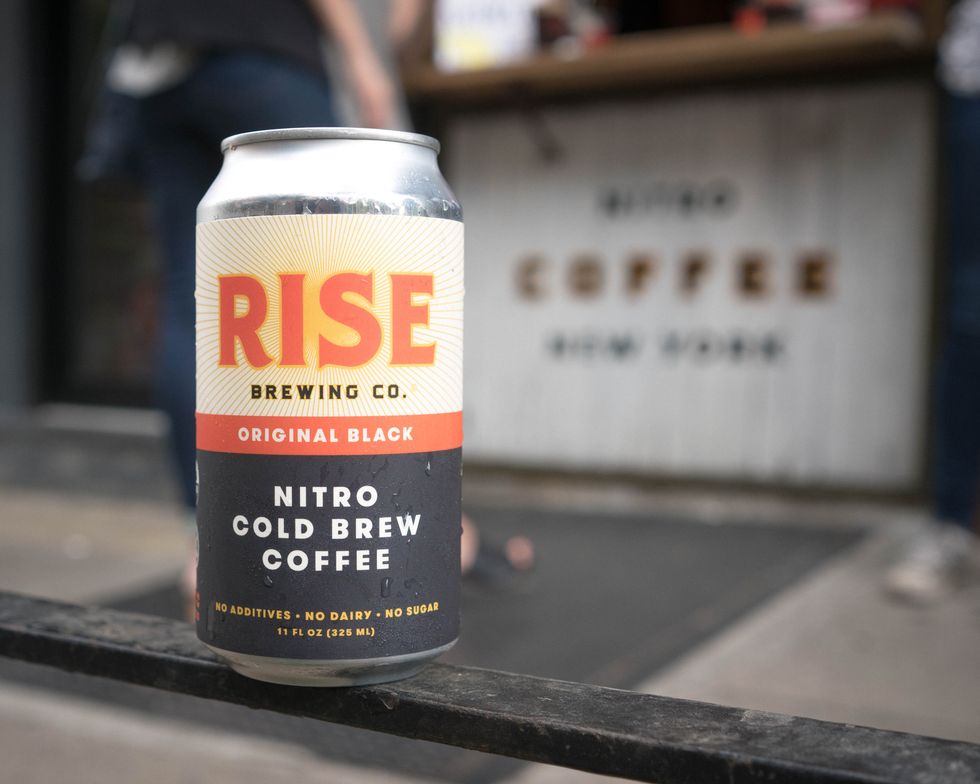 Photo Credit: Kai Diaz
Brand: Rise Brewing Co .
Interesting Tidbit: While Rise is predominantly focused on wholesale distribution and supplying offices with cold brew kegs, they also have an adorable little pop-up in East Village equipped with a window to grab a nitro on the go.
Tasting Notes: smooth, chocolaty, rich, creamy nitro goodness
What else do they do? Their main focus is making the best canned nitro cold brew and I'd say they've mastered that. Top secret: They have a couple other cold brew variations dropping later this month, so stay tuned! Hint: Think cold brew for the tea drinker.
Trueself Award: Biggest Crowd Pleaser
Seaworth Coffee Co. Single Fin Sludge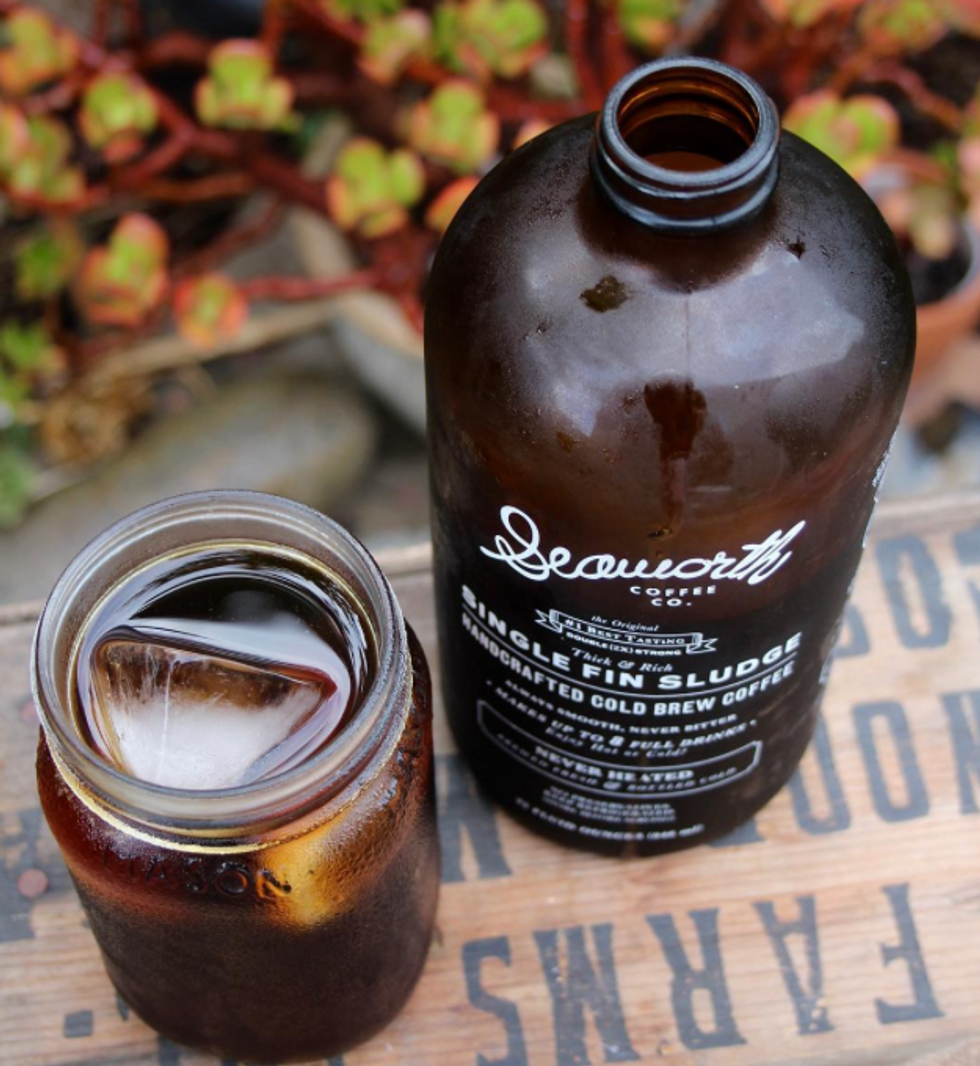 Instagram @seaworthcoffee
Brand: Seaworth Coffee Co.
Interesting Tidbit: Seaworth Coffee is very coffee meets the beach. They've been working on introducing Southern Californians to the cold brew that East Coasters and PNW'ers know and love. With Seaworth, a perfect summer day means surf, sand, sunshine, and cold brew.
Tasting Notes: pure, bold, flavorful, rough mouth feel
What else do they do? Seaworth's Classic Cold Brew recipe consists of their Single Fin Sludge cold brew, organic half and half, and Seaworth Organic Coconut Simple Syrup. Mmm coconut simple syrup- need I say more?
TS Award: Biggest Caffeine Jolt- 320 mg caffeine per 12oz bottle
Blue Bottle Cold Brew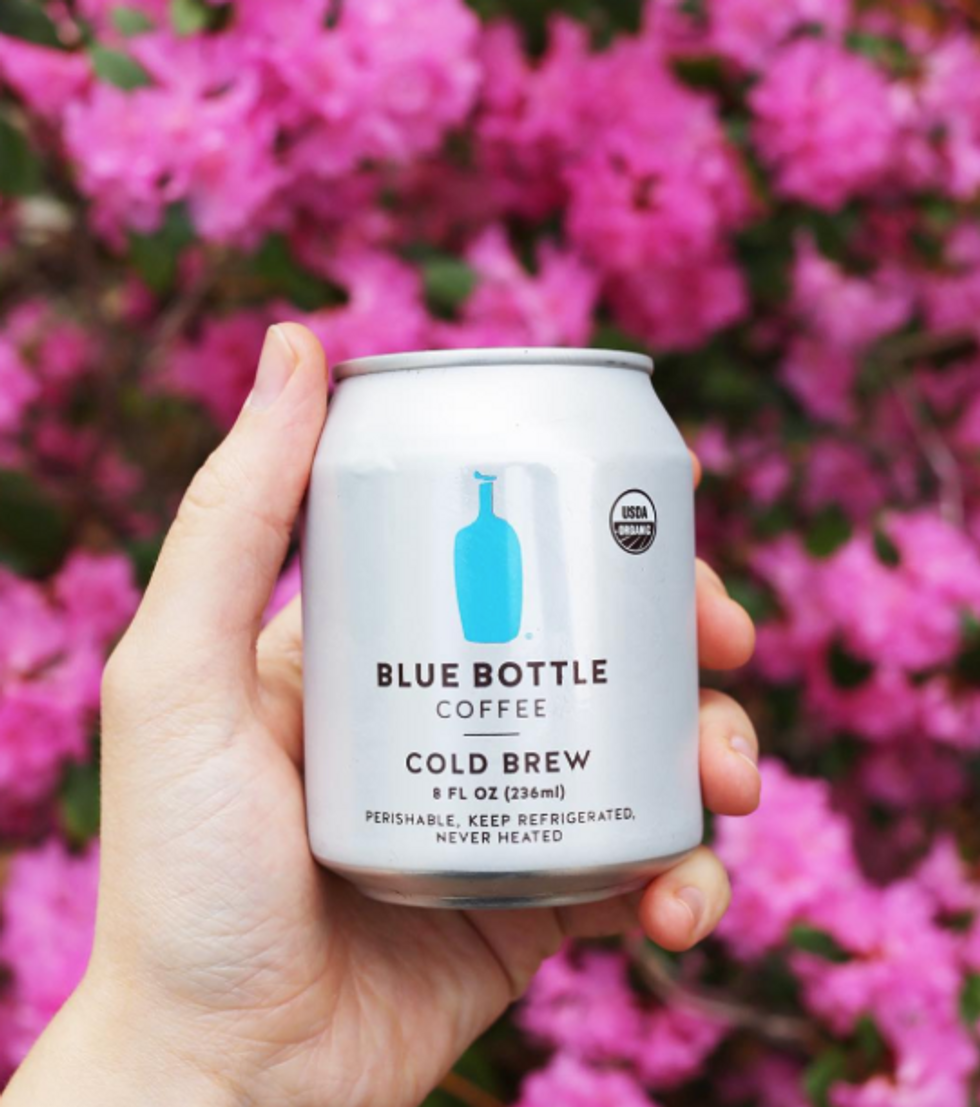 Instagram @lindseylouu reposted by @bluebottle
Brand: Blue Bottle Coffee
Interesting Tidbit: Blue Bottle Coffee seems to be popping up everywhere. With their roots in Northern California, they now have stores in Bay Area, NYC, LA, DC, Tokyo (and soon to be Miami). They're known for their minimalist aesthetic and carry that approach over to their product by allowing the coffee to speak for itself.
Tasting Notes: radiant, chocolate-covered cherry, luminous yet dense
What else do they do? Blue Bottle believes in educating the customer on all things coffee from coffee cupping to brewing guides to on-site roastery tours, they're sure to have a class or event to satiate your coffee cravings. If you like a little milk in your coffee, be sure to try out their New Orleans-style iced coffee .
TS Award: Most Well-Balanced Cold Brew
Wandering Bear Cold Brew Coffee on Tap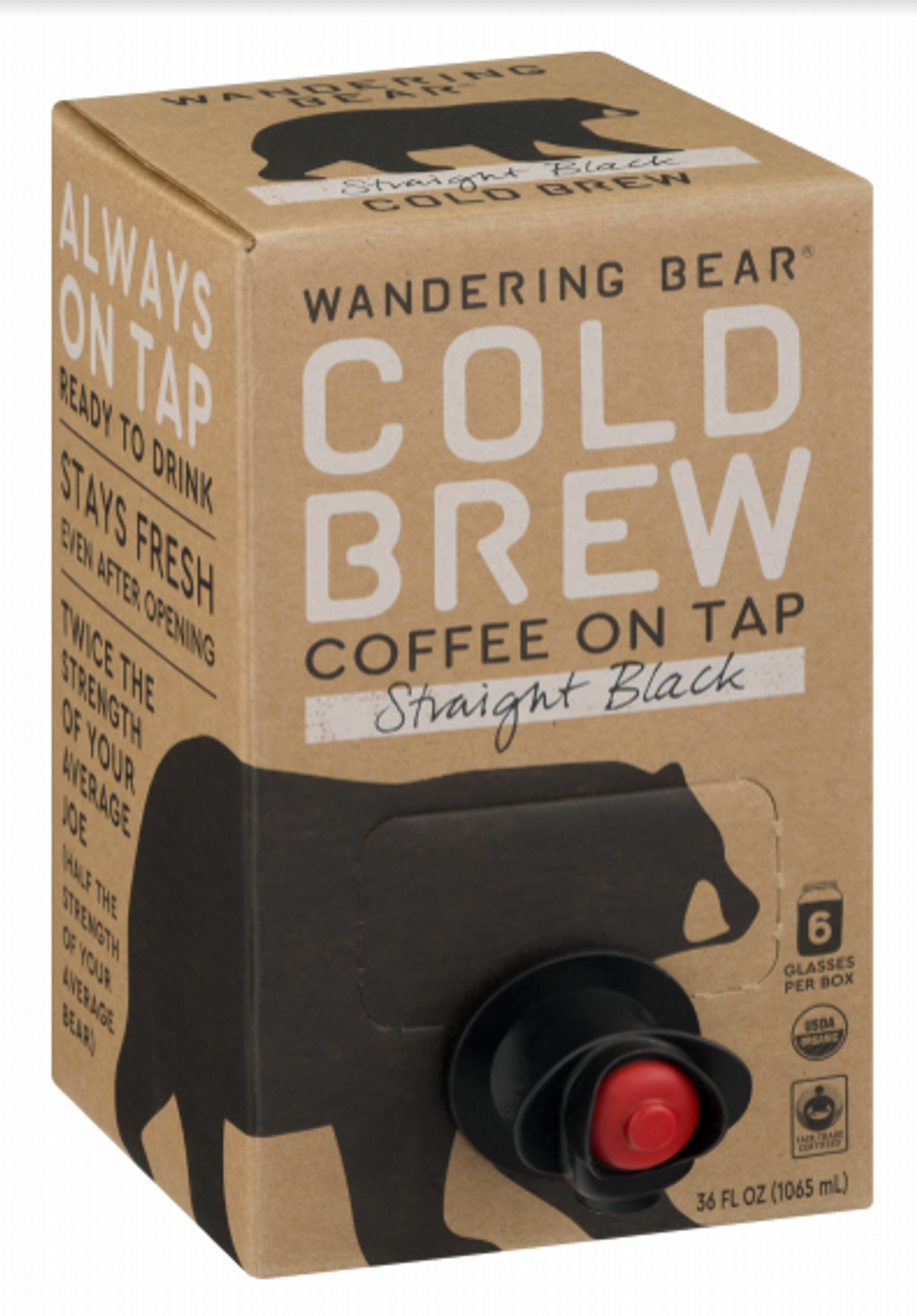 Wandering Bear Coffee
Brand: Wandering Bear Cold Brew

Interesting Tidbit: Wandering Bear Cold Brew is currently only sold in these little wine-like cardboard boxes making it the best pick for a company meeting, a picnic in the park or even a road trip. Not only are these little boxes convenient, they also serve a purpose- preventing air and light from penetrating the coffee thus keeping it as fresh as possible.
Tasting Notes: strong as a bear, velvety, fresh, rich (no sourness or funk here!)
What else do they do? Wandering Bear not only sells their boxes in stores, they also deliver boxes, kegs, or dispensers to offices around the Northeast. Click here to see craft coffee concoctions like Cold Brew Smoothie, Cold Brew Cocktail and Cold Brew Ice Cubes.
TS Award: Smoothest Brew (aka-Least Acidic)
Chameleon Cold-Brew Organic Black Coffee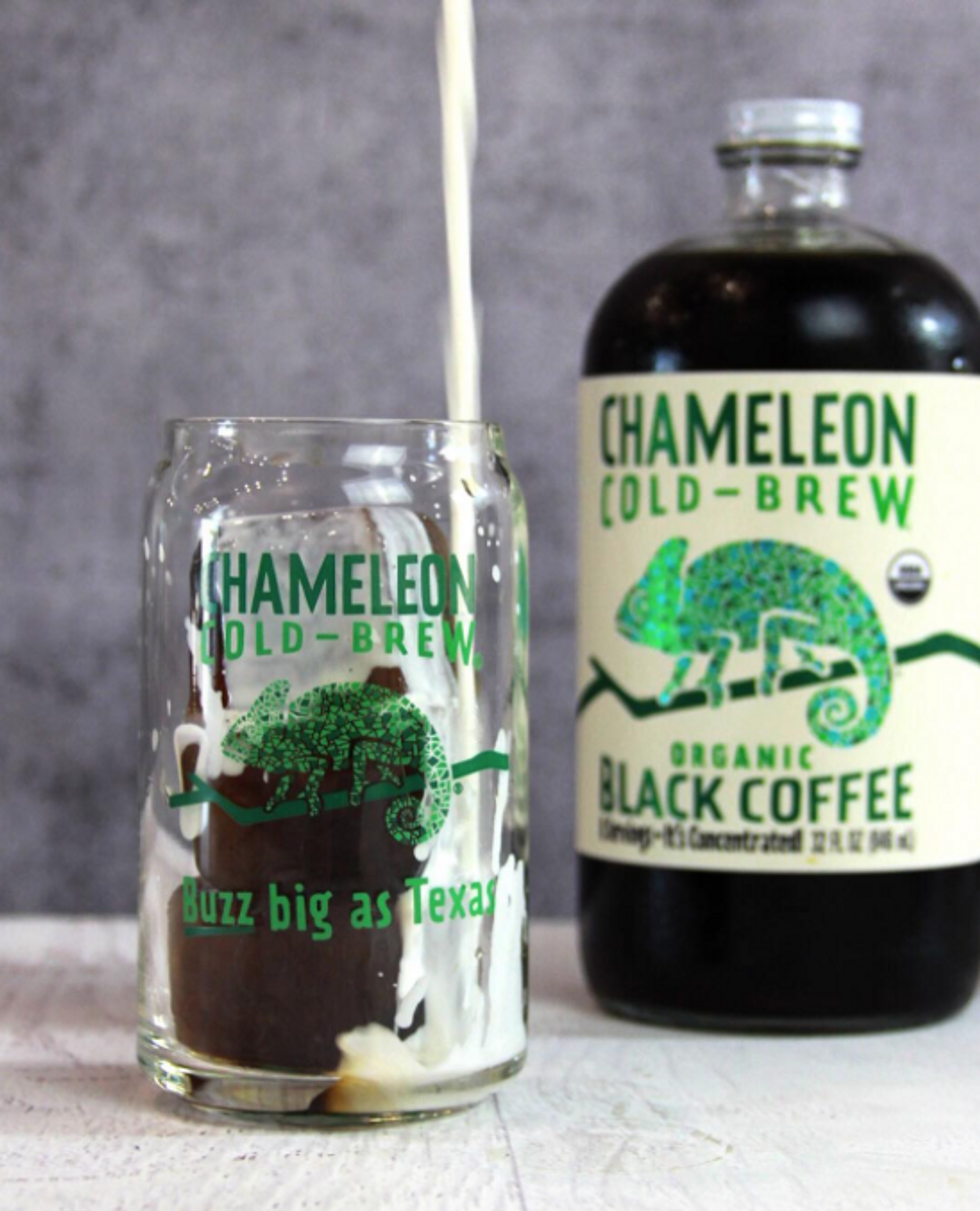 Instagram @chameleoncoldbrew
Brand: Chameleon Cold-Brew
Interesting Tidbit: Born in Austin, TX, Chameleon Cold Brew offers a "buzz as big as Texas." Their medicinal-like bottles with the sparkling chameleon always stands out in the beverage aisle. They use air roasting techniques in order to encourage the most dramatic flavor from the beans and it shows. Chameleon cold brew is a classic brew that's not too bold- perfect for the beginner.
Tasting Notes: crisp, earthy richness, hints of cocoa
What else do they do? Chameleon has their own cold brew coffee kits and pods so you can try your hand at brewing in the comfort of your own kitchen. They also have some fun ready-to-drink dairy-free flavors like Mocha, Vanilla and Mexican Coffee.
TS Award: Most Forgiving Cold Brew
Stumptown Organic Cold Brew Coffee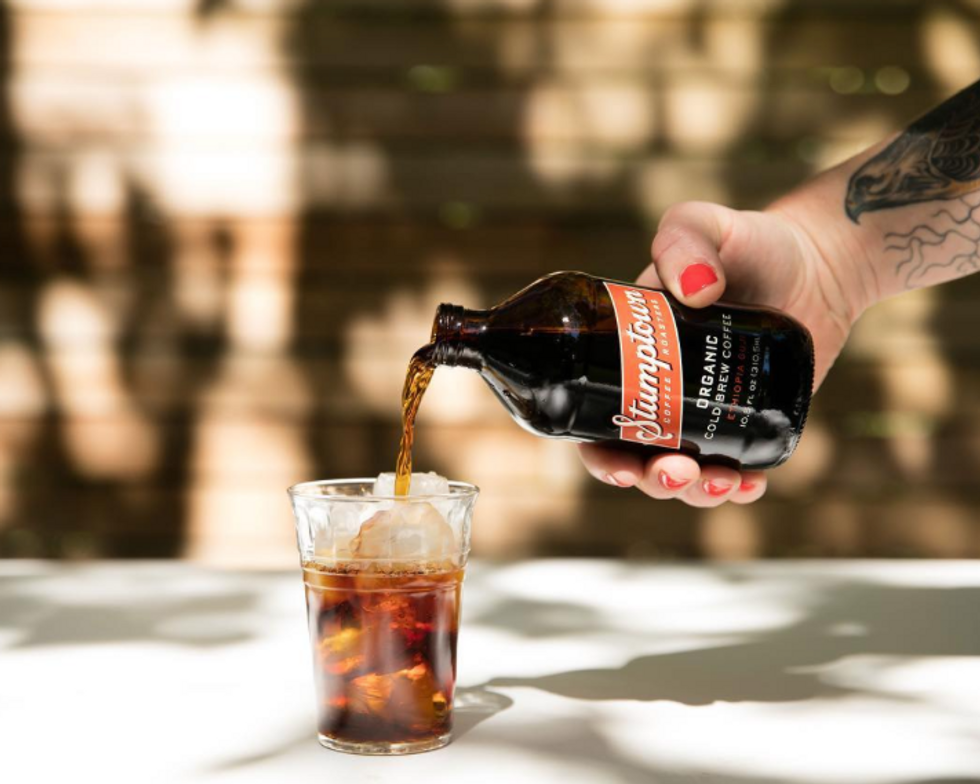 Instagram @stumptowncoffee
Brand: Stumptown Coffee
Interesting Tidbit: Stumptown has been around since the last century, 1999 to be exact, and they've managed to stay relevant and contribute to the ever-growing competition of the coffee world.

Tasting Notes: vibrant, mild notes of fruit and caramel
What else do they do? They just launched a sparkling cold brew line that looks refreshingly delicious- they offer a sparkling original coffee, a sparkling honey lemon and a sparkling ginger citrus. Or try their chocolate cold brew that tastes like chocolate milk with a zing.
TS Award: Best Texture/Mouth feel
Califia Farms Single Origin Cold Brew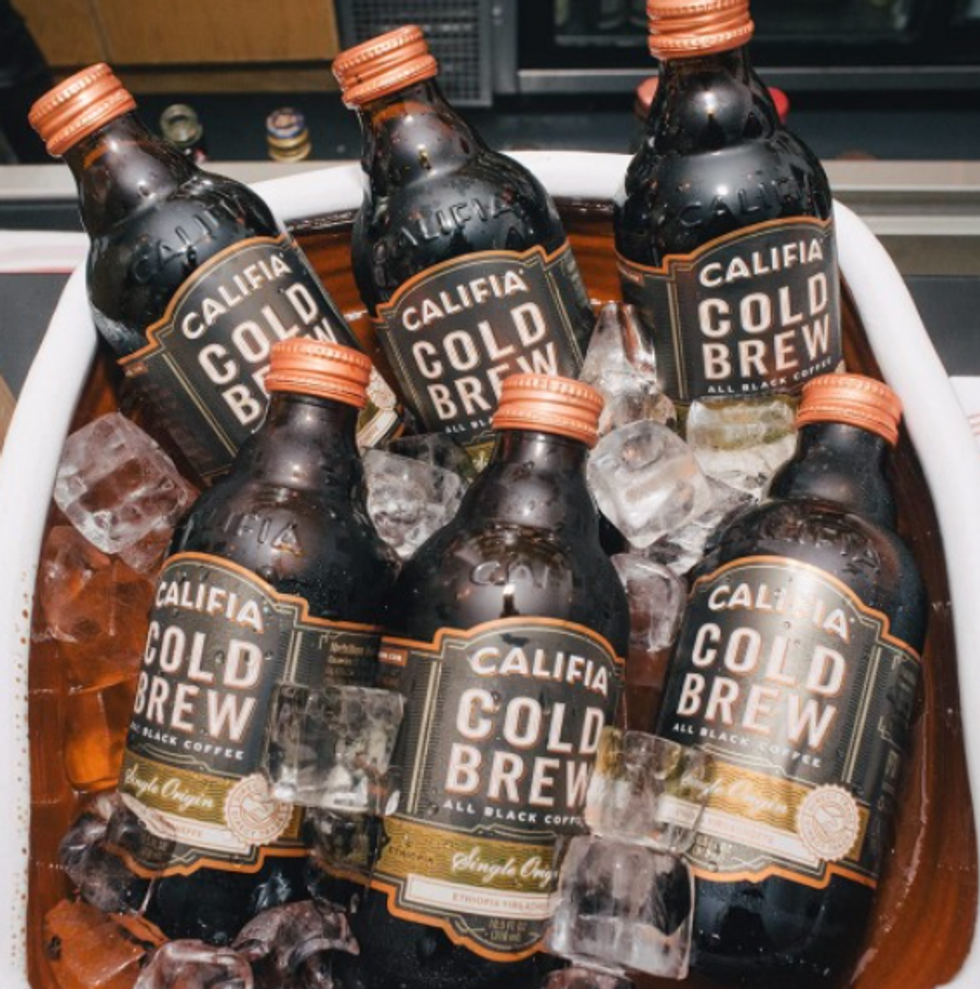 Califia Farms
Brand: Califia Farms
Interesting Tidbit: This California-based company in doing a lot of different things. Well-known for their plant milks, they also have tasty juice combos and excellent ready-to-drink coffee varieties.

Tasting Notes: pure, floral, complex and notes of dried fruit
What else do they do? Their plant milks are fascinating and will appeal to almost any palate. My favorites are the Classic Cinnamon Horchata, Toasted Coconut Almondmilk and Organic Cashew Homestyle Nutmilk.
TS Award: Sweetest Aroma
Limitless Cold Brew Coffee Original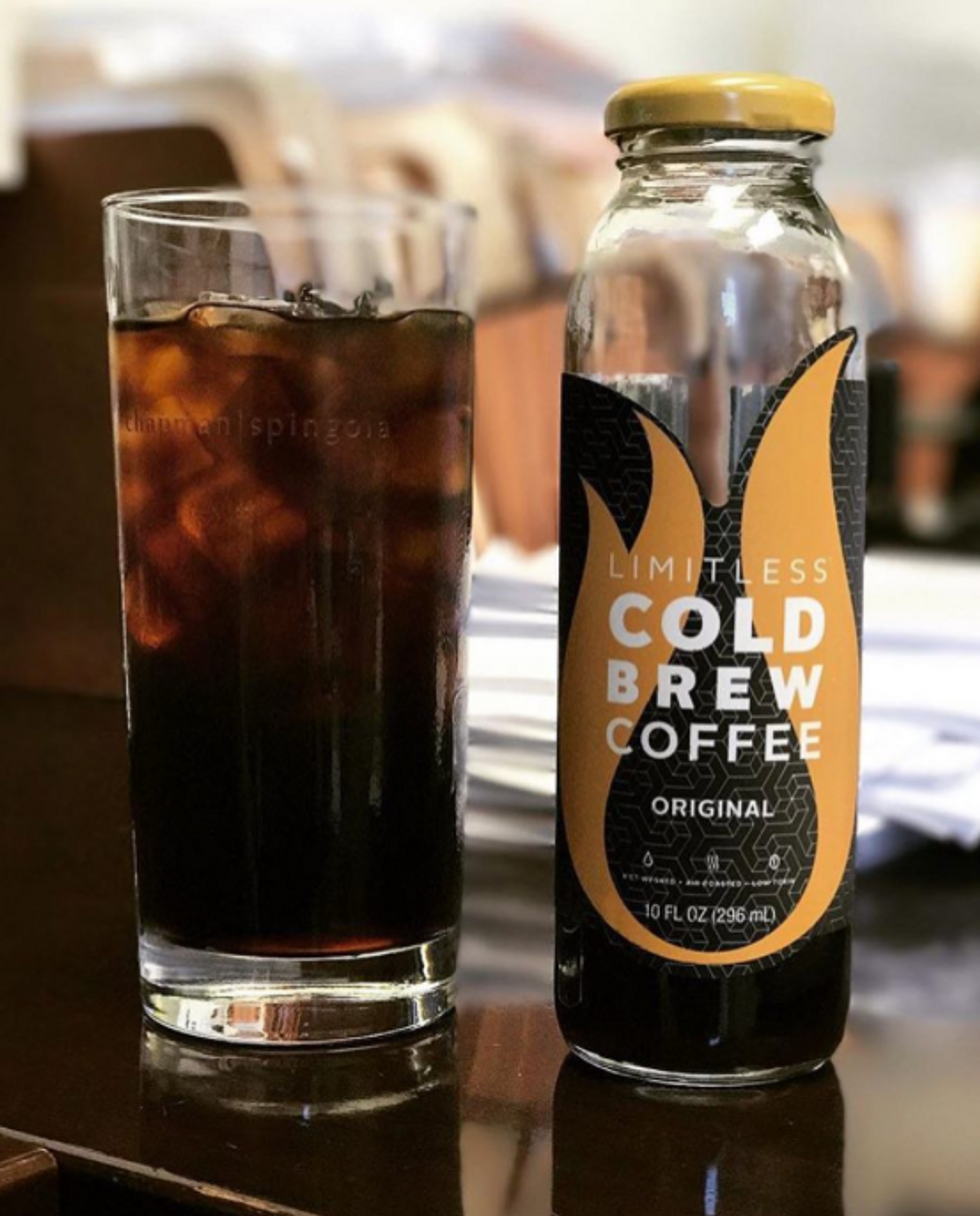 Instagram @r0ckettcrockett reposted by @limitlesscoffee
Brand: Limitless Coffee & Tea
Interesting Tidbit: Limitless Coffee & Tea is newer to the cold brew world but their coffee can keep up with the big guys. Based in Chicago in the Fulton Market District, this roastery is taking big strides to provide the country with the next best brew.

Tasting Notes: clean, round, silky, and subtly sweet
What else do they do? Limitless Coffee & Tea also appeals to the tea drinker with their bottled Matcha tea - they have a sweetened, unsweetened, and sweet mint flavor.
TS Award: Best Newbie Brew
Kohana Cold Brew Coffee Volcanic Black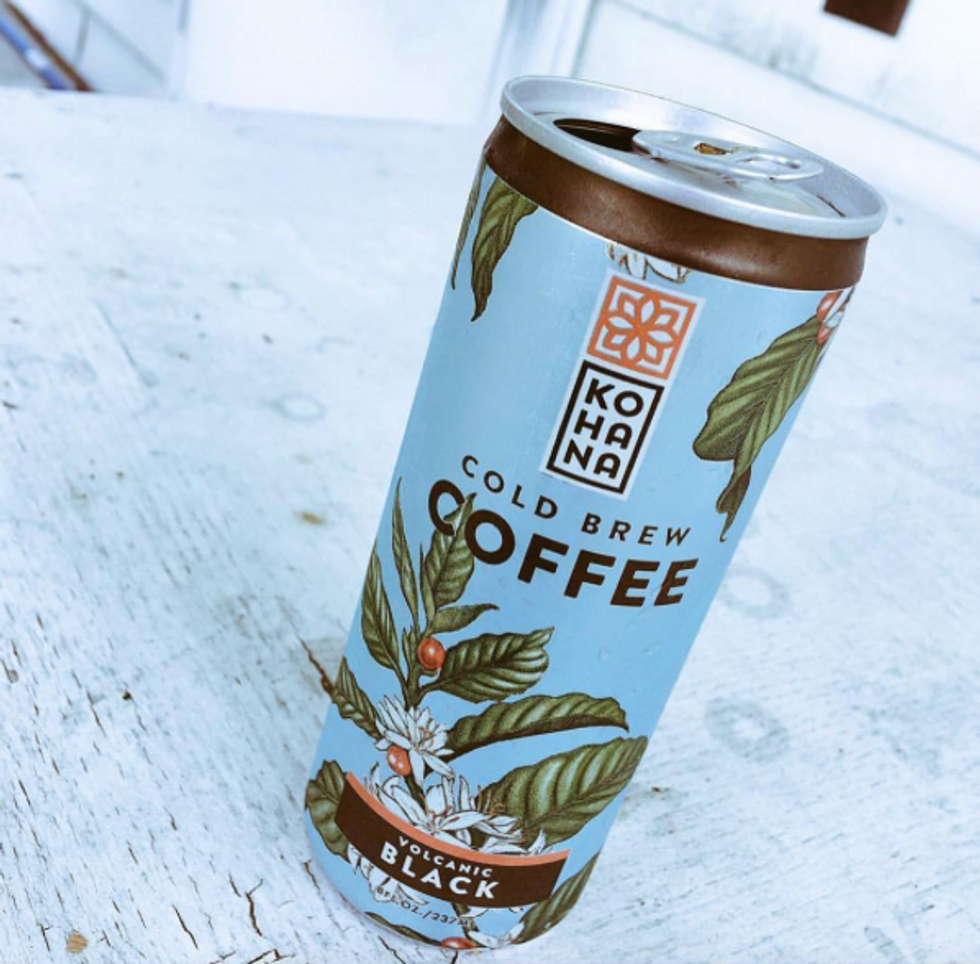 Instagram @cindyinthia reposted by @kohanacoffee
Brand: Kohana Cold Brew Coffee
Interesting Tidbit: Overflowing with island vibes, the idea for Kohana Coffee originated in Oahu where founder, Victoria Lynden, learned about roasting beans in the traditional "island style." Kohana brings those big, tropical feels to its hometown of Austin, Texas.

Tasting Notes: dried blueberries, subtle sweet notes of perfume and structured
What else do they do? Kohana Coffee's products include cold brew coffee concentrates perfect for a craft cocktail and ready-to-drink cold brew flavors like Salted Caramel, Tahitian vanilla and Island Latte.
TS Award: Best Mellow Sweetness
Slingshot Coffee Co. Ready to Drink Cold Brew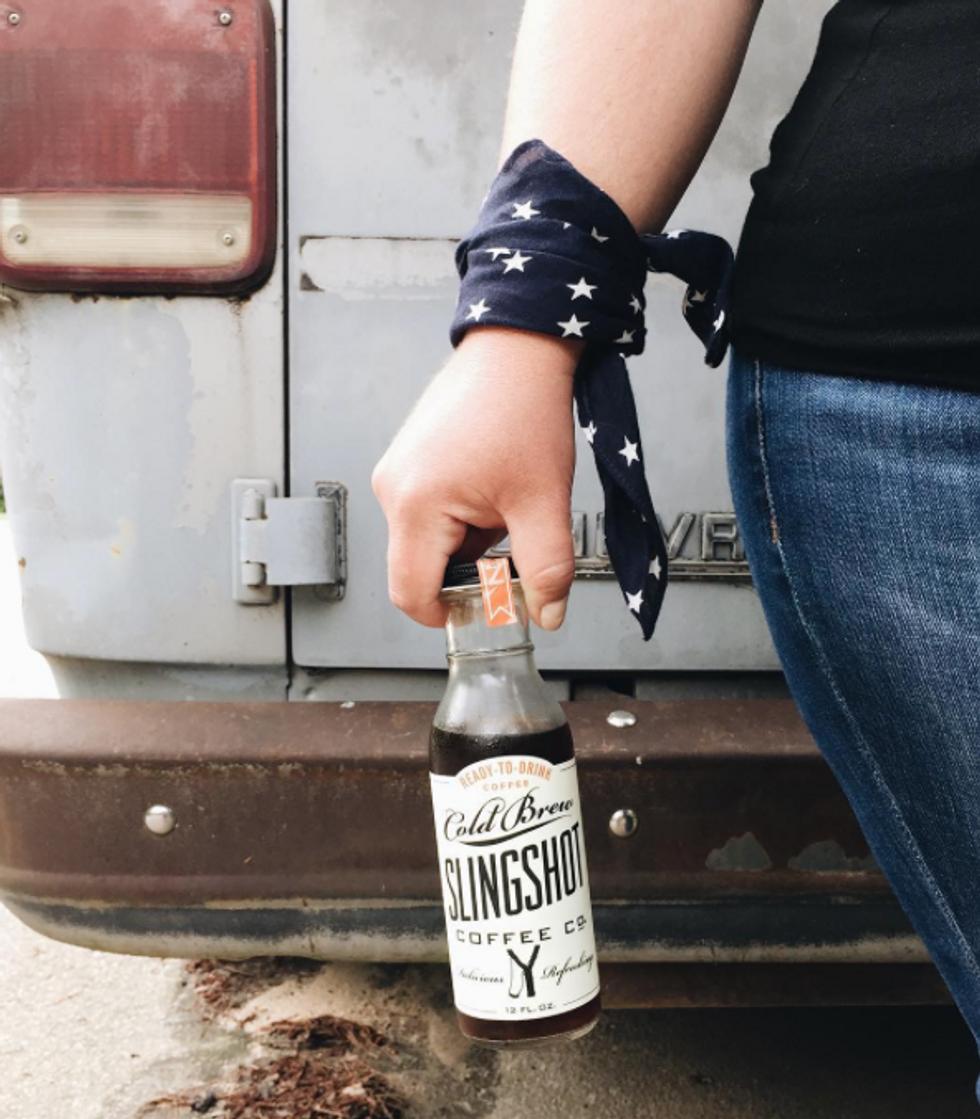 Instagram @slingshotcoffee
Brand: Slingshot Coffee Co.
Interesting Tidbit: Slingshot Coffee Co. is a husband-wife duo based out of Raleigh, North Carolina. Can someone say adorable? They have a storefront in Raleigh offering their cold brew and a selection of pastries with outdoor seating to soak up some sun.
Tasting Notes: bright citrus, stone fruit and bittersweet chocolate
What else do they do? In addition to cold brew, they also bottle Cascara Tea - a tea brewed from the fruit around the coffee bean. I've seen cascara offered at a few places here and there but never a bottled version!
TS Award: Most Complex Cold Brew