Evryone's got that one pair of jeans that fits perfectly and shows off all the right curves while shaping you just right. Thankfully, jeans can be worn time and time again without the worry of others thinking you don't know how to change your clothes regularly. By pairing your jeans with different looks, you can create an endless variety of wardrobe wonders, perfect for a slew of jean-friendly occasions. Slip into these 9 jean-based ensembles and let your legs stem into head-turning trends!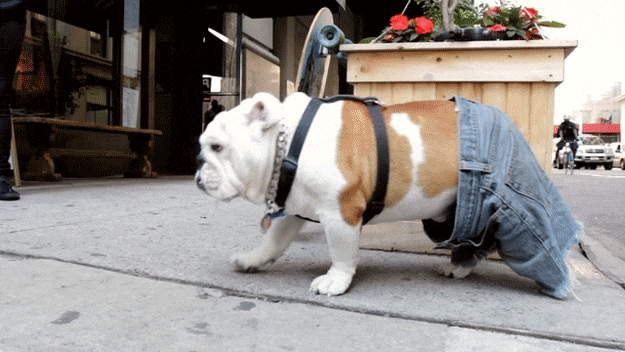 Dont do that! there are better ways to love your jeans again!
1. Cami and Cardi
The ruggedness of jeans paired with the delicate touch of a silky camisole and a lightweight cardigan for warmth is the perfect combo. You'll have that balance of sweet and sexy that any woman can pull off with cool confidence.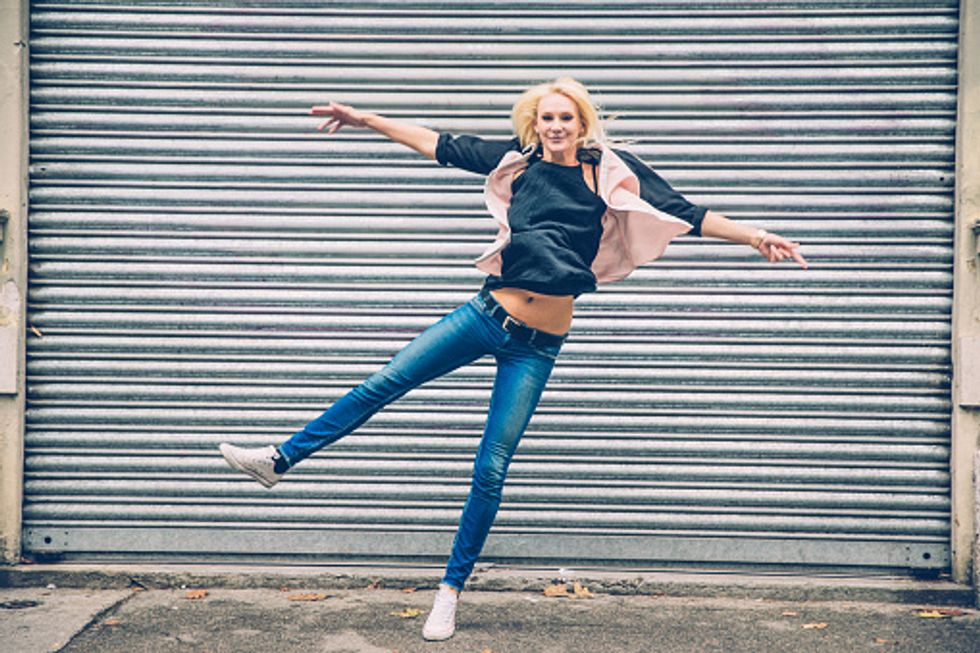 2. Crisp Button Down and Belt
Perk up your jeans with a bright white fitted button down shirt tucked in or worn loose. Belt the look with a sleek belt over the shirt or through the jean loops. This is a classic outfit staple that's perfect for so many occasions, from a casual day at the office to lunch with friends to a movie date. You'll look instantly put together.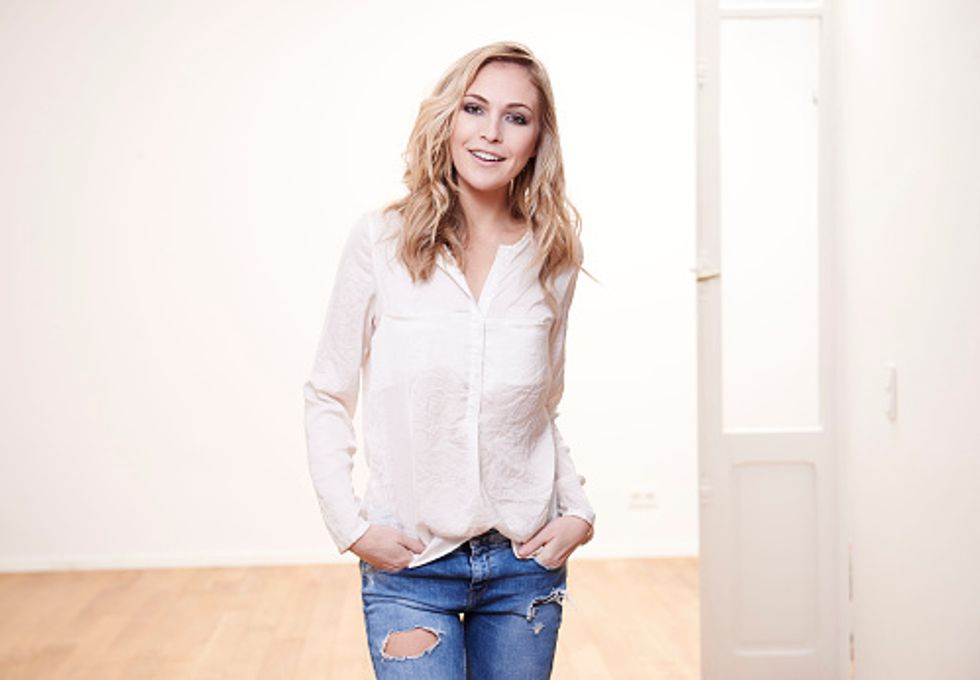 3. Flowy Top and Statement Necklace
Be boho-chic with a flowy tunic and a chunky necklace paired with your fave pair of jeans. Go for florals and whimsical patterns in an array of vibrant or pastel shades. You'll feel comfy while looking effortlessly pretty. This look is cool for the warmer months when you're not quite ready for shorts.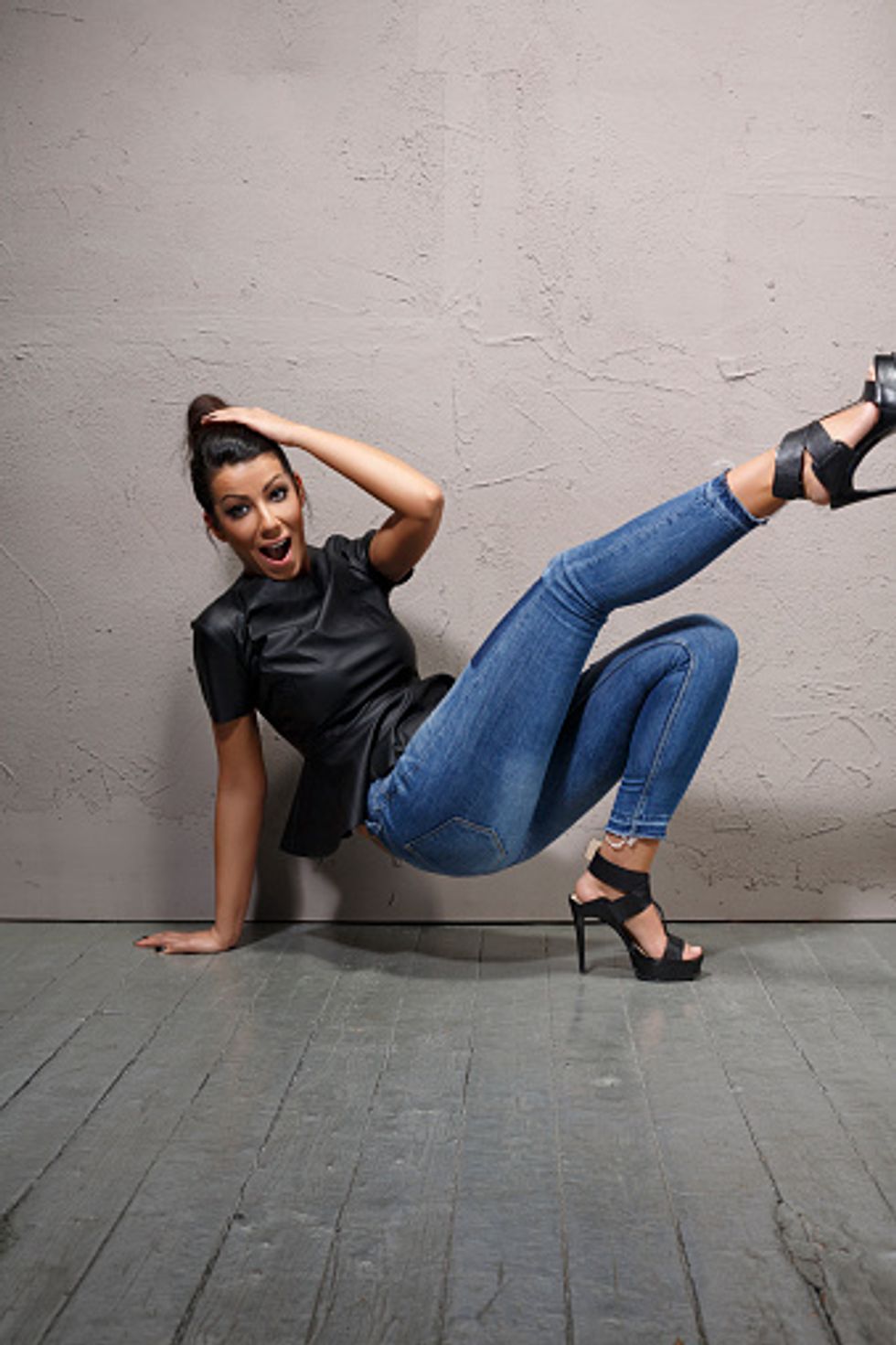 4. Fitted Turtleneck
A turtleneck can be sophisticated and sultry when it's well-fitted and smooth. Pair with a nice pair of jeans for a 2-minute outfit. Pull your hair back and wear bold earrings to enhance the shape of the top. Showing less can be more!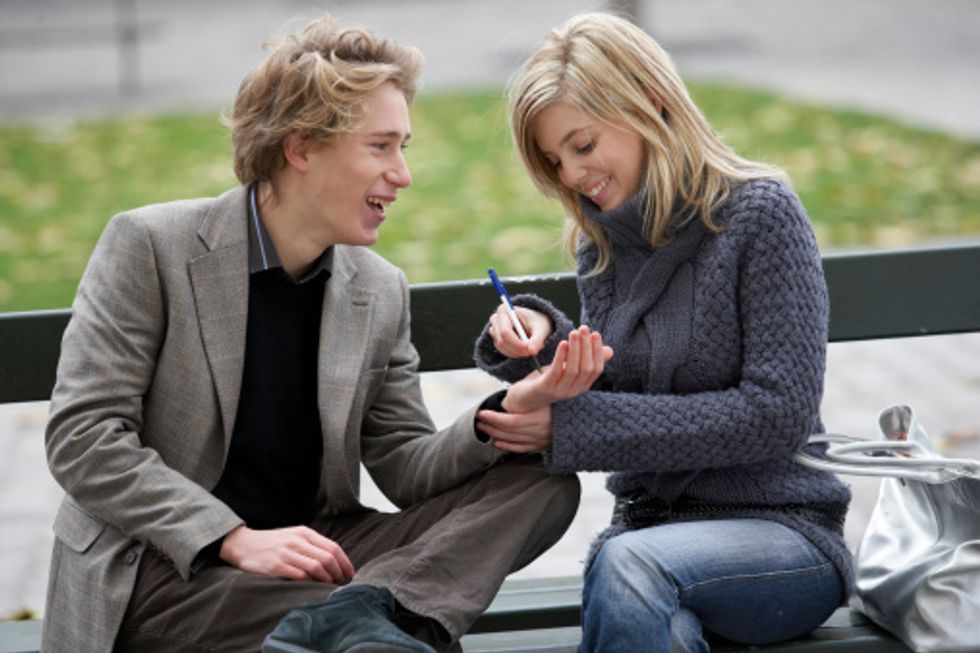 5. Oversized Sweater
A big, cozy sweater and a pair of worn-in jeans is the perfect weekend outfit. Heck, even go for your man's sweater for extra cuddliness! Pair this top with a skinny jean for the right balance – you don't want to be baggy all over. You will look totally adorable and keep warm on a winter's night.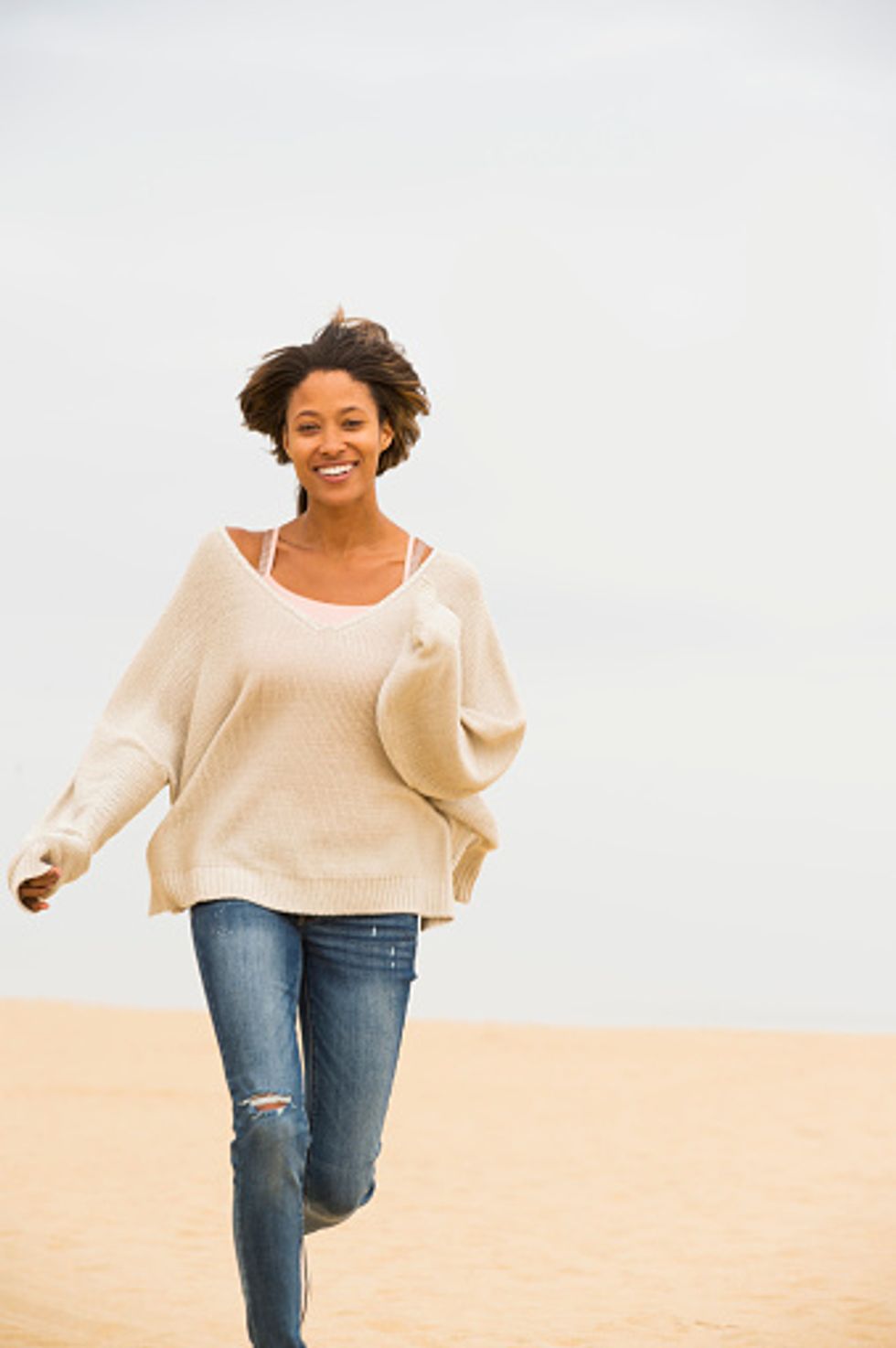 6. Basic Tee and Lightweight Scarf
Jeans and a T-shirt are the ultimate duo when it comes to casual wear. Pair a slim fitting tee with a pair of jeans for an instant on-the-go ensemble. To take the look up a notch, slip on a lightweight scarf with a nice pattern or print to add a little flair to the outfit.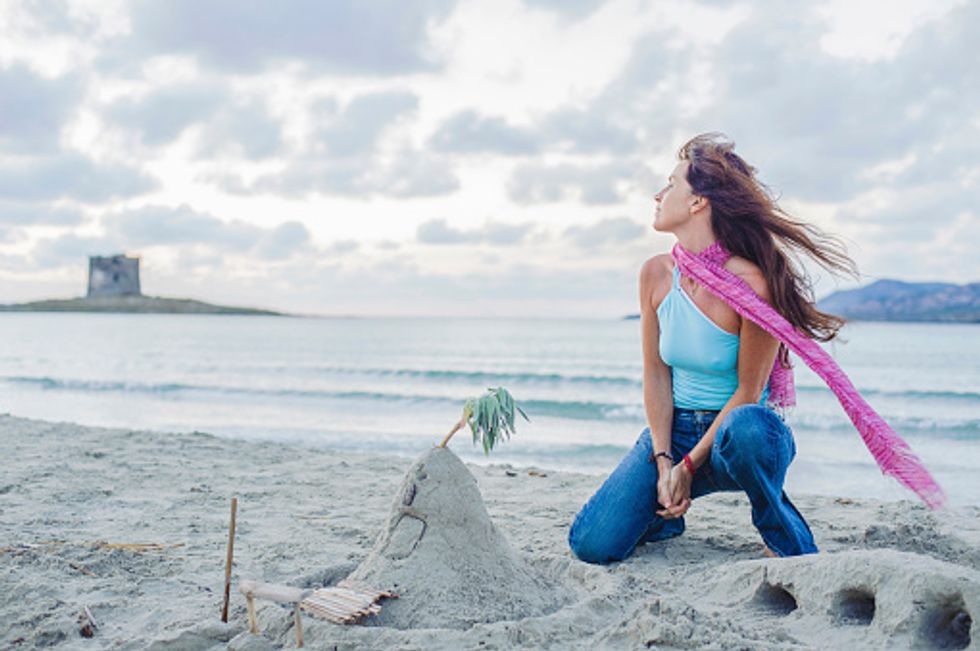 7. Sequined Top
To make jeans more elegant, go for a shimmery sequined shirt and a pair of heels to class up your jeans for an evening out. The fanciness of the top played down thanks to the casual nature of jeans will keep your look well-balanced for a nice dinner out or cocktails with the ladies.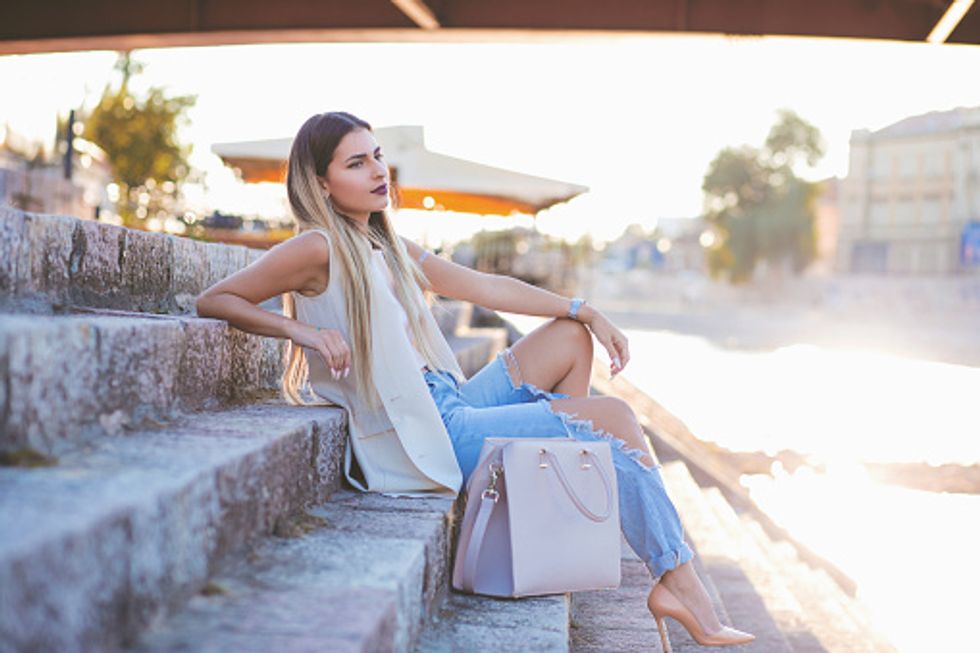 ---
8. Tube Top and Choker
Want to show off your sexy shoulders? Go for a tube top with your jeans. Find one that fits your body, whether it's stretchy or more structured for support. With all that neck exposed, now's a great opportunity to rock a stylish choker necklace to show off your edgy side!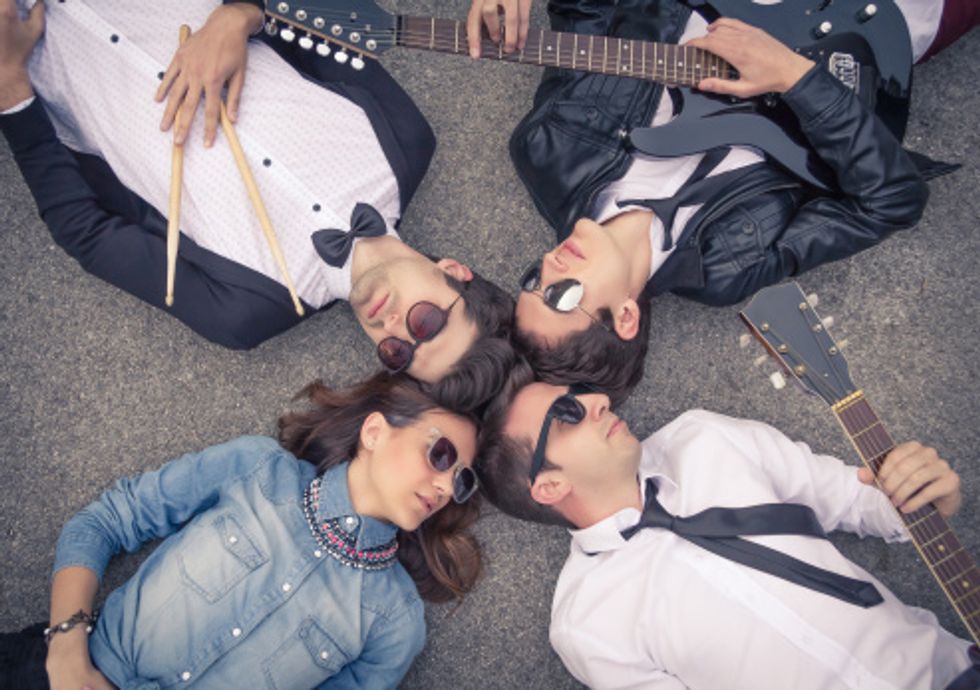 9. Deep V-Neck
A plunging neckline is alluring as can be, but when paired with jeans, the look isn't over the top seductive. Try a lightweight V-neck sweater or a deep V-neck fitted tee. This may be the one time your jeans won't be the main attraction!
Ready to rock those dungarees? Jeans are so versatile and now waiting...