Why OneSkin Is The Perfect Gift This Holiday Season
OneSkin is a skin longevity company that focuses on healthy aging by supporting strong, supple skin
OneSkin's 12-week clinical study that yielded spectacular results convinced me to try their breakthrough skin health products
I self-gifted their complete OS-01 line this holiday season — Read to find out my thoughts . . .
Ho-Ho-Ho. Tis the season to break out the "grateful-for-the-hideous-gift-grimace" and pretend you adore that bright purple boa your great aunt Poppy gifted you. This year I'm breaking this destructive cycle by indulging in some serious unapologetic self-gifting.
It's been a busy-dizzy year and, if I'm totally honest, I've been ignoring myself. Especially my skincare. I never got around to establishing that 14-step regimen that costs the earth and doesn't work. Sigh.
But when I started to notice the first fine lines cropping up around my eyes, I figured I had to nip this in the bud. Enter OneSkin. A groundbreaking longevity company that addresses the root cause of skin aging. Their cutting-edge formulas and science-backed ingredients promote lasting changes that support skin health and improve your skin's barrier.
OneSkin's core ingredient is its patented peptide, OS-01, which is the first peptide proven to reverse skin aging at the molecular level.* It was developed internally by their team of founding longevity scientists that have expertise in stem biology, skin regeneration, aging, and bioinformatics.
After scrolling through endless stellar 5-star customer reviews, I went all out and gifted myself a OneSkin holiday haul.
Here's a breakdown of the OneSkin holiday haul I got for $364: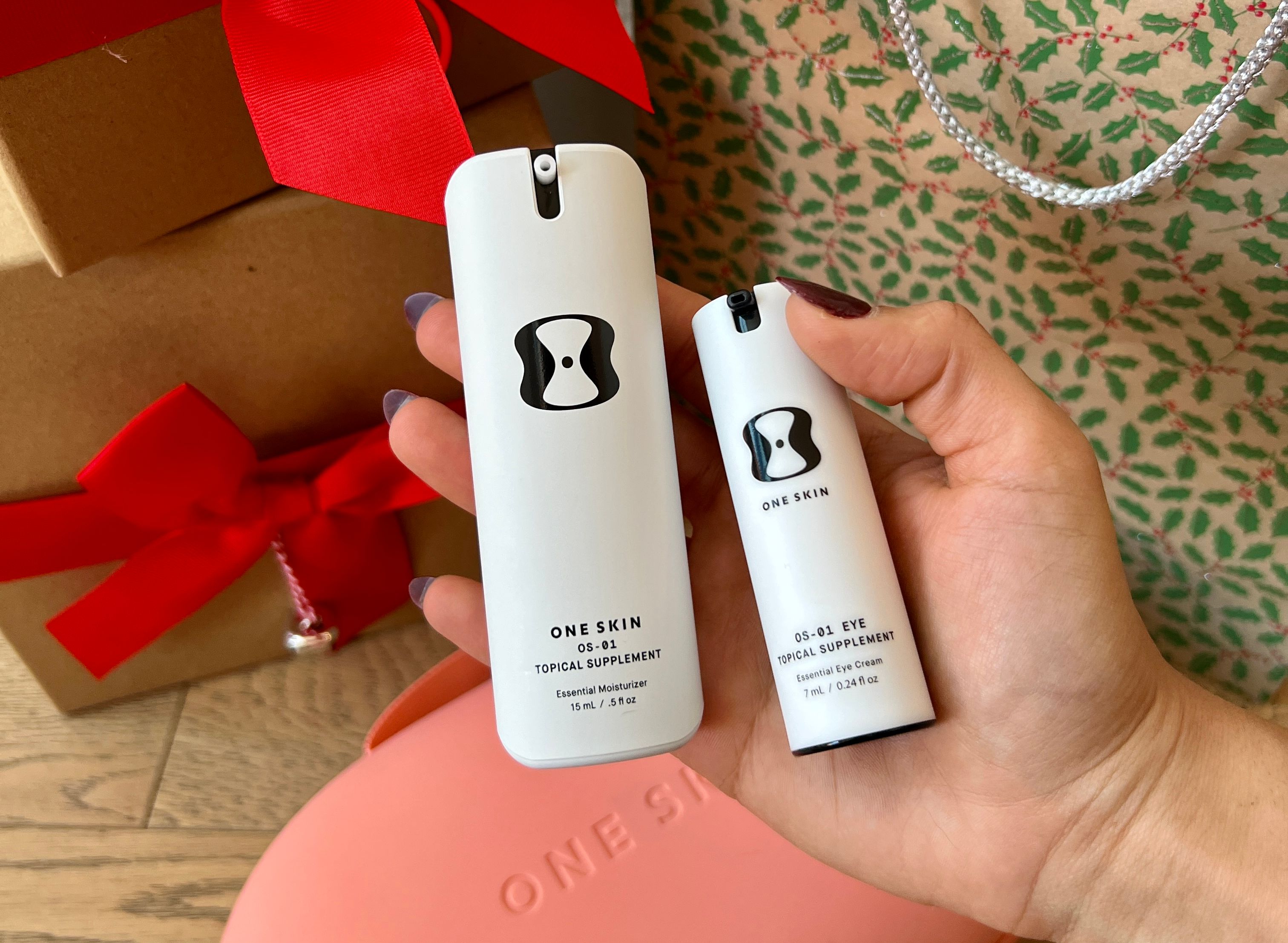 First Up? OS-01 FACE — $99 (with subscription)
The first thing I added-to-cart was OneSkin's best-selling topical supplement, OS-01 FACE, powered by the OS-01 Senescence Blocking Peptide™.
OS-01 FACE has been shown to improve skin's barrier function and boost skin's natural collagen production.** . In a 12-week clinical study, OS-01 FACE strengthened the skin barrier, diminished wrinkles, improved skin elasticity, and enhanced overall skin appearance.***
Just 1 or 2 pumps twice a day — mornings before going out and after cleansing my face and neck. Don't forget, your neck needs love too!
My skin immediately felt plumper and well hydrated. Soon enough, there were visible improvements. My fine lines and wrinkles have diminished, giving me confidence inside and out.
Then . . . A lifted look for the eyes: OS-01 EYE — $98 (with subscription)
The skin around the eyes can be a real telltale indicator of a life well lived. So, I went for OS-01 EYE. It has the highest concentration of OS-01 peptide and is specially designed for the ultra-delicate skin around the eyes — which is particularly susceptible to fine lines and wrinkles.
It promotes collagen production by up to 2.3x and reduces senescence-associated biomarkers****, an aging issue we all need to address. One quick pump around each eye and . . . done!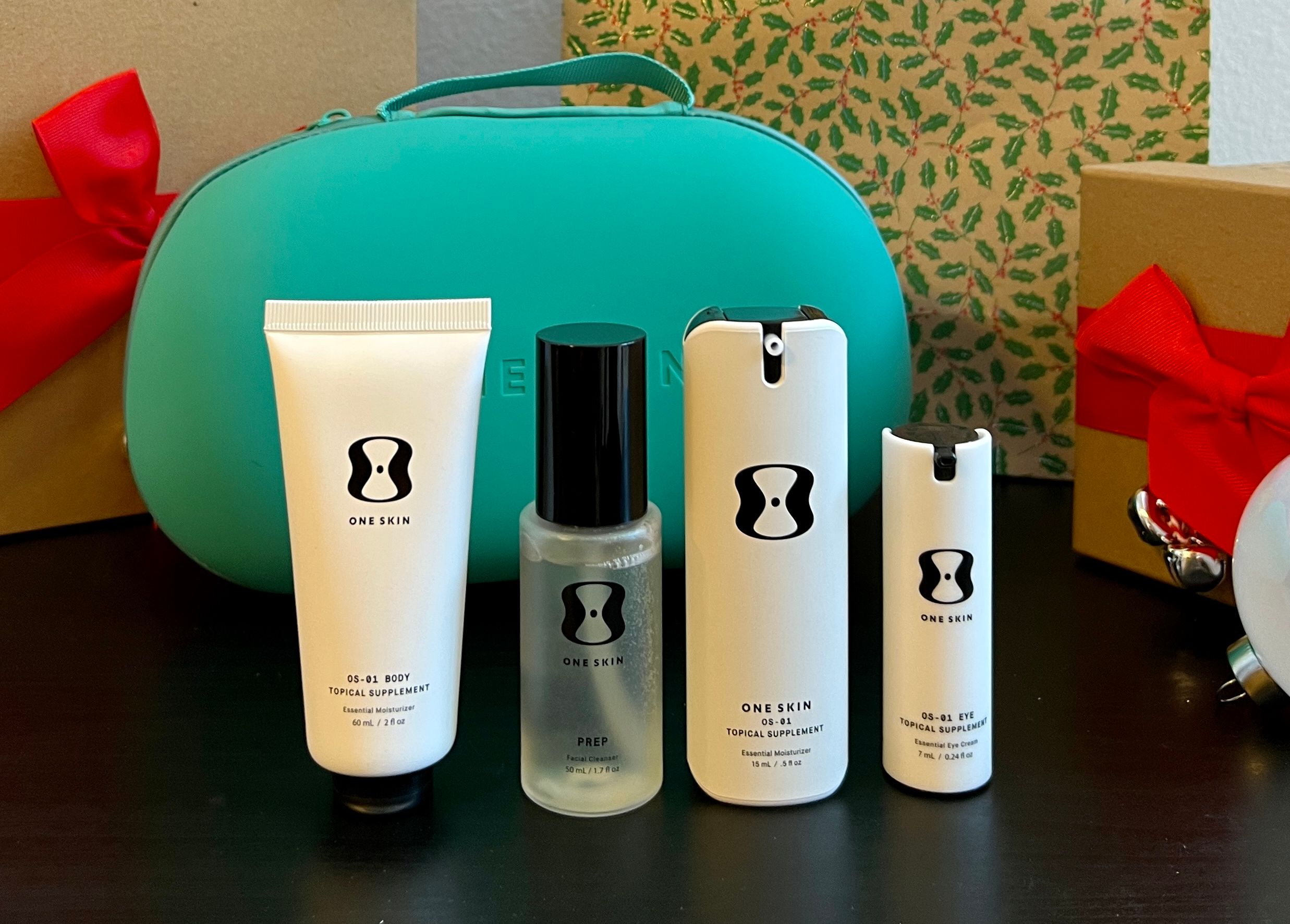 Next up? OS-01 BODY Topical Supplement — $89 (with subscription)
In the old days, I moisturized my body in the evening, but my skin failed to soften overnight. That's why I'm fascinated by OS-01 BODY. Also powered by the OS-01 Peptide, it soothes skin with intense long-lasting moisture, and can help increase skin's epidermal thickness. ****
I apply a generous amount on my damp skin and massage it in until it's completely absorbed — talk about self-pampering.
Then I carted OneSkin PREP — $39 (with subscription)
OneSkin PREP removes impurities like dirt, makeup, and dead skin cells that can accumulate and prevent products from penetrating the skin. OneSkin PREP gently eliminates this build-up without disrupting the skin's natural barrier.
This vegan, gentle face cleanser preps skin so it fully absorbs active ingredients — up to doubling the penetration of the OS-01 Peptide in OS-01 FACE.*****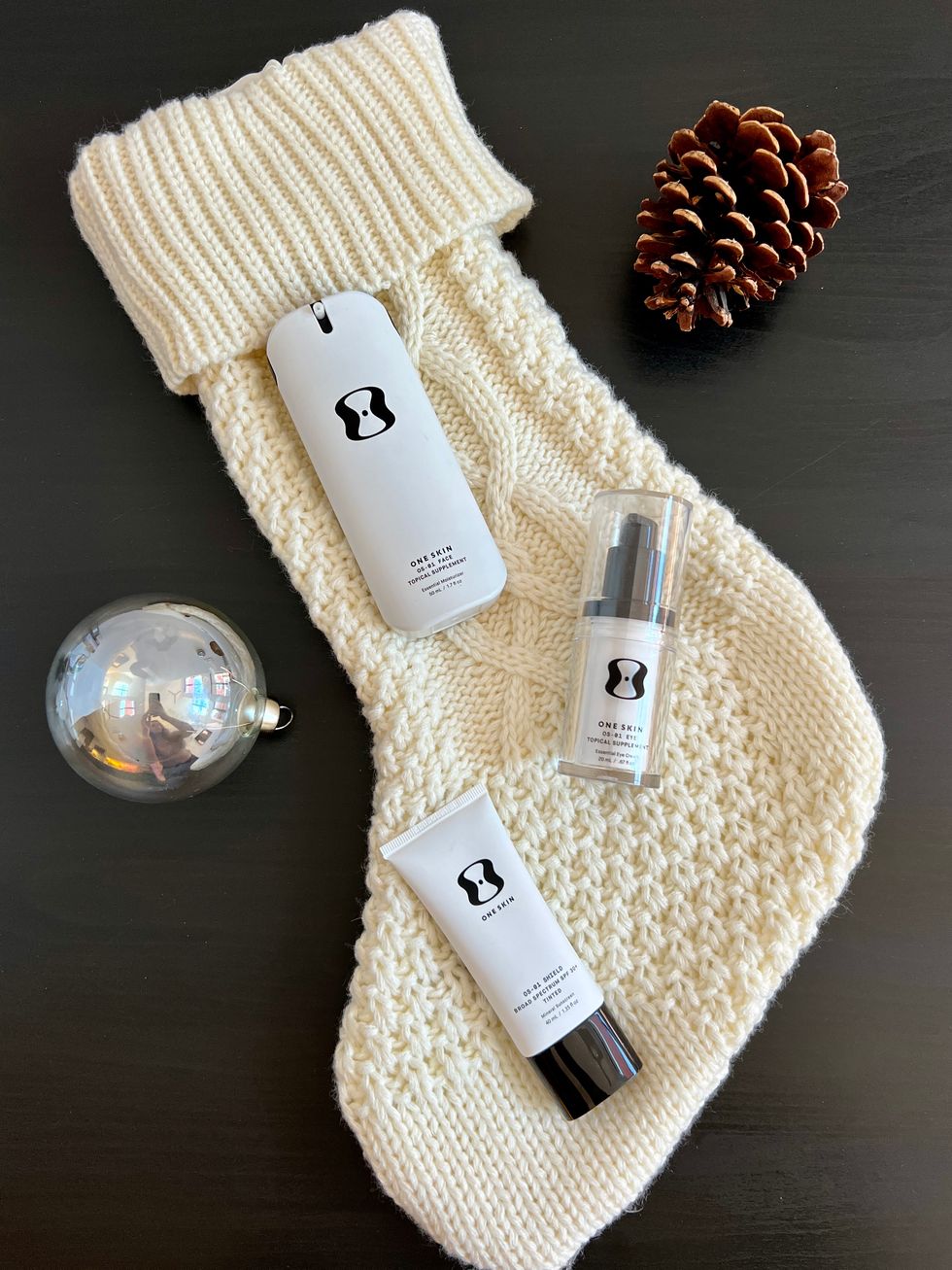 Finally, I added OS-01 SHIELD Protect + Repair SPF 30+ Sunscreen — $39 (with subscription)
In terms of sun defense, OS-01 SHIELD Age Reversal™ Mineral Sunscreen is a complete game-changer. During the festive season, the sun may not feel as hot on the skin, but its UV rays continue to break down skin cells, resulting in photoaging.
OS-01 SHIELD combines powerful and sustainable sun protection with non-nano zinc oxide and can help reverse the effects of UV-induced aging with the OS-01 peptide.**
There's zero greasiness, so it works really well under makeup. I gifted myself this one as well and let me tell you I so deserve OneSkin.
Overall, I'm obsessed with my very own personal OneSkin Holiday Haul!
Looking for a reliable and affordable way to embrace healthy aging and level up your skin health this holiday season? Get your holiday glow on with OneSkin!
JUST FOR YOU: Get FREE SHIPPING on all orders $79+ and 17% off OneSkin when you subscribe. Try it risk-free with a 45 day money back guarantee. Follow this link to shop!
* Shown in lab studies on human skin samples and using MolClock, OneSkin's proprietary algorithm that predicts skin's biological age (Zonari, A., et al. npj Aging, 2023) (Boroni, M. et al. Clinical Epigenetics, 2020)
**Shown in lab studies on human skin samples and/or cells (Zonari, A., et al. npj Aging, 2023)
***Shown in a 12-week clinical study performed by a third party research organization.
****Shown in alb studies on human skin samples (OneSkin manuscript in progress)
*****Shown in lab studies on ex vivo human skin samples before and after treatment with OS-01 FACE + PREP vs OS-01 FACE alone