I Tried Opopop's Flavor Wrapped Popcorn. Here's What I Thought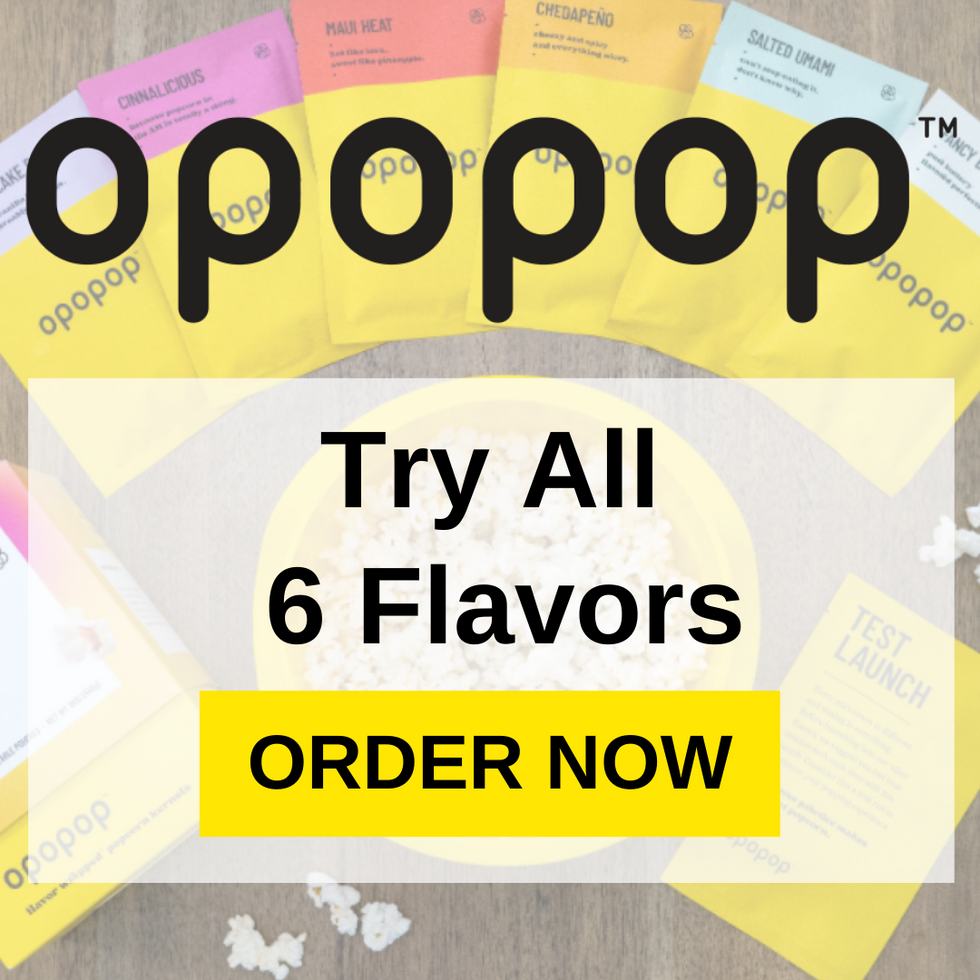 I'm a fan of popcorn. It's been my go-to snack, comfort food, and the one thing I don't burn in the kitchen for years. I usually opt for the microwave, but I've been known to get fancy with stovetop kernels.
When I take that extra step with the stovetop, I can experiment with flavor, but the clean-up takes forever. I either end up cleaning up right away and come back to cold popcorn or put off the dishes until they've been in the sink for days.
Lately, I've been getting bored with classic microwave popcorn and a friend suggested I check out Opopop. My friend insisted this was the next step in popcorn for everyone so I decided to look into Opopop a bit more.
They make microwavable pre-flavored popcorn… I was skeptical. In the past, the only flavored popcorns I could get my hands on were bags and the flavors always came off as fake and sugary, not to mention the aftertaste they left behind.
It turns out Opopop really is different from the other brands out there and that has to do with their Flavor Wrapped™ Popcorn Kernels. Each kernel is individually wrapped in the flavor seasoning, so once you pop it the taste is evenly distributed and super fresh. Knowing how hard it is to get that seasoning spread out in my own home-batches, I decided to give Opopop a try.
Opopop comes in 6 flavors - Vanilla Cake Pop, Cinnalicious, Maui Heat, Chedapeño, Fancy Butter, and Salty Umami. I didn't know where to start but for $40, I got the Discovery Kit which contains a pouch of each flavor for 1 family-sized serving each. It also comes with a Test Launch pouch of their Lightly Salted flavor so you can test your microwave's cook time before trying the other flavors. Finally, it comes with a silicone popper and lid, which I was curious to see in action.
When my box arrived, I was pleasantly surprised. The packaging was so neat and even included ice packs to make sure the kernels stayed flavor-wrapped throughout the shipping process. I even loved the popper which was fun, bright yellow, and BPA-free.
I started with the Chedapeño - the cooking process was easy, just pour the kernels into the popper and microwave it. I got to enjoy my popcorn right from the popper (no extra bowls needed!) and then simply put the popper in the dishwasher. And I loved the taste - cheesy with a kick thanks to the jalapeño. I was finally getting all the flavor I wanted with a clean and easy approach to tasty popcorn.
I made my way through all the flavors in a couple of weeks and not a single pack disappointed me. In fact, they were all amazing, especially compared to what I'm used to getting from microwave popcorn.
Now that I know my favorites, I can't wait to order more. They've got Choose Your Own Adventure packs so I can choose 3 flavors. Each bag costs $15 but with 6 family-sized servings per bag, that's just $2.50 a serving. Honestly, between the amazing taste, high-quality, and seamless popping process Opopopis totally worth it.
I can't imagine going back to regular, cheap microwave popcorn knowing that these flavor-wrapped kernels are out there. Plus, with Opopop I can subscribe to restock every month and save 10% on my order - popcorn is always a must-have in my house.
There's no more running to the store to get unevenly buttered bags of microwave popcorn, and I couldn't be happier. My snacking is so much simpler with Opopop and the best part is not only the better taste but the even better quality. Opopopis gluten-free, non-GMO, and there's no awful burnt or chemical-y aftertaste.
Check out Opopop and take this snack favorite to the next level.