Allow us to explain orange wine in the style of a grade school simile. Rosé is to red wine as orange wine is to white. Suddenly the world makes sense, right?
What Is Orange Wine?
The key word is contact. In the rosé fermentation process, the skins of red wine grapes come into contact with the juice very briefly, sometimes mere hours. Red wines, on the other hand, can ferment for weeks at a time "on the skins," as the wine experts say. With orange wine, white wine grapes—skins, seeds, and all—are left to sit anywhere from four days to a year with results that vary as much as the time frame.
While the wines themselves are beloved by many, the term "orange wine" is not a favorite among all sommeliers. Some restaurants list them as amber wines or skin-contact wines (sexy, right?), while others, like master sommelier Pascaline Lepeltier of New York City's Rouge Tomate, prefer the term skin-fermented.
If you love natural wines, then you've found a new friend in orange wine. The process is minimal, often using no additives or even yeast, and winemakers often produce wines in small quantities. Skin contact wines require perfect fruit—there can be no rot whatsoever, and the grapes must meet an array of requirements in terms of flavor and aroma.
"It's like Goldilocks fruit," James Christopher Tracy of Channing Daughters Winery told Tasting Table. "There's a lot to think about, so you see people doing them on a smaller scale."
The History of Orange Wines
While orange wines might sound perfectly trendy for a cultural moment of free-range chickens and small-batch maple syrup, orange wines are anything but new. The orange wines that have popped onto the market in the last twenty years have their origins in a wine making tradition some 5,000 years old, reports Wine Folly. In what is now the country of Georgia, wines were fermented in large clay vessels called qvevri ("kev-ree"), that were corked with stones, sealed with beeswax, and buried underground.
Today, orange wines are on the menu of restaurants like Brooklyn's The Four Horsemen (so hip it has a cameo on Aziz Ansari's Master of None) thanks to Josko Gravner. He brought orange wine to Italy and Slovenia—now effectively the orange wine epicenter. Orange wines are produced here with the indigenous grapes of the region, including Sauvignon Vert (Friulano), Ribolla Gialla, and Pinot Grigio.
What Does Orange Wine Taste Like?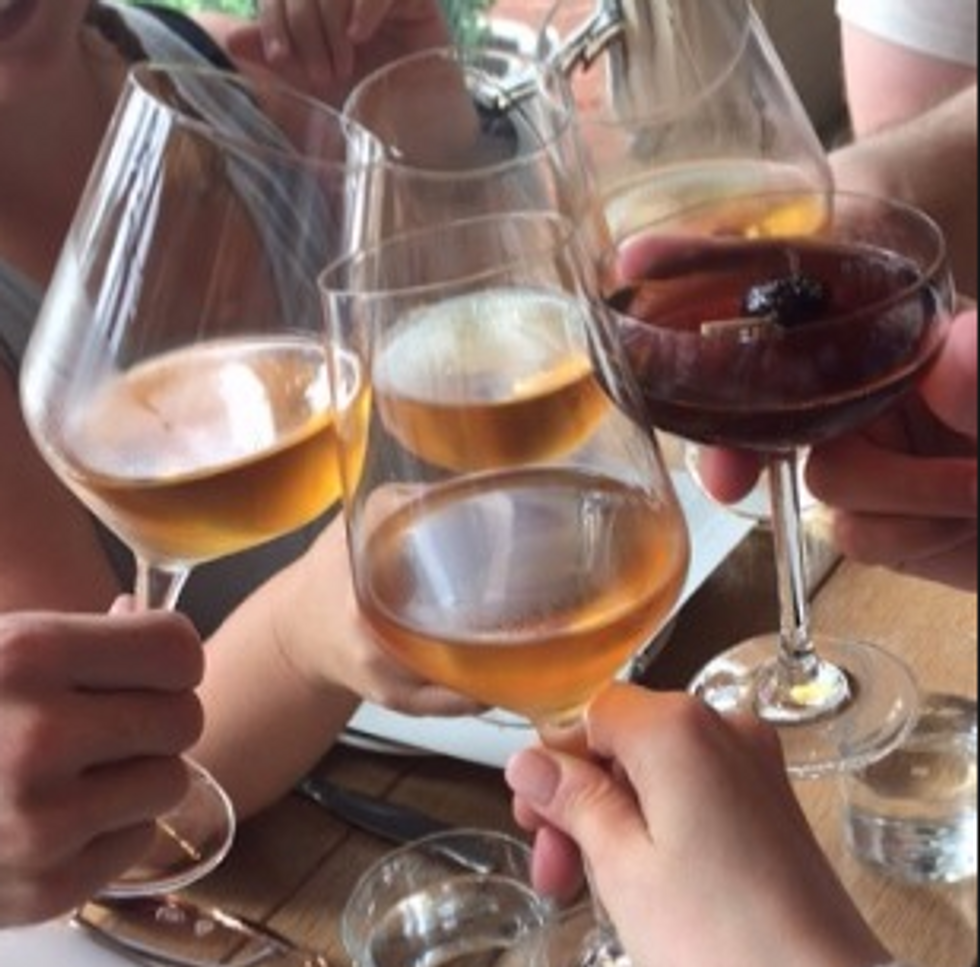 The flavor of orange wines can vary widely depending how long the fruit has macerated. In general, these wines are often described as funky—think nuts and sourdough—that are big, dry, and often tannic on the palate, like a red wine (which they can be mistaken for in blind taste tests), and a sourness similar to fruity beer.
According to Bianca Bosker, author of New York Times bestselling book Cork Dork, orange wine is a beverage in its own class: "bewitching, delicious, and complex." But it isn't for everyone. "Some people love it—I'm one of them—others argue too many examples are too 'weird.'" There's plenty of variety in the orange wine field. If at first you don't find one you love, try again. "Just as you might not like all Sauvignon Blanc, don't give up on orange wine just because you've tried one you don't love," she told Elle.
What to Drink Them With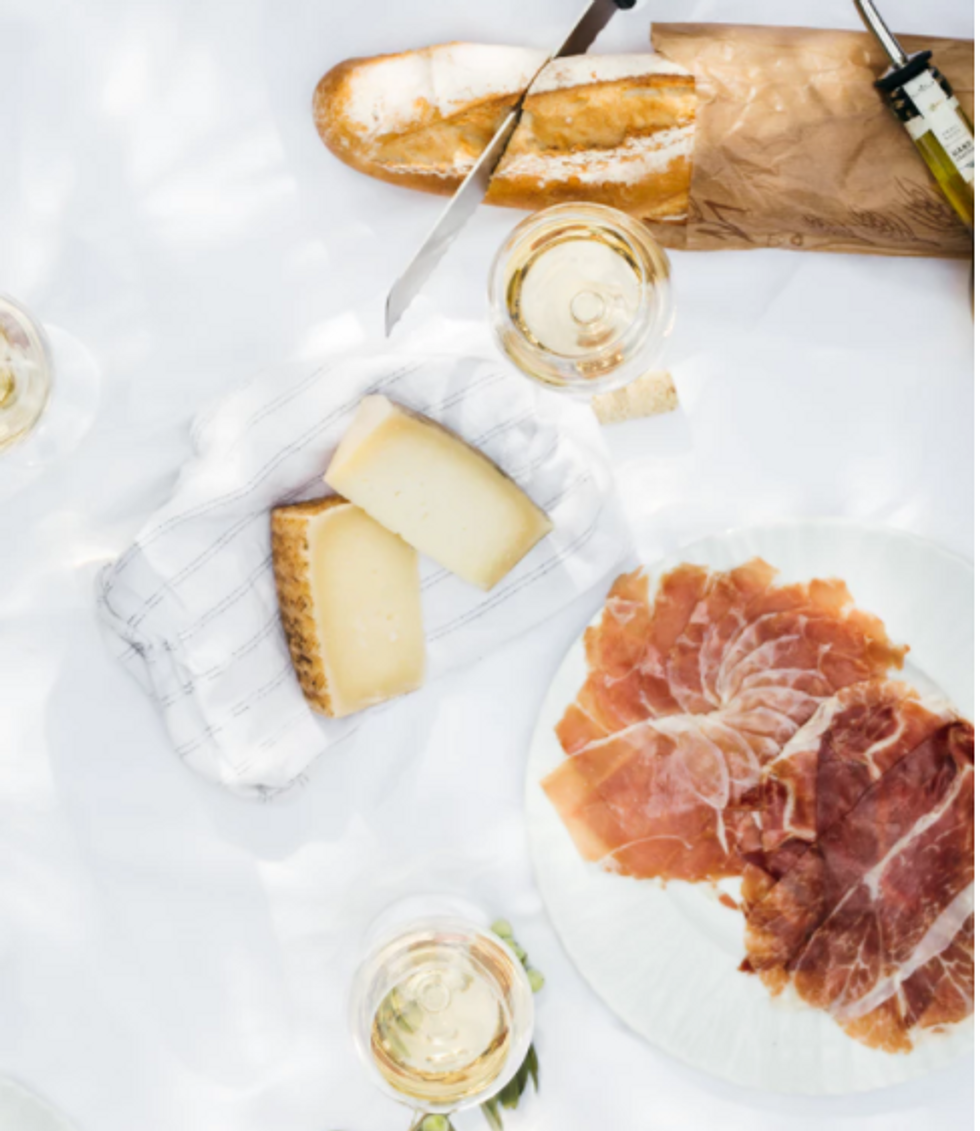 The tannic structure of orange wines makes them ideal for pairing with food, since they can stand up to complex and assertive flavors. Open a bottle with a charcuterie board loaded with strong cheese and olives; these wines don't only evoke fall foliage, they work with foods in season at the same time, like winter squash, earthy mushrooms and various roasted dishes. Orange wine can be served where you might otherwise enjoy a light red and can also perform as a great transition between white wines and reds in a blow-out, multi-course, wine-paired feast.
Here, some recommendations for bottles—all under $25.
Pheasant's Tears Mtsvane, $20
Kakheti, Republic of Georgia
This winery brings together an American painter and an eighth-generation winemaker. Made in the traditional clay amphora qvevri, reviewers note this wine's "aromatic nose dominated by orange peel and ripe stone fruit," calling it "juicy, harmonious, and soft," and "an easy introduction to Georgian qvevri wine." Mtsvane means green; expect a grape that imparts minerality and grassy notes.
Channing Daughters Ramato Pinot Grigio, $25
New York, USA
The only American bottle on the list, this orange wine made in the Hamptons by former chef James Christopher Tracy has been likened to "rose gold in a glass," by Wine Enthusiast. Pinot grigio grapes are placed in open-top bins, then stomped by foot (just like in I Love Lucy). After 14 days on the skins, the wine becomes copper-colored; ramato is an Italian term for skin-fermenting. Another great introduction to the genre, this dry, medium-bodied orange wine has notes of spice, apricot, pear and citrus with balanced acidity.
Iago's Wine Chinuri, $25
Kartli, Republic of Georgia
Iago Bitarishvili makes orange wine the old way—he crushes his organically grown chinuri grapes in a large, hollowed-out log and decants the juice and skins into qvevri that he keeps buried underground for up to six months. Expect flavors of pear, autumn honey, buckwheat, and spice and a structure that seems built for aging in the cellar—if you can keep your hands off it. Try with hard cheeses and charcuterie; it can also stand up to substantial vegetarian fare like bitter leafy greens and rich, meaty eggplant.
2011 Kabaj Rebula, $24
Goriška Brda, Slovenia
Rebula, the Slovenian name for Italy's ribolla, is known as "Queen of the Brda," its hometown in Slovenia. Kabaj's winemaker, Jean-Michel Morel has honed his craft from Bordeaux, France to Collio, Italy; the results have won 89 points from Wine Enthusiast. Fermented for thirty days, then aged for for two years, this orange wine has aromas of toasted nuts, ripe stone fruit, and savory herbal qualities. Drink with sweetbreads or a juicy steak.
Costadila 280slm, $18
Veneto, Italy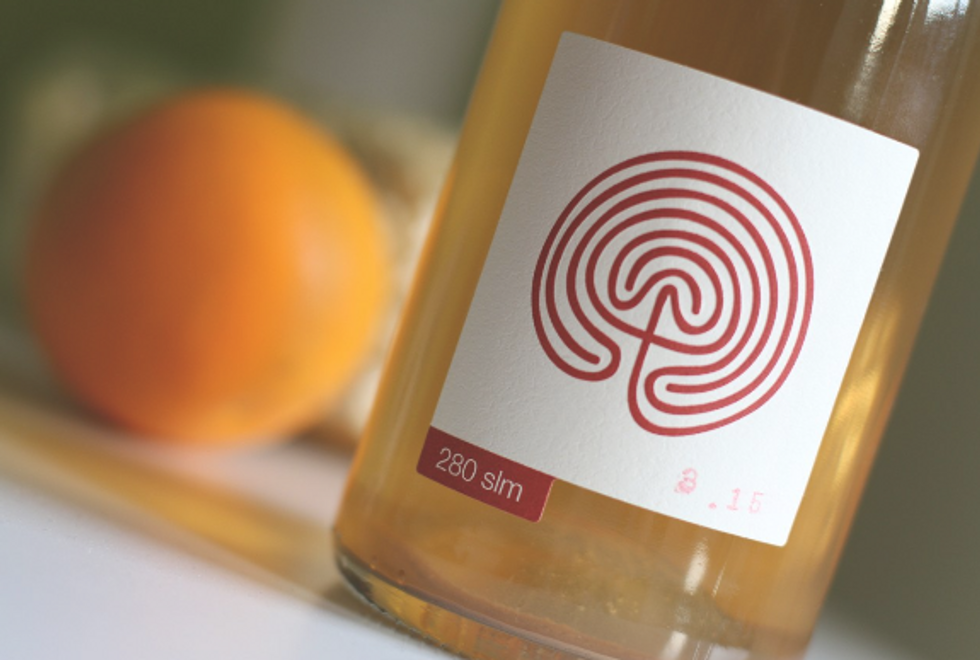 A lively and sparkling orange-wine prosecco from Ernesto Cattel. This wine is "col fondo," literally meaning "with the bottom," which is essentially prosecco au natural. In this style, the wine ferments a second time in the bottle on its own sediment. Forget sweet, clear brunch time toasts; the result here is cloudy with a funky or sour nose. Drink with smoked fish, grilled octopus, and seafood-rich pastas.
At Channing Daughters, winemaker Tracy says his wines are best enjoyed with good food and good people—but we think that goes for everything on this list.