Our Editors Tried Thrive Causemetics. Here's What Happened
Contributing Editors: Allison Mills, Jenna McHugh, and Sarah Thandi
Thrive Causemetics is a vegan, cruelty-free makeup brand that's been on our editorial radar for a while. Known for their Liquid Lash Extensions™ Mascara - winner of the Allure 2020 Best of Beauty Award for Best Tubing Mascara - a few editors have decided to give their line a try. Is Thrive Causemetics a one-hit-wonder mascara or a powerhouse beauty brand? Three editors put it to the test and share their honest opinions.
We only include products that have been independently selected by our editorial team.
Allison Mills
What's your makeup routine and what would you want to change?
Don't be shocked …I don't really have a beauty routine. If I even remember to do my makeup, I'm only grabbing mascara and lipgloss. I like a natural look that doesn't take hours, but I haven't found a truly effortless yet effective brand that masters that for me.
I want to build a minimalist makeup routine that lasts throughout the day and brings out my natural features. While I don't want to be a full-blown makeup artist, it'd be nice to learn some tips and tricks that make getting ready easier and enjoyable.
What Thrive Causemetics products did you try?
Triple Threat Color Stick™: I love how the color stick has three uses: natural glow for the cheeks, hint of color on the lips, and anywhere else you want a little flush of color. The blending brush helps melt the creamy color into the skin and takes no more than a couple of minutes in my morning routine to apply.
Price: $36
Buildable Blur™ HD Creaseless Concealer: I've never cared too much about the dark circles under my eyes… That is until now. With 24 inclusive shades it was easy to find my match, and once I applied this concealer it was like I'd gotten back 5 years. Seriously! The super lightweight formula is waterproof and doesn't crease so I'm not in the bathroom having to touch up throughout the day. Even on my calls, I'm noticing how well-rested I look and how much more confident I feel.
Price: $28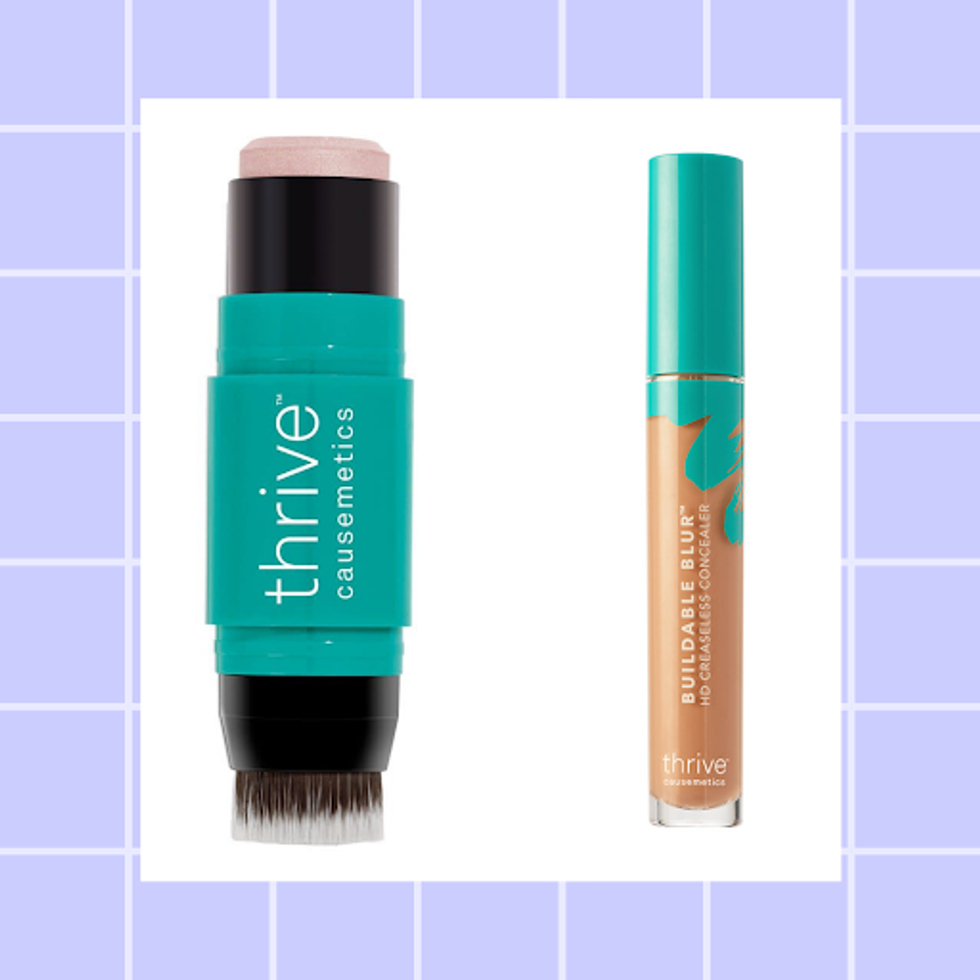 Are you going to stick with Thrive Causemetics?
Absolutely. Thrive Causemetics is perfect for any makeup minimalist like me. I don't need makeup, but with easy, effective products like these, I want to do my makeup now.
Jenna McHugh
What's your makeup routine and what would you want to change?
I'm very into a full-face. In the mornings I set aside about an hour to do my makeup but I've got it down pat so in a hurry I can have my look from foundation to setting spray done in 30 minutes. Honestly, I'm not looking to change my routine - I have my tried and true products.
However, as an avid beauty fan (yes that means #beautytok) and I do want to see if Thrive Causemetics lives up to the hype. I'm looking for quality at the end of the day.
What Thrive Causemetics products did you try?
Liquid Lash Extensions™ Mascara: The TikTok sensation, to my surprise, really did deliver. Its Flake-Free Tubing Technology™ gave me the look of falsies with just a couple coats and there was no clumping, flaking, or smudging. The Nola (Deep Blue) shade was also a fun surprise and a great way to add a little unexpected color to my look.
Price: $24
Infinity Waterproof Eyeliner™: I was a die-hard liquid liner user until this pencil. It goes on so smooth, comes in 7 colors, and even has an angled smudge tip for easy blending. The precision is incredible and after setting for 30-60 seconds, the waterproof formula is also smudge-proof.
Price: $22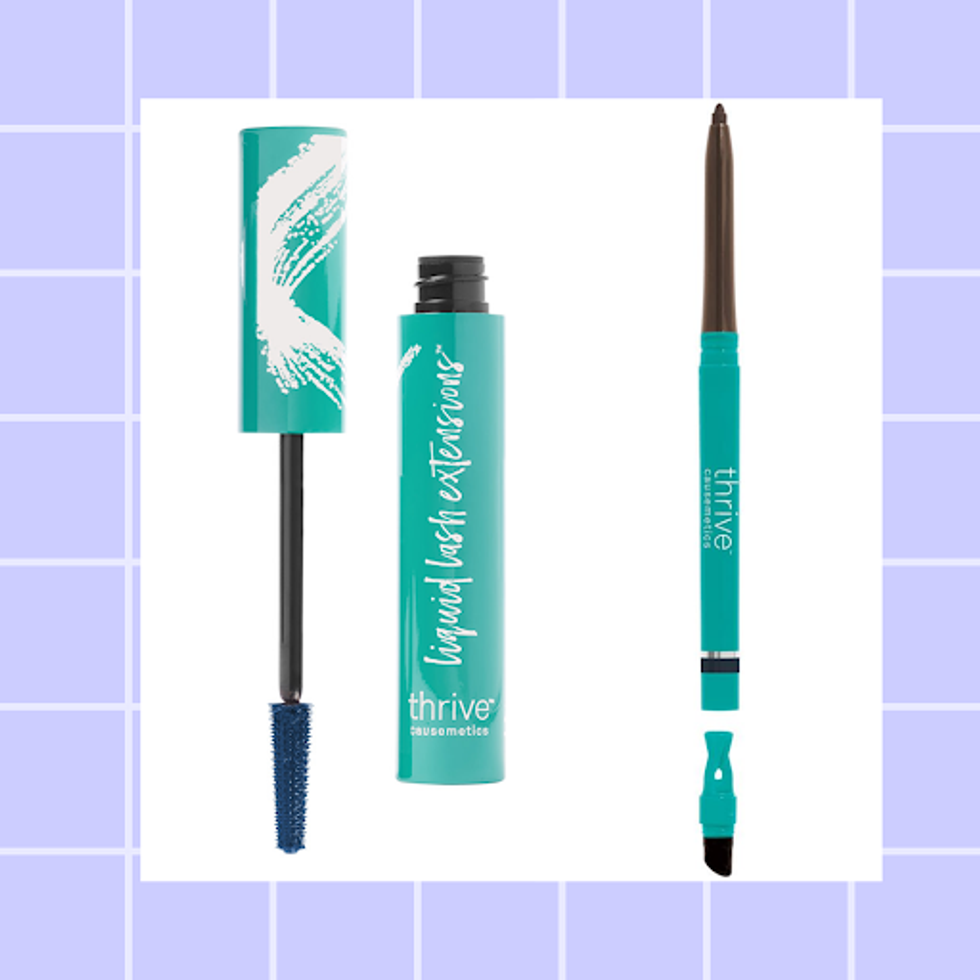 Are you going to stick with Thrive Causemetics?
I'm not jumping ship from my essentials but I'll definitely be incorporating Thrive Causemetics into my routine. Their makeup and skincare lines are legit and I've never found a vegan makeup brand this effective.
Sarah Thandi
What's your makeup routine and what would you want to change?
I don't use any makeup currently beyond a little lip color. I'm older and when I was younger not only did I pile it on thick, but I put my skin through the wringer in the process.
I'd love to get back into a routine with makeup that looks and feels good on my skin. There's always going to be another "next big thing" in beauty, but I want classic, everyday staples that can take me through the years.
What Thrive Causemetics products did you try?
Brilliant Eye Brightener™: I thought my days of eyeshadow and shimmer were over, but this brightener proved me wrong. The cream-to-powder highlighter stick comes in 13 colors and has changed the game for my eyes. I've applied it to my lids, waterline, inner + outer corners of my eyes, and above + below my brow bone for an instant eye lift. Plus, it's hydrating with natural emollients that work to smooth out my fine lines.
Price: $24
Buildable Blur™ CC Cream Broad Spectrum SPF 35: This CC Cream is my dream come true - a combination of foundation, sunscreen, and moisturizer. I was able to find my shade thanks to their inclusive range of 18 colors, from fair to deep. Now when I'm getting ready this is the first and (most days) only thing I put on. Not only does it blur sun spots, protect and nourish my skin, but it's lightweight to boot.
Price: $38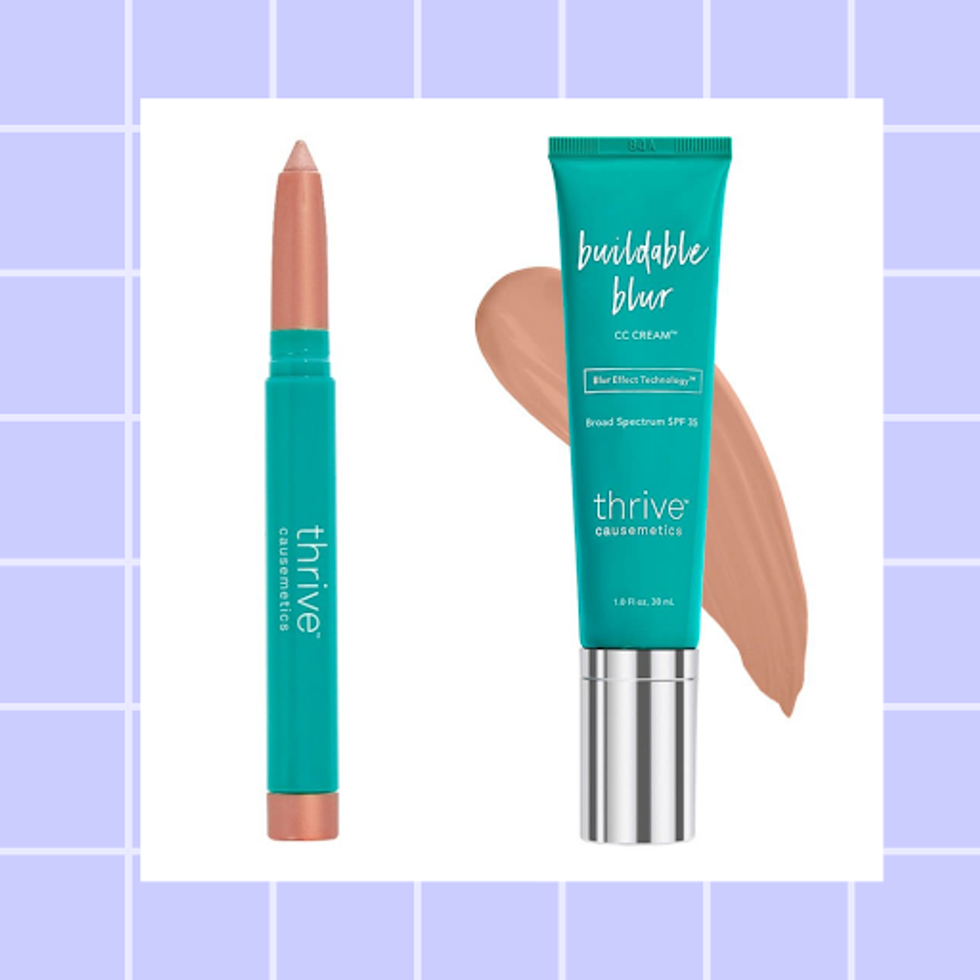 Are you going to stick with Thrive Causemetics?
Yes. Yes. Yes. I'm not going to be a full-faced, 24/7 makeup girl by any means, but I trust Thrive Causemetics' ophthalmologist tested and dermatologist tested and approved products. They've got it all and I'm ready to explore all their skin-nourishing offerings.
The Verdict? Everyone has different makeup needs, desires, and goals - with Thrive Causemetics you can find what you're looking for. From bare-face to full-face, this is the beauty brand your skin will love.
JUST FOR YOU: Our friends at Thrive Causemetics are giving readers FREE shipping on all orders $35+ and a FREE makeup bag with each purchase! Follow this link to shop!