For those of you who don't know Our Shared Shelf is a feminist book club founded by Emma Watson. The actress was inspired to create the group after the large amount of books she was reading for her work with UN Women. She decided to get everybody excited about reading these books and the group now features over 190,000 members on Goodreads.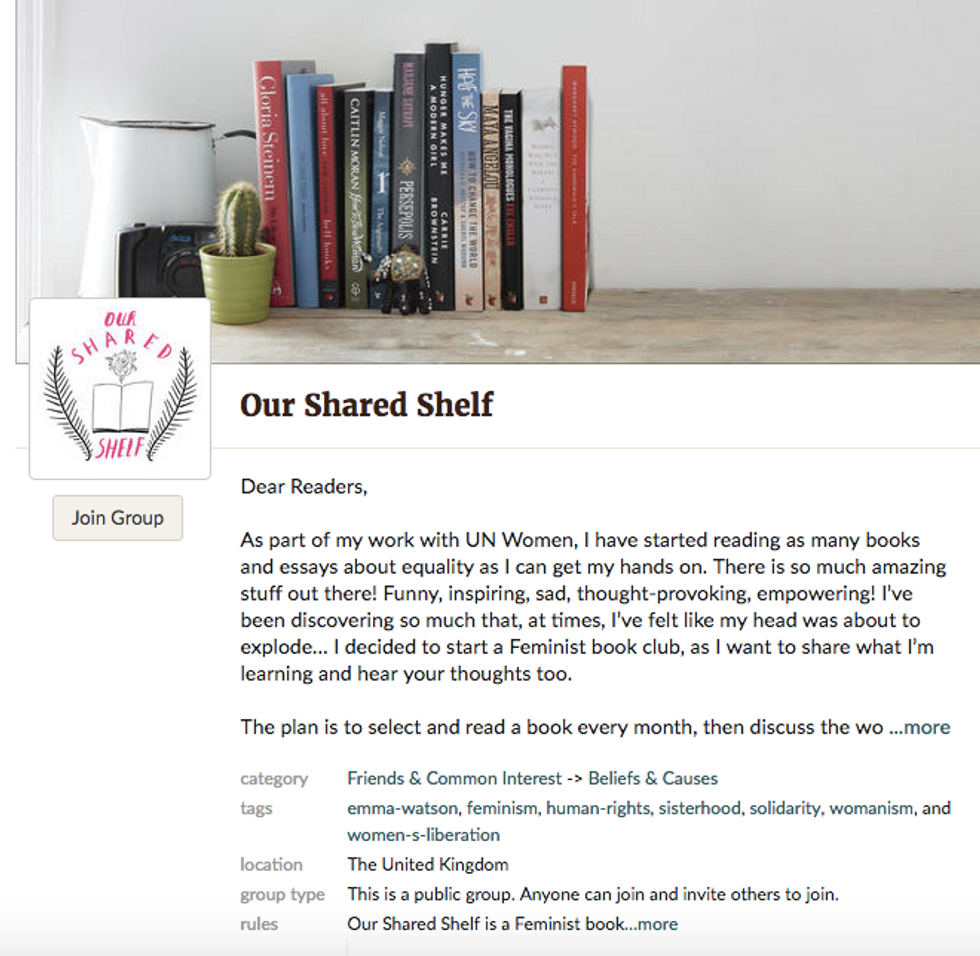 On the site there are many discussions between members for each of the books. These threads can lead to meetups in popular cities as well as thought provoking analysis. Emma Watson herself posts not only the book for each bimonthly period but also posts videos and interviews with authors. There are discussions in different languages and on different topics so you can always find something that interests you. Read along or choose to respond!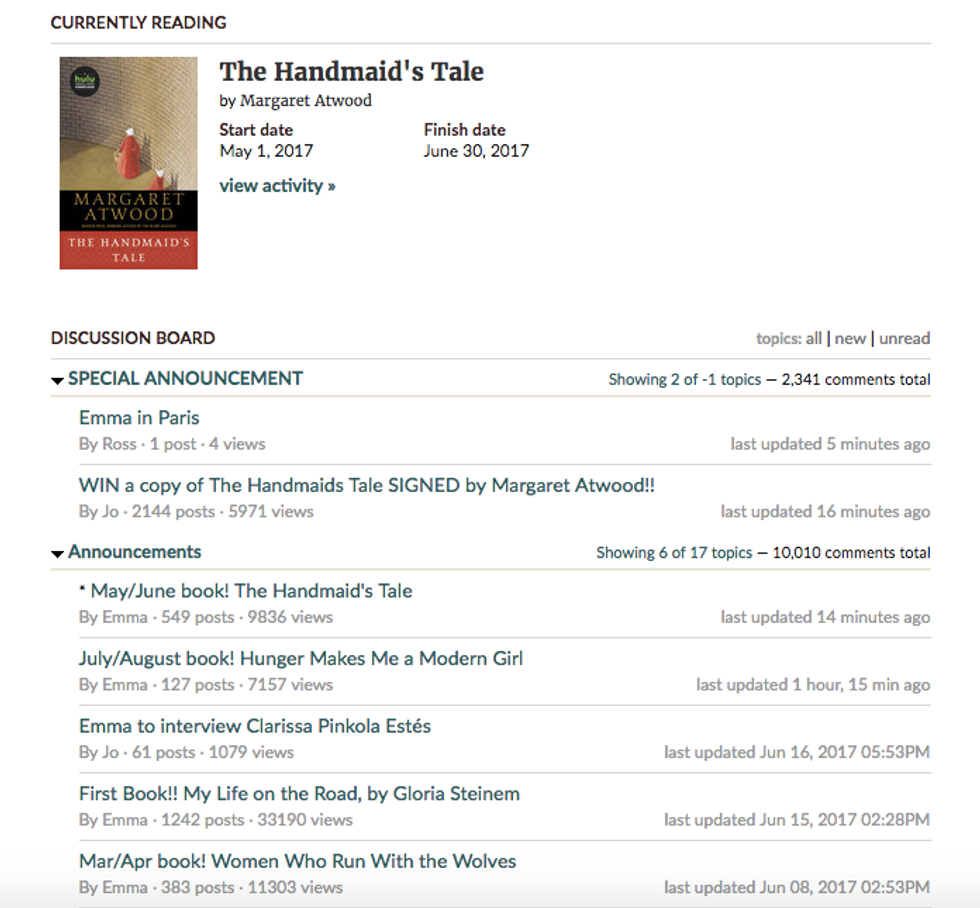 I joined this book at a tumultuous time of my life because I had just graduated college. I had all this free time and I didn't know what to do with it. I wanted to use my brain, keep learning, and feel connected to a group of people. I also just came from years of academic reading for classes. That switch to reading for fun and having a choice of reading material overwhelmed me. I wanted somebody to give me some guidance. That's why this book club was the perfect thing for me. I got to read about amazing powerful women and see women being intelligent, supportive, and brave both in the online group and in the stories. It's powerful to read these stories and feel proud and strong.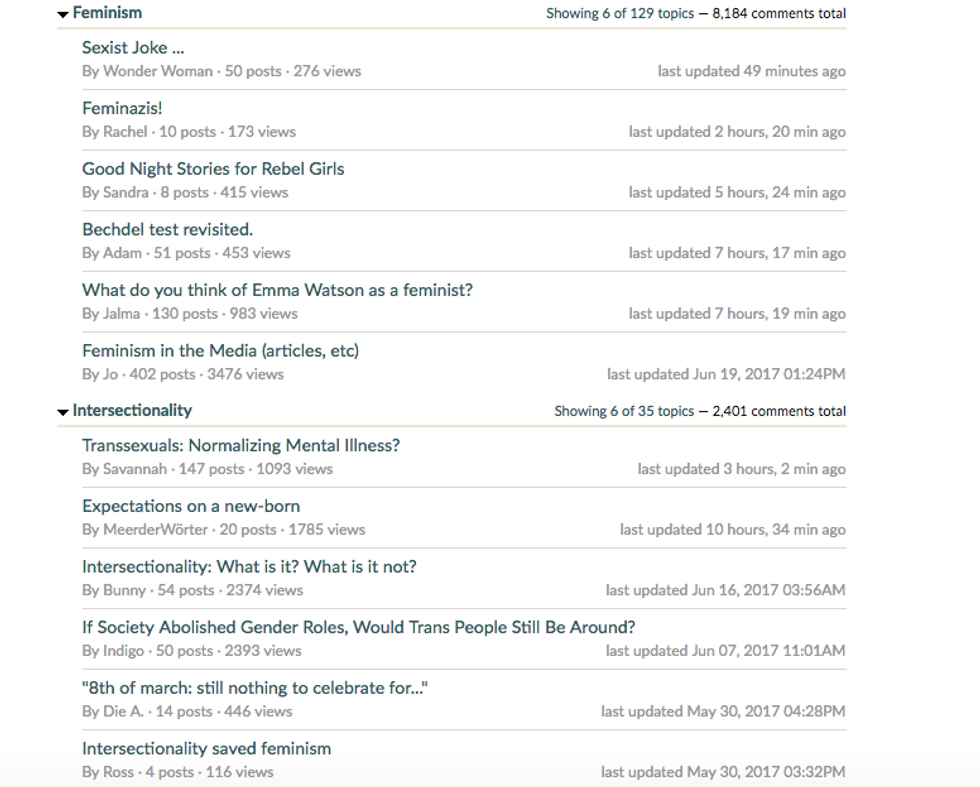 The book club gets a new book every other month so it's not too hard for people to keep up with the turnover. It can be sad when there's a book you've already read, or have just read, but that just means you can engage in the conversation or skip it all and read something else. While the group is at its core a book club, there are a lot of other conversations that are taking place. Threads on intersectionality in feminism, feminism in countries all over the world, and other book suggestions. This can be a resource to learn about feminist issues all around the world and see the different struggles that women face. It is a tool for improvement, for change, for bettering yourself and the world around you.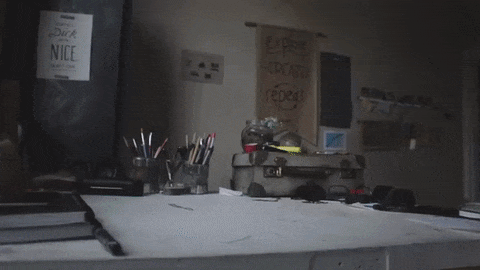 The books that have been read so far are listed below if you are looking for inspiration or want to catch up!
My Life on the Road by Gloria Steinem
The Color Purple by Alice Walker
All About Love: New Visions by Alice Walker
How To Be A Woman by Caitlin Moran
The Argonauts by Maggie Nelson
Persepolis by Marjane Satrapi
Hunger Makes Me A Modern Girl by Carrie Brownstein
Half the Sky: Turning Oppression into Opportunity for Women Worldwide by Nicholas D. Kristof
Me & Mom & Me by Maya Angelou
The Vag*na Monologues by Eve Ensler
Women Who Run With Wolves: Myths and Stories of the Wild Woman Archetype by Clarissa Estes Pinkola
Go Forth and Read!