I discovered a new herb at my local farmers market a few weeks ago: papalo. It was described to me as "cilantro-like," but that doesn't do papalo justice. It's more like, if cilantro got together with arugula and a blood orange, the result would be papalo. And if you're very lucky, this fragrant, emerald green treasure can still be found at your farmers market, or a specialty store.

Papalo is an ancient herb, dating back thousands of years, and is thought to have originated in South America, where it's still commonly used as medicine for high blood pressure and stomach disorders. The name papalo comes from the Nahuati word for butterfly, which could either be because the gently scalloped leaves look like a butterfly's wings, or because the nectar from the papalo flowers attract butterflies and other pollinators. There are two different varieties of papalo: the broadleaf and the narrower poreleaf. Most people seem to prefer the broadleaf. Its smooth, tender leaves are the size of a half dollar coin, and grow on a tall, slim stalk.
Papalo is best eaten raw, in salads, dressings, salsas, or guacamole. It's especially delicious with eggs and beef. It's said that Alice Waters, the famous Chez Panisse chef, was devoted to papalo from the moment she was first introduced to it, in 1999. Though not yet as well known as cilantro, papalo is gaining in popularity, particularly in New York, where farmers have begun to sell this easy-to-grow herb in increasing numbers. If you like cilantro, get ready to join the papalo party, and don't forget the avocado.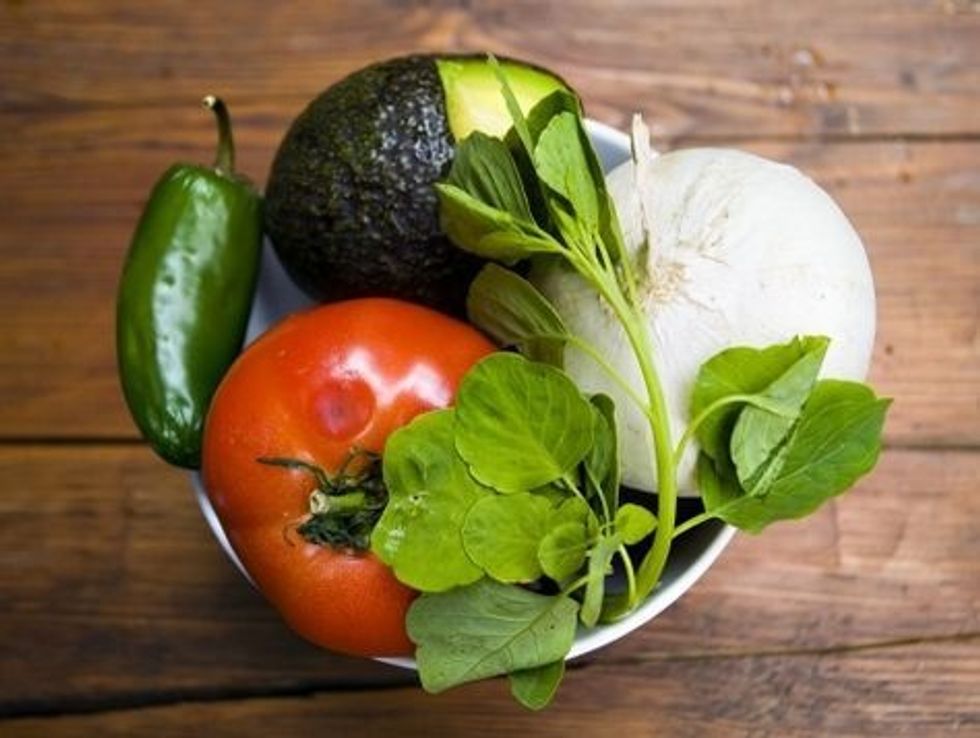 Grilled flank steak with papalo – serves 4

2-2 ½ lb. flank steak (about ½ lb. per person)
For the marinade:
½ cup orange juice
Juice of one lime
¾ cup olive oil
2 tablespoons red wine vinegar
2 cloves garlic, crushed
1 tablespoon ground cumin
Salt and pepper
Place all ingredients in a shallow pan. Sprinkle the steak with salt and pepper and lay in the marinade. Cover with plastic and refrigerate for at least 5 hours, or, ideally, overnight, turning several times.
For the papalo sauce:
½ cup orange juice
¼ cup fresh lime juice
1 tablespoon red wine vinegar
1/3 -1/2 cup papalo leaves
2-3 scallions, cleaned, with green tops left on
2-3 tomatillos or small green tomatoes, halved and roasted at 400 degrees for about 15 minutes
1-2 jalapeno peppers, halved and seeded (or you can use serrano peppers if you like more heat)
1/3 cup olive oil
Salt to taste
Put everything in a blender or use a handheld mixer to blend until smooth. The sauce should be a dark emerald green. It will keep in the fridge for up to two days.
Bring marinated steak to room temperature about one hour before grilling. If using an outdoor grill, get your grill to a medium-high heat. If using an oven grill, set to high. Pat the marinade off of the steak. You want a bit of the oil to stick, but you don't want it dripping when it hits the flame. Cook on each side for 4-8 minutes, depending on how you like your meat. Let rest for ten minutes before slicing. Drizzle the sauce over the top, and pour the excess in a sauce boat or small pitcher. Serve with an avocado and tomato salad.