People Are Loving Getaways Relaxing Retreats. Here's Why.
Everyone needs to get away, leave life's stresses behind, and recharge. Easier said than done, especially within our new standard of staying at home and social distancing.
Just because we're staying at home and not going out also doesn't mean life's stresses have disappeared. Getaway offers a nearby escape in a handcrafted hideaway cabin where you can relax, restore, and renew in the great outdoors.
With everything going on, Getaway understands its customers' concerns about their safety. In their Getaway Journal posts, they discuss how they've intensified their cleaning procedures to ensure the cabins are deeply cleaned, disinfected according to more stringent standards, and are as safe as possible for us. There is also at least 50-150 ft between all the cabins with no check-in desk, so you can really go straight to the cabin without interacting with anyone during your stay. It's as simple as driving straight from your home to the cabin! If you have any questions, the Getaway team is happy to answer.
Here are a few personal Getaway stories:
The Dog Owners
"When Riley and I saw the picture of a dog peeking out a huge window overlooking the woods—we knew Getaway was for us. For a small extra fee, they have Dog Getaways! This is absolutely perfect for Boo, our chubby, and adorable Frenchie, who turns 3 this weekend.
Our cabin is only 90-minutes from Charlotte, and when we pull up, Boo leaps out to cavort in the leaves. There's an uber comfy, freshly made queen bed–how welcoming! The walls are paneled in pinewood—even the private bathroom is complete with a shower and clean, fluffy towels.
After lunch, we take a stroll through the Purgatory Mountain trailhead with Boo's tail wagging the whole time. It was only 10 minutes from the cabin, and Getaway provides an outdoor lead so I don't even worry about Boo prancing too far while distracted by a nearby squirrel. With the $40 pet fee, Getaway's cabins provide dog bowls, treats, an outdoor lead, and waste bags, so I would have been all set if I forgot anything for my pup!
We didn't have to worry for long, though, because Getaway came to the rescue once again! All their cabins have kitchen essentials—even olive oil–and you can find a full list of cabin amenities, packing tips, and even recipes on their website.
As we sit down to dinner, we raise a glass to our sweet, sweet Frenchie who brings such joy to our lives. Happy Birthday, Boo!"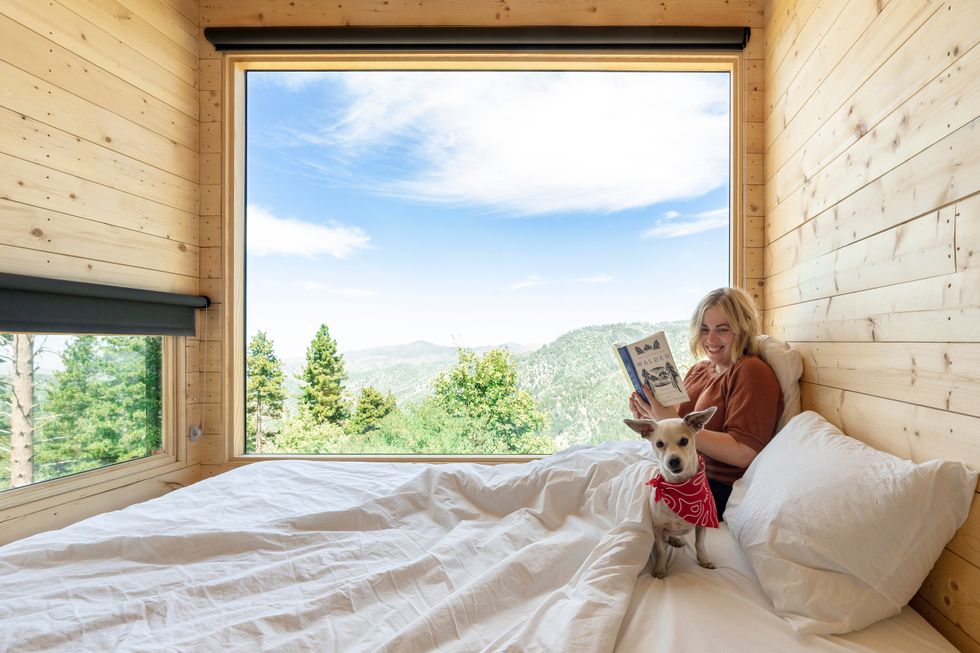 The Writer

"When I saw that Getaway's cabins start at $89 a night—and each has its own cell phone "lock box" to free me from the tyranny of social media—I was in. No wifi? Even better.
As an MFA candidate at Duke University's Creative Writing Program, I have a novel to finish. I'm so close to the end I can taste it. So, to ease my journey, I blocked out 3 days at Getaway Asheboro to blast through a powerful final chapter without the distractions of wifi and endless notifications.
My first morning, I meditate and drink green tea, using the teakettle in the mini-kitchen. When writer's block strikes, I take strolls through nature and let my mind roam. Each day I get closer. I'm excited, yet terrified at the same time—what if I never finish?
But, on my final night in my cabin, I do it; I polish off that final sentence. The sun is rising over the treetops as I step out of my cabin. I stand there, taking in the nature around me, then I stretch and take a deep breath.
The peace and quiet was exactly what I needed to hear my own thoughts. I didn't even realize how noisy the city was until I was able to truly focus on myself and my work. On the way home, I even got to stop and visit the Town Creek Indian Mound on my way home, a historical site I've always wanted to visit. The perfect way to end my Getway experience.
I know where I've been. And—thanks to Getaway—I know where I'm going."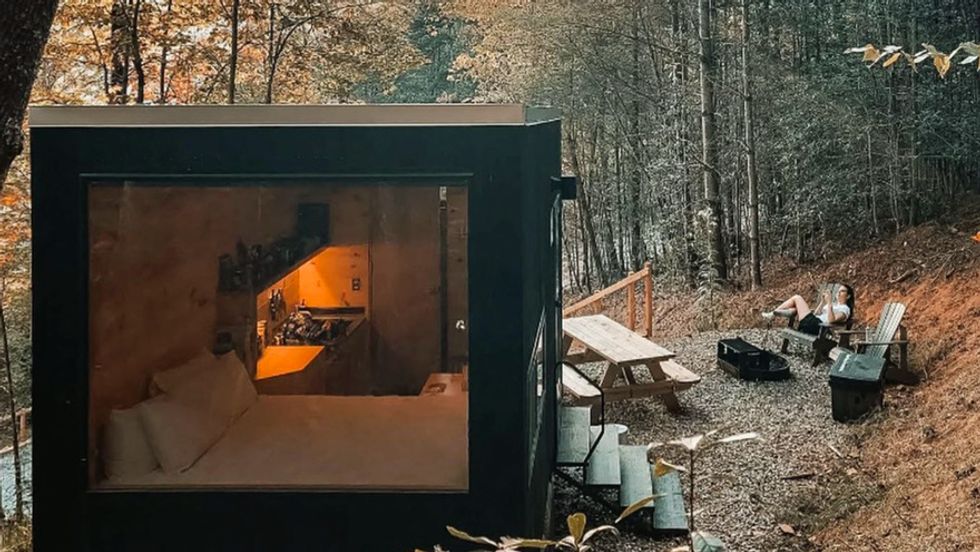 The Family Retreat

"It's Summer. Everything's fresh, verdant, green. And our kids Carly and Jake are on school vacation so, we're driving to Getaway Asheboro. It's so close, but it feels like a world away.
We're a super active family and our holidays usually reflect that. But this time we wanted something a bit more relaxing but would still keep the kids entertained. We love camping and thought the Getaway comforts were the perfect relaxing twist to a camping trip. We have been looking at the Getaway family cabins for a long time, and now with their newest outpost so close to Raleigh, it's the perfect opportunity.
Saturday morning we went for an inspiring 2 mile hike through the mountains. The kids spotted the Richland Creek Zipline Canopy Tour on the way back, so our afternoon was sorted. We topped off the perfect day toasting S'mores on the fire. The next morning we wake up and straight to the North Carolina Zoo, only 10 minutes from our cabin. The kids eyes were mesmerized by the exotic animals they had only seen on T.V, and when we returned to the cabin, it was showers, food, bed for the kids, and some time to unwind for my husband and me in front of the fire on the Adirondack chairs.
Getaway was the perfect family weekend away, and there was so much to keep the kids entertained while still being able to unwind and be in nature."
Nestled in the middle of nature, Getaway's cabins are only 90 minutes from Charlotte and Raleigh and so many other locations.
Be still. Just breathe. Getaway's cabins can take you where you want to be.
Book Getaway Asheboro just an hour and a half from Charlotte and Raleigh with $20 off using the code FALL20.
Offer Expires In