The Best Time To Pick Up Moon Juice Wellness Essentials Is NOW
As the year winds down, Cyber Week and the Holiday season are finally here — meaning major deals. There's no better time to stock up on self care products to help you achieve your new year goals — whether you want dewy skin, better sleep, or better stress management.
We've found a premium brand known for its purity and efficacy that is a game changer for your overall wellness.
Meet Moon Juice: A company that's absolutely revolutionized the wellness industry with its range of adaptogenic, natural supplements and skin care. Their next-level supplements undergo rigorous third-party testing to ensure maximum safety, potency, and effectiveness. Their ingredients are 100% traceable, vegan, clean, and non-GMO.
Taking a unique, holistic approach when crafting their formulas, Moon Juice delivers real results without harmful ingredients.
What Are Their Brand Stand-outs?
Better Skin
Our skin takes the brunt of seasonal changes, especially during the holidays when the air is dry and we basically live in festive makeup. So, here are a few skincare products from Moon Juice that will see you through the holidays: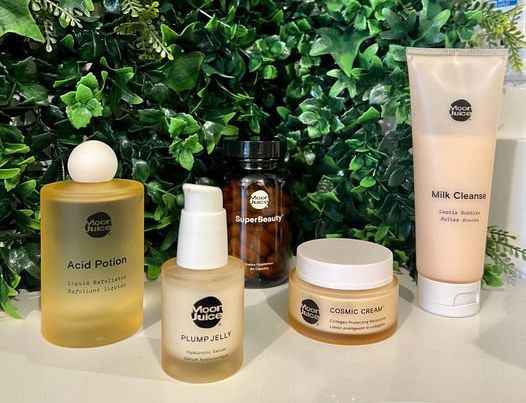 SuperBeauty® — The best way to focus on skincare is from the inside. SuperBeauty® includes vital ingredients like: Reduced L-Glutathione — an antioxidant naturally occurring in the body that replenishes cells but diminishes over time. Combined with Vitamins C and E, this supplement helps reduce the appearance of fine lines and improve elasticity after 4 weeks of daily use.
Milk Cleanse — Coconut ferment creates unique pH-balanced bubbles that gently cleanse your face without stripping its barrier — making this a top gentle cleanser on the market.

Acid Potion — An amazing liquid exfoliator that breaks down your dead skin cells, unclog pores, and hydrate and smoothes skin. Made with a potent 25% AHA + BHA complex of skin nourishing acids, and Reishi mushrooms. Giving you incredible soft and gentle skin.

Plump Jelly — There's been a ton of talk around Hyaluronic acids recently, unlike other products, Plump Jelly is made with natural ingredients like Beet Amino Acid, Silver Ear and Reishi mushroom. This amazing combo of ingredients helps lock in moisture to protect and keep your skin hydrated and bouncy.

Cosmic Cream™— This moisturizer is packed with Emollient Fatty Acids and three adaptogens: Ashwagandha, Schisandra, and Reishi. It protects against environmental stressors like blue light and airborne toxins. And I swear, you can feel it nourish your skin.
Better Sleep
Sleep plays an important role in everything we do. So, it's always smart to have supplements handy so you can grab truly restful zzzz's. Here are Moon Juice's sleepytime winners: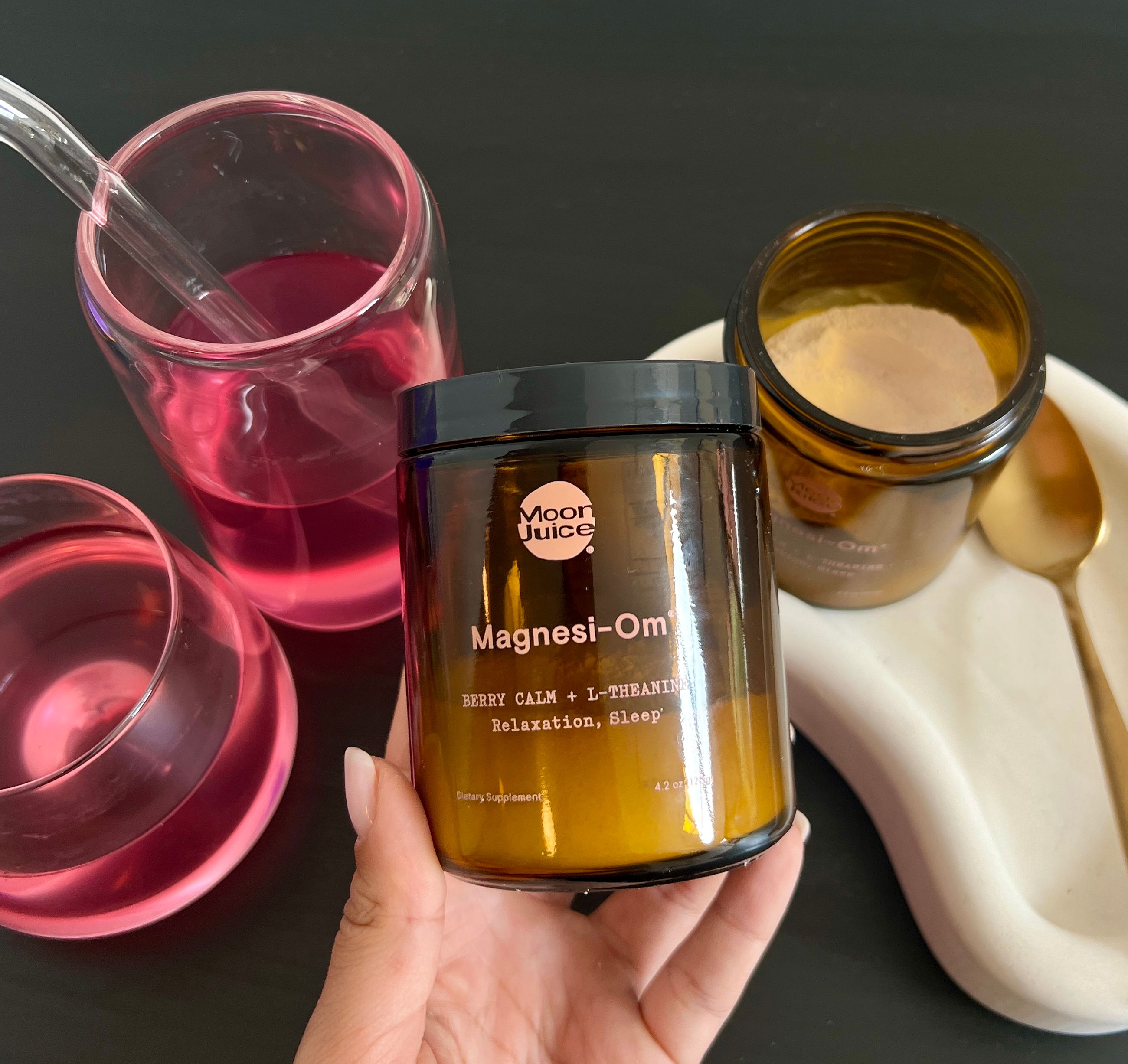 Magnesi-Om®— This viral product seen all over Tiktok features a powerhouse formula with three different types of Magnesium and L-Theanine. Magnesium Gluconate to support muscle relaxation. Magnesium Acetyl Taurinate to support brain function and PMS relief, with Magnesium Citrate to support healthy bowel movements. This combined with a dose of L-Theanine to help cognitive aging, makes Magnesi-Om® the perfect mocktail to wind down before bed to help get those ZZZs that we're all after.
Sleepy Magnesi-Om® — The newest product from Moon Juice, based on its best-selling supplement Magnesi-Om® with a twist! With a naturally sourced microdose of 0.3mg of Phytomelatonin, 2 bioavailable forms of Magnesium and a higher dose of L-Theanine, it helps regulate circadian rhythms and support better sleep without flooding your receptors and making you groggy the next day. Taken as needed, it's a game changer during times of stress, while traveling, shift work, or when you feel super tired.
Better Stress Management
During a busy holiday season, we're juggling work, friends, family and more! Our editors have tried every new meditation and exercise technique but sometimes, we could all use a boost to help deal with stress — Moon Juice has you covered there as well with some great supplements for stress management and hormonal balance:
SuperYou® — Helps regulate your body's cortisol levels and bring them back into balance. Their formula contains four sustainably sourced adaptogens, which help reduce physical, mental, and emotional fatigue, acting as an added mood and energy booster!
Sex Dust®— An amazing blend that does more than the name suggests! Their stimulating formula is a blend of adaptogens that promote hormonal balance, endorphin release and supports overall mood, energy and sexual function. Sex Dust® boasts a rich cacao flavor with hints of smokiness that's perfect to pair with your morning drink of choice.

What's The Deal?

Moon Juice is currently offering 25% Off Sitewide and 30% off your first 3 months subscription — incredible! Now's the time to stock up on self care products to help you achieve your new year goals.

The Verdict?
Moon Juice really is your one-stop shop for your overall wellness. As storied experts with an entire line of high-quality, holistic products that build a healthier you from the inside out, Moon Juice is a brand we happily swear by.
This Cyber Week, pick something up for yourself or a loved one with Moon Juice — before their deal runs out!