How To Treat Yourself After The Holiday Madness
This year was definitely one of the most stressful. And now with it all over everyone is chatting about resolutions and their new year goals while all I want is a vacation. A weekend away from all the madness to relax and let my mind rest. It has been racing this whole crazy year.
"Same here"...."Yeah, me too" - I knew my best friends would agree we all needed a vacation. But where? It was certainly not beach weather and a city vibe was the opposite of what we were looking for. Then, of course, Holly, the organized one of the group, sent a link into the chat.
It was something called Getaway , and instantly the website filled me with serene feeling surrounded by trees and blossoming flower. I started to read more-- cute cabins tucked away in nature, away from distractions for a relaxing weekend away. The nearest Getaway outpost was only 90 minutes away from us. We each got covid tests and booked a cabin for three for the earliest weekend availability they had.
For the next few weeks, the group chat was hopping with excitement for our glamping experience. And before we knew it we were on the road making our way to our Getaway cabin.
Checking into the cabin was super easy and completely contactless. They send you a lock code and the cabin name so you just have to drive up and walk-in. All the cabins have tons of space between them, you can see the next cabin in the distance but still far enough away to feel secluded and in your own little bubble. We were all surprised as we walked in, the cabin was even more beautiful in person, the beds were bunked overlooking a huge window looking out onto the towering trees.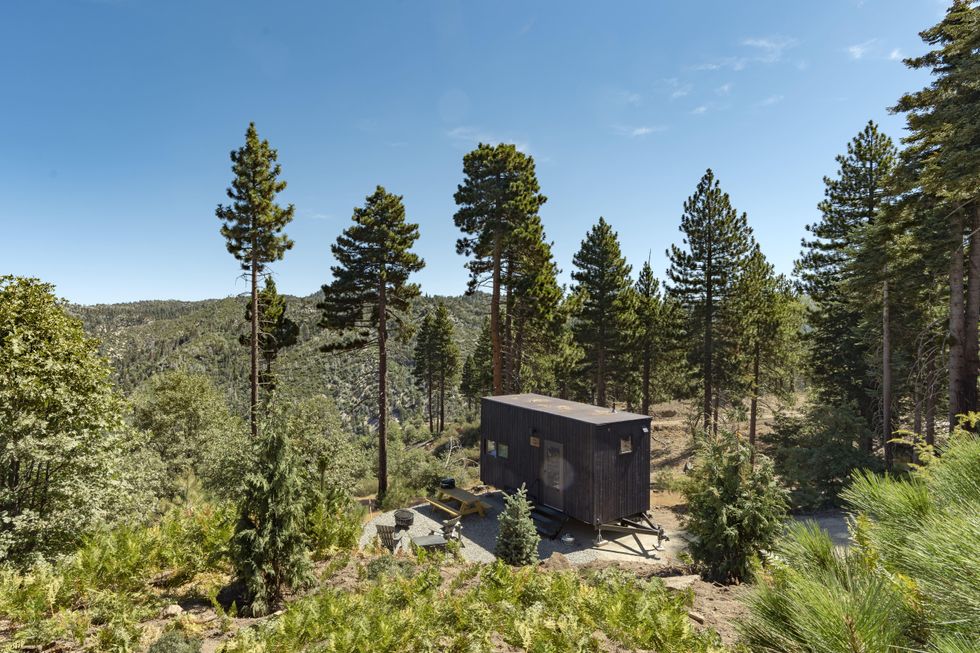 We unpacked our bags and explored - it had everything you could need; 2 queen-size beds, AC and heat, two-burner stove, hot shower, and private toilet, sink, pot and pan, shampoo and conditioner, even a campfire and grill with a picnic table and chairs. We even made use of the lockboxes for our phones. It was the only way to truly unwind, and I was happy not to hear it buzzing and pinging for a while.

That evening we cooked some creamy pasta, drank a gorgeous Malbec, played some card games but mostly chatted and laughed till we fell asleep. With no alarms, I woke to the winter sun shining in the window. It was the best way to wake up and we all felt so well-rested. Even Karla was in a great mood, and she's not a morning person.
After breakfast, we explored the tracks and trails on the doorstep of our cabin. It was bliss to be in the peace and quiet of nature. When we got back to the cabin I lay on the bed reading my book. It had been so long that I'd had the time to sit down and bury my head in a good book.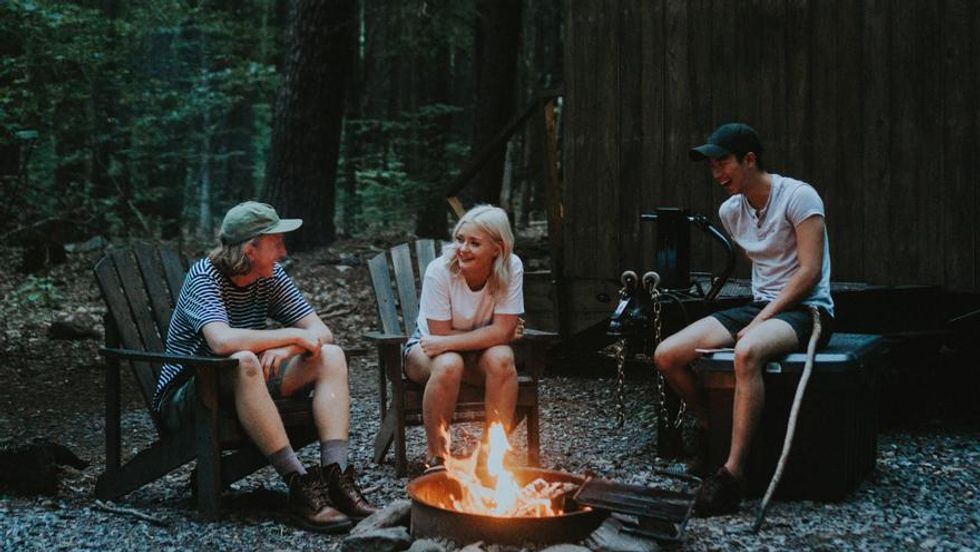 When it was time for food, Holly whipped up a delicious stir fry and after a game of monopoly, we were all ready for an early night.

The next morning I took advantage of waking up early and went on one last nature walk around the cabin. When I arrived back I made a big pot of coffee and some eggs. After breakfast, we packed up the car, retrieved our phones from the lockbox, and hit the road.
All we could talk about was when to come back. It was the perfect way to really treat ourselves to a restful weekend.
We agreed we had to come back to Getaway in the Fall. Imagine how beautiful it will look then. I'm already dreaming of it.