How I Finally Allowed Myself Some R+R
At 30, I feel more incredible than ever.
Each year for my birthday, I go for a long solo run along local mountain trails. This year marked the big 3-0, so I ran extra hard, pushed past my limits, and felt invincible.
Returning home, I found a 'Happy Birthday!' gift basket at my front door from my sister Rory: power bars, a new baseball cap, running tights, and a super-pretty bath bomb by Prima.
Prima's restorative Bath Gem is an "Effervescent Mineral Soak for Relaxation & Recovery" - sounded cool. It features a blend of botanicals and pure, whole plant Hemp extract - yeh-no. I don't know what Rory was thinking. I can always use new running gear and energy bars - but a Hemp bath bomb? My sister's a bit hippy-dippy, with her crystals and her Grateful Dead jones.
When I called to thank her for the goodies, she was raving about how fantastic the Prima Bath Gem is. "You're gonna adore it. It's got whole plant Hemp extract—"
I interrupted her. I mean, what do I know about whole or half Hemp for that matter? And what do I care? "The hype about Hemp is just that - hype."
"How far did you run today?" she asked.
"Twelve miles," I bragged.
" Sizzling." Rory parried. "You will thank me for the Prima Bath Gem tomorrow."
Sure, I thought. That's going straight to the back of my medicine cabinet.
But that evening, when my gluteus was shrieking to the maximum, I caved and tried the bath soak. It smelled exquisite - a subtle blend of eucalyptus and aromatherapeutic lavender. I felt like I was suddenly at a spa. My bath was silky smooth and incredibly soothing after that monster run.
I slept like a baby that night and woke up refreshed and invigorated. I just had to know more, so I went to Prima's site and discovered that all of their products are 100% clean and made from naturally-sourced ingredients. They're vegan, plant-based, and cruelty-free. That's Rory all over - course she'd love Prima.
Plus, they only use broad-spectrum hemp, which has zero capability of making me high. To be honest, I knew nothing about this stuff. So, I hit Prima's Hemp 101 Tab and dove down the rabbit hole, learning everything I could about "Hemp for the whole you."
Prima holds to the highest standards and uses the best-in-class 3rd-party labs to secure each batch's consistency, quality, and purity. They test their Hemp 5 times to ensure a stable potency. Apparently, potency is king. I can even check my Prima product's batch number on their website to view potency results.
This all sounded good, but I still had my suspicions. Sure, the Bath Gem worked . . . but what about something else from the Prima line?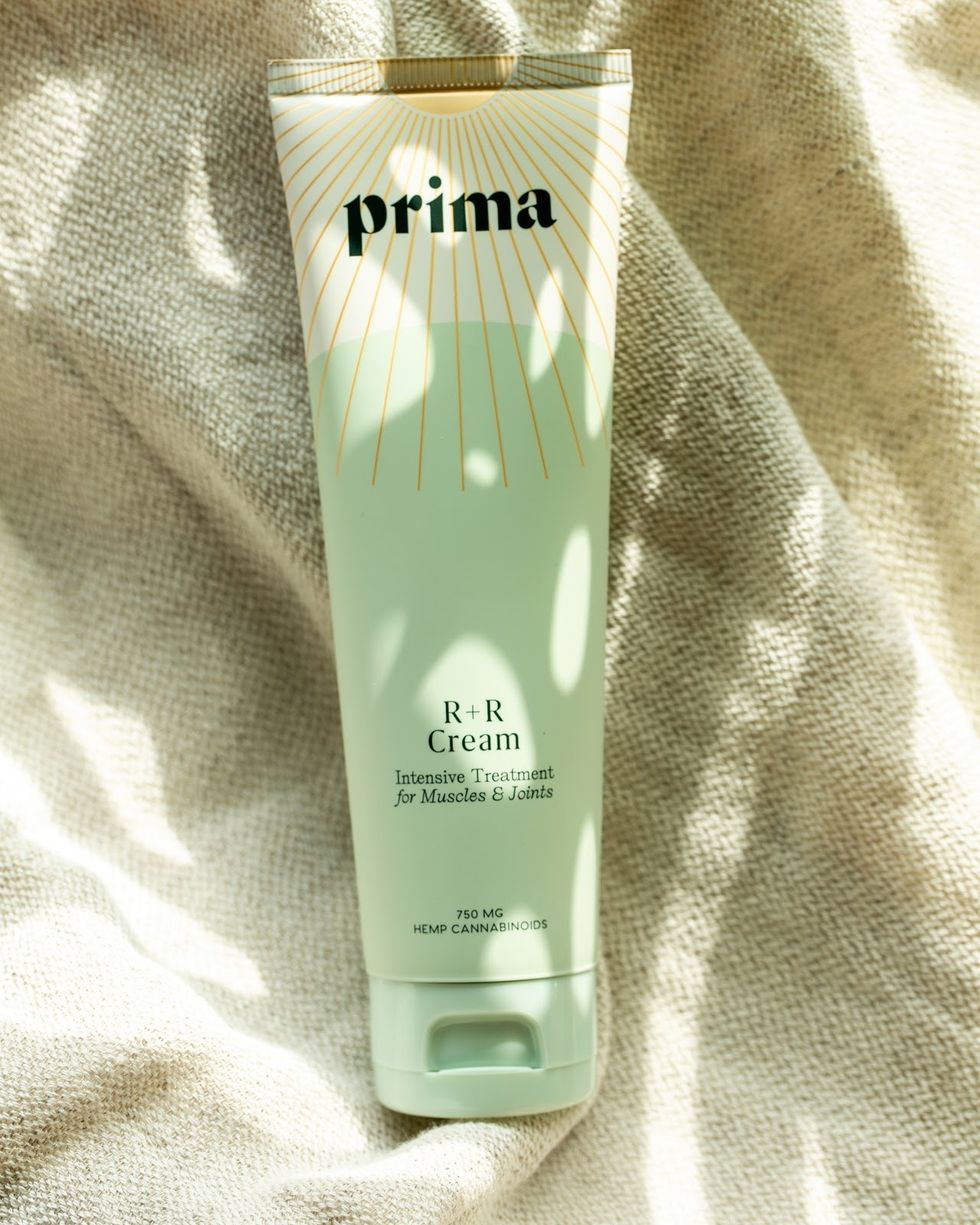 Prima's R+R Cream is described as an ultra-rich, ultra-soothing advanced recovery rub that combines their 3 favorite Rs - rest, relaxation, and really good Hemp. Its beneficial blend of botanicals - including tea tree, lavender, rosemary, and peppermint - encourages total relaxation and whole-body recovery.

My left knee occasionally acts up - it gets twingey - so I decided to test the R+R Cream. A bath is one thing, but a pain in the patella is something completely different.
I was thrilled to see that Prima's Bath Gem and the R+R Cream are sold as a bundle. Together, they're $64 (a $71) value, and with such high quality ingredients, I knew they'd last a really long time. And, if I'm dissatisfied with my purchase, there's a 30-day free return policy.
When I tried it, I was worried I'd made a mistake, but then, the R+R Cream worked like a dream.
Was it the eucalyptus, the marula oil? The shea butter? Or the whole plant Hemp itself? It didn't matter.
These days, I've been training hard - running better than ever. Recovery is quicker due to the R+R Cream. And kicking back is luxurious in my Prima Bath Gem home spa.
Rory's sooooo right about the Prima Bath Gem. It was my absolute fave birthday present. But I still don't care for the Grateful Dead.
This is a real testimonial.
These statements have not been evaluated by the FDA. These products are not intended to diagnose, treat, cure, or prevent any disease.