Converse Chuck Taylor All-Stars (or "Chucks") have been a reigning shoe brand since 1917. Named after basketball player, Charles "Chuck" Taylor, All Stars were exclusively worn by athletes until 1980. Now Chucks are more famous off the court than they ever were on, and are worn mostly by artists, musicians, and hipsters (which are one and the same in Williamsburg, Brooklyn). Even celebrities have been known to rock a pair for that "grunge chic" look on the red carpet.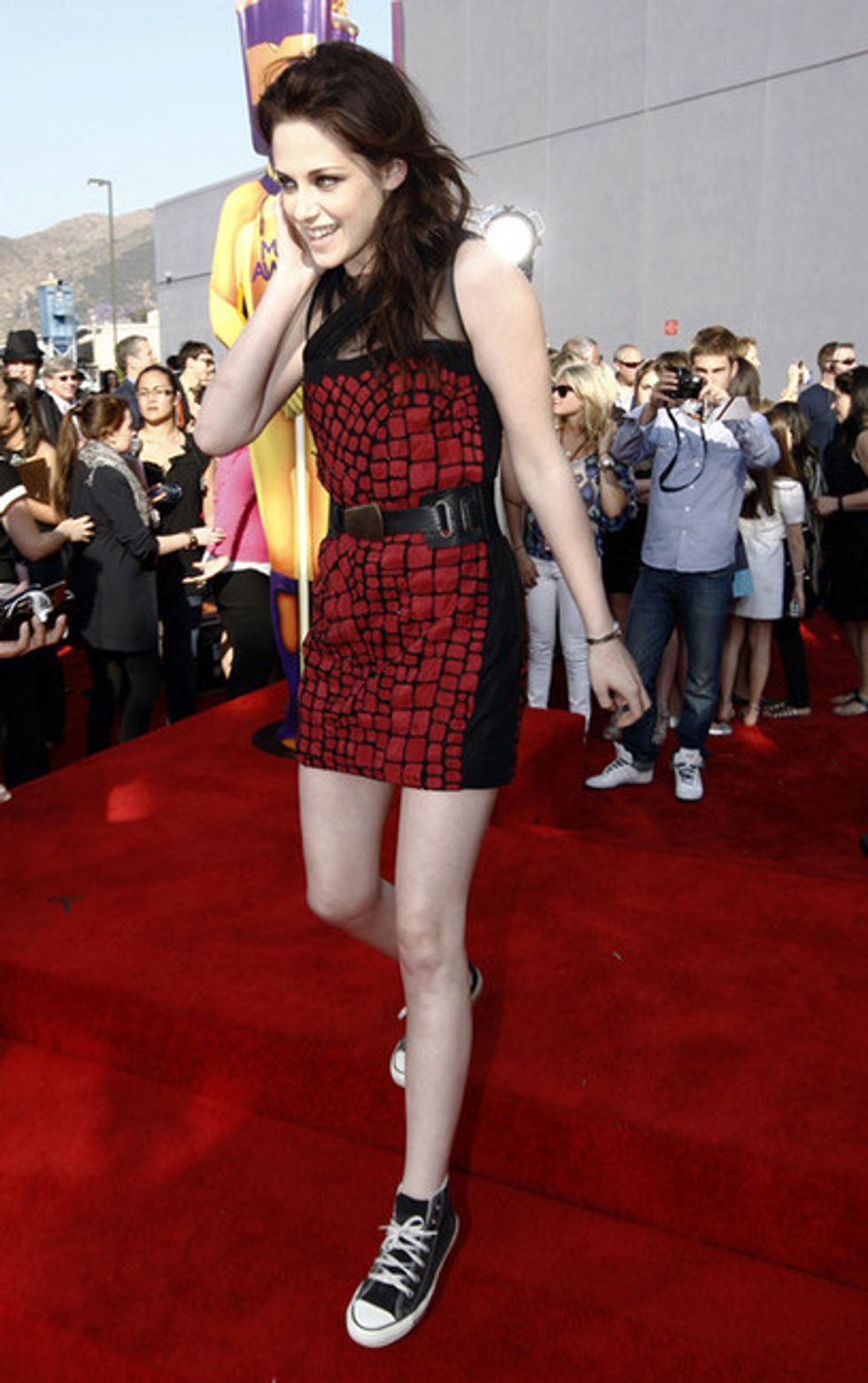 Chucks go with just about every outfit; they're durable, and even look good when filthy. So are there any downsides to All Star ownership? Favored by classicists, others just don't dig these canvas kicks. Though not considered a crime against fashion, some (including your podiatrist) might see them as a crime against function. There are always two shoes in a pair, so here are two sides: the pros and cons of Chuck Taylors.
Pros:
The Price Is Right
As far as high-end name brands go, Converse is relatively affordable. A pair of Air Jordans at retail can cost anywhere from $175 to $200. Kanye West'sYeezy Boost sneakers by Adidas are on sale for a whopping $3,000 at the exclusive sneaker market,"Flight Club." Not only are these models insanely expensive, but both are only shipped to stores in limited amounts, causing people to line up across the country (literally and figuratively) in order to get a pair. Despite inflation in the footwear market, Chuck Taylors have remained moderately priced (they can range from $30 to $60, depending on size and where you purchase them). Limited edition Chucks may cost a little more but aren't as overpriced. Unlike the previous two pairs of sneakers, Chuck Taylors aren't under-shipped. It's extremely rare that you won't be able to find a pair of black, red, white or blue All-Stars at any time. You can be stylish without breaking the bank or waiting in line at 7AM on a Saturday for the shoe store to open.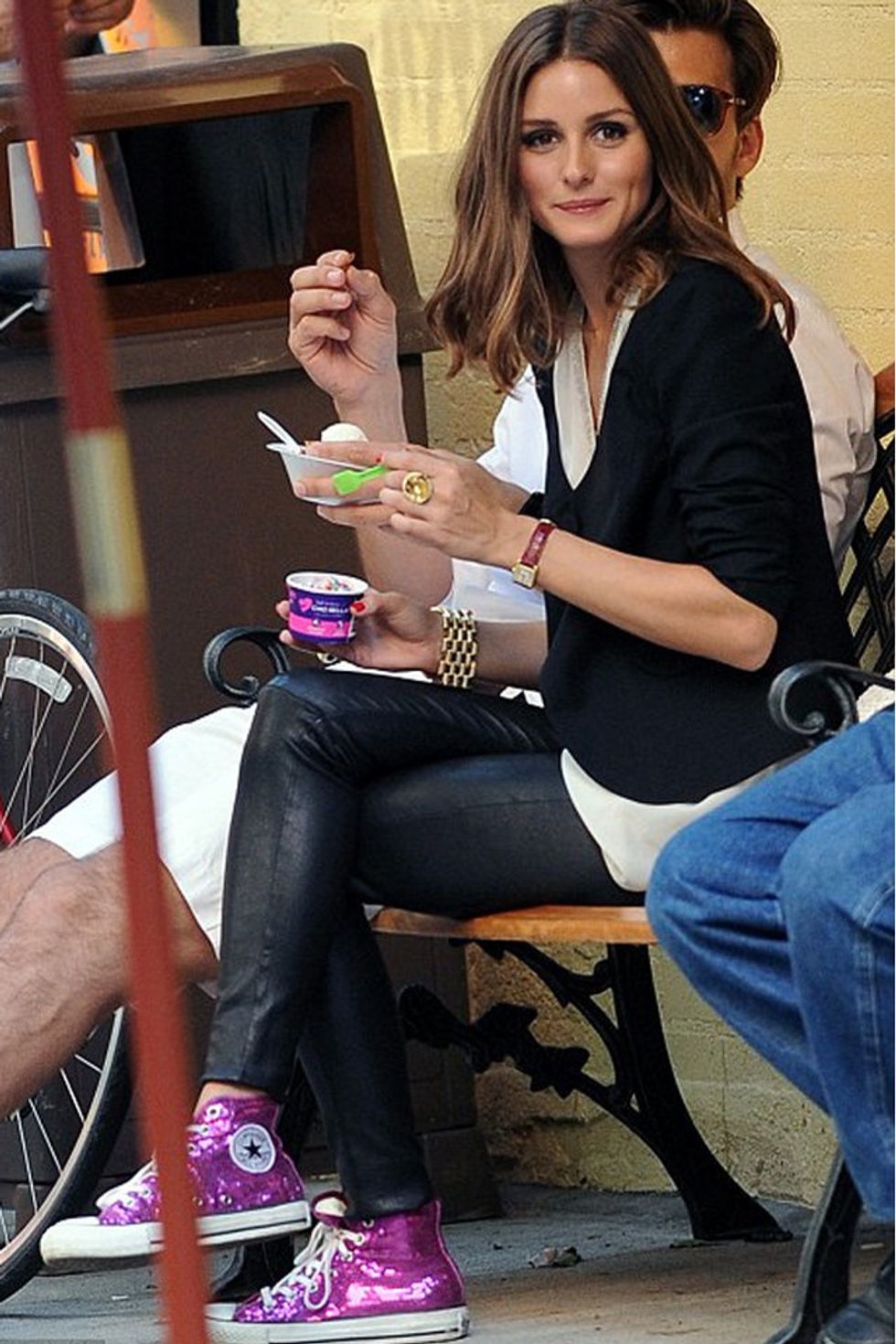 Olivia Palermo rocking sequin Chucks fustany.com
"Taylor Made"
Chucks are sneakers with "charisma." They tend to be tailored to fit your feet.The sneakerhead, with "kicks" in tip top shape, likes to keep their Chucks super clean without any scuffs. They look like they're being worn for the first time every time. If you don't read Vogue and aren't aware of the upcoming fall fashion, then your Chucks might look a little….seasoned. But even the dirtiest of Converse have a certain irresistible charm. Given their canvas-based material, Chucks lend themselves to the idea of being drawn on and customized. With a regular magic marker and your imagination, you can express your individuality. The official Converse website and store also provides the option to customize your own Chucks. You can choose every single detail right down to the color of the laces. Plus new styles are coming out all the time! Think of it as the exclamation point on your fashion statement.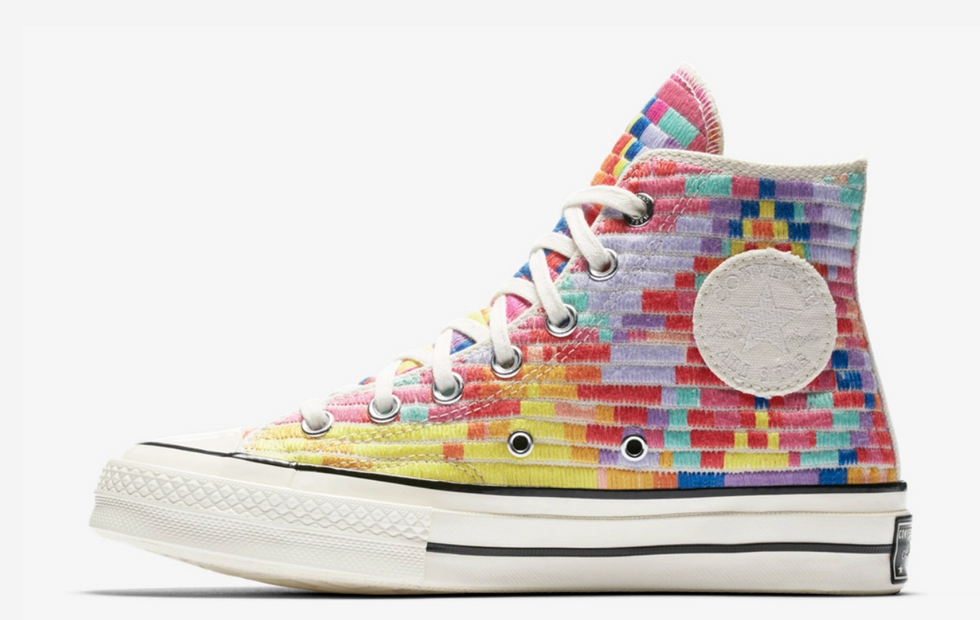 CONVERSE
Have you ever been walking down the street and seen someone else wearing a pair of Chucks while you have yours on, and given them a little nod of recognition? No? Only me? Well either way, people who wear Chuck Taylors have an unspoken bond. They tend to be the shoe of choice for people in the "not-so-in-crowd," even though they're trendy. They are also the perennial form of punk rock footwear. Fans and artists alike have been seen uniformly clad in shoes with stars on them resembling an anarchistic constellation. Just picture it -- It's the mid 1970s and The Ramones are on stage at CBGB. It's cramped, it's hot, it's loud, but everyone is singing, "Hey Ho! Let's Go!" It was a community of people brought together by their love of blaring guitars, rebellion against "The Man," leather jackets, jeans, and shoes they sport like badges of honor. Who says you can't be the same and different at the same time?

Cons:
Unsupportive System
Chuck Taylors have lightweight material that allows more flexibility for your feet than the average pair of sneakers. But without the restraints of typical footwear, they lack the same support. In some ways Chucks are more comfortable than most shoes, but problems can develop over time if worn consistently. Podiatrists have linked wearing Chuck Taylors excessively to tendonitis, stress fractures, and even Plantar fasciitis. It has been advertised that the Chuck Taylor All Stars 2 has been redesigned to give that missing support. But if you're a fan of nostalgia, you don't want a second generation copycat, no matter how comfortable it may be. Competitive sports aside, just walking regularly in Chucks for long distances can lead to some major discomfort. So every once in awhile, give them a rest and opt for some more supportive shoes. We all appreciate feeling close to barefoot when we walk sometimes, but not if it makes us need to take long foot baths for relief every night.
"There's a rock in my shoe!"
There is nothing worse than wearing wet socks. Wrong! Wet sneakers has them beat by a mile. As previously noted, Chucks do not offer the same sturdiness as a conventional shoe. They also do a poor job of protecting against the elements. If it rains or snows, your standard sneakers may not keep your feet warm or dry the way boots would, but at least you stand somewhat of a fighting chance. With Chucks however, they're so thin that if they get wet you're wearing wet shoes on top of your wet socks, which is indescribably unpleasant. If someone steps on your foot you will definitely feel it if you're wearing your Chuck Taylors. If you plan on going to a packed place, you may want to think of preventing poor feet from being trampled by a stampede.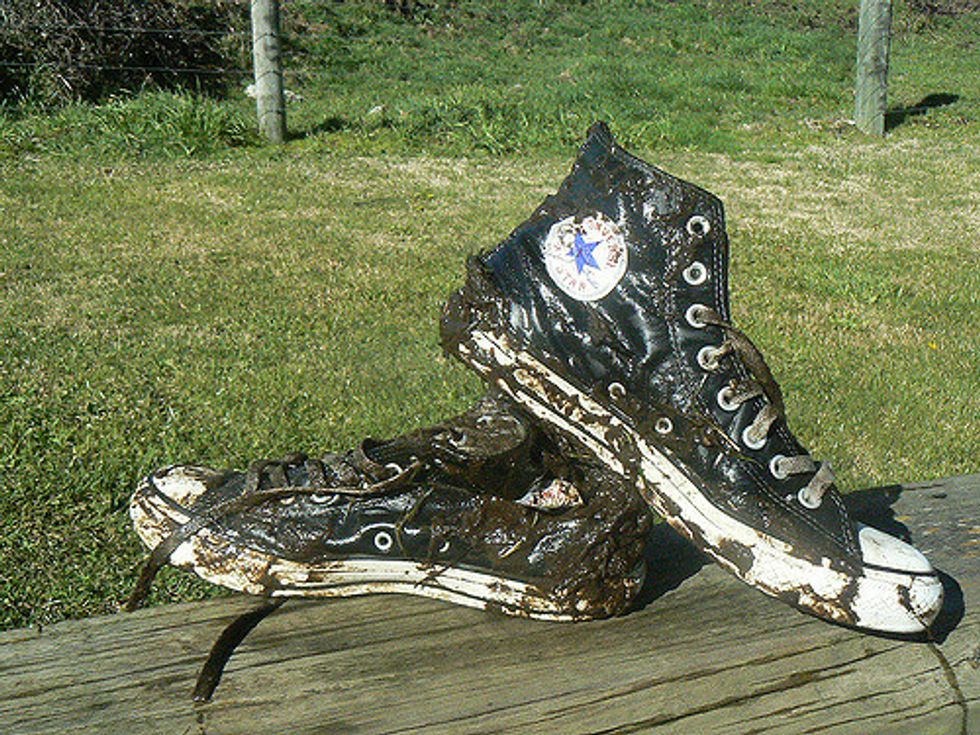 Often Imitated...
All great things are bound to get copied. They say imitation is the highest form of flattery, but sometimes it can just be annoying and a little disrespectful. The Chuck Taylor All Star is a unique shoe. You can spot them from far away and know exactly what they are. Until you get closer and….what's this? No stars on the side? They don't say "All Star" on the back? These aren't Chuck Taylors! Yes, the legendary design has been often duplicated by various shoe companies and retail stores that produce their own footwear. There's nothing wrong with paying homage, but too many knock offs taint the legacy that comes with owning a pair of Chucks. These are more than just shoes to some; they represent a way of life. They were an essential part of sports, music, and fashion history, and continue to be. Others may have the look, but not the reputation.
What have we learned? Chuck Taylors are awesome. They are innovative, they are imitated, and at times can be painful. They go with everything and have gone everywhere. We've taken a look at both sides of the sneaker. If you're avid wearer, maybe reading this reaffirmed your love for them, or perhaps encouraged you to switch them out to prevent future foot damage. If you weren't a fan before, now you're considering getting a pair for yourself, or maybe it inspired you to go listen to "Blitzkreig Bop" while taking a stroll down on Bowery. Whatever your final thoughts are, I hope you're that much more in the know about an All Star American Classic.