by: Melissa A. Kay
We all know how important a healthy breakfast is to start the day with a bang, but when there's a time crunch, sitting down for a full A.M. meal just isn't gonna happen. But that's no excuse to skip breakfast entirely. You need the morning fuel and nutrition to get your day off to a productive start. Hunger pangs and lack of focus won't help you achieve your daily goals and will set you up for mindless (and pound-packing) eating throughout the day.
What's the solution? On-the-go breakfasts that will fill you up and won't slow you down. Here are a few ideas you can make in a snap and munch as you make your way to work (or wherever you need to go) or once you arrive at your destination.
Two-minute trail mix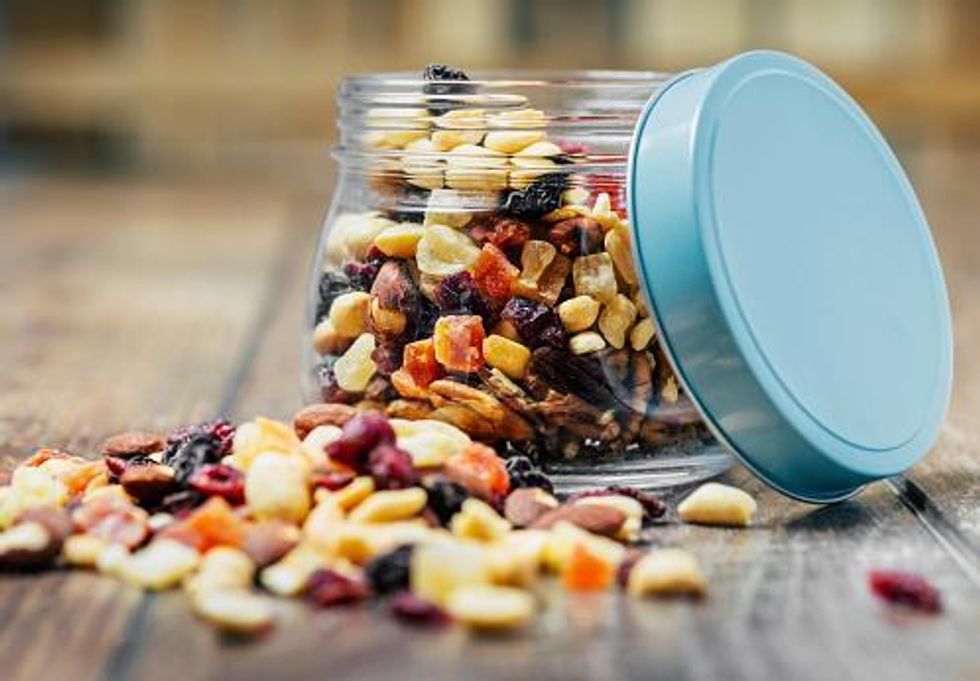 This homemade trail mix can be prepped the night before or in a quick couple of minutes before you head out. Munch in the car or at your desk and get lots of essential vitamins and nutrients your body needs for fine-tuned functioning.
Ingredients:
¼ cup mixed nuts
¼ cup dried fruit (raisins, cranberries, diced apricots, pineapple, chopped dates, currants, you name it!)
1 teaspoon shelled sunflower seeds*
1 teaspoon carob chips (or dark chocolate chips)
2 tablespoons all-natural granola (try Bear Naked, it is beyond delicious)
*As per Global Healing Center, sunflower seeds promote cardiovascular health and healthy cholesterol levels. And the selenium in the seeds are powerful antioxidants and aid in thyroid hormone metabolism.
Toss everything in a plastic zip top bag or plastic container, shake it up, and go. This sweet and salty mix has a variety of textures from chewy to crunchy to keep your mouth happy and your belly filled 'till lunchtime.
Nut butter and jam pinwheels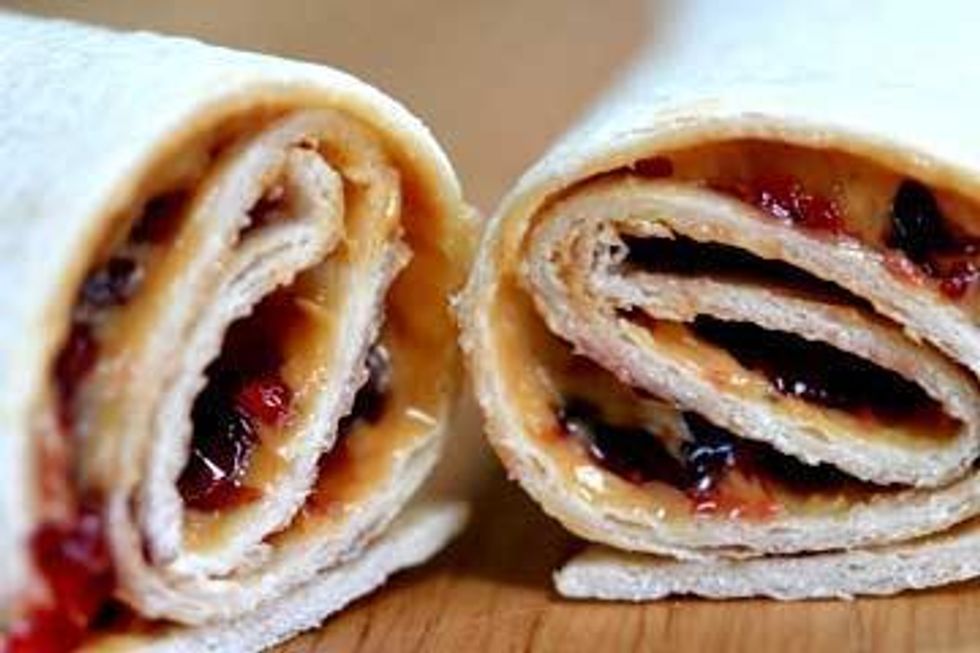 Via cdn.readtapestry.com
PB & J just got even better. These on-the-go bites are energy-packed and fun to eat. You'll feel like a kid again but you'll be doing the "adult thing" by making sure you're properly nourished.
Ingredients:
1 12-inch whole wheat soft tortilla (you can also opt for a low-carb wrap such as Flatout)
2 tablespoons nut butter of choice, creamy or crunchy
1 tablespoon low-sugar or sugar-free jam, jelly, or preserves (try Smucker's strawberry with ½ the calories of regular preserves)
½ teaspoon flax seeds
½ teaspoon ground cinnamon
½ teaspoon honey
Lay the tortilla flat and spread the nut butter all over the tortilla. Spread the jam over the nut butter and drizzle the honey over top. Sprinkle the flax and cinnamon over the honey and roll the tortilla tightly. Slice into 1-inch sections to create pinwheels. Secure in a plastic container and take these breakfast treats with you on-the-go. Mix up your nut butter and jam choices for new options every day.
Parfait your way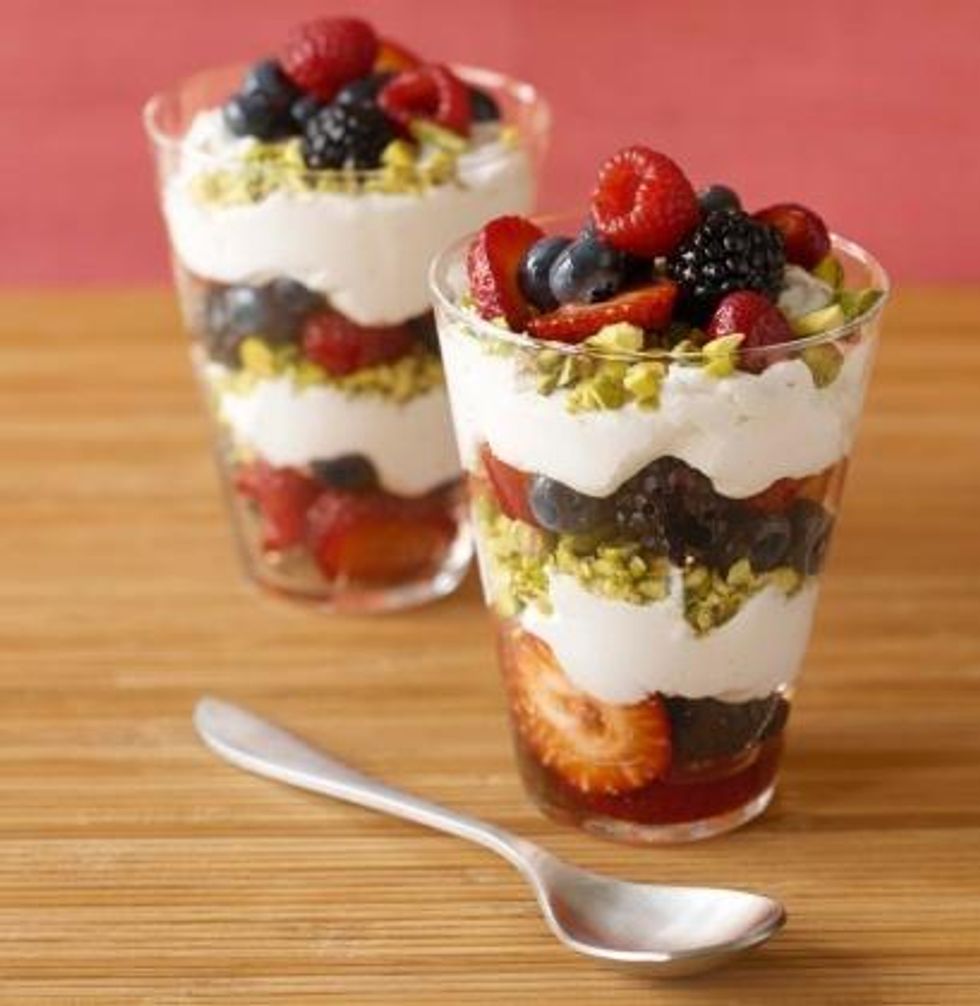 With a to-go cup, you can enjoy a parfait at your desk that's as good as anything you'll get at a breakfast restaurant or diner. Plus, when you make a parfait your way, the options are endless, but always delicious.
Ingredients:
1 cup low-fat or fat-free yogurt (pick any flavor)
½ cup all-natural granola
2 tablespoons chia seeds*
½ cup diced fruit (your choice and feel free to use more than one type)
1 tablespoon honey
*Chia seeds are rich in Omega-3s, packed with protein, and are fiber-rich.
Take your to-go cup and start layering each ingredient aside from the honey. Use a bit of each ingredient, layer by layer, and repeat the process until you reach the top. Top the parfait with honey and watch it drip down through the layers. Yum!
To make some tasty and healthy swaps, consider using cottage or ricotta cheese in place of the yogurt. Try puffed wheat or rice cereal in place of the granola for more crispiness and fewer calories. Use flax or sesame seeds rather than chia. Try canned fruit packed in natural juice rather than fresh to save even more time. And go for real maple syrup, such as Crown in place of honey. Remember, make this the night before so you can grab and go!
Breakfast has never been easier. Go ahead, hit that snooze button one extra time!