Read This Before You Buy An At-Home COVID Test



Covid has waxed and waned for the past two years, but as new variants and holiday gatherings start popping up again, it's crucial to have as much information as possible.
Getting efficient, effective, and accurate testing to keep yourself and those around you safe is an absolute must. However, finding tests or going into centers for testing can mean higher chances of exposure. At-home tests allow you to stay in the comfort of your own home while limiting contact with others.
As we start gearing up for travel, we wanted to find out who offers the best at-home COVID test. We put Vault, QuickVue, LetsGetChecked, and BD Veritor up against each other to see who we would pick as our go-to at-home COVID test. Here's what we found out:
Key Similarities:
All test for COVID-19
All can be done from your home
All provide results in under 72 hours
Key Differences:
Vault uses saliva as its sample
Vault is trusted by over 3,000 businesses
Vault is physician-directed over video call
Vault and LetsGetChecked are PCR tests
Vault and LetsGetChecked are sent directly to you
LetsGetChecked, QuickVue, and BD Veritor require nasal swabs
BD Veritor is only available on Amazon
BD Veritor requires you to test yourself twice
QuickVue is available over-the-counter
Vault
Vaultteamed up with BiologiX and Spectrum Solutions to deliver the first FDA EUA-authorized saliva kit. It's trusted by over 3,000 businesses, 150+ government and education contracts, and they've sold over 10 million COVID tests.
While most tests are self-led without direction from doctors or physicians, Vault supervises you via Zoom call when you take your test to ensure zero mistakes are made and the correct person is taking the test. They take their integrity to the next level and even have top of the line tracking and tracing.
To order your kit, you will first need to answer questions regarding any symptoms, risk factors, health history, as well as personal questions. From there, Vault expedites your physician-ordered kit directly to your door.
Once you receive your kit and decide you're ready to test yourself, do not eat, drink, or chew gum for thirty minutes, then simply log in to your Vault account to be connected to a Vault test supervisor. There's no need to schedule an appointment with a supervisor, either! They're on standby from 8:00 am EST - 8:00 pm EST Sunday-Thursday, and 8:00 am - 6:00 pm EST Friday - Saturday, and the appointment only takes a few minutes.
After you and your supervisor complete the saliva sample, attach the prepaid overnight shipping label and drop off your test.
Results will become available within 12-48 hours of arriving at a CLIA certified laboratory and will be sent via email with a link that will connect you to your results of either positive, negative, or inconclusive, however, only 1% of Vault tests are inconclusive.
Vault costs $90 per test which includes shipping, as well as laboratory testing.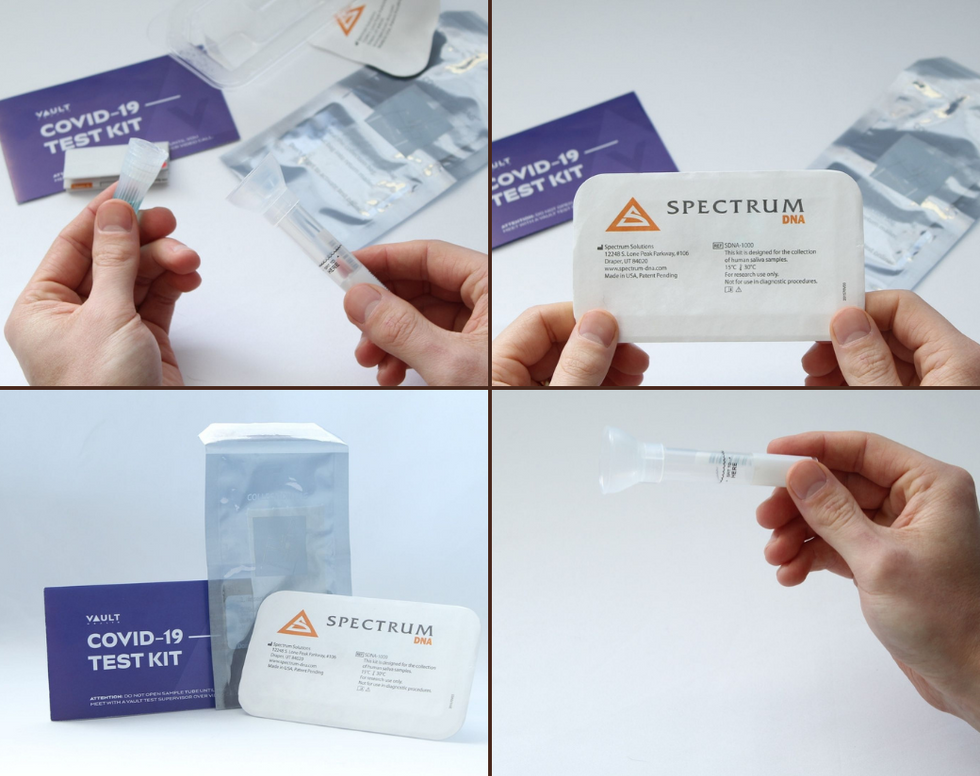 QuickVue

QuickVue offers at-home, rapid, COVID-19 tests. Similar to BinaxNOW, QuickVue is an over-the-counter rapid test with results in as few as ten minutes but must be ordered through Amazon or independent retailers.
To start with QuickVue, you either need to find them at retailers like Walmart, CVS, or Walgreens, or order through Amazon. Once you've found or ordered your test, everything else is self-directed.
QuickVue directs you to gently swab the inside of your nose, swirl it in a tube of reagent solution, then remove and insert into another tube. After ten minutes, you may remove the swab to check your results which will appear on the strip as either positive or negative.
LetsGetChecked
LetsGetChecked offers PCR testing through a nasal swab. You can order through LetsGetChecked's website and they will send you your test kit directly to your home.
Much like Everlywell's COVID testing, after you receive your kit, you can self-collect your sample using the nasal swab and follow their detailed instructions. Once you've finished collecting your sample, send back your test with the included prepaid expedited shipping label. You'll receive text updates through UPS, and will be notified as soon as your results have made it to their lab.
Once it's been delivered to the lab, you can expect your results between 24-72 hours after.
LetsGetChecked costs $109.
BD Veritor
BD Veritor is an at-home rapid test. While other tests can be purchased through the brand themselves or over-the-counter, BD Veritor follows tests like Amazon At-Home and can only be purchased through Amazon itself.
Once you place your order for BD Veritor, your test kit will come with two nasal swabs and tubes, as you will need to test yourself twice.
BD Veritor requires you to download the Scanwell Health App which will provide a detailed video outlining how to test yourself with the nasal swabs.
Since BD Veritor uses a serial testing method, if the first test is negative, you must retest yourself between 24-48 hours after the first test. Results can be expected in as little as fifteen minutes.
BD Veritor costs $26.50 on Amazon.
Verdict
When it comes to convenience, affordability, and accuracy, Vaultis the clear winner. While we like the speed of the rapid tests, BD Veritor requires you to take two tests if one is negative (which needs almost 48 hours!), and QuickVue requires us to go into a retailer if we don't want to purchase it on Amazon. Since we're looking for at-home solutions, going somewhere to pick it up doesn't quite make sense for us.
Vault understands that there's too much at risk for us! Their test supervisors give us way more peace of mind than any other test that's self-directed by just us. It even feels like we're getting the same level of care and attention as we would in person - it's just far more convenient!
We can have the most reliable results in the quickest amount of time for a PCR test and rest easy knowing there wasn't any user error on our part. While there are more affordable options available, none can deliver on Vault's level of care or professionalism. We also love that Vault is using saliva rather than nasal testing, so no more invasive swabs or annoying sneezes.
Vault gives us the best at-home testing experience, but we're also ranking it as the best COVID test for travel. Accurate test results start with the test itself, and with Vault and their test supervisors, we couldn't be in better hands.