I spent a lot of time with my Sicilian godmother as a child, including holidays, which meant I spent a lot of time eating utterly delicious dishes of that unique region of Italy. As anyone who has eaten Caponata knows, Sicilian cooking often mixes sweet (raisins, currents, oranges, fennel) with sour, (capers, vinegar) with salty (olives) and spice (red pepper flakes). This versatile and easy salad calls for fennel, celery, olives, tomatoes and parmesan cheese. I love that it takes about five minutes to make, travels well (great to bring to a dinner party!), keeps well in the fridge (a great leftover!), and is super healthy and light --- a perfect complement to any meal.
As to the nutritional value, fennel is high in fiber, potassium, folate, vitamin C, vitamin B-6, and it's rich in antioxidants. Fennel is also said to decrease the chance of heart disease. Celery is an excellent source of vitamin K and manganese, vitamin B2, copper, vitamin B6, phosphorus, magnesium and fiber. Olives are high in vitamin E. Tomatoes are loaded with vitamin C, and their many health benefits have been known since ancient times. They are a major source of antioxidants, specifically Lycopene, that are thought to be effective against many forms of cancer.
So, if you're looking for a great salad to counter-act all those heavy holiday meals, this is it.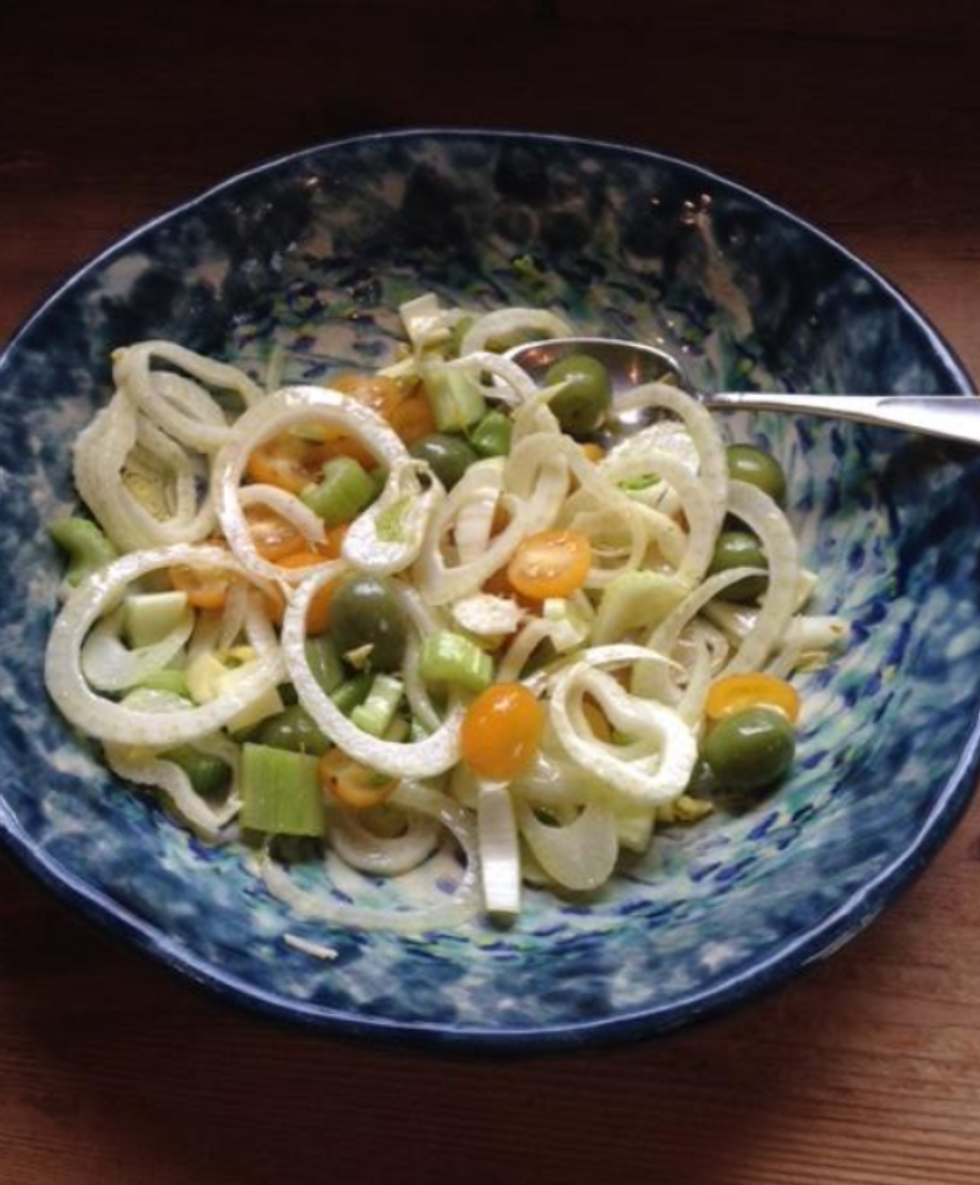 Ingredients:
1-2 bulbs fennel, trimmed of their upper stalks and fronds, and thinly sliced (choose fennel bulbs that are firm, and without brown spots)
1-pint cherry tomatoes, red or yellow (yellow are sweeter!), sliced in half
1-2 celery hearts, washed and sliced in ¼ inch pieces
½ cup green olives, like castelvetrano or cerignola, either pitted or not, depending on your preference
juice of one lemon
¼ cup extra virgin olive oil
salt and pepper to taste
Directions:
Mix everything in a bowl and enjoy!