Stars, they're just like us!

They go to the store, they wear sweatpants, and they do things they shouldn't — like slapping each other on live television. Okay, maybe that last one isn't totally relatable but who amongst us is perfect? Who hasn't reacted emotionally and erratically, then had to be calmed down by friends? I, for one, will not be throwing stones from this glass house.
---
Celebrities have been acting out lately. I don't know what's in that Hollywood water these days. But it's provided for some — perhaps too much?!?! — quality entertainment. While most days I read a news story that sends me to the couch to curl up with a glass of wine and shut off my brain, some tales genuinely warm my heart or get me unreasonably keyed up about people I do not know.
Parasocial Relationships … Like Them, Love Them, Gotta Have Them
Some would call this an unhealthy parasocial relationship. Psychologists say, "Parasocial relationships are one-sided relationships, where one person extends emotional energy, interest, and time. And the other party, the persona, is completely unaware of the other's existence. Parasocial relationships are most common with celebrities, organizations (such as sports teams) or television stars."
In short, this means celebrities are far more than mere entertainers to us. They're not individuals we feel separate from or singers we put on for background noise, or people pretending to be other people on the television. Rather, in the age of social media, celebrities increasingly feel like our real friends.
We may not know what's actually going on in their lives, but we know how they feel about it in real-time. They share their thoughts with us, they share memes on their stories, they tell us about their insecurities. And while all this might be an elaborately curated PR play on their part, it doesn't matter to us. We get invested in them as people, not just their work.
That's why so many people were totally shocked by Will Smith and Chris Rock's run-in at the Oscars. For many of us, we felt like we were watching someone we know act outrageously. But the truth is: we don't know them. We know what they've shown us — not their traumas, their unedited sides, and not their bare, unfiltered feelings.
There's a lot of nuance to all of this, and with increasing access to the inner and outer lives of our favorite stars on social media, scientists are studying the effects of parasocial relationships more deeply. Despite internet warnings about the potential harm of parasocial relationships, I still engage enthusiastically in the one-sided relationships I have with my favorite celebrities.
I wonder how Beyonce's kids are as if she's an old friend I keep on my Christmas card list. I cheer on Lizzo's new shapewear venture like I would any friend making moves in their career. And I comment on Rihanna's Instagram posts as if she's returning the favor.
Some research has proven that these interactions are hardly harmful and that it might actually further our real-life relationships by keeping us engaged in an increasingly isolated world. "Historically, parasocial relationships were viewed as pathological and a symptom of loneliness, isolation and social anxieties. However, one study found there was no correlation between loneliness and the intensity of viewers' parasocial relationship with onscreen characters. Other research has decreased the stigma of such relationships and led clinicians to believe that such relationships can broaden one's social network rather than restrict it."
Rather than distracting us from real life, parasocial relationships can connect us to others who share the same fascinations. I myself have initiated quite a number of conversations by talking about Kanye West. And this week I opened my fair share of discussions about The Oscars.
But beyond the opportunity for conversation starters, parasocial relationships provide me with momentary bursts of serotonin precisely when I need it.
Rihanna, Rihanna's Baby, and … ME!
These days, a good chunk of my positive feelings are provoked by the stream of breaking news about Rihanna and her baby. I have no shame about how excited I am for Rihanna's baby. And even more so, Rihanna's baby's clothes. I'm deeply invested in Rihanna, her baby, and their closets.
So far, Rihanna spent the past few months stunning us all with look, after look, after look. Her reinvention of maternity style inspires others to rock their bumps and bellies with uninhibited confidence.
Most recently, Rihanna snapped a pic in a custom Valentino dress that she wore to Jay Z and Beyonce's Oscars After Party at Chateau Marmont. She captioned the picture: "me and my date to the Oscars #bump22." And suddenly .. that was the most exciting moment to happen at the Oscars.
To Rihanna, the key to pregnancy style is the same as anything else: creativity.
As per Elle.com: Rihanna did reveal to ELLE.com this month that she is in her third trimester. When asked whether her glow is from Fenty Beauty or her pregnancy, Rihanna answered, "I mean, they go hand in hand. There's a pregnancy glow. There's also those days, girl. Especially in the third trimester where you wake up and you're like, oh, do I have to get dressed? Makeup for sure helps you feel like a real person. I just focused a lot on moisturizing and on contouring. The face gets a little round and chubby. The nose starts to spread. Everything is a challenge, from getting dressed and how you're going to do your makeup. But I like challenges. I like things that force me to be creative and create in new ways. And with beauty, there's so much that you can do."
Her commitment to going above and beyond our expectations is what I most love about Rihanna. Everything she does is iconic because it feels refreshingly real, yet far beyond anything I'd ever achieve.
For example,the recent Rihanna goes baby-shopping paparazzi pics prove that she's at once the most aspirational and relatable celebrity out there.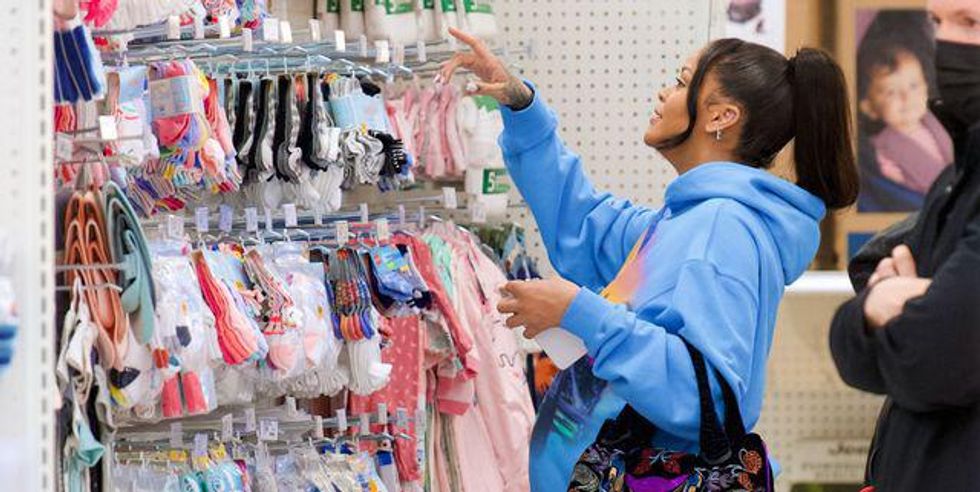 I, too, shop at Target. I, too, often browse the clothing aisle. But I've never done it like Rihanna — not even close. Clad in a mini skirt and stilettos, Rihanna pushed a cart around an LA Target, breaking the internet with this elevated version of such a trivial, menial task.
Ri is spotted at Target surprisingly often, usually by fans. But this time she had a mission: baby clothes. Yes, that's right, our favorite fashionista is no snob. During her excursion, she dropped an assortment of baby clothes in her cart — making sure to add items for every gender. Whether this was to throw off paparazzi from guessing her baby's sex or because she's known to partake in androgynous dressing, we'll never know.
What we do know is that her baby's baby clothes don't have to be precious, flashy garments to be Rihanna-approved. They just need to be the right quality. Yes, Ri was also spotted shopping for baby clothes at Dior, but her dedication to high-low dressing has us taking notes.

The Epitome of Baby Fashion: Munchkin
If you're looking for a middle road to pad out the bulk of your baby's clothes, try Munchkin. Munchkin may not be Baby Dior, but they're bringing high-quality clothes at an accessible price point.
And they don't just stop at clothes! Munchkin is your one-stop shop for all things baby. Whether you're registering for your baby shower or checking off all the last-minute items on your list, Munchkin has top-of-the-line options for every baby product you need.
How do they curate such a top-notch selection? Because their mission is to spread love. Their mission statement reflects this passion: "Our Mission is to be the most LOVED baby lifestyle brand in the world. At Munchkin, Inc. we believe there's no room in our world, our communities, or our company for actions, words, symbols, or any other means of communication that directly or indirectly promote or convey HATE. Our company is made up of a diverse group of employees with differing backgrounds. We don't tolerate diversity, we EMBRACE it. We know this is exactly what fuels us to achieve our company mission because we feel a responsibility to create a more loving world in which we raise our children."
These are the vibes you want to bring into your space when you're shopping for baby gear. Munchkin is the complete baby registry checklist wants you to love everything you have in your home, especially all the things you're assembling for the arrival of your little one.
And I wouldn't be surprised if Rihanna — in all her finest taste — is browsingMunchkin.comfor baby gear too. That's after she checked out at Target and Dior, of course.
Munchkin wants to create a better world for your babies. Perhaps that world will be way less chaotic. One can only hope.