My Life Before Ruggable Washable Rugs Vs. After
Editor's Note:Have you or your kids ever spilled something on your rug? We constantly do and it drives me crazy because rugs are sooo difficult to clean. After carrying them to our local rug cleaning company and paying hundreds of dollars for their service, I knew I had to find a different solution. That's when I stumbled across Ruggable.
Before Ruggable
Before I gave birth to my 3-year-old Sophie, we remodeled our house and chose a beautiful bohemian style. I'm a big fan of natural colors, wood furniture, and everything else that comes with it, especially our cozy rugs from West Elm and Pottery Barn that allowed us to play around with color.
That was until I realized how difficult they are to clean. Sophie keeps spilling milk and I've spilled my coffee more than once. Not to mention my husband's wine stains that are impossible to get out. Our little pup also had a few accidents that were the worst to clean.
I invested in sooo many cleaning products that cost me a fortune - from countless pet spray solutions that only seemed to work within a few minutes of the accident to a professional dry & wet vacuum specifically designed for rugs. It was not only expensive, but super inconvenient to use.
Ultimately, I gave up on "easy" fixes and decided to go with a professional cleaning service. But after carrying all our rugs – we have over 8 – to the local rug cleaning company and paying around $200 for each rug to be cleaned; I knew there had to be a better solution. So I turned to the internet and after doing some research, I came across Ruggable, a revolutionary brand that offers machine-washable rugs – I couldn't believe my eyes!
While I've heard about washable rugs, I always doubted the quality and design. But then I browsed Ruggable's vast selection of over 1500 styles – they even have a bohemian category with subtle and colorful designs in all shapes and sizes that look truly stunning.
I wondered how these huge rugs could fit into my washing machine, but then I saw a video explaining their unique cleaning system. Ruggable rugs are made with an innovative Cling Effect™ technology, meaning that their rug cover can be detached and reattached to the Rug Pad without losing its grip. Plus, all their rugs are made-to-order to reduce waste and they use recycled materials wherever possible.
Okay, I had to give Ruggable a try and see for myself, so I went ahead and ordered their Antique Ivory Shag Rug in 5'x7' for $368, which included the pad, and I got free shipping on top of it.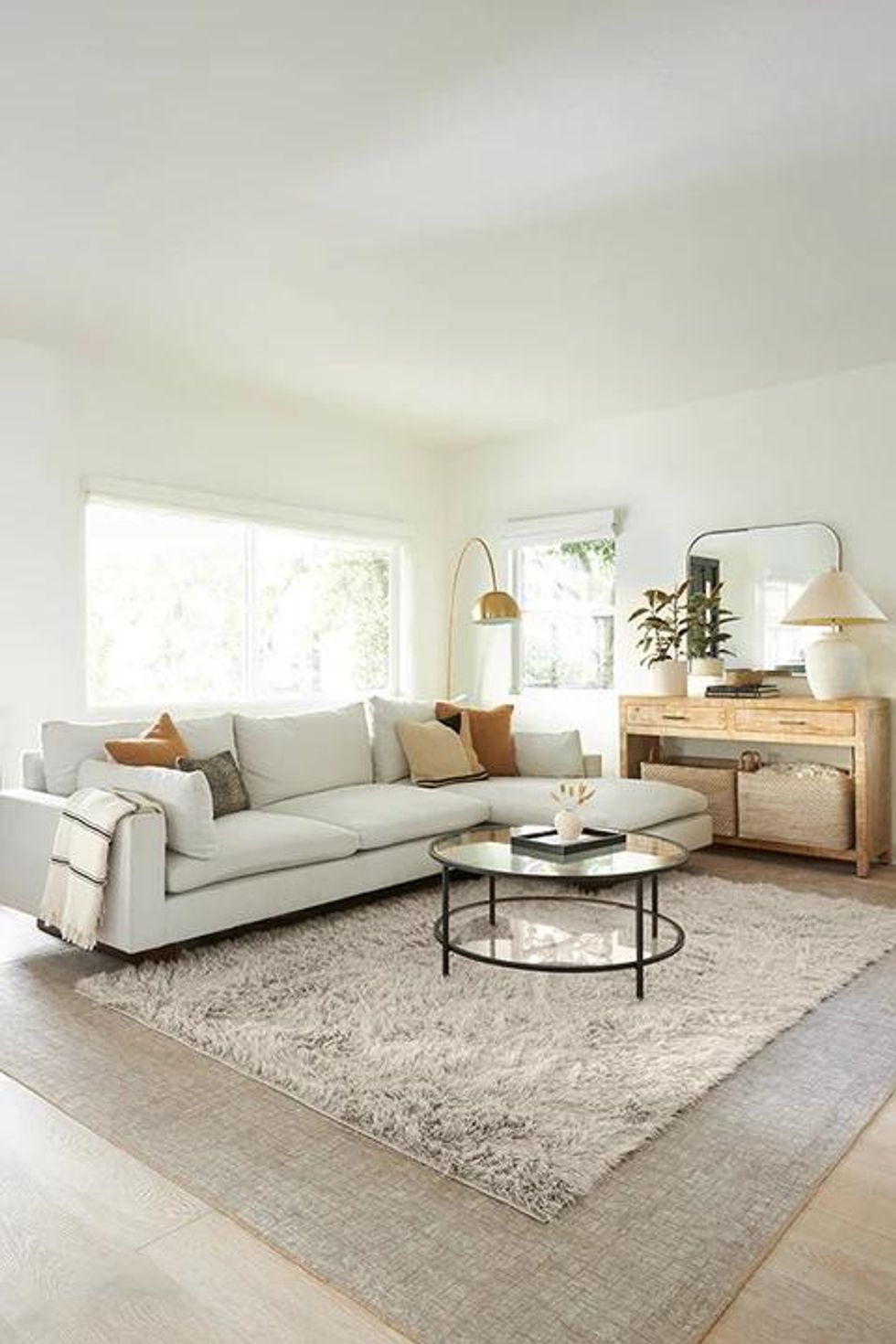 After Ruggable
My rug came right on time and I was positively surprised by its high-quality fluffy texture — it felt so soft and the color was spot-on. Plus, I read that it's water-resistant and stain-resistant.
The rug was super easy to assemble. I simply unrolled the lightweight washable Rug Cover over the nonslip Rug Pad on the floor, and done. It looked stunning under our coffee table – I'm obsessed, and my husband loves it too.
Of course, I couldn't wait to test it in the washing machine, but I was patient and waited until it actually needed to be washed. With a 3-year-old and our dog at home, that didn't take too long.
Removing the cover from the pad was super easy. It fit in the washing machine perfectly and I washed it with mild detergent as recommended. I was a bit worried that it would lose its softness, shrink, or wrinkle, but after the rug cover was completely dry it looked and felt like new. The color didn't fade and the stains were gone – I was sooo relieved!
From that moment, I knew Ruggable was our new go-to for all our rugs – runners, bath mats, outdoor rugs, and everything else. Ruggable also allows me to order covers only, so we can swap designs and patterns easily whenever we feel like a change.
I can confidently say that Ruggable has made cleaning rugs easier than ever. I'm not stressed anymore when I see my little one rolling around on the rug with a bottle in her hands and I don't freak out whenever we have to leave our pup at home alone for a few hours.
Ruggable truly has changed my life and I can recommend their rugs to anyone who cares about having clean rugs without the hassle!