Our Editors Reviewed Seed And Other Probiotics
With our increased stress levels, the overuse of antibiotics, more sedentary lives, and higher consumption of processed foods, gut health is an increasingly important topic. Why? Because it has a significant impact on our overall health and wellbeing.
A wide variety of healthy bacteria in your gut help regulate your immune system, mental health, and mood. In addition to these health benefits, maintaining a healthy gut also helps provide noticeable effects on digestion—such as better regularity, less bloating and healthier stools.
While there are many things you can do to support your gut health, one of the most impactful ways is to take a probiotic.
However, there are tons of probiotics on the market that make choosing the suitable one challenging. Especially since many of the products on the market today aren't backed by science or quality testing.
Thankfully, our editors came across Seed, a microbiome-science company working to set a new standard in probiotics. Here's everything you need to know about Seed, their DS-01™ Daily Synbiotic for adults, and how it compares to other probiotics on the market.
Key Similarities
Typically offer gut health products for both adults 18+ as well as children
Most include probiotic strains
Key Differences
Seed focuses exclusively on probiotics and gut health. General supplement companies selling probiotics offer a wide array of vitamins and supplements.
Seed is formulated with 24 clinically and scientifically studied probiotic strains. General supplement companies selling probiotics often purchase strains to include in their formulas, but do not actively conduct their own research.
Seed combines it's probiotic strains with a novel prebiotic to create a synbiotic. General supplement companies selling probiotics are not typically developing novel formulations and looking for synergistic effects.
Seed's ViaCap® Delivery Technology for their DS-01™ Daily Synbiotic not only protects the probiotics through digestion, but it also means it doesn't require refrigeration. Most probiotics do not have adequate protection for storage outside the refrigerator and the conditions in your body.
Seed's DS-01TM Daily Synbiotic includes strains studied for benefits beyond the gut in addition to digestion, including gut immune function, gut barrier integrity, cardiovascular health and skin health. Most probiotics only focus on digestive health.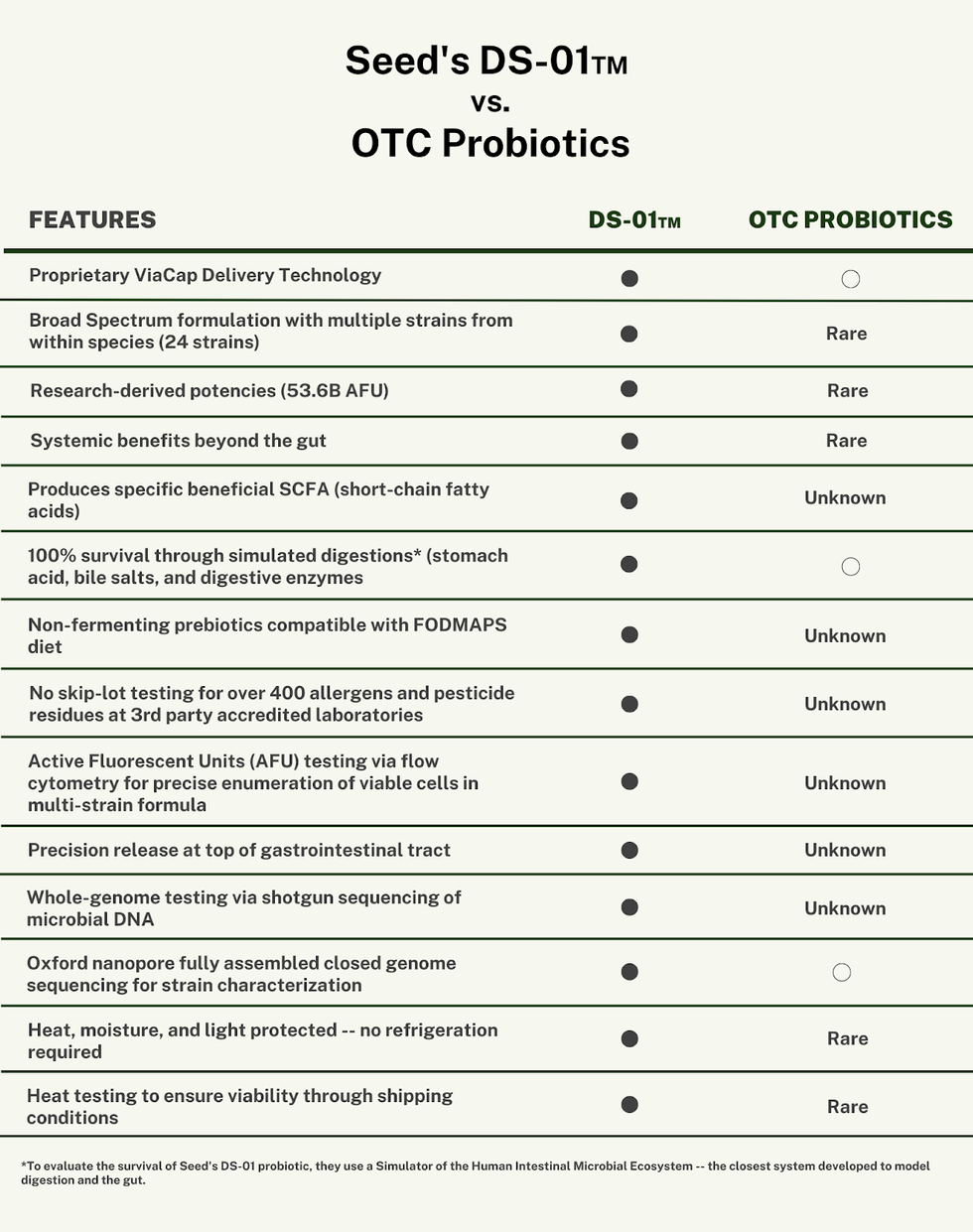 Seed
Seed's mission to set a new standard in probiotics starts with leading science and rigorous testing.
In fact, DS-01™ Daily Synbiotic undergoes third party testing for over 500 total contaminants, allergens and pesticides. They test throughout the production cycle with lot-to-lot testing – this means, each ingredient batch is tested both prior to encapsulation and after manufacture.
This suite of testing includes whole-genome sequencing (translation: they know which strains are present and in which quantities), flow cytometry to measure and enumerate viable cells (translation: they know which cells are alive and functioning), survivability testing to ensure the optimal conditions for the probiotics to survive the trip through your GI tract, and heat and humidity testing to mimic extreme conditions during shipping and storage.
The final product is tested for mycotoxins, 420 different pesticides (including glyphosate), and over 20 of the most common allergens as defined by the European Food Safety Authority (EFSA).
This 2-in-1 probiotic and prebiotic is soy-free, gluten-free, dairy-free, corn-free and vegan, and contains no binders or preservatives. It's formulated with 24 research-backed Lactobacillus and Bifidobacterium probiotic strains that work to promote:
Digestive health including bloat and regularity support
Gut barrier integrity and a healthy gut lining
Cardiovascular health such as healthy cholesterol levels
Micronutrient synthesis, and more
The DS-01™ Daily Synbiotic has even been tested in a Simulator of the Human Intestinal Microbial Ecosystem ( SHIME®), which is the closest system developed to model digestion and the gut. During testing, it was found that DS-01™ has 100% survivability through digestion into the gut thanks to its proprietary ViaCap® Delivery technology, which is a unique capsule-in-capsule delivery system that places a probiotic capsule inside a prebiotic capsule to create an elegant barrier against oxygen and moisture. Tested in both fasted and fed states, DS-01TM is optimal if taken as 2 capsules daily on an empty stomach.
When it comes to packaging, Seed keeps the Earth top of mind.Their first month's Welcome Kit (shipped in a recyclable, FSC-certified box) consists of a refillable glass jar, a glass travel vial, and a 30-day supply of DS-01™. Seed's convenient, sustainable refill system delivers each monthly supply of probiotics (in a bio-based, home-compostable pouch) right to your doorstep, so you'll never run out.
Their work in sustainability goes beyond packaging. As part of Seed's ongoing environmental work under their ecological arm, SeedLabs, they've taken sustainability to the next level by developing probiotics to enhance biodiversity and recover ecosystems impacted by human activity. So, they develop probiotics for humans, honey bees, and even coral reefs!
General Probiotic Supplement Companies
Generally, probiotics are sold by supplement companies who typically offer a wide array of multivitamins, protein powders, and various wellness products. While their probiotics may contain one or two strains, they're often not experts in microbiome, gut health, or the science of probiotics.
Many brands may also lack transparency around testing and formulation. They often don't even reveal the specific probiotic strain included and instead only state the species. Some strains can lack evidence indicating whether they're safe or effective in humans as many haven't been validated in scientific research and human clinical studies.
Another critical factor is that many probiotic strains are grown in milk-based proteins or beef organs and contain potential allergens. This can be problematic, especially if you're vegan or are prone to certain food allergies.
A number of customers complain about these products' hard-to-read labels and limited information – making what you actually ingest a total mystery.
Because probiotic strains are quite vulnerable, the right delivery technology is critical. Most lack proper protection and cannot survive the process of digestion to function as intended.
Final Thoughts
With so much misinformation and hype around probiotics, we couldn't be more grateful for Seed's exceptional education and transparency.
Their DS-01™ Daily Synbiotic is truly next-level. Their rigorous science is unmatched, and their dedication to education and the environment is second-to-none. The formula's extraordinary benefits work to support digestive health, gut barrier integrity, healthier skin, cardiovascular health, and micronutrient synthesis.
For anyone struggling with gut health or just wanting to take extra care of their body – Seed is an incredible place to start.
FOR OUR READERS: Black Friday Deal -- 15% OFF Seed + FREE SHIPPING with code TRUE15. Follow this link to try Seed!