Would you put acid on your face? While this question might have given me pause a few years ago, my answer now is resoundingly yes!
---
When you hear the word acid, you might flashback to your high school chem lab so you won't want to slather it all over your face. In cosmetics, acids come in low concentrations and are used to exfoliate your skin chemically.
Why do you need them? Well, remember when everyone was using the St. Ives Apricot scrub and preaching DIY sugar scrubs? Fortunately for us — and our skin — skincare science has become way more accessible. Now we know that abrasive physical exfoliants can cause microtears in your skin that do more harm than good. I'm talking about inflammation, irritation, excessive dryness, and even premature aging. Yikes!
While there are some safe physical exfoliants, you will still want to limit their use. So what can you do instead? I'm addicted to the feeling of a deeply cleansed face, so I stuck with the devil I knew. Until I tried chemical exfoliants.
After my first resurfacing mask — a gel-textured goop that was full of AHAs and BHAs — I was hooked. But I didn't fully understand what I was putting on my skin. Scrubbing your face with apricot kernels makes sense intuitively. But using chemicals provides a deeper, gentler clean.
What is an AHA?
There are two main types of acids found in cosmetics: Alpha-Hydroxy Acids and Beta-Hydroxy Acids. AHAs work on the surface of the skin to slough away dead, dry skin yielding a brighter, more even complexion. BJHAs penetrate the pores and dissolve impurities at their source.
Medical News Today puts it like this: "AHAs work by loosening the top layer of old skin cells by breaking down the gluey substance that keeps skin cells joined together. This encourages the skin to grow cells, increasing cell turnover."
Most of the time, AHAs and BHAs act as synergistic blends that are tailored to your needs. But it's cool to find the specific acids that work best for your skin and start there.
@anna_annora

Using glycolic toner the right way! #clearskin #greenscreen #beautytok #skincaretips #theordinary #cleangirlaesthetic #skintok #nuface #skinroutine
What is Glycolic Acid?
There are lost of different AHAs. Here are some of the most common:
lactic acid
glycolic acid
malic acid
citric acid
tartaric acid
Lactic acid is a more gentle AHA. It's a great starter acid. But there's a reason Glycolic acid gets so much hype. It's a superstar. It has startlingly transformative results. Once you start using Glycolic acid, you won't turn back.
@calistatee

Reply to @alicepearson12 glycolic acid definitely works for bacne and strawberry legs!! The last one got me 😳 #glycolicacidtoner #strawberrylegs
How to Use Glycolic Acid
Glycolic acid increases your skin's sensitivity to sunlight so it should always be applied in the evening. This provides ample time for it to do its magic without risking sun damage. But don't forget always to apply SPF moisturizer each morning.
Because Glycolic acid can increase skin sensitivity … beware of overuse. I've been there. I was addicted to The Ordinary's Glycolic acid toner. So much so, that I'd mix it into my power face masks instead of water. I do not recommend this. You will burn your face off.
That's pretty much what happened to me. I completely compromised my moisture barrier and scarred myself for life — physically and mentally. I was so scared to use acids again. But damn, did I miss the glow. So I turned to social media to see if there's a middle ground.
After fixing my skin barrier, I've slowly reintroduced acids into my routine. I was using gentler formulas on my face, but I still had bottles of The Ordinary's Glycolic Acid in my vanity. It's pretty much liquid gold in a bottle. I wouldn't let it go to waste.
What did I do? I got creative.
Surprising uses for Glycolic Acid:
My social media deep dive showed — as the internet is wont to do — that I wasn't alone. Many people have gotten carried away with super potent acid formulas and ended up with scars to prove it. But dermatologists and skin experts have entered the chat.
@jadealycebod

Reply to @sincerelyaerial lmk if you use this & if it's worked for you! #beautytips #hygiene #hygienetiktok #glycolicacid #theordinary #smellgood #sneakylink #dappointment #perfumetiktok #fragrancetiktok #selfcare #bodycare
A series of viral videos by skin experts displayed all the awesome ways you can use Glycolic acid:

Your Body Acne: It's a little-known fact that if a product's too strong for your face, you can use it on your body. If you have body acne, try swiping a cotton pad of Glycolic acid on your breakout to help heal it.
Your Underarms: Natural deodorant-lovers swear by this hack. Although Glycolic acid isn't a replacement for deodorant, it can wipe away armpit sweat, buildup, and clogged pores so your pits breathe better and minimize the odor.
Your Scalp: No more dandruff, and no more harsh dandruff shampoos that dry out your scalp. This miracle acid clears any product buildup in your strands while decreasing itchiness and promoting hair growth.
Your Elbows and Knees: Dry, cracked elbows? No more. Apply a cotton pad of Glycolic acid to your elbows and watch them turn from rough and scaly to smooth and soft. Follow up with a moisturizer to keep them fresh.
Here are some of the best Glycolic Acid toners out there: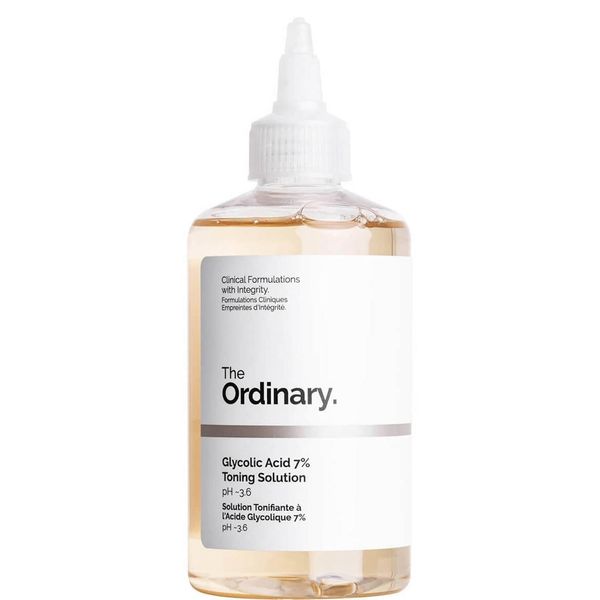 Used in moderation, this is a game-changer. This 7% toning solution offers mild exfoliation for visible clarity and a radiant face. With continued use, The Ordinary Toner also improves the appearance of skin texture.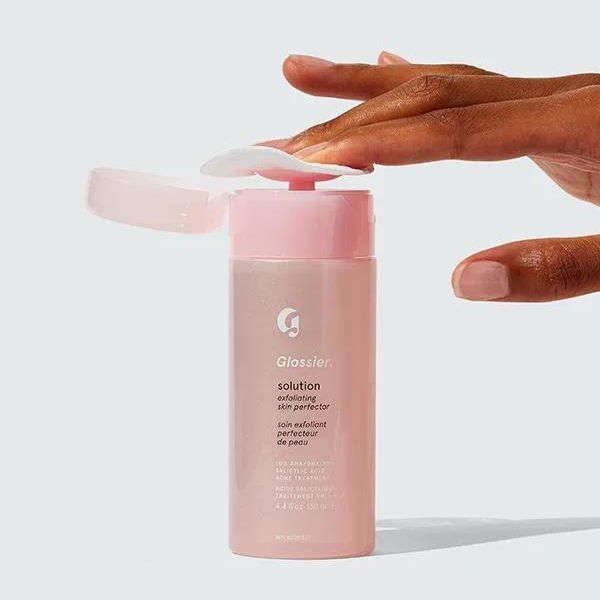 Glossier's trending product is a skin-perfecting Solution is a gentle way to slough away dead skin for a smooth, fresh complexion.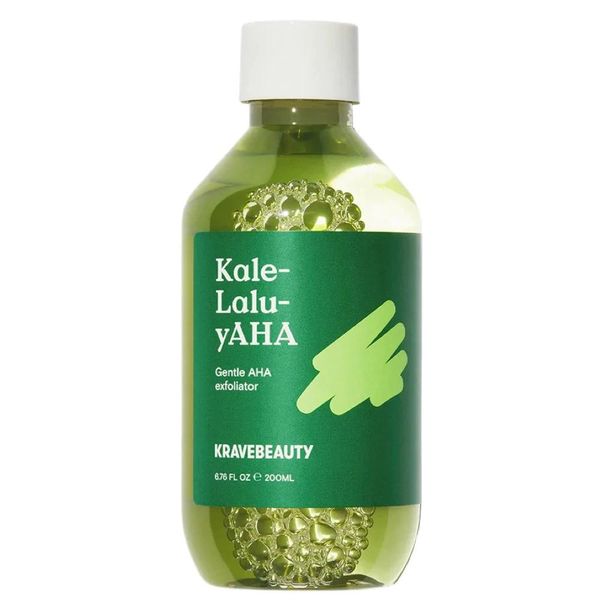 This gentle formula is my new product of choice. Hydrating and clarifying, it balances out my complexion so I'll never go overboard again. A kind, yet effective exfoliator that sooths out texture and diminishes discoloration revealing healthier, radiant skin. This 10% glycolic acid exfoliating toner helps to reduce the appearance of pores and fine lines for smoother, brighter skin..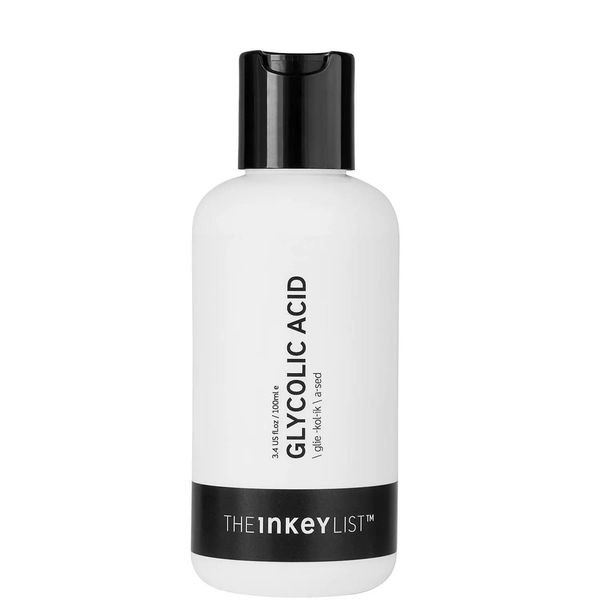 Inkey List is second only to The Ordinary for simple but effective solutions. Now available at Sephora, this exfoliating toner is 10% glycolic acid and helps reduce pores and fine lines for smoother, brighter skin.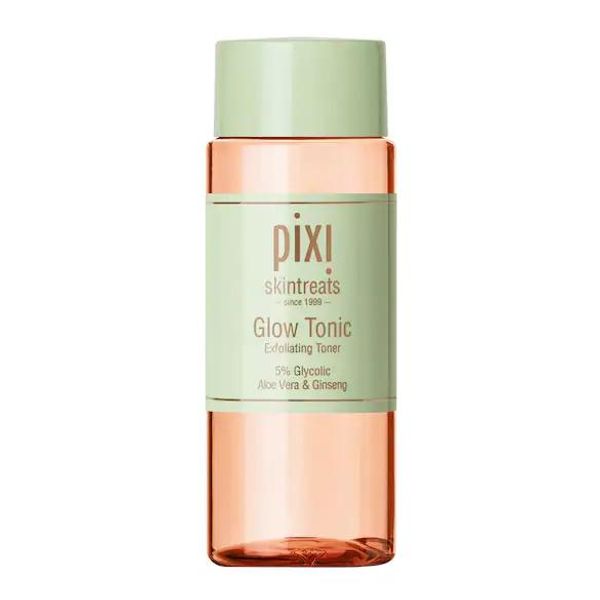 This Pixi Glow tonic is a gateway to getting into Glycolic acid in a smooth way. Pixi Glow Tonic™ is a highly concentrated, invigorating facial toner that deeply cleans pores by sweeping away excess oil and impurities.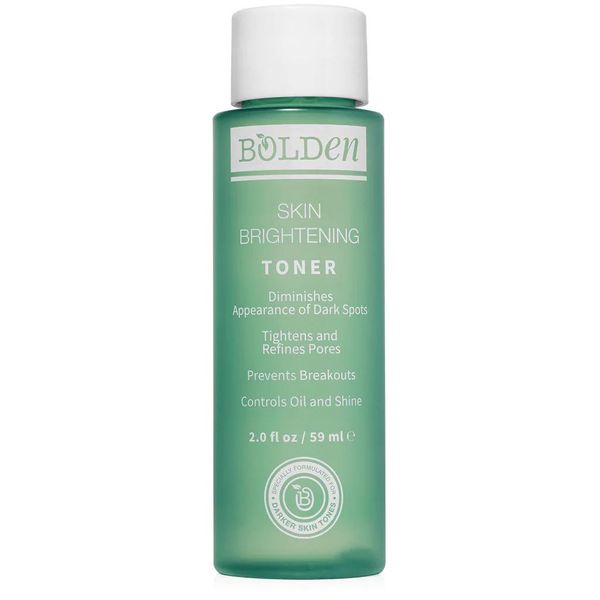 This ultra-hydrating facial toner helps improve the skin's elasticity. It's made with hyaluronic acid and niacinamide to lock in moisture, and will surely keep you from making my mistakes.