I Was Skeptical About SIJO Until I Tried Their Sheets
The past three months have honestly been a blur. I moved to a new city for my job and I tossed out just about all my furniture in the process. I hadn't even noticed that I'd completely outgrown my apartment's aesthetic.
That being said, my sheets were the worst. It's not like I was still sleeping on my college dorm room's jersey sheets or anything, but they clearly needed an upgrade.
I'm a notoriously warm sleeper, even in winter, so I used the same faded linen sheets from Brooklinen for years. But truth be told, I still overheated every night, even when the temperature drops. And the thin linen felt pretty dry against my skin, which did not help my allergies.
In the spirit of settling into my new city and nesting, I've decided to overhaul my sheet sitch. Brooklinen was out, and Parachute felt like a Brooklinen clone. I wanted something fresh that's breathable, light, supports my sensitive skin, and doesn't cause any allergy flare-ups.
After scrolling through at least thirty 'best sheet' articles, one name kept popping up: SIJO.
SIJO is a performance bedding brand with hypoallergenic sheets that are infused with high-tech materials that work to regulate body temperature. Beyond sheets, they sell everything from comforters and pillows to mattress pads and loungewear. Their bedding sets cost between $144 - $500 – which is not just more affordable than their competitors but totally worth the investment, especially if it means getting a comfortable night's sleep.
They offer LuxeWeave™ French Linen, but their bestsellers are the AiryWeight™ Cooling Eucalyptus and TempTune™ Clima Tech Cotton. I've been reading about how beneficial eucalyptus fibers are for hot sleepers, and the award-winning AiryWeight™ Eucalyptus sheets have tons and tons of rave reviews.
I've been burned by Brooklinen before, so I was a bit hesitant when it came time to add-to-cart. I didn't want to end up with sheets that promise to keep me cool throughout the night only to be stuck in the same toss-turn-overheat cycle.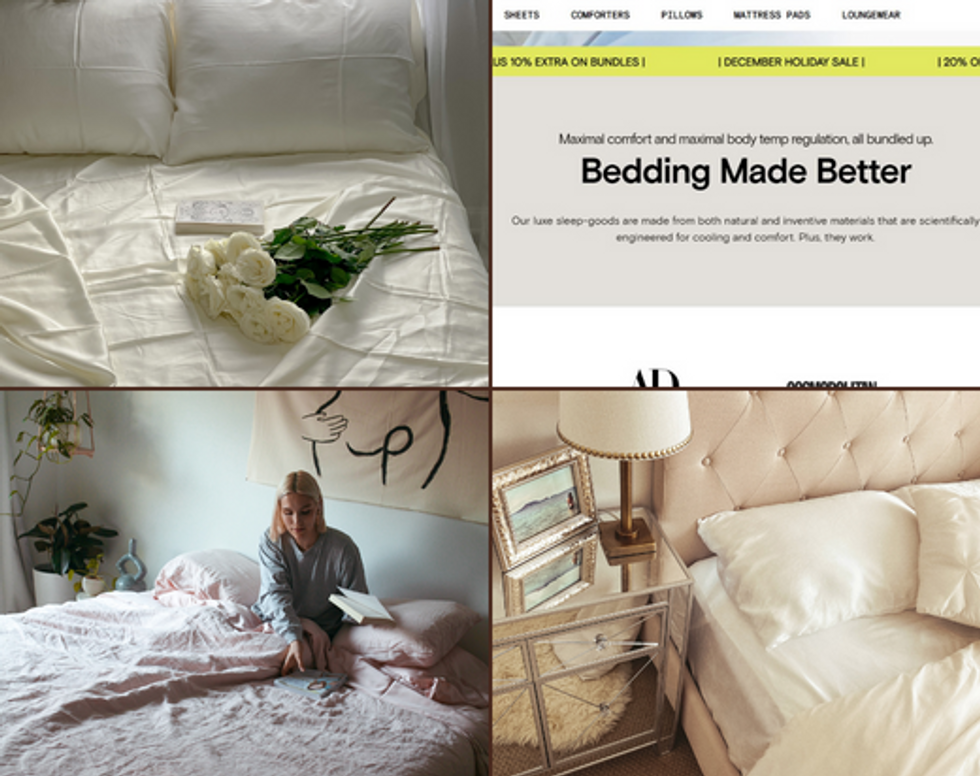 I decided to think about it overnight which was exactly what I needed to do. In typical fashion, I woke up intermittently that night – with the top sheet pushed to the furthest corner of my bed. Annoyed, I rolled over, picked up my phone, and ordered the AiryWeight™ Cooling Eucalyptus Move In Bundle in the middle of the night!
My new sheets arrived within the week and I immediately tore off my old Brooklinen and saved them in the hamper just in case SIJO didn't work out. But the AiryWeight™ Cooling Eucalyptus sheets are beyond soft and almost feel cold to the touch – perhaps a glimpse of what my nights were about to look like?
Available in 7 luxe hues, the SIJO AiryWeight™ Cooling Eucalyptus sheets are made out of 100% Tencel™ Lyocell – or, eucalyptus fibers – which make them naturally cooling, soft, and moisture-wicking. Eucalyptus fiber is also hypoallergenic and resistant to dust. No tossing, no turning, and no sneezing.
After snuggling in for only one night, I'm a total convert. At long last, I ditched my ratty Brooklinen. SIJO's AiryWeight™ Cooling Eucalyptus sheets actually keep me cool allll night. They're light, breathable, and provide next-level comfort while rounding out my cozy-bedroom vibe.
As a terrific bonus, my allergies are practically nonexistent and my skin's way less irritated thanks to the silky smooth eucalyptus fiber. My gorgeous SIJO sheets are dust-and-pet-hair-free, so my bed is a clean, crisp oasis.
I adore this SIJO best-seller, so I checked out their CLIMA Cooling Tech Collection. It contains a blend of fibers that absorb and distribute excess body heat, providing a next-level cool. Something to keep in mind once summer rolls around…
I never realized that premium bedding is affordable and saves lives – it saved mine! I'm nestling into my new place with fantastic furniture and luxury bedding and getting cool, restful sleep – night after night after night. And it's all thanks to SIJO.
Supreme softness and incomparable, natural coolness. Follow this link to explore the best sellers!