The bedroom of your dreams probably has floor to ceiling windows, tons of space, a walk-in closet, and hardwood floors…at least mine does. Maybe even a chic little fireplace on one wall.
---
My bedroom's reality is a whopping 9 ft x 11 ft, one itsy-bitsy window with a view of a dingy cement building. Considering the closet's barely one foot deep, I don't have much to work with. In fact, I can hardly fit the bare minimum.
My non-negotiable furniture pieces were a bed, a dresser, a desk, and a floor-length mirror. This may not seem like a lot to ask, but a cramped apartment in a crowded city begs to differ. In fact, somehow I fit all of those items in my room but my door no longer opens - total tragedy, I know.
Sure, I'd love a standing bookshelf or even something as modest as a teeny nightstand. But that's not how the cookie crumbles and we all know it. There are sacrifices to be made.
But all of these grievances don't mean you can't make your bedroom your own sanctuary. All it requires is determination and a whole lot of Pinterest scrolling. Think outside the box about ways to cut corners and amplify your space.
With a room the size of a shoebox, you may feel like there's only space for a bed and a dresser…but with a little bit of heart, we can build the room of your dreams. Here's how.
Curtain Dividers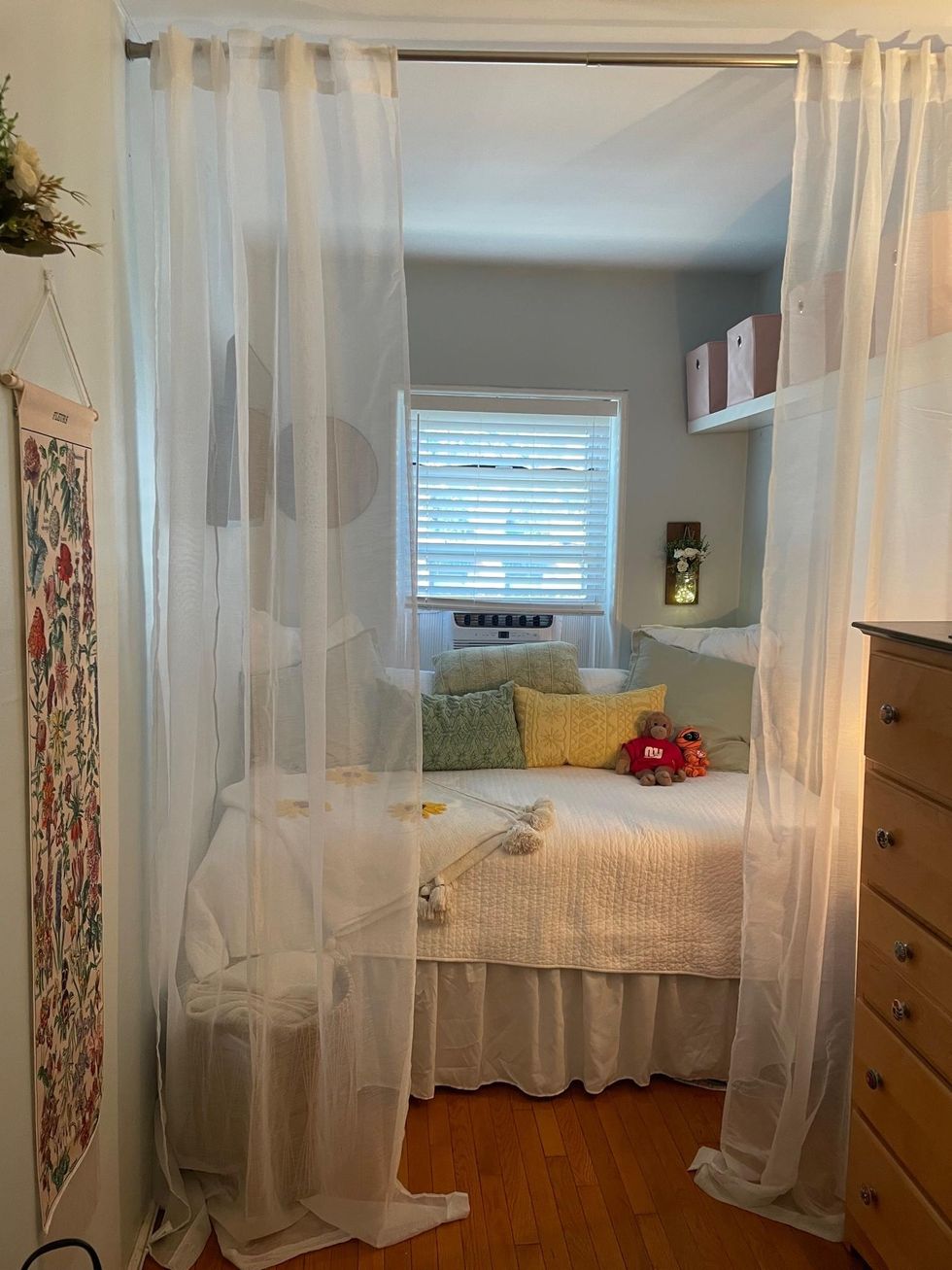 courtesy of Gina Pianese
If you're short on space but want to make your room look bigger, use a basic bed frame - no headboard - and push it right up against a wall. Then, hang a sheer curtain with a tension rod from the ceiling to create a DIY canopy.
This gives the illusion that you have enough space to section off your room…when all you did was hang a curtain that takes up no space. You can mount your TV on the wall above the foot of your bed. And voilà ! You've got a cozy little hideaway.
Mount Your TV 
Before I fall asleep, I have the TV on at night or else I'll be alone with my thoughts. I need my dresser space for storage, so keeping the television there wasn't an option. By mounting your TV, you can free up space elsewhere in your room.
Mounts can be expensive, but this one is affordable and can swivel your TV to your liking.
Wall Adhesive Shelves

courtesy of Jai Phillips
Acrylic shelves are an efficient way to decorate any room while simultaneously storing items. Walmart carries these ingenious shelves - so great because there's no need to drill holes in the wall. Minimal fuss.
I recommend keeping skin and hair care products on them to optimize your space. Also, keep them in your shower and declutter that caddy.
The Corner Desk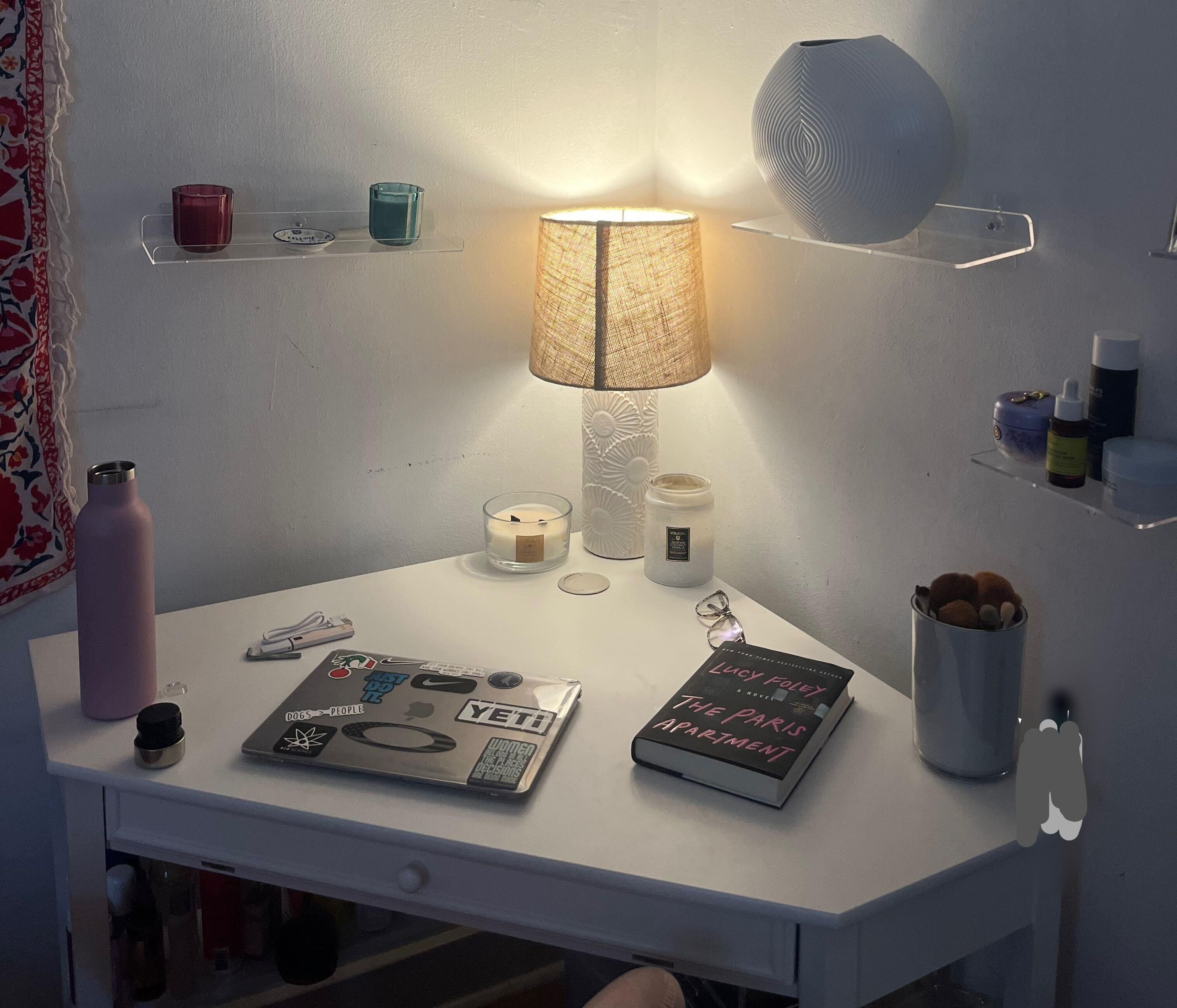 Courtesy of Jai Phillips
Have your cake and eat it, too, with a corner writing desk. About half the size of a normal desk, this fits snugly in the corner of any room. There's a clever pull-out writing tray and shelving underneath that provide extra storage.
This saves me a ton of space and I'm able to work in my room. A win-win for everyone.
Under Bed Storage 
Underbed storage reminds me so much of college it's scary…but it's never gratuitous. If you have a clothing obsession like me, a dresser and tiny closet isn't going to cut it. So you must get creative.
Closet organizers and underbed storage will accommodate those sweaters and chunky clothing in your wardrobe without overcrowding.
Let's Talk Foliage
Lately, everyone's been foaming at the mouth for vines that drape along the wall. I won't lie, I almost fell victim to the trend. Personally, I think fake plants are a marvelous way to make your room come alive without spending $20 on a fresh bouquet every week.
I chose pink fake flowers for my accent vases to cheer up the whites and neutrals in my room. If you're a fan of the real thing, BloomBox delivers plants and everything you need right to your door. It will keep your room bright and verdant, especially during a long, dark, lonely winter.
A small bedroom doesn't have to limit you…you just have to dream big and get creative!
All products featured are independently selected by our editors. Things you buy through our links may earn us a commission.