Here's How I Felt After Trying Splendid Spoon!
Recently, I've been in a serious slump. Being cooped up at home has made me super unproductive and generally unhealthy with my constant snacking and quick dinners. But the thought of finding healthy recipes, searching for the ingredients, and making them seemed too daunting and unrealistic for me.
I was ready to introduce some healthier foods into my diet to help me feel more energized, but I didn't know where to start.
I remembered my friend Amy was always drinking smoothies, so I messaged her and asked her for recommendations, ready to clean my old blender. She raved about Splendid Spoon, an easy subscription service that sends superfood-packed soups, smoothies, and grain bowls right to your door.
I looked them up, and I saw that they're completely plant-based, and are super easy to prepare - all you have to do is microwave the soup and grain bowls, while smoothies arrive ready to drink. It was so ideal (no blender needed!).
Plus, Splendid Spoon uses only the freshest, most natural ingredients, and their soups and smoothies are packed full of superfood fruits and veggies. Their soups and smoothies are vegan, GMO-free, and gluten-free. But the best part? Splendid Spoon does all of the sourcing and meal planning for you, so all you have to do is enjoy.
Splendid Spoon seemed like a convenient way to introduce healthier foods into my diet, but I was worried that I wouldn't like them or that they wouldn't fill me up. After looking into it and seeing that there are over 50 meals to choose from, and that subscriptions are easy to cancel, I decided to sign up to at least try it.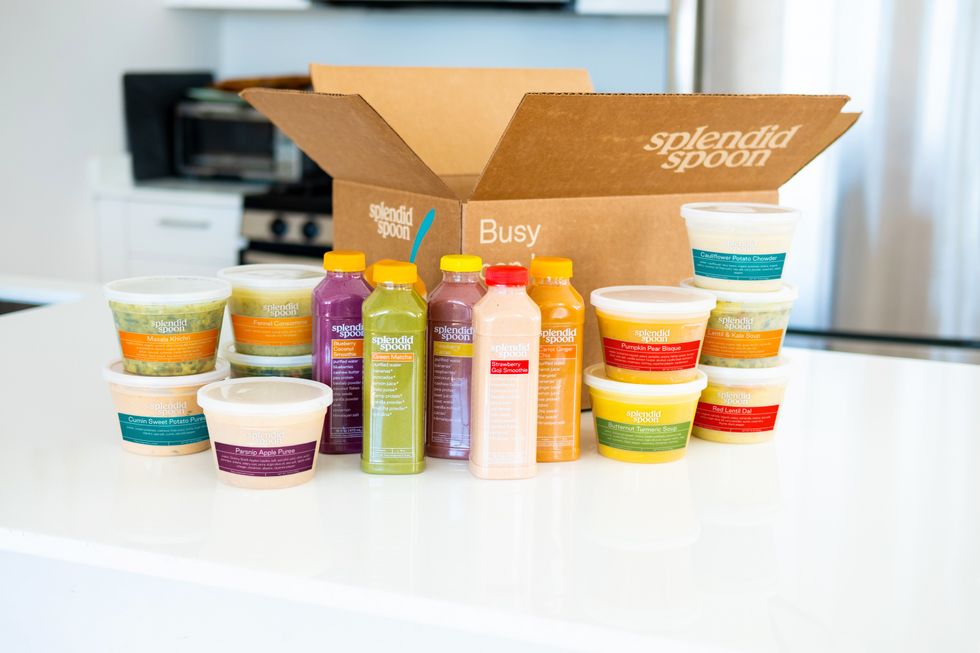 I went with the Breakfast + Lunch + Reset plan and chose recipes that looked super tasty, and inspired by world cuisines. But there's also just a Breakfast plan or a Breakfast + Lunch plan. My plan works out at just over $7 per meal - which was great value compared to store-bought smoothies considering how much more convenient Splendid Spoon is.

The first smoothie I tried was the Blackberry Basil Smoothie with Chia Seeds and Dates. I liked the berry flavor, and I was surprised at how long it kept me full for. I also love the Carrot Lentil Curry bowl, it's delicious and super filling too!
Top Reason I'm Loving Splendid Spoon
So convenient- everything is delivered to my doorstep every week- no effort required on my end!
Ready in minutes-or less! All of Splendid Spoons smoothies arrive ready to drink, and the soups and grain bowls only take a couple of minutes to heat up
Portion control- Splendid Spoon makes eating healthily easier than ever before. Because everything is pre-portioned, there's no risk of overeating. I look and feel less bloated, and I have way more energy.
An incredible variety of superfood ingredients- every meal is jam-packed full od superfoods like kale, flax seeds, acai, cacao, avocado, and lots more. Getting that many key nutrients in my diet would be next to impossible, not to mention expensive if I was cooking meals myself
It's now 6 weeks since I have subscribed to Splendid Spoon and I feel so much better. I didn't go fully plant-based, but I was surprised at how much better I felt by just cutting some meat and dairy from my diet. Splendid Spoon was exactly what I needed to start taking care of myself again.
Update: The folks at Splendid Spoon are extending an exclusive offer to our readers! For a limited time, get $15 OFF the Most Popular Plans!