How Splendid Spoon Is Making Healthy, Plant-Based Meals Easy
Editor's Note: I'm on a journey to healthier eating, so here's what I was doing, and what I'm doing now. With every goal, a before and after is key to seeing progress.
Here's What My Day Looked Like Pre-Splendid Spoon:
In the morning, I'm usually answering a billion emails and preparing to hop on calls. This means I get my cup of coffee in, and then usually I don't have time to prepare anything else, so I just pour a second cup (all before 10 am).
My first real break is around 1 pm, and by then, I'm starving, so I go for a quick meal: chips and dip or a pb&j. Not the healthiest first meal, but the fastest meal I can make at home.
Then I snack until dinner, but it's mostly popcorn or cheese and crackers, and if I can make time for grocery shopping that week, I'll occasionally have a piece of fruit. If I don't feel full from a meal, I just can't focus and can't get rid of the lingering hunger.
Dinner is my favorite. I get to just sit down and enjoy my meal, but it's still not the healthiest. I try to cook as often as I can, but usually, end up ordering takeout. After such a long day, it's a struggle to cook and I'm often missing at least one ingredient. I've been attempting more salads, but then I'm nowhere near full.
I know that I can do better, but there never seems to be time or energy to start eating healthier.
However, last month a friend recommended I try Splendid Spoon. This plant-based meal delivery service seemed to check a lot of my boxes, so I got the Breakfast, Lunch, Dinner + Reset plan to cover five days a week. The difference now in my diet is incredible.
Here's what I eat in a day with Splendid Spoon:
I'm really trying to cut down on the caffeine for breakfast, so now, I grab a Splendid Spoon smoothie out of the fridge. The Mango Guava, Strawberry Goji, and Cacao Almond smoothies are all a great start to the day, and their thicker texture makes it filling so I can get through my morning meetings.
Lunch is still chaotic, but with Splendid Spoon, everything is made ready-to-eat; all I need to do is heat it up. Between calls, I just pop my grain bowl into the microwave, and a few minutes later, I'm enjoying a real meal. So far, the Coconut Curry Rice Bowl is my favorite, but their Sweet Potato Quinoa Bowl and Brown Rice Taco Bowl are also top choices.
Goodbye, mindless snacking until dinner. Hello, Reset meal. I heat up a light soup like Butternut Turmeric before dinner, and I'm totally satisfied until dinnertime. Instead of figuring out my next snack, I can focus on the tasks at hand and finish off the day strong. The soups aren't just filling but helping me with new, healthier habits.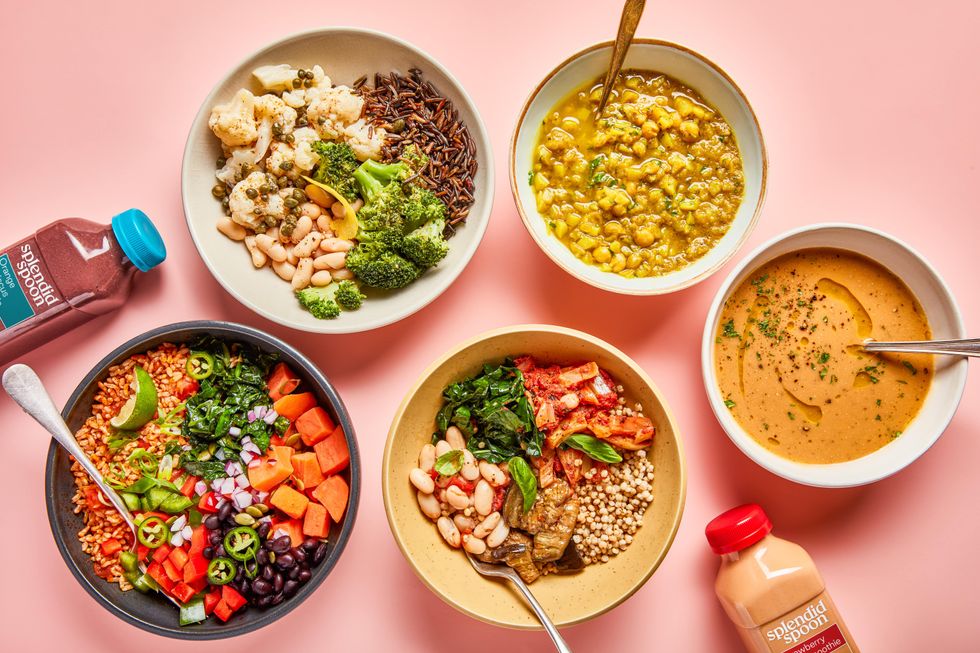 Dinner is when I'm peak exhausted, and the idea of meal prep and clean-up sounds awful. Thankfully, Splendid Spoon makes it one of the easiest and tastiest meals of the day. I love sitting down to a bowl of their noodles like the Kale Pesto Noodles, Red Curry Noodles, or Vegan Meatballs & Marinara Noodles.
The Takeaway:
My eating habits have completely changed with Splendid Spoon. The plant-based diet isn't just more convenient, but I really feel energized throughout the day. It's so great having gluten-free, non-GMO, heart-healthy meals delivered straight to my door. I don't even have to do the dreaded grocery store haul; everything is in one box.
Plus, it's a flexible subscription so I can pause or cancel any time I'd like - perfect for my hectic schedule.
I never thought my daily meals could be so healthy until Splendid Spoon. If your meals are looking anything like my "before," then I definitely recommend looking into this meal delivery service to achieve the healthier days you've been dreaming of.
The folks at Splendid Spoon are extending an exclusive holiday offer to our readers! Follow this link and get $60 Off 3 Boxes!