Summer's almost here and bathing suit season is right around the corner. Before running to the gym to work off any lingering winter weight, try the latest tech enhanced at-home fitness trends instead. Working out at home can save you time (goodbye commuting to the gym!), money (lower memberships), and turn you into a fitness pro (customized training tips anyone?).
If you're someone who keeps up with the latest fitness trends you've probably forgone the gym a while ago. Monthly gym memberships, personal training fees, even the cost of group classes can set you back hundreds of dollars a month. While at home workouts used to involve bouncing around in neon onesies to a Jane Fonda video, these days technology is making working out at home the most efficient way to break a sweat.
Tech enhanced at-home workouts aren't just a passing fad either. According to ACM's Health and Fitness Journal, working out with technology is a fitness trend that's here to stay, and one that is continually evolving. A study from ACM's Health and Fitness Journal defines a trend as "a general development or change in a situation or in the way that people are behaving, where as a fad is a " fashion that is taken up with great enthusiasm for a brief period." With the global digital fitness market expected to bring in $27.4 billion by 2022, tech enhanced at-home fitness is only expected to gain more and more traction.
From virtual reality gyms to vibrating yoga pants, working out at home as never been more personalized or engaging. Enhanced workout equipment and apps that allow you to customize your routines help you set your own pace and build up strength in the privacy of your own home. You'll also get accurate feedback on your heart rate, run time, and calories burned with fitness accessories like the Motiv Ring and Suunto 3 Watch. If you're someone who wants the camaraderie of a group class and actually prefers being screamed at by a trainer, don't worry,virtual reality and AI trainers in your ear have you covered.
Here are seven of the biggest at home fitness trends of 2018 that incorporate the latest technology.
1.) Virtual Reality Gyms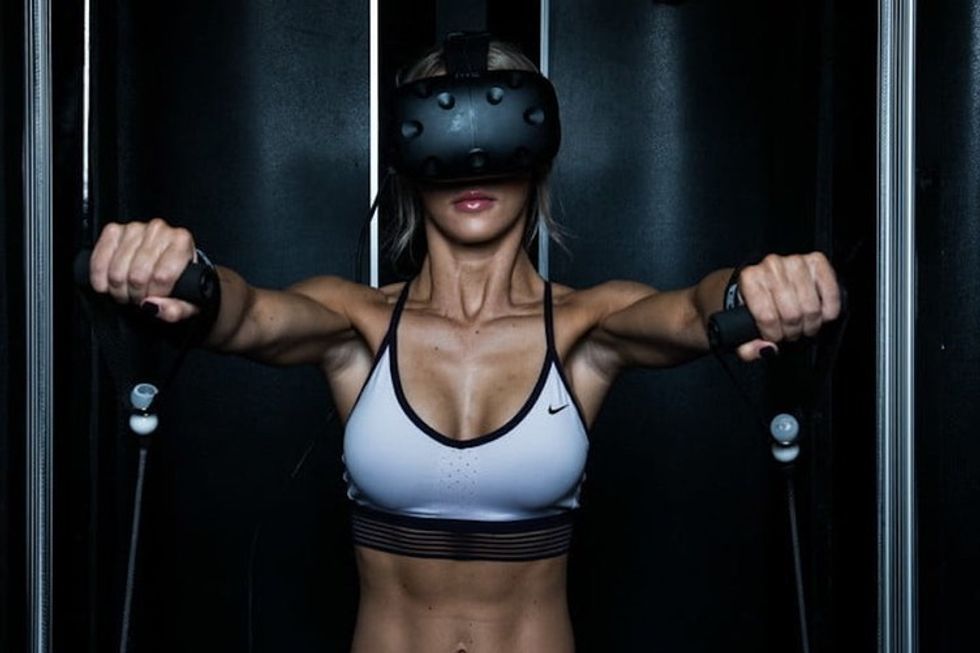 Black Box VR GymImage: Black Box VR
Virtual reality is here to transport you to another fitness dimension. This buzzworthy technology trend isn't just for gamers anymore. Virtual reality fitness apps can inspire and motivate you to keep up your fitness goals with fun games and real life training scenarios.

Bit Gym: Virtual Cardio Tours allows you stream over 100+ interactive trails from all over the world with virtual views that will help you keep pushing on the elliptical, treadmill, or stair stepper. Or give the infamous Black Box VR a try. This virtual reality gym is still in the beta stage but has both techies and gym devotees buzzing. It gives you customized and intense 30 minute workouts that are virtually out of this world.
2.) Fitness Accessories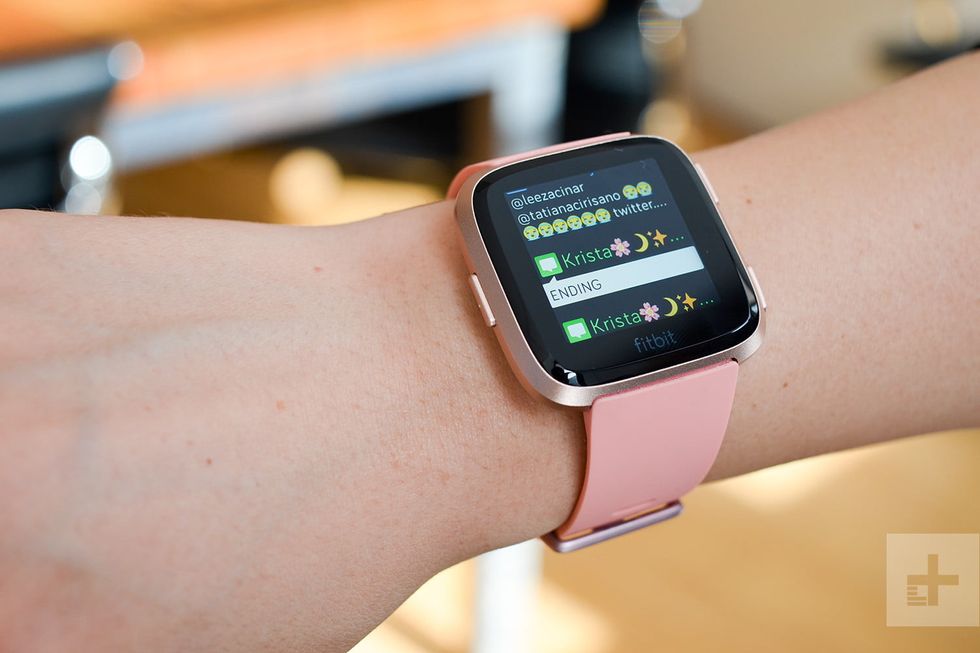 Fitbit Versa Smart Watch Image: FitBIt
While Apple was one of the first to offer wearable fitness technology, the fitness accessories trend has taken off since then. Sleek and stylish looking accessories like watches and even rings are now doubling as your latest fitness coach. The Suunto 3 Watch is waterproof, lightweight, and surprisingly attractive. It also tracks your heart rate, provides adaptive training sessions, and keeps track of your running stats.

If you're looking for a fitness accessory so discrete you might even forget you have it on, try the Motiv Ring. It tracks your sleep cycles, heart rate, calories burned, and so much more all in a small rose gold, or slate gray ring. You'll have round the clock health monitoring literally at your finger.
3. ) Enhanced Equipment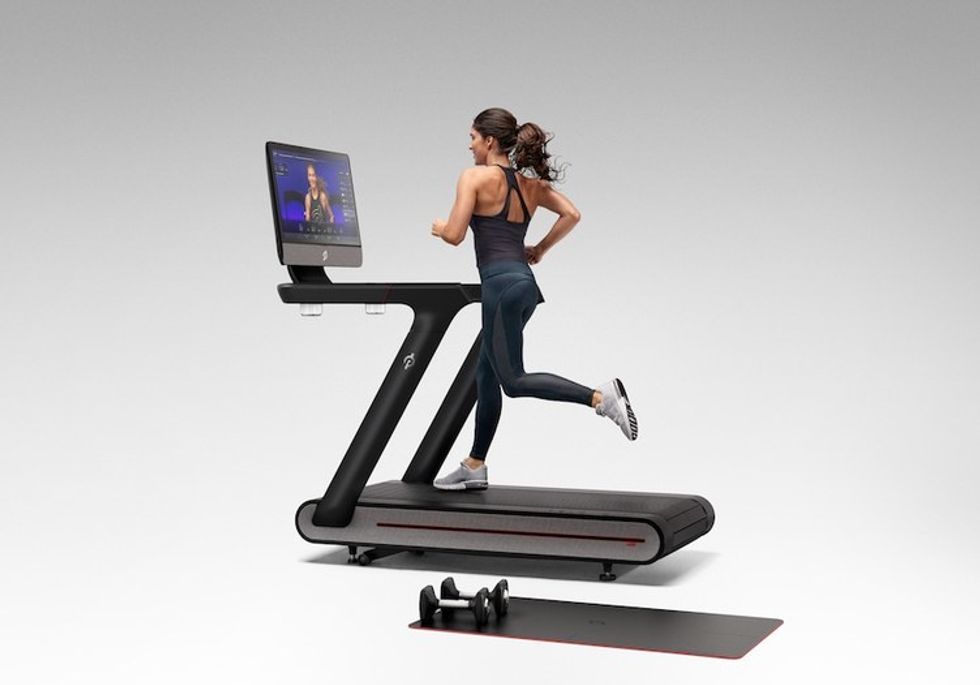 The Pelton Tread Image: Pelton
Old school at home workout equipment like the treadmill are getting serious tech enhanced upgrades. Pelton already released an at home bike that allows you to stream workout classes from home and is getting ready to launch their latest product, The Pelton Tread. You can preorder yours today, but it'll set you back about $250 just for the reservation. This modern piece of workout equipment comes with a hefty price tag, but has runners drooling.
It features a 32-inch screen, a svelte design, live and on demand classes that include running, walking, circuit, and boot camp style sessions. You'll also have access to mat classes that focus on stretching and strength training.
4.) Tech Enhanced Workout Clothes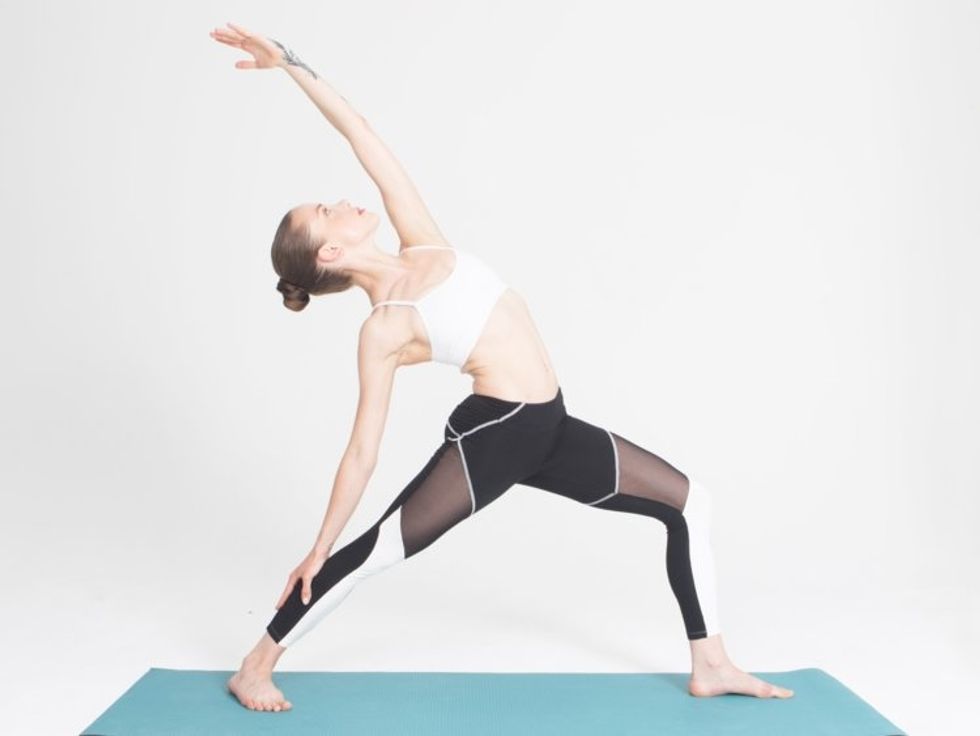 Wearable X Nadi Yoga PantImage: Wearable X
Wearable technology is also making its way into even the most basic fitness necessities like workout clothes and running shoes. The latest fabrics incorporate intelligent technology that can adapt to both your body and your movements in real time. Wearable X released the Nadi Yoga Pant which has woven in technology that incorporates sensors around the hips, knees, and ankles for extra support. You can sync your pants with their mobile app to get corresponding vibrations as you flow through your poses.
Under Armour is competing in the smart shoe space with their latest releases, the HOVR Sonic and HOVR Phantom. For an extra $10 you can purchase the shoes with a built in chip that syncs your shoes with the MapMyRun app to track your GPS data. The chip will also log you running time, distance, and endurance.
5.) Fitness Apps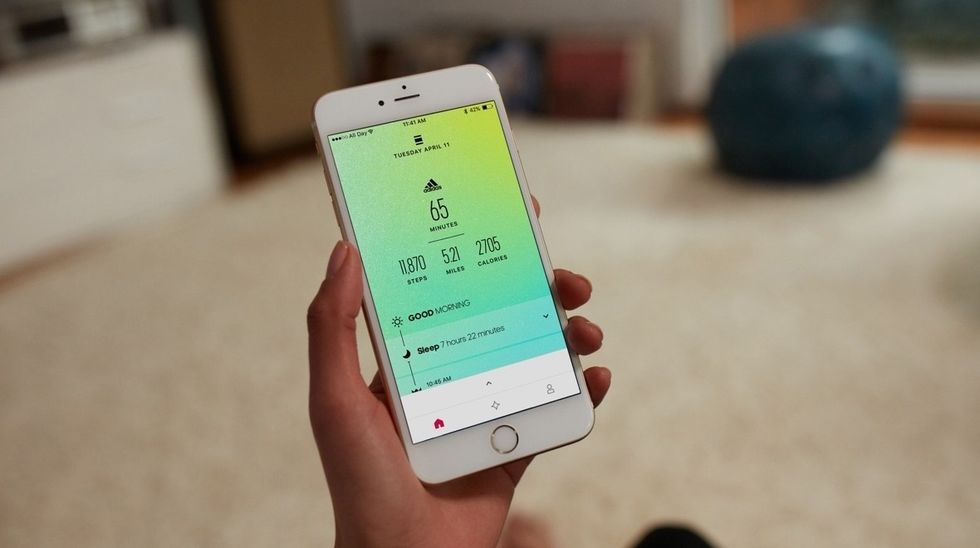 Image: Shutterstock
The smartphone has easily become your best fitness friend. With new engaging fitness apps like Daily Yoga and Aaptiv popping up almost everyday, there's are seemingly never ending workouts to try. Aaptivv gives you access to more than 2,000 workouts for as little as $15/month. Each class is lead by a trainer who breaks down the steps in easy to follow directions and give you the motivational encouragement you need to finish the workout. You'll also have new workout playlists at your fingertips.
If you've always wanted to run a marathon but never had the right tools to train, download Nike + Run Club. The app customizes 5k, 10k, 15k, half marathons, and full marathons training plans based on your current fitness level. It adapts to your progress and can have you crossing the finish line at the next race within any timeline. So long as you stick to the training plan!
6.) Streaming Classes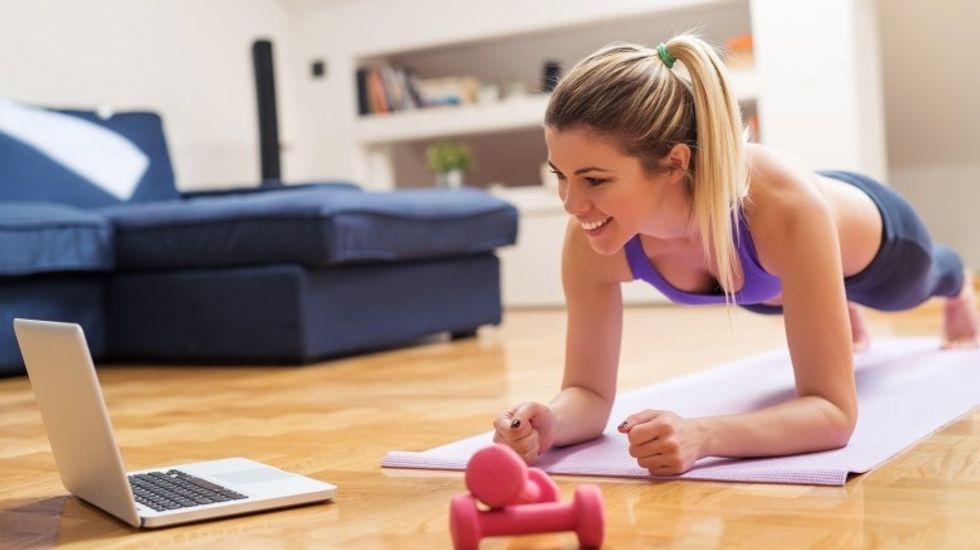 Image: Shutterstock
Streaming workout classes is the easiest way to incorporate technology into your at-home workouts. The hottest gyms and celebrity trainers are even jumping on the bandwagon offering engaging, online workouts that your can stream straight to your devices. Hoping to train like a Victoria Secret Angel or get Gwyneth Paltrow's latest workout moves? You can now with monthly memberships that give you access to their trainers online.

For access to a variety of workouts and styles try The Daily Burn. You'll get over 1,000+ workouts from top trainers for only $19.99/month. A lot less than most gym memberships! If you're looking for celebrity trainers try Tracy Anderson or Ballet Beautiful. For access to a virtual gym Equinox's Tier X provides personal training online.
7.) Bio Sensing Headphones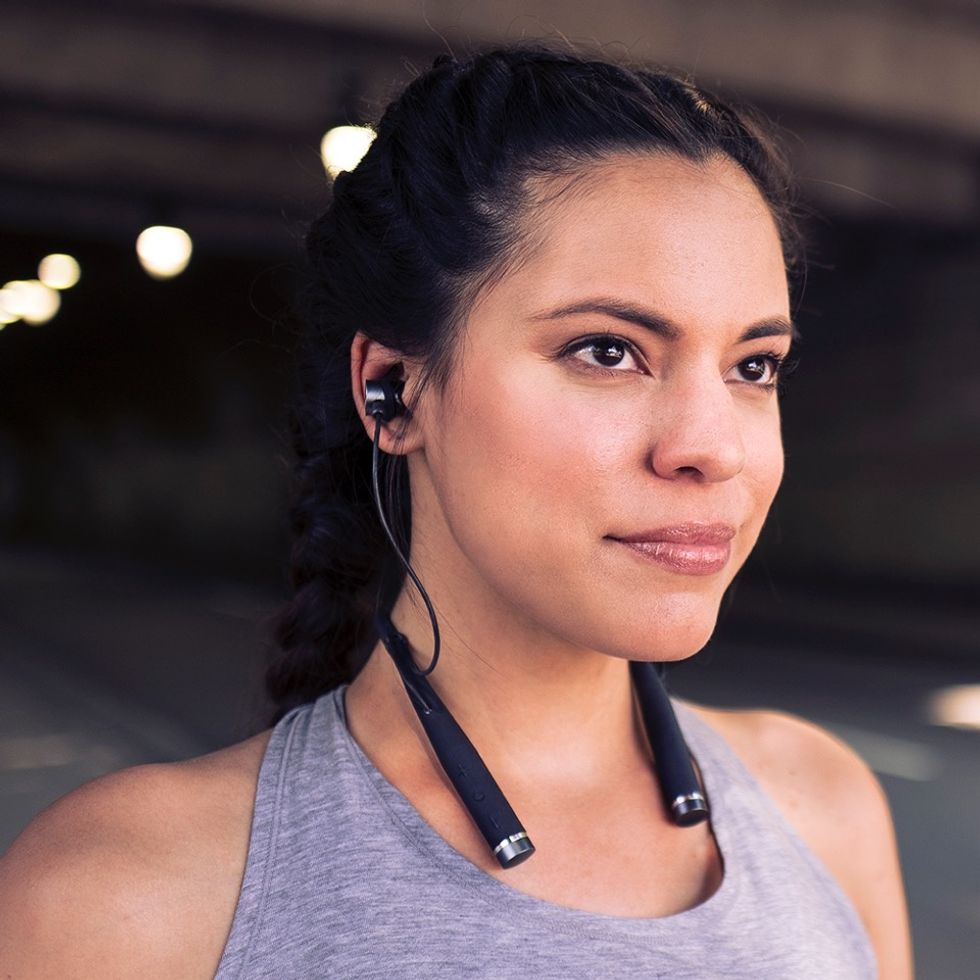 Image: Vi's BioSensing Headphones
Vi's biosensing headphones provides live AI trainers for those who want to workout on the go with a fitness coach. Thrillist called this latest tech enhanced fitness tend "the future of fitness." Meet Vi, the voice who lives in a pair of fitness tracking headphones. Vi tracks your fitness data, builds a personalized fitness plan for you, and like any good trainer pushes you to burn faster!
Soul Electronics Run Free Bio Headphones are another great AI training device. Similar to Vi, you'll be able to see your fitness stats in real time when they're synced to your smart phone. You're AI coach is so precise, she'll even let you know if you're head tilt is too far right!
There's still time to get in shape for summer! Save yourself time and money and try one of these tech enhanced at-home workouts before renewing your gym membership. Or check out these 5 Tips for Your Panicked Late Spring Workout.