To wear fur or not to wear fur: That has long been the question of fashion consumers around the world. Of course, the other part of the equation is whether fashion companies should produce it in the first place. For many animal rights supporters, the easiest solution--wearing faux fur-- is a no-brainer. The upgrades in quality have everyone from Gigi Hadid to Rihanna breaking the internet with their faux-fur fashions. Still, it's a complicated issue. Women's Wear Daily returns to the argument with frequency, focusing on the ethical debate from both a moral and environmental standpoint.
Fur Real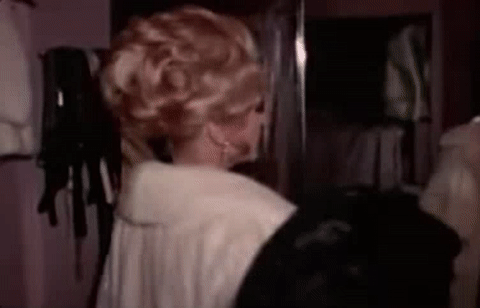 media2.giphy.com
The fur trade kills over 100 million animals per year, and while the horror of this number is staggering, for some in the industry it's not indefensible. The influential Fashionista quoted Keith Kaplan, director of communications at the Fur Information Council of America, as saying, "Petroleum-based faux fur products are the complete antithesis of the concept of responsible environmental conservation. Right off the top, petrol-based plastic fur is extremely harmful to the environment. It isn't biodegradable. It's harmful to wildlife." The irony won't have animal rights activists slipping into a new fur coat anytime soon. Besides, if it's the look they're after, faux-fur is an alternative. What's not to love? Faux fur can be found anywhere, and has become increasingly difficult to discern from the real thing. It's not that simple, though, and experts on both sides of the debate are having their say.
Faux Fur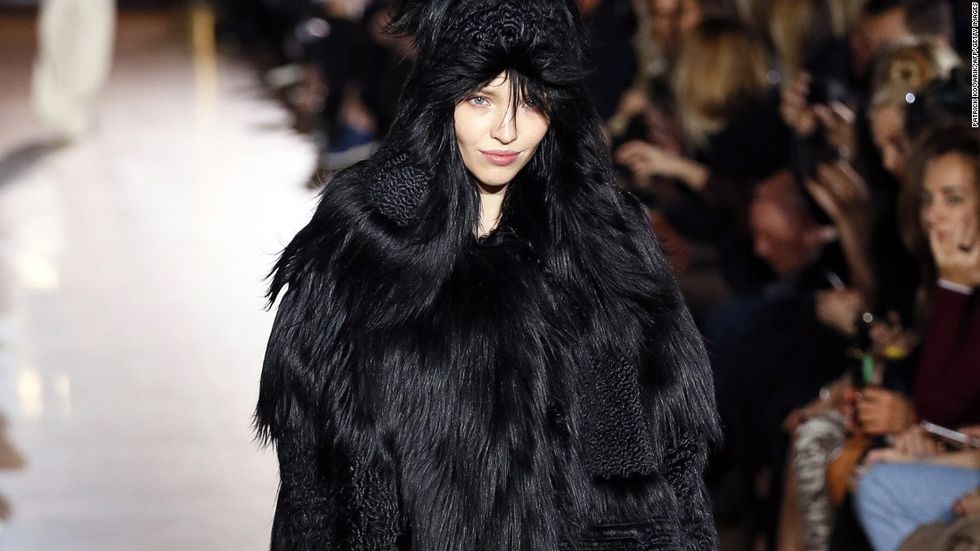 A faux fur coat from Stella McCartney's Autumn/Winter 2015 collection.
PATRICK KOVARIK/AFP/Getty Images
A recent article in Elle offered a growing list of fashion brands including Burberry, Stella McCartney, Coach, Gucci, Diane von Furstenberg, Michael Kors, and many others who have vowed to turn away from fur production. And for many companies who still hope keep their runways fuzzy and on trend-point, faux fur is the new ethical go-to. (It's important to note, however, that many brands saying no to fur still use shearling and leather in their products.) The evolving faux fur industry has a lot of environmentalists worrying for the future, though.
How It's Made
According to the website Made How, faux fur "is known as a pile fabric and is typically made from polymeric fibers that are processed, dyed, and cut to match a specific fur texture and color." The raw materials used to make faux fur can start in either a powder or pellet form, "which gets melted down and spun, like cotton candy," Fred Schecter, vice president of Sommers Plastic Products, a distributor of fake leather and fur based in New Jersey, told HuffPost.
Because faux fur is made of synthetic microfibers, some environmentalists believe that it's more harmful than real fur. The argument isn't black and white: for animal-rights activists, slaughtering innocent animals for clothing isn't ever an option. However, plastic is the scourge of the environment. It's destroying species, most of it isn't biodegradable, and with a floating garbage mass the size of Texas in the Pacific Ocean, made largely out of plastic, it seems there's no end in sight.

Patagonia: A Case Study

The sporting goods company Patagonia commissioned important research about how synthetic microfibers are impacting the ocean. In 2016, Environmental Science & Technology published findings that had Patagonia taking a critical view of their own manufacturing practices. "This issue really hits home for us because many of our garments are made with synthetic fibers," Patagonia wrote on their website. "Microplastic waste also includes synthetic microfibers (less than 5mm in length) detached from synthetic garments—such as polyester fleece, nylon shorts or a wide range of other types of clothing—during washing that get past or around the filter systems in treatment plants."
Naturally, these microfibers end up in the oceans, washing up on beaches, and harming our rivers and lakes. It might seem like the problem is too large for one person to tackle when making their personal fashion choices, but consider this. "When synthetic jackets are washed, on average 1,174 milligrams of microfibers are released from the washing machine. These microfibers then travel to local wastewater treatment plants, where up to 40% of them can enter into rivers, lakes, and oceans (depending on local wastewater treatment conditions)."
In other words, there's a lot of damage control that one consumer at a time can take into their own hands.