This Year's Hottest Gift Is A Weekend Getaway
Whether you're looking for the perfect birthday gift, valentine's day surprise, or something to spoil your parents with - why not choose a weekend getaway?
Treat your friend or family member to a perfect escape. Getaway has outposts across the country, 2 hours from cities like New York, Los Angeles, Atlanta, Houston, and more. The cozy cabins are a perfect way to camp in comfort while still enjoying nature with all the outposts located near lakes, hikes, and gorgeous forest walks for the guests to stroll or explore.
The best way to take a break is to escape from the day-to-day. Why not take the pressure off a loved one and give them this simple pleasure at a time when they need it most?
Getaway offers gift cards in different amounts so that you can stay within your budget. For $100 you can give the little nudge to someone who needs to take that well-deserved break or for $200 you can cover a night away for them. $300 usually covers a 2-night weekday stay while $400 treats someone to a 2-night weekend stay; nights start at $129.
None of these hit your budget exactly? You can always just gift any amount you want — getting away isn't easy and helping someone get there is an amazing gift.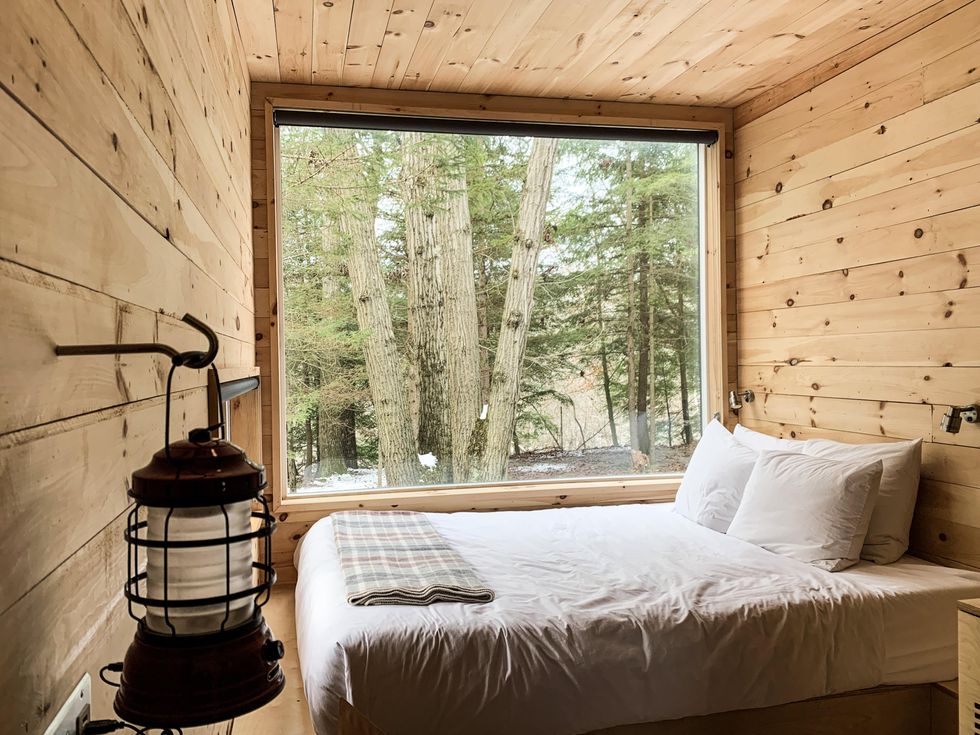 Cabins can host up to 4 people and they all come with the cooking tools and staples you need when camping. Your loved one will get to wake up in an ultra-comfy queen-sized bed that rests against a stunning floor-to-ceiling window that overlooks the surrounding woods.

And if camping makes you think that means losing some important necessities, that's not the case here. The cabin bathrooms include a nice hot shower with organic biodegradable shampoo. Plus you don't need to bring your own towels!
Getaway really takes care of all the details so you don't have to. Check-in is always contactless and all the cabins are spaced out so you can see the next cabin in the distance but you still feel like you are in your own personal peaceful sanctuary.
This isn't just an amazing gift for the person getting away. Save yourself the time and stress of breaking your head over finding the perfect present. We've found it for you.
Set up the gift of Getaway in a matter of minutes. You can even choose the date and time they'll receive their gift. Schedule it as early as you'd like so there's no last-minute scramble.
We can't imagine a better gift than Getaway this year.